31 Recruitment Strategies With Real Examples
These 31 recruitment strategies are bound to help you attract and hire the top talent you need.
There is no such thing as the 'right' recruitment strategy. Every company recruits candidates differently because their efforts are affected by geographical location, industry, company culture and recruiting teams. They also change by open role, time of year and urgency of the hire.
Rather than define a specific path you should follow, we've gathered 31 examples of creative recruitment strategies that companies across the nation have utilized to hire top talent. Take note of their ideas and consider adding them to your own toolbox.
ACTIVATE TALENT AND YOUR EMPLOYER BRAND. LEARN MORE.
Table of Contents
Start with the Basics
Before we get into the details, we are going to cover some of the basic things you need to do before creating a recruitment strategy. Once you've completed these tasks — which are critical for any successful recruitment strategy — you can check out some of the cool and creative recruitment strategies top employers are implementing today.
What is a Recruitment Strategy?
A recruitment strategy is a formal company plan that lays out a plan of action for identifying, recruiting, hiring and retaining top talent. Top recruitment strategies involve a number of ways to attract talent, including highlighting company culture, being active on social media and building pipelines of quality candidates.
Review your Recruitment Metrics
Before you can start revamping your recruitment strategy, you need to understand what's currently working and identify areas for improvement. In order to do that, you need to take a look at your recruitment metrics. This will allow you to set attainable goals and determine which strategies will help you reach them.
Set Recruiting Goals
Now that you know your pain points in the recruitment process, you can strategize ways to improve your efforts moving forward. If you're having a hard time getting candidates to apply, try new job board platforms or host a hiring event. If it's taking months to fill a position, tap into different networks or offer your team a higher employee referral bonus. There are an unlimited number of strategies you can implement but you want to ensure you're making the most of your efforts by setting goals and planning how to reach them. 
Invest in Recruitment Tools
If you're not currently utilizing recruitment tools to simplify your recruiting process, consider the investment to help you save time and money. Whether it be a video interview platform or a full applicant tracking system, these tools help streamline and automate certain tasks so your team can focus on what really matters. 
Optimize Your Career Page 
Having a well-crafted careers page is non-negotiable. It really is an essential element of every recruitment strategy for a few reasons:
Whether or not you want to create one, candidates expect to find a careers page on your website.

It's a great resource to promote open roles, share content and provide information on the company's mission, culture and benefits.

All of your competitors are doing it, and if you don't, you'll never be able to stand out from the herd.
Here are a few other companies that have included unique material to make their careers pages pop.
1. Focus on the Career Page Fundamentals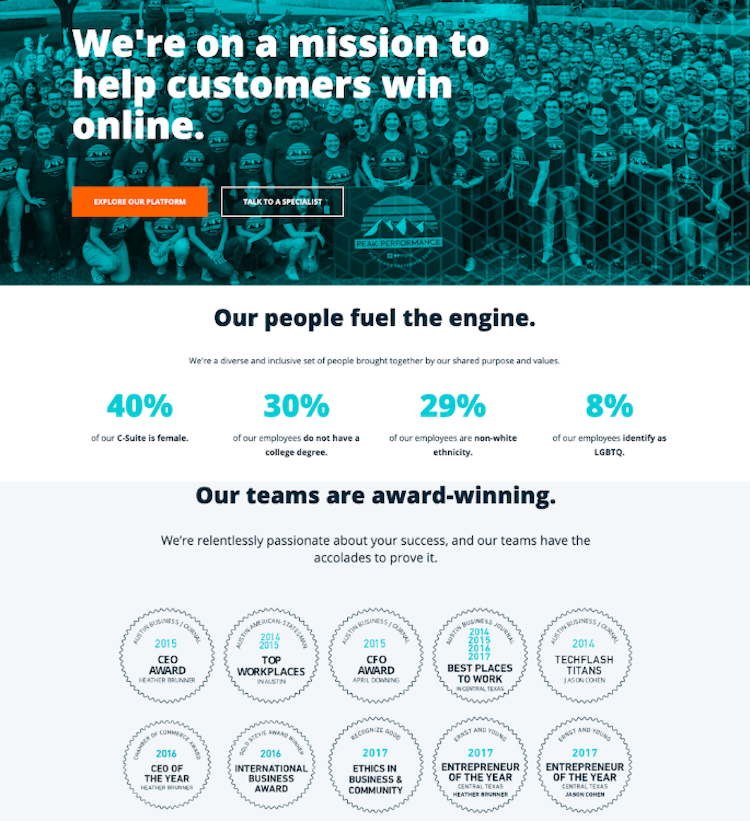 WP Engine's career page includes all the essentials from the company's core values to internal diversity statistics, awards they've won as an employer and plenty of opportunities for candidates to learn more about the company and their career opportunities.
2. Record Employee Testimonials via Podcasts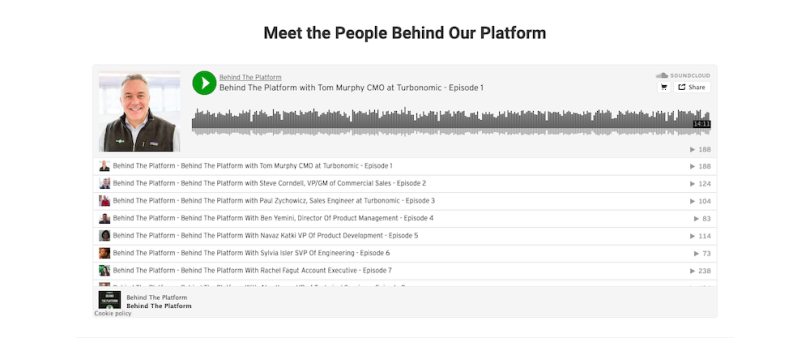 Turbonomic does something we've never seen before on a careers page. Sure, employee testimonials are common on careers pages, but this is the only time we've ever seen employee testimonials provided in the form of 10-20 minute podcast episodes.
Not only are podcasts becoming more and more popular (especially for busy commuters - AKA passive candidates), but listeners can actually hear the voice and emotion behind what they say, something that's lost in written testimonials. This is a brilliant way to provide in-depth insights into your employees' background, personality and the the role(s) they've held at the company.
3. Provide Candidate FAQs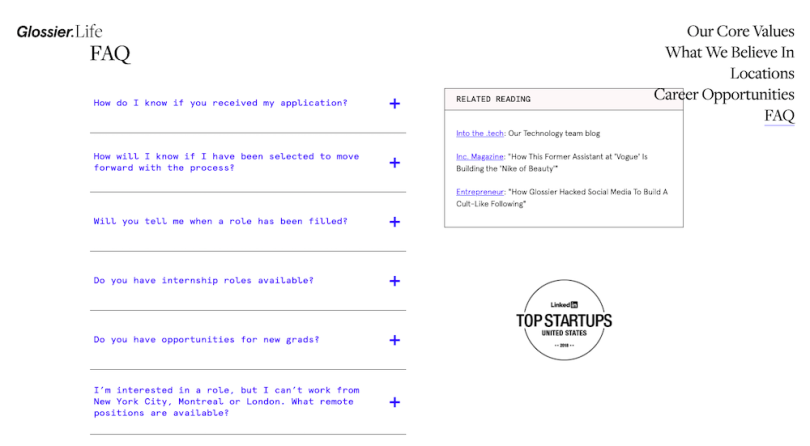 Most companies receive similar questions from candidates, so Glossier cut out the middle person and provided an FAQ section so that candidate questions can be answered before applying.
The application process is different for every company, so save candidates the nerves, and let them know up front when they can expect to hear back from the company and where they can find further information about specific roles. Answering such questions also helps both recruiters and candidates save time spent communicating information that could be clarified on the website.
4. Start More Conversations with Chatbots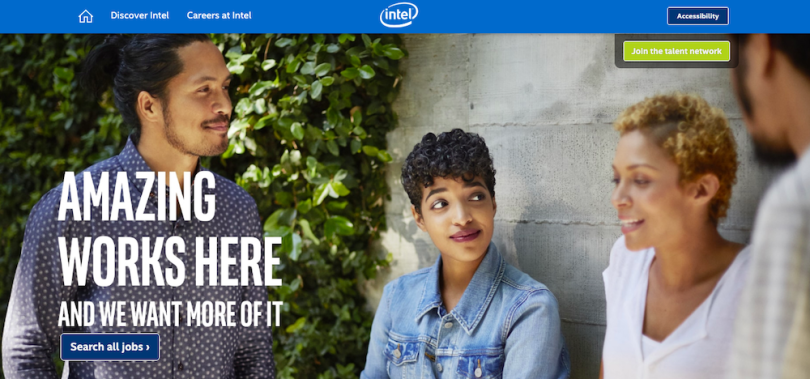 Intel created a chatbot specific for candidates to help them learn more about the company in an engaging and interactive way. When you first land on the page, the chatbot pops up and asks candidates if they have any questions regarding the company as an employer.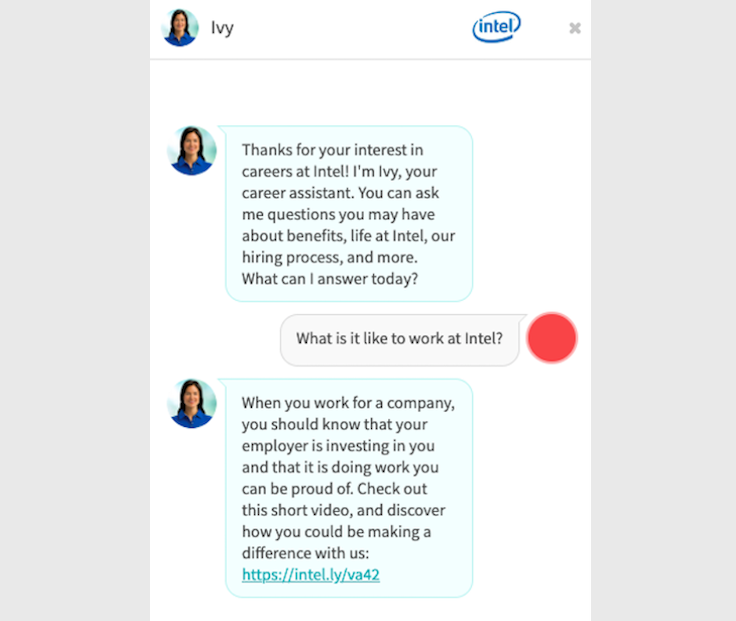 Depending on what candidates ask the bot, they receive tailored responses with further information on culture, benefits and their unique hiring process. In this example, we asked the bot what it's like to work at Intel, and they directed us to this company culture video.
The chatbot is a great use of an automated tool that helps candidates ask questions anytime, anywhere and receive answers immediately without the waiting that comes with interacting with humans in different time zones. This also saves recruiters a wealth of time answering basic questions that can be answered on the careers page or with a chatbot.
Also, if you're not currently utilizing recruitment tools to automate areas of your recruiting process, you may want to consider where you could save time and money by investing in the right tools.
5. Take Your Career Page Offline
So far, most of the strategies on this list have been digitally driven. Cameo, however, still values in-person recruitment ads. The app company takes information from its career page offline with these mini-billboards posted at stops along one of Chicago's commuter train lines that transports thousands of tech professionals downtown everyday. It's a great way to target passive candidates that aren't logging on to look for new career opportunities.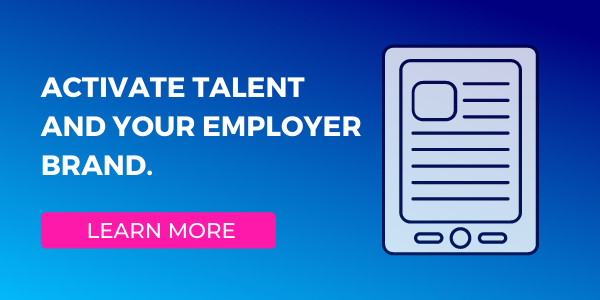 Share Company Culture on Social
Yeah, social media recruiting is still very much alive and well, and no, you can't escape it.  Instead, embrace it! Here are a few companies that have leveraged social media as a way to attract passive candidates on the platforms they spend the most time on.
6. Feature Employees on Instagram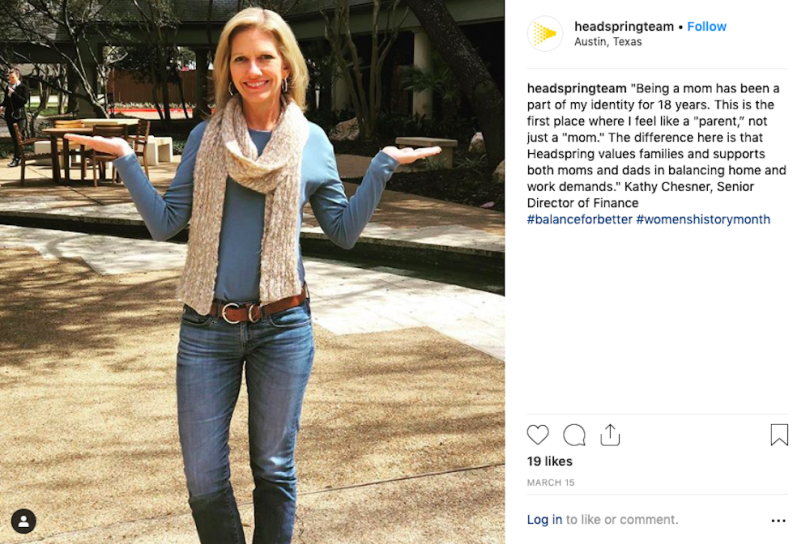 Unlike most companies, Headspring embraces social media. Their team is not shy to show off their personality and culture with employee highlights, team outings and celebrations across the board. They've also taken on one of Instagram's newer and more popular features, the Instagram Story, where they've shared their Core Values along with various events their company held.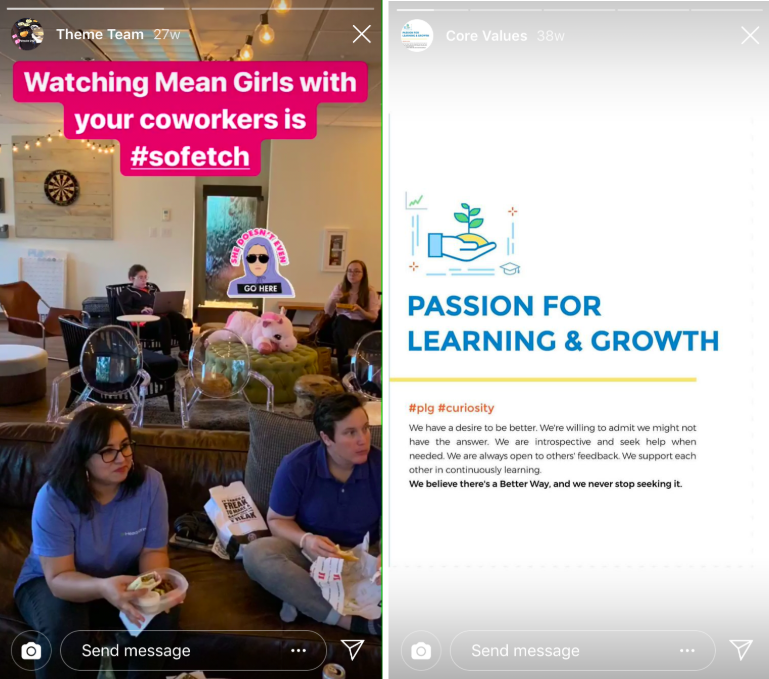 7. Create Recruiting Social Channels

To take their social media recruiting to the next level, Fast Enterprises created specific recruiting social media accounts that clearly target job candidates. Their handle @FastEntCareers helps users distinguish this account from any business accounts. They post content solely about their company culture, recruiting events, employee spotlights and any open roles.
Create In-Depth Recruitment Content
Creating in-depth content about your company is a great way to provide candidates with solid insight into your organization that goes beyond the basics.
Many companies have started to write long-form blogs about various topics candidates may want to learn about during the recruiting process. 
8. Share Your Current Projects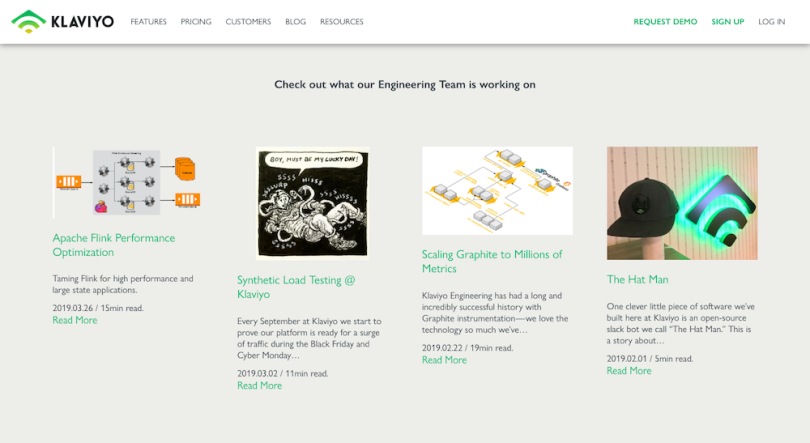 Klaviyo's Engineering team stays connected with hard-to-hire engineering candidates by writing regular blog articles on projects their team is working on. This helps candidates better understand what they could be working on if they join the team and it reassures them that their engineering team is an industry leader.
9. Give Employees the Spotlight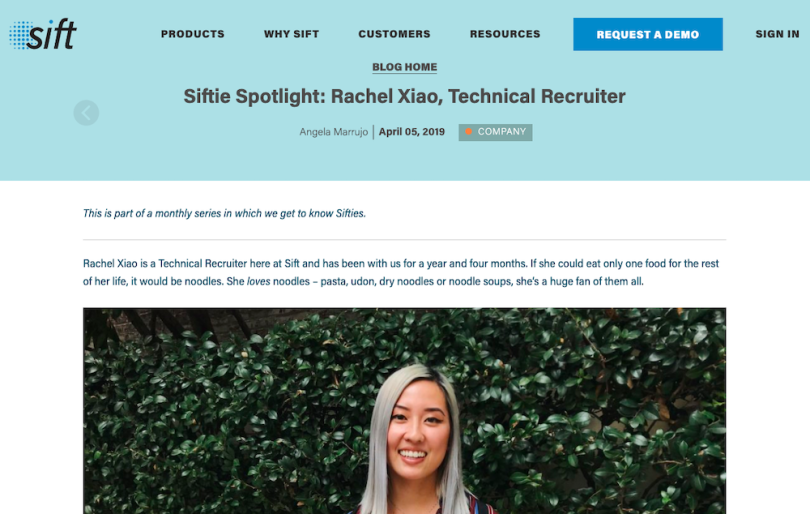 Sift takes employee testimonials to the next level with these in-depth employee spotlights that allow candidates to get to know their team on a more personal level. Beyond their role in the company, the blog covers personal interests, hobbies, passion projects and everything in-between.
10. Post on Medium 

Facebook may be known for its shares, likes and comments, but sometimes they branch outside of the platform's own user community by sharing recruiting content on Medium.
This article is from the perspective of a specific Product Manager's experience. As a massive company, every department (and individual) will interview differently, so there's no good way to write a generic guide. Instead, it's best to be as specific as possible and provide candidates with the most helpful information for their specific situation.
With 60 million monthly users, Medium represents a massive opportunity for creative recruiters looking to try something new.
Film a Recruitment Video
While they may require a bit of time and effort, company culture videos are a great way to provide easily digestible content that can be shared and repurposed across platforms and for any new role that opens up. Here are a few different videos to get your creative juices flowing. 
11. Start with the Basics
CA Technologies created this brief 30 second recruitment video that could easily be repurposed on social media, their website or even as a TV advertisement. It's quick and clever, leaving candidates wanting more, which they can get by checking out the company's careers page.
12. Stand Out by Being Quirky & Inclusive
Are you smiling right now? Yeah, it's kind of hard not to feel all mushy and smiley after watching this heartwarming goofy recruitment video by SodaStream. Not only is the video extremely well crafted, but they incorporate information about the company and its  while including people from multiple departments and of different nationalities and languages.
13. Don't be Afraid of the Unexpected 
Social Talent took a slight twist with their recruitment video. Instead of asking for testimonials on why employees love working for the company, Social Talent catches everyone off guard by asking them why the hate their job.
They start the video with a statistic that 70% of people hate their jobs, and then they asked real employees what they hate about working at Social Talent. By the end of the video, you discover that these people are not part of that 70%. It's an unexpected twist that draws the viewer in and showcases the company's fun culture.
Build A Talent Community and Reach Passive Candidates
A talent community consists of candidates that have shown interest in and maybe even interviewed with your company, but for whatever reason they weren't not a fit for a role at that time. Rather than whisk these candidates out the door to never be seen again, here are a few ways to keep in contact with passive candidates so that when a more suitable role opens up, they're the first ones to know.
14. Provide Job Alerts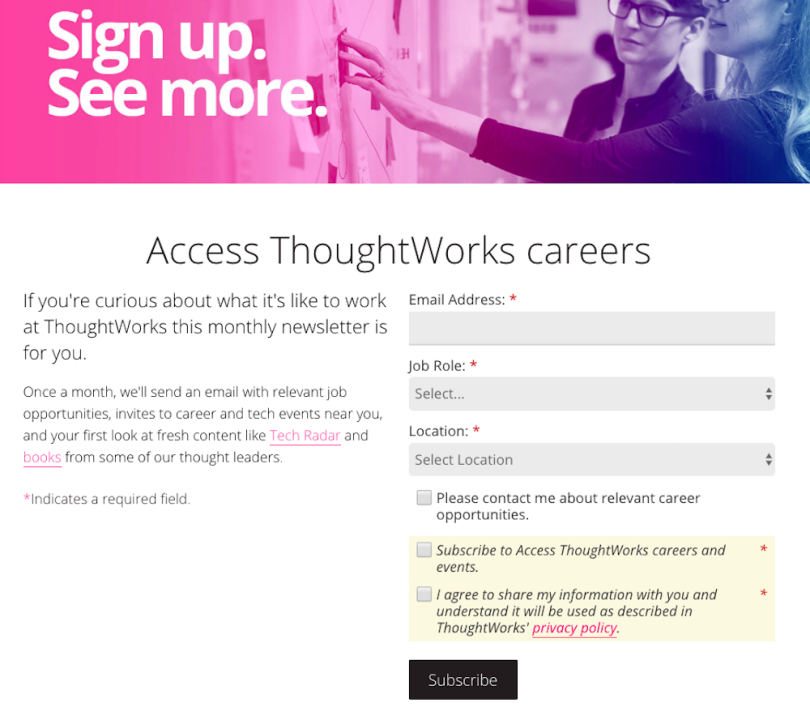 No matter your size, you won't always have open roles for top candidates. But that doesn't mean you should simply accept the fact that you'll miss out on elite talent. 
To bridge the gap, ThoughtWorks allows candidates to sign up for job alerts so they're the first to know when a role that fits their interests and experience becomes available. This allows the company to keep warm leads informed and in their talent community so they always have candidates who have already shown interest in the company in the pipeline.
15. Allow Anyone to Apply Anytime 

Zappos is known for being at the forefront of unconventional company culture in all the best ways. Instead of waiting for roles to open up, they want interested candidates—no matter their skill or background—to sign up as a 'Zappos Insider.' By providing their name, email and career of interest, Zappos is able to send out tailored emails with information on open roles and company culture to individual candidates. 
16. Encourage Employees to Boomerang

Kronos values their employees so much they encourage those that leave to return to the company in the future, also known as "boomeranging." They have a specific Boomerang section on their careers page to help past employees navigate their next career with the company. They also help explain why they built a culture that supports employees to pursue their passions outside of the company and return when the time and opportunity is right.
17. Establish an Employee Referral Program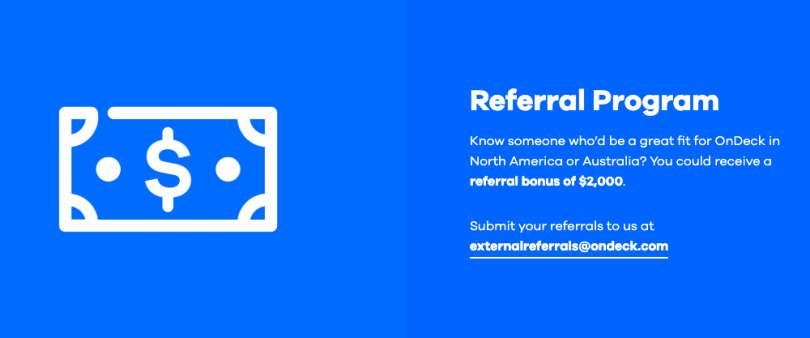 Some of the best candidates are lingering within your employee's networks but you'll need their help to reach them. To encourage your team to reach into their networks, create an employee referral program, like Ondeck's referral program pictured above, that offers payouts to anyone who refers a candidate that is hired. While $2,000 might seem like a steep price to pay for referrals, it will save you a lot of time, energy and money recruiting candidates outside your networks.
Utilize Niche Candidate Networks
You probably have a rhythm down for posting jobs on your careers page, LinkedIn and a few other job boards. While many of those platforms are convenient and contain a wide network of potential candidates, it's important to branch out into a wide range of networks to reach diverse talent on the platforms they use.
18. Create a Veteran Friendly Work Environment
First things first, do research and learn how to become a veteran friendly employer with resources like Military.com and SHRM. Once you understand the basics, you may consider partnering with organizations that help place veterans and build military friendly workplaces, such as BRK Strategies, U.S. Department of Labor and Recruit Military. Lastly, don't limit your job postings to LinkedIn and Indeed or Monster. Break outside of your network and incorporate military job boards into your recruiting strategy like Hire Heroes USA, Hire A Veteran, Military Hire and Hire Veterans.
19. Bring Mothers Back into the Workforce

There has been a long standing stigma against people, specifically women, who have a several year gap on their resume due to being a caregiver for children, elderly relatives or people with disabilities. To show women their skills remain valuable even after years out of the workforce, Wunderlich Kaplan Communications created an externship program for women over the age of 40. The program is essentially an internship opportunity directed toward professionals later in their career who need a stepping stone between their former career and their future career. 
20. Recruit People with Disabilities
Most companies have an equal opportunity employer clause that insists they are welcoming and accommodating to people of all mental and physical abilities, but when it comes down to it, most companies do not walk the walk. See how you're doing by comparing your company with the national Disability Equality Index. To make improvements, research ways you can make your workplace more accommodating, starting with the recruitment process. You can also make your careers page more accessible by partnering with organizations, such as the US Department of Labor, Employer Assistance and Resource Network on Disability Inclusion and SHRM. Additionally, there are a number of job boards specifically for people with disabilities like Ability Jobs, America's Job Exchange, Recruit Disability and Disabledperson. 
21. Provide Students with an Early-Career Opportunity

Every year, twice a year Wolverine Trading reaches out to campuses across the nation to connect with students. They do this through campus career fairs. It is a great way to help people early in their careers get professional experience through an internship program and helps build a talent network of young professionals who may be a fit for a full-time role at your company in the future. 
22. Break the Stigma Behind Formerly Incarcerated Workers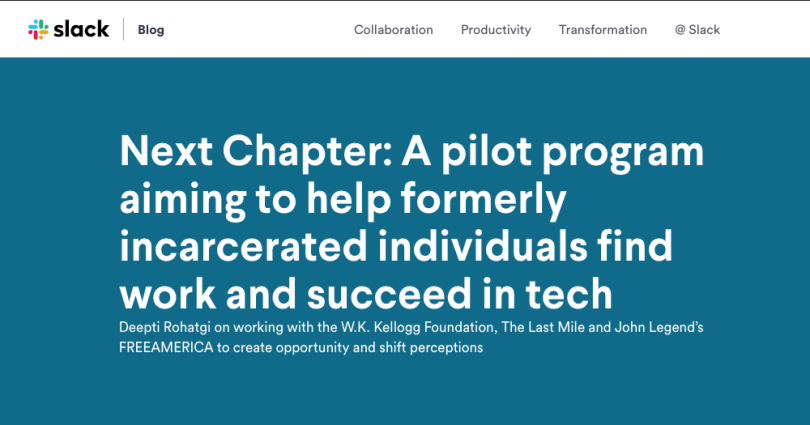 In 2018, Slack started a program to help formerly incarcerated individuals find work in the technology industry. They did this by connecting with The Last Mile, an organization that provides men, women, and youth the opportunity to learn software engineering and web development skills in a number of prisons across the United States. After graduating from the program and gaining the necessary skills, three individuals were partnered with the team at Slack for a year-long apprenticeship.
Answer the Tough Candidate Questions
If you haven't searched your company on popular inquiry sites like Quora, Reddit and Yahoo! Answers, you most certainly should. Not only to see if anyone is talking about your company, but also to connect with candidates and establish a relationship by providing candid answers.
23. Get Involved on Quora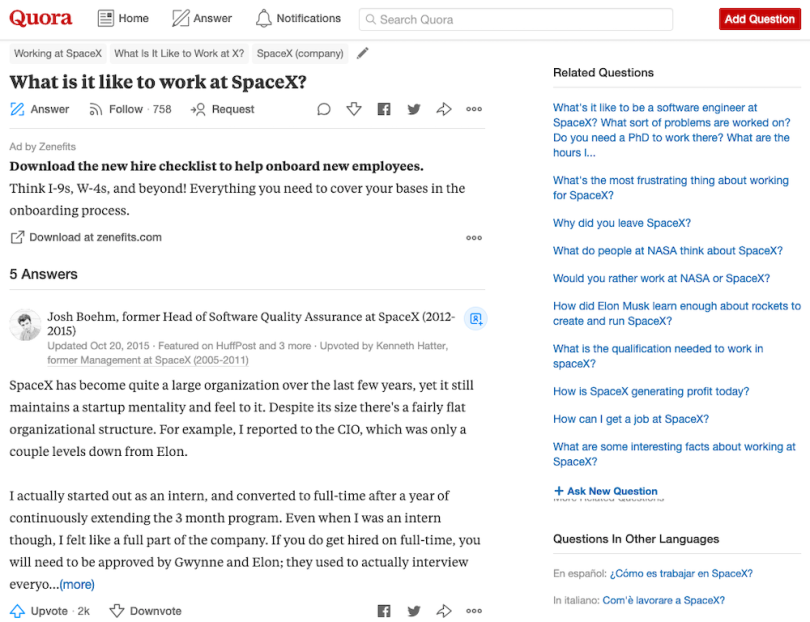 It's no secret SpaceX pushes the limits of technology and is constantly chasing after the next best thing—making the company a highly sought after employer among top talent. To help answer the wealth of questions candidates have about the tech giant, their team took to Quora, a question-and-answer website, to help resolve the infinite inquires (as you can see under 'Related Questions') candidates have .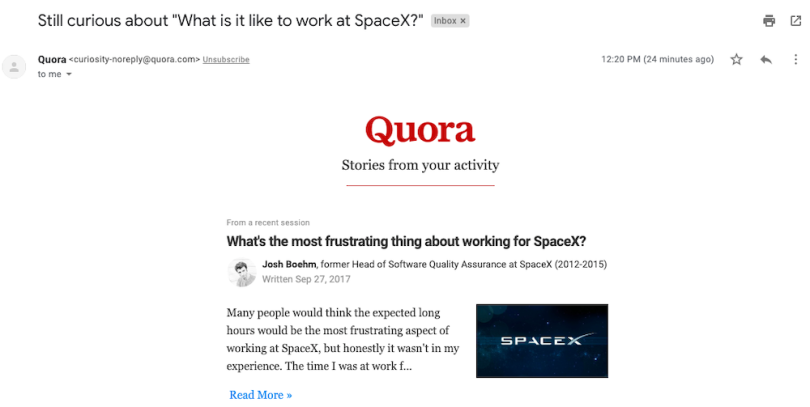 Not only that, but Quora sends follow-up emails with more content to people who view certain articles to help them dive deeper into their research and help your content get more views.
Quora boasts more than 300 million monthly users, making it one of the largest (and most underutilized) recruitment channels out there.
24. Host "Ask Me Anything" Sessions on Reddit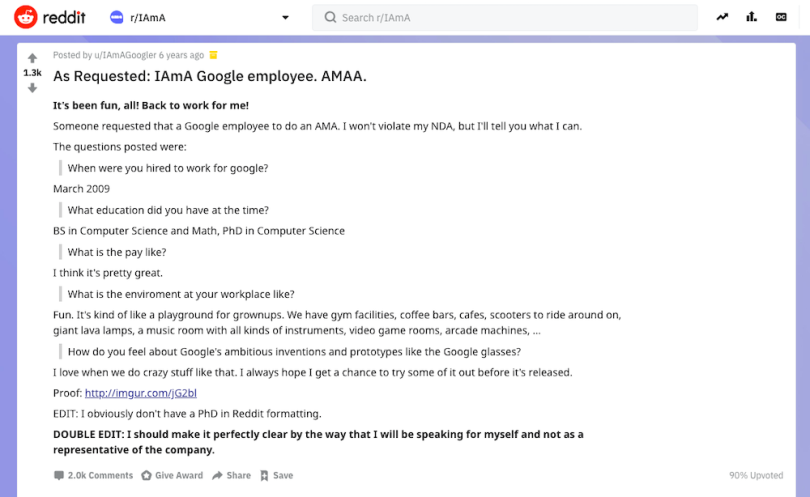 Google took to community discussion website Reddit to answer questions related to employment at the infamous company. This inquiry posted back in 2013 has generated more than 1,300 replies, 2,000 comments and has 90% upvotes. Talk about engagement.
The Ask Me Anything format (as this tactic is known) is an opportunity for companies to connect with hundreds or thousands of candidates ins a simple, scalable manner. 
With more than 18 billion monthly page views, Reddit is among the 10 most popular websites on the planet. Imagine tapping into that talent pool.
Revamp Your Recruitment Events
Recruitment events are still an essential part of the recruiting process, and in our overwhelmingly digital age, they may be more important than ever. In-person events provide recruiters with a chance to get to know candidates' personalities and backgrounds beyond their resumes.
25. Support Military Career Placement and Tap into a New Candidate Pool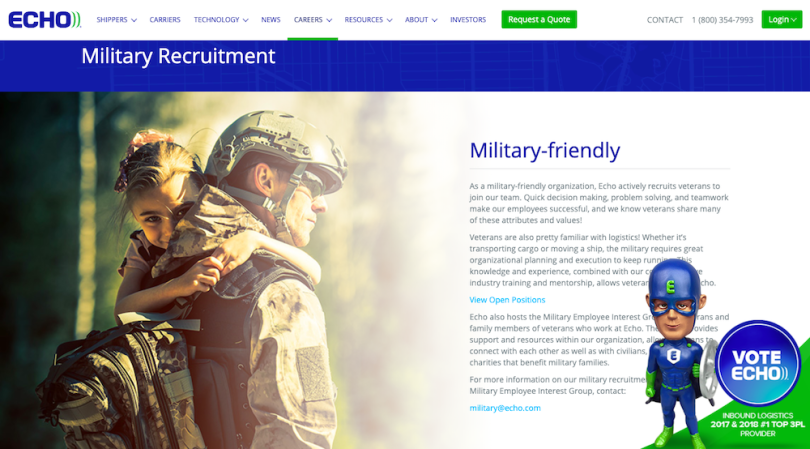 Finding a career after serving in the military can pose a challenging transition due to experience or education gaps. Echo helps bridge the gap by branching out to connect with military veterans looking to relaunch their career.
Finding a new career may require further education or simply a refresher on how to apply for an office job. Echo helps break down these misconceptions with a simple page on their careers site with information directed to support military veterans during their transition.
26. Take to University Campuses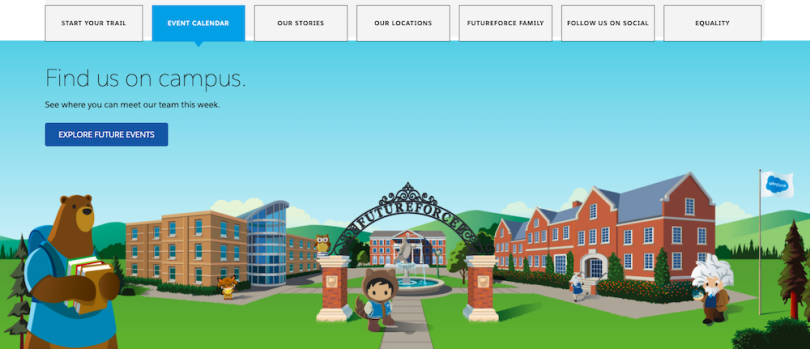 From universities and trade schools to niche boot camps, educational institutions are one of the top resources for recruiting fresh talent. Salesforce has a dedicated team for recruiting university students, called Futureforce, that takes to university campuses to provide resources to help young candidates prepare for their first role with the company.
27. Host a Regular MeetUp event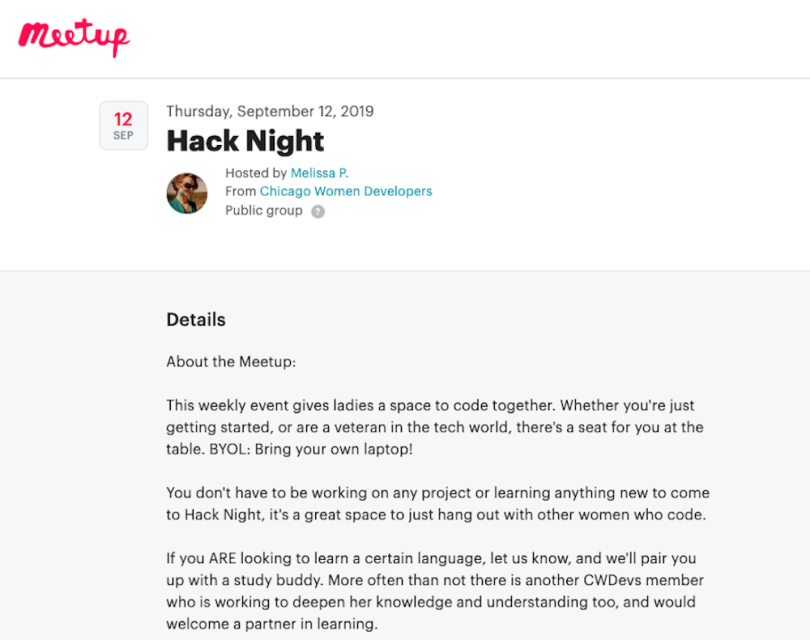 Recruiting top talent takes more than just scouting out the highest performers in your industry. To meet new candidates, get involved in your local community by contributing to the evolving conversation around your industry's trends and challenges. A group called Chicago Women Developers does just that. Professional women developers get together to host regular Hack Nights as a means of getting to know novice and experienced developers in their community. It provides a space for people to learn and support one another within their niche network.
28. Get Your Local Community Together 

Recruitment events can be a bit stressful for both candidates and the companies hosting the event. To reduce the pressure for both parties, Grubhub partnered with Built In Chicago to host an event where candidates came to their office to casually mingle with company leaders and have a few beers. Candidates have the chance to see the office and chat with the teams they are specifically interested in. This type of event removes some of the stress and formalities that come with regular recruiting events, allowing candidates to relax and have a more personalized experience.
Take Advantage of Search Engine Tools
Thanks to incessant algorithm updates that leave companies frustrated and perplexed, it's notoriously difficult to rank on page one of a Google search. There are, however, a few search engine tools and tricks that can help boost your recruitment strategy without the assistance of an SEO guru.
29. Optimize the Job Search on Google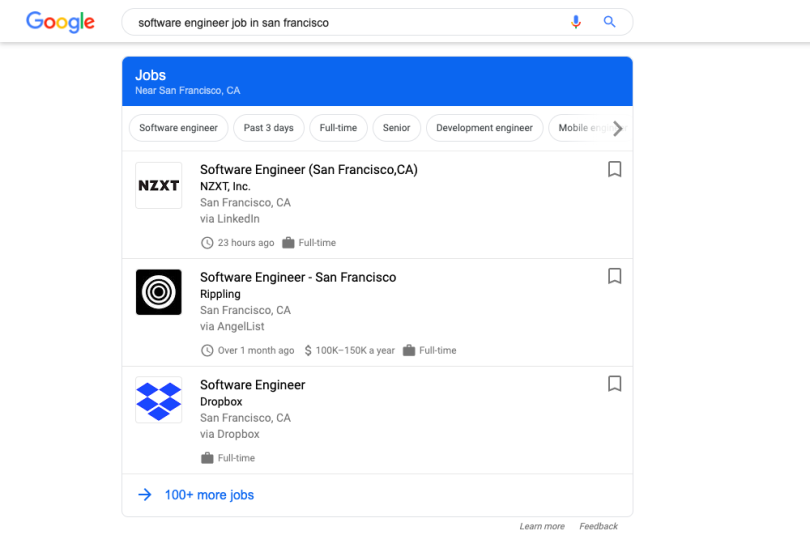 73% of all job searches begin on Google, making this platform a must-have asset for your recruitment strategy. Earning high search rankings may be challenging, but fortunately you don't have to.
Google's Job Search tool is a great way to get your job posting in front of candidates before they click through to a website or job board. As you can see in the screenshot, when candidates search for a specific job title, Google will aggregate jobs in their area that match their inquiry. The best part, getting your jobs on Google is easy:
Edit the HTML of job descriptions on your website so that Google knows to crawl them as job postings. Google will help walk your Engineering team through how to do this.

Jobs posted to third-party job boards may already have this HTML code on the jobs you post to their websites, so ask if your partners qualify for Google's job search tool
30. Target Competitor Keywords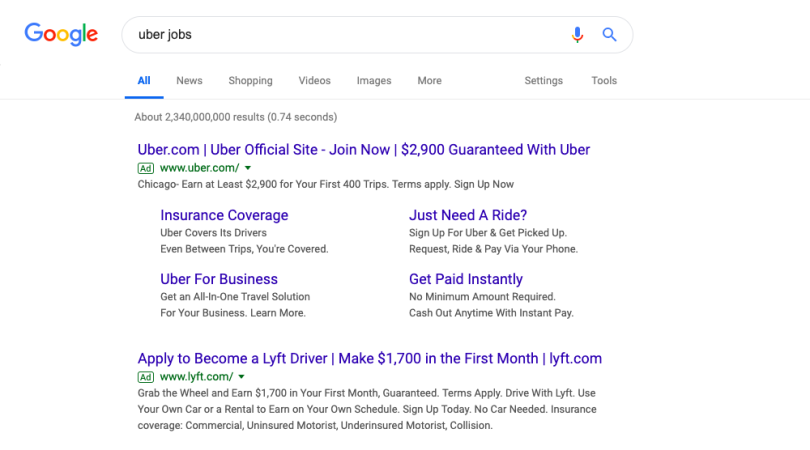 A modern day rivalry the likes of Coke vs. Pepsi, Uber and Lyft are major competitors in the transportation industry. Not only are they constantly trying to nab up each other's users, they are going out of their way to attract each other's job candidates as well. 
As you can see in this example, when someone searches "Uber jobs," the second result is for careers at Lyft. Lyft cleverly targeted a hyper-specific paid ad at the "Uber jobs" keyword knowing that anyone searching for jobs at their competitor would also likely be interested in jobs at Lyft. 
31. Target Job Title Keywords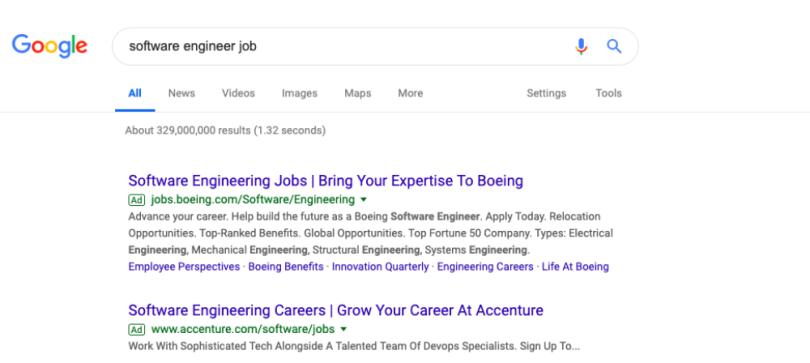 Like Lyft, Boeing and Accenture bought paid ads on Google. But rather than target their competitors, the companies focused on job title keywords.
 By targeting the keyword "software engineer jobs," they are the first company candidates see when they start their job search. And given the level of competition for top-flight engineers, getting an early jump on the best candidates can pay huge dividends.
ACTIVATE TALENT AND YOUR EMPLOYER BRAND. LEARN MORE.