15 Examples of Stellar Career Pages
Updated:
January 13, 2021
Updated:
January 13, 2021
Your career page is the cornerstone of your digital recruiting efforts. Everything from your website content and social media presence to your employer branding campaigns are designed to drive job seekers back to this location. As exhaustive and expensive as recruiting new employees can be, the last thing you want is to lose candidates right before they apply.
Fortunately there are some simple tweaks that can improve the performance of just about any career page when properly implemented. Let's check out some best practices to consider when building a career page, and examine 15 examples of career pages that are getting it right.
FREE E-BOOK: SCALING YOUR RECRUITING PROCESS - 40 TIPS FROM THE PROS. DOWNLOAD HERE.
Career Page: Design and Content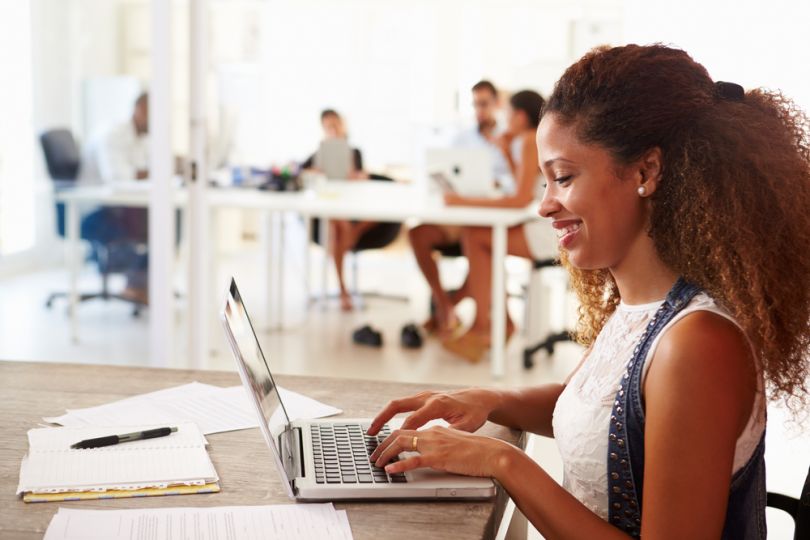 The design and content of your career page play a major role in how candidates perceive your company and whether or not they go on to apply. While your career page should accurately reflect your company, there are a few easy to implement tips that will help you level up. We've broken it down to three main elements:
Essentials: These are absolutely necessary for every career page.
Intuitive job search: It doesn't matter how beautiful your career page is if candidates can't locate your open roles. Make sure these are front and center, and easily searchable.
Creative copy: Entice viewers with a catchy headline and highlight qualities of your company that would be attractive to prospects. Focus on topics like company culture, mission, perks and benefits, etc.
Visual content: Include images, videos or graphics to break up text and create a comprehensive story. 54% of internet users are seeking more video content from business they support, so if you have the budget this is a great place to start.
Extras: These elements will make your career page stand out from the pack.
Perks: Feature non-financial benefits like flexible PTO, progressive paternal leave policies or volunteer opportunities can help set you apart. 53% of employees report that perks improve their professional satisfaction, so don't skimp out here.
Bonus content: These can be employee testimonials or quotes, company awards, location map, reviews or subcultures within the company.
Interactive: Engage candidates with dynamic features, like navigation features, live chat pop-up or elements that change when scrolled over.
Exclude: Yeah...if you could go ahead and not include these elements, that'd be great.
Jargon: No need for confusing analogies or industry lingo. Write about your company and its people in plain, conversational text.
Cheesy pictures, or worse, stock photos. Candidates notice when it's not your office, employees or culture. Engagement increased by 37% when content is optimized with interesting visual content.   
Content overload: There is such a thing as too much content, and it can quickly distract job seekers from applying.
15 Examples of Stellar Career Pages
To give these elements meaning, we've gathered 15 real world examples. For each example, we have a brief overview of the page, an element that makes it unique and a suggested 'tweak'. We'll start with five big brands: Pinterest, Netflix, Salesforce, Spotify and Epic.
Pinterest's Career Page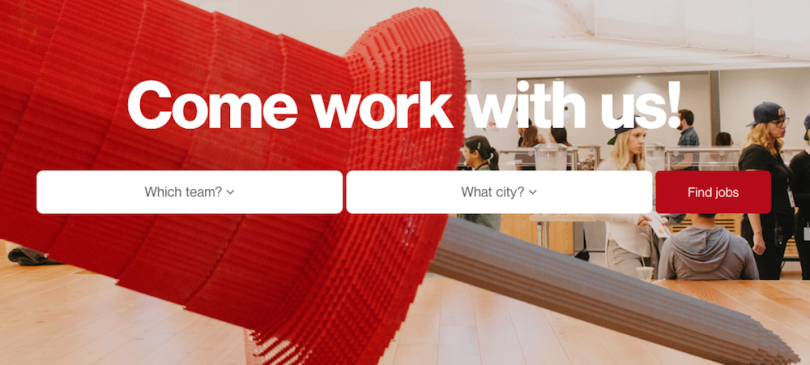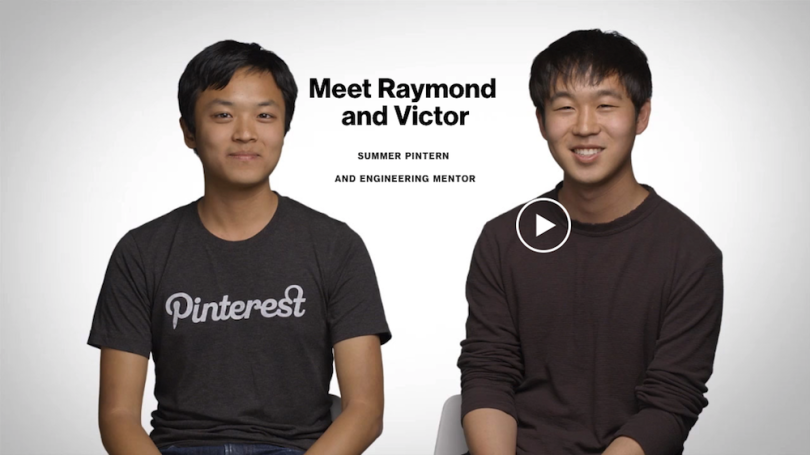 Pinterest has fully embraced video, and with good reason: job postings with corresponding videos get 36% more applicants. Pinterest is using the format to feature attention grabbing content like interviews with current employees, an overview of the company's history and client testimonials.
What makes them unique: The 'university' tab caters to students and recent grads looking for their first job or a Pinternship.
What we would tweak: Videos featuring their 18 offices would highlight local teams and help candidates interested in relocating.
Netflix's Career Page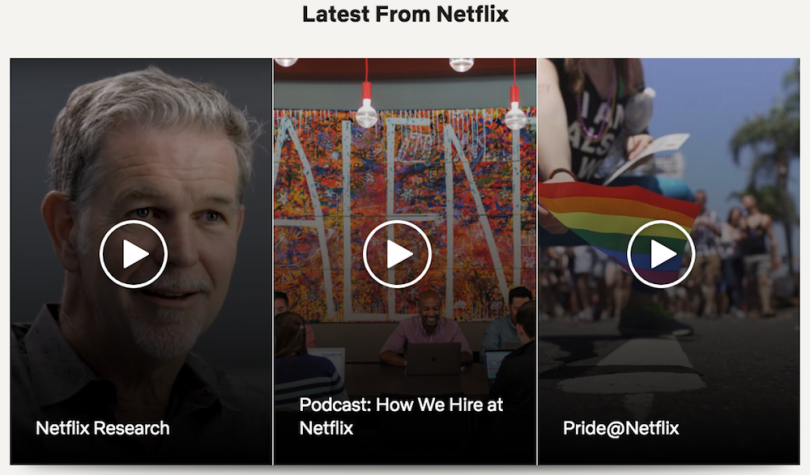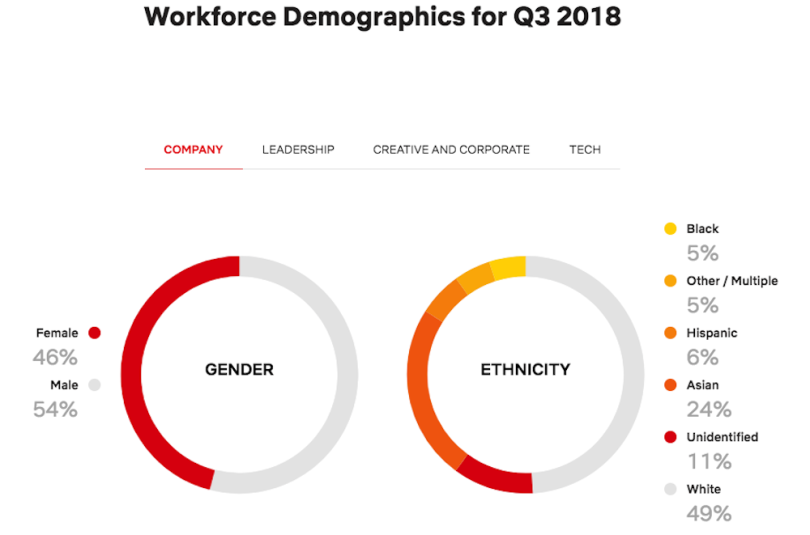 Netflix has abundant resources and a large budget, so it's no surprise they boast a great career page. They've developed a website, social channels and podcast dedicated to job seekers.
What makes them unique: The company provides quarterly workforce demographics by department, showcasing its dedication to diversity and inclusion.
What we would tweak: Their culture page is more than 4,400 words long. No one is reading the final 4,000, so cut the fluff and consolidate to a few key points.
Salesforce's Career Page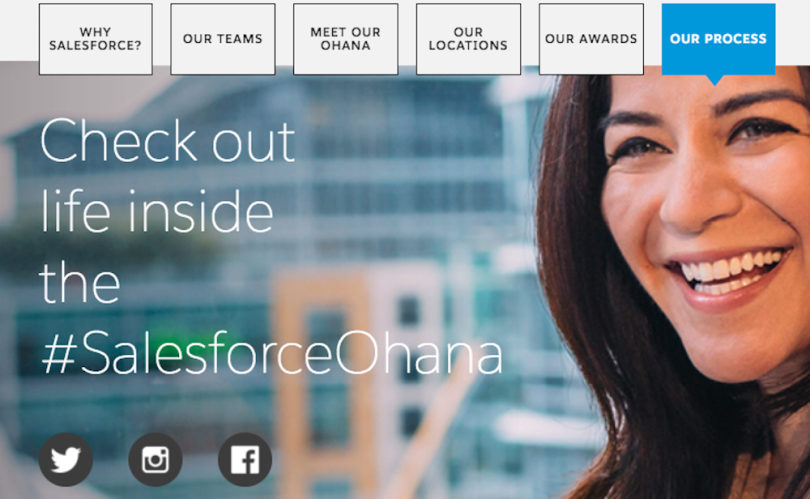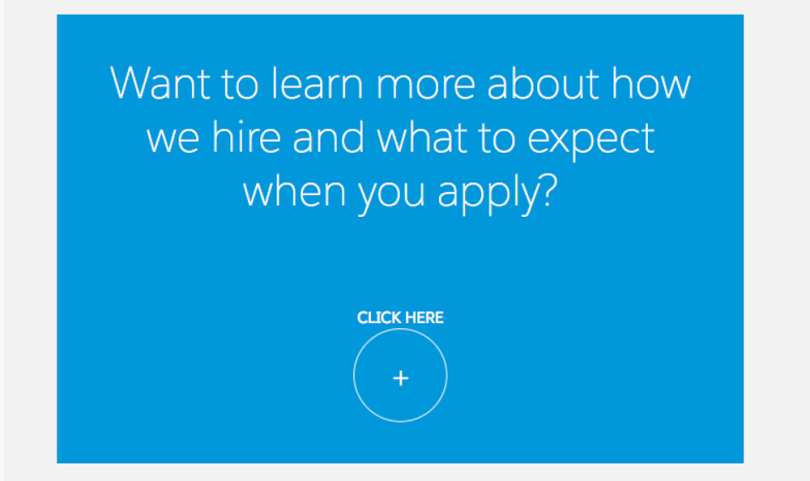 Salesforce is another giant with a powerful reputation. Most candidates are familiar with the brand, but they likely don't know about the culture within. The company has created a resource for job seekers to learn the ins and outs of different teams, locations and subcultures across the company.
What makes them unique: They prepare candidates for the road ahead with a full overview of the application process.
What we would tweak: There is so much great content, it can be overwhelming. Too much content can distract job seekers from applying.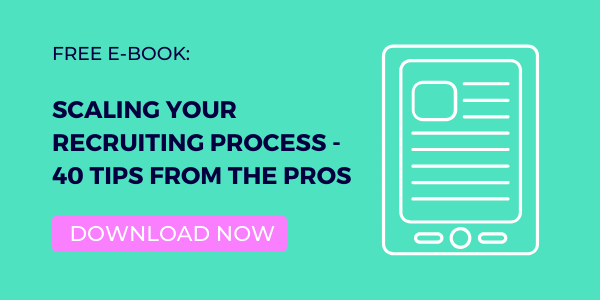 Spotify's Career Page

Like Netflix, Spotify emphasizes diversity and inclusion with a suite of statistics and demographic information. They take this practice one step further by providing an overview of their plan for continued improvement in this area.
What makes them unique: They maintain an HR Blog with information for job seekers and employers.  
What we would tweak: There is little information about the company's perks and benefits — both key considerations for most job seekers.
Epic's Career Page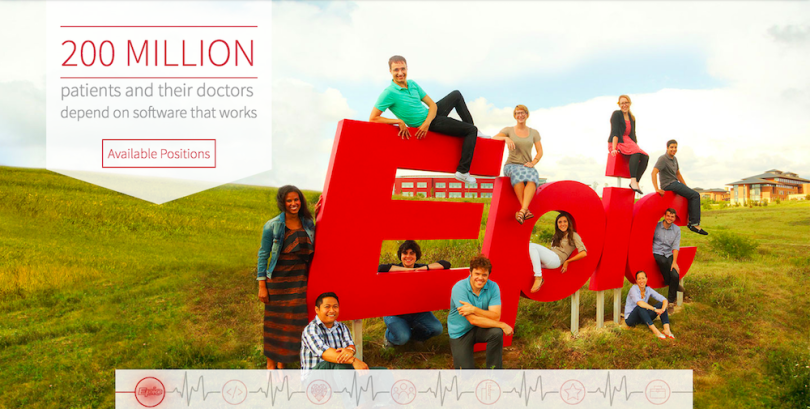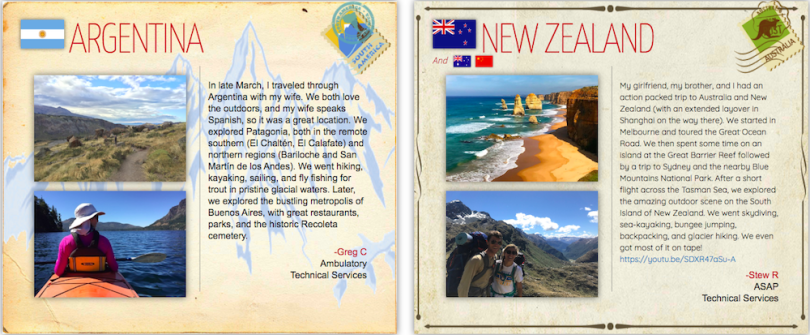 Epic drives home the impact their software has on millions of people worldwide and incorporates clever medical themed graphics throughout. The local attractions page has activities to enjoy by each season.
What makes it unique: Every five years, employees are awarded four weeks of paid vacation. To highlight this unique benefit, they have a 'sabbatablog,' where employees give a brief overview of their trip.
What we would tweak: The Epic campus is nothing shy of #extra. A video tour—or better, drone tour—of the 900+ acre campus and its themed buildings would be epic.
Five Companies Hiring Up
Now that we've seen how big brands attract candidates on their career pages, let's see what smaller companies focus on. It may surprise you that even the smaller companies have similar content and formatting to those with larger budgets. Let's see how Rover, Zendesk, Quid, Dubsmash and ZURB compare.
Rover's Career Page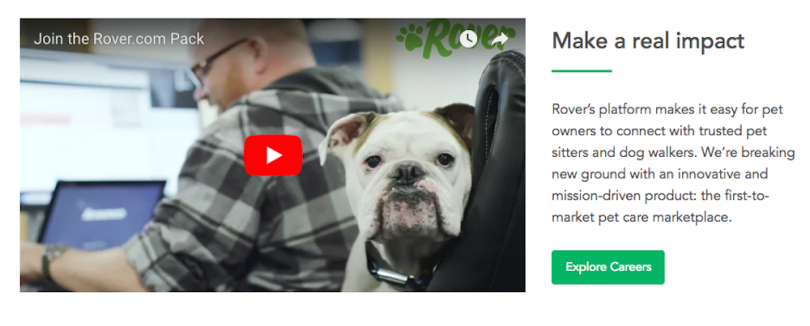 We wouldn't blame Rover for loading its career page with nothing but heartwarming photos of dogs (it is sort of their thing), but they keep it within reason. Instead, they keep content brief and focus on the careers, especially software engineering. Five tabs break up content and simplify page navigation.
What makes them unique: Like most tech companies, software engineers are one of their top hiring priorities. They created a specific section for open engineer roles and a link to the Rover Engineering Blog and GitHub team.
What we would tweak: 12 core values is a lot to digest. Selecting a handful to focus on would cut down on jargon (and a few more pup pics wouldn't hurt).
Zendesk's Career Page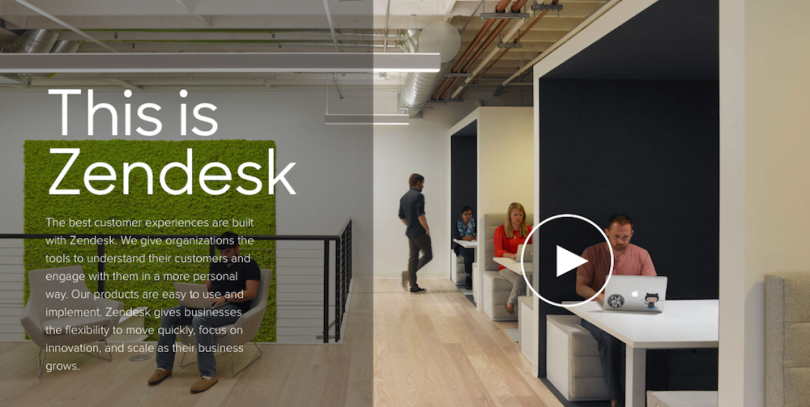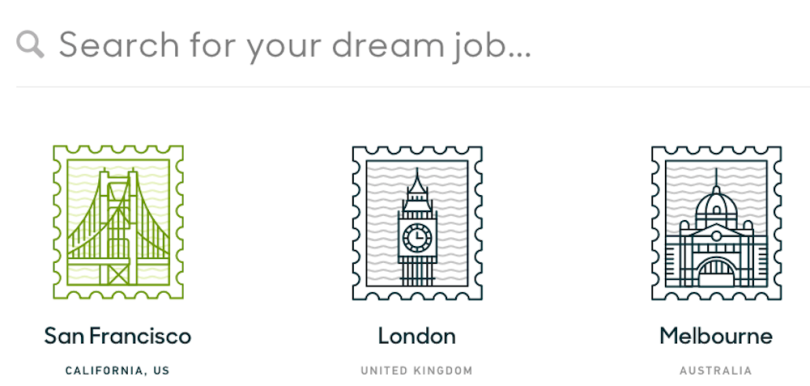 Zendesk provides all the essentials plus a few extras without an overwhelming amount of content. They also make sure to recognize each of their international offices (the site translates into 14 languages to make things easier).
What makes them unique: Their featured video is narrated in short, easily digestible sentences and features content from all of their offices worldwide. It's a great example of quality video content that doesn't break the bank.
What we would tweak: We'd love to see even more information about the unique cultures at each of the company's locations.
Quid's Career Page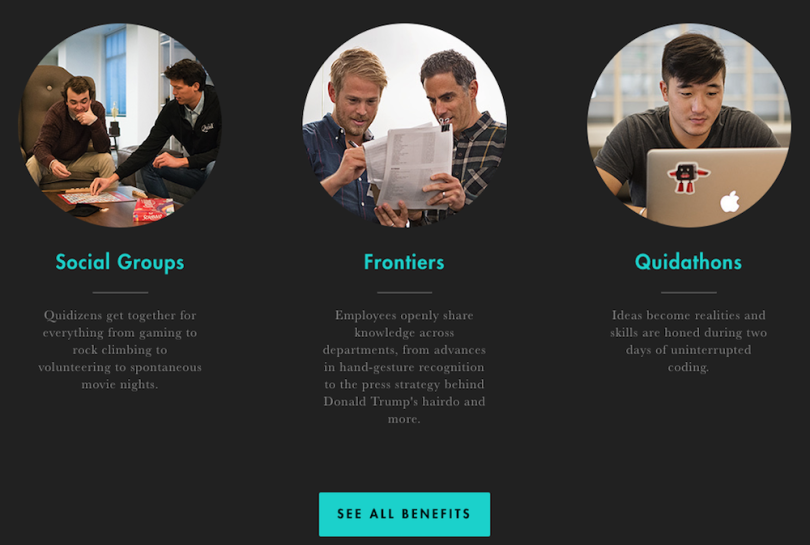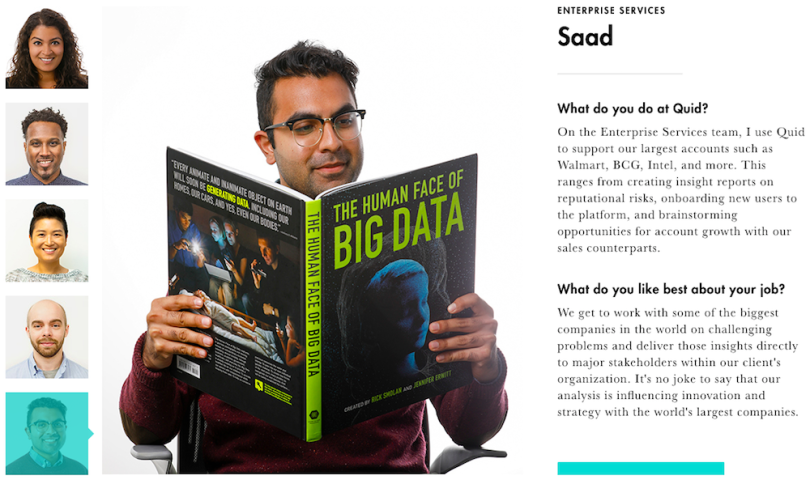 Quid flatout nailed its career page. Not only do they have all the essentials and extras, but the layout is clean and easy to read to boot. Company culture is evident, and individual interviews highlight their diverse team.
What makes them unique: To minimize copy, they have pop outs for text-heavy information, like mission, benefits and open positions.
What we would tweak: A video tour of their office would take their career page to the next level.
Wistia's Career Page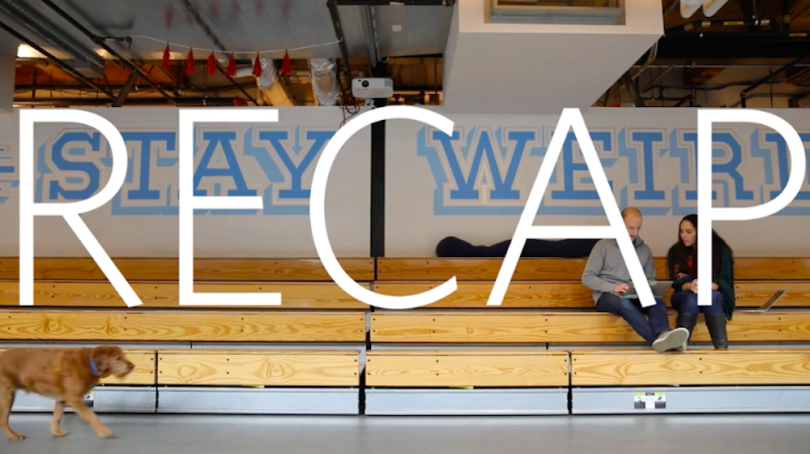 As a video software company, Wistia creates some of the most creative and genuine videos featured in this article. Their job page features a video about its people, a unique event to boost creativity and insight into what employees do outside of work.
What makes them unique: At the end of each year, they create a 'Wistia Rap Up' video, that features clips throughout the year and employees spin a sick recap rap up (they go back since 2011)!.
What we would tweak: Compared to their outstanding videos, the copy is a bit bland.
ZURB's Career Page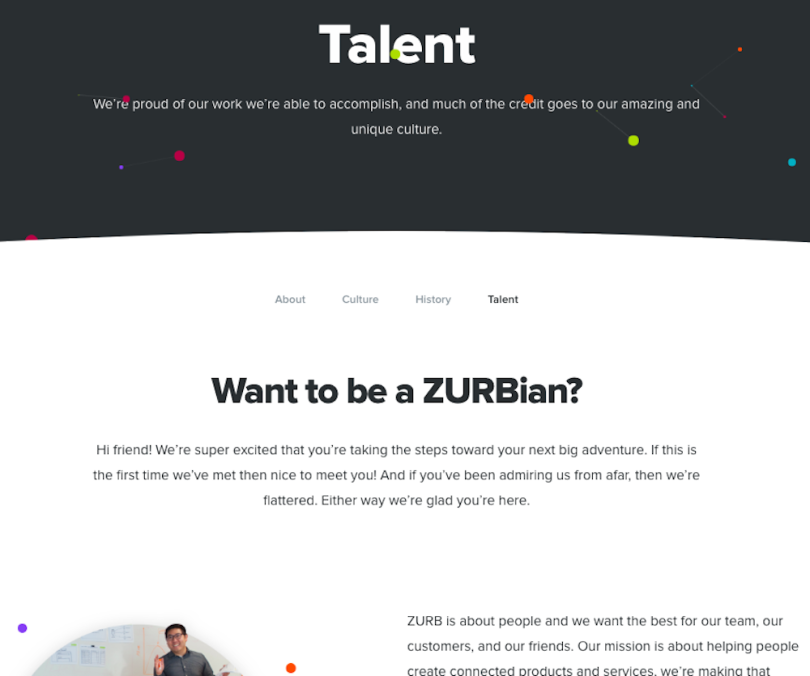 ZURB has a clean-cut design with clear navigation to all of the topics that would interest candidates. Each page is loaded with a mix of professional photos of real people in their quirky offices and concise bits of content.
What makes them unique: To attract candidates from afar, they include information about local attractions.
What we would tweak: While they do cover some fun perks and traditions, they lack information on benefits — a major factor for prospective employees (are you noticing a theme here?)
These five companies have a unique approach to hiring.
Big or small, these companies have thought outside the box on their career pages. In fact, some are taking their message beyond the career page altogether. Check out what they're doing to stand out from the rest.
Red Bull's Career Page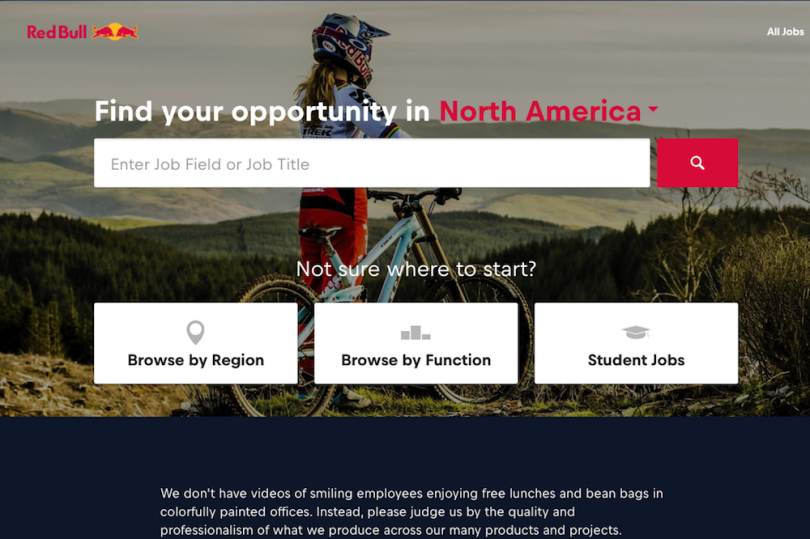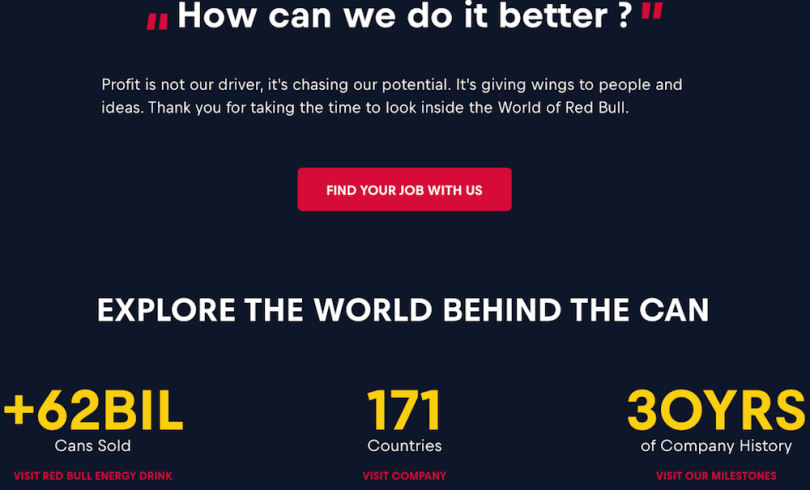 Red Bull states it plain and clear: "We don't have videos of smiling employees enjoying free lunches and bean bags in colorfully painted offices. Instead, please judge us by the quality and professionalism of what we produce across our many products and projects."
What makes them unique: Red Bull eschews the best practices we covered earlier in the interest of making its career page user friendly for a global candidate base. A smart play, given the number of countries in which its recruiting.    
What we would tweak: Red Bull is known for their amazing ads, and we'd love to see some of that creative thinking applied on this page. 
Sprint's Career Page


Sprint is another giant company with a few differing elements. They have the basic essentials and a few extras, but unlike the other big brands, their visual content is sourced almost entirely  from their social media channels. It's an easy way to keep their career page fresh.
What makes them unique: They have a pop-up chat window for candidates to ask questions about their business, culture, job opportunities and more.
What we would tweak: The copy is sparse and it feels a bit forced. Rather than saying they hire 'awesome' people, it would be helpful to know how such a broad term specifically relates to their teams.
Dubsmash's Career Page


Dubsmash exceeds our essential criteria with creative copy, outstanding visuals and an intuitive job search tool. Company culture and personality are cleverly merged with individual employee videos. They boost credibility with interesting stats, investor info and news features.
What makes them unique: The employee videos. They immediately capture attention and engage with visitors who scroll over each face to hear the dialogue.
What we would tweak: As with Spotify, we'd recommend Dubsmash include more information about its perks and benefits.
General Mills' Career Page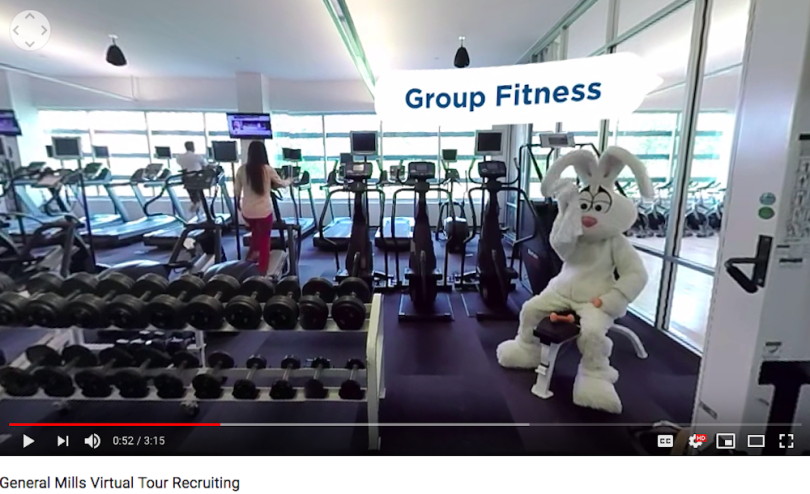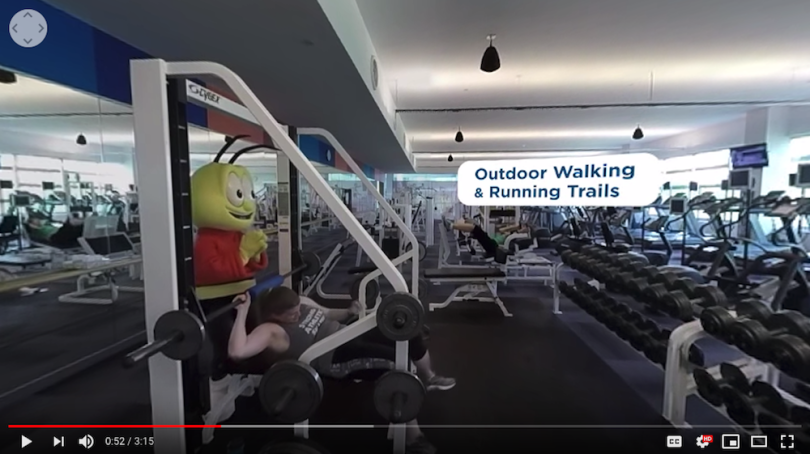 General Mills created a 360 degree video tour of their Minneapolis office. Icons help users understand the layout of the large campus and facilities. The 360 degree tour is unique because it allows candidates to choose their own adventure by engaging with the video rather than passively viewing.
What makes it unique: Aside from being a 360 video, they have brand mascots sprinkled throughout the video doing run-of-the-mill tasks.
What we would tweak: A link to current job openings would help drive traffic back to the career page.
Grubhub's Career Page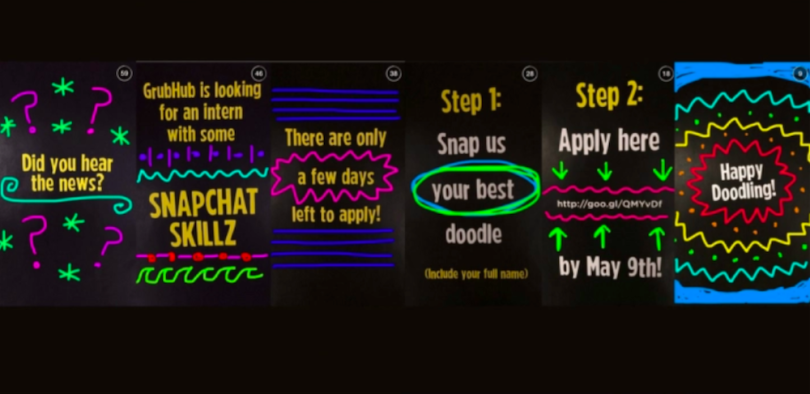 When Grubhub was looking for an intern to help grow its Snapchat presence, it turned to — wait for it — Snapchat. GrubHub used the Snapchat Stories feature to post a mini slideshow explaining the position and how interested candidates could apply.
What makes it unique: GrubHub met candidates on their turf, and provided a fun and unexpected application process that caught the attention of qualified applicants outside of traditional recruitment channels.
What we would tweak: The logistics. Where is this internship? Is it paid? What's the time duration? Part-time? Full-time For all of its creativity, it leaves a lot unanswered.
But wait, I'm not currently hiring . . .
Growth is not steady. It comes in spurts and waves. For those periods when hiring needs are low, it's important to maintain an informative career page. Let people know that you're no currently hiring and either tell them to 'check back soon' or create a feature for candidates to submit a resume. Doing the latter will create a passive applicant resource for your next growth period.
FREE E-BOOK: SCALING YOUR RECRUITING PROCESS - 40 TIPS FROM THE PROS. DOWNLOAD HERE.