Employee Referral Program: A Guide to What, Why & How to Build One
Updated:
January 13, 2021
Updated:
January 13, 2021
As a kid, did you ever sell cookies, popcorn or wrapping paper to friends and family for fundraising events? Remember how your parents would rather clear out the month's grocery budget buying all your supplies than help pitch your wares to relatives and colleagues? Asking for help from other people, especially those closest to you, can be daunting and awkward. 
Similarly, companies tend to fork out loads of money and resources on third-party resources in order to drive candidates, when instead they could be tapping into the networks of those closest to them — their current employees. Learn more about what an employee referral program is, why it's worth the investment and how you can build one for your team.
Feel free to click on the links below to jump ahead, or read on.  
FREE E-BOOK: SCALING YOUR RECRUITING PROCESS - 40 TIPS FROM THE PROS. DOWNLOAD HERE.
Table of Contents
What is an Employee Referral Program?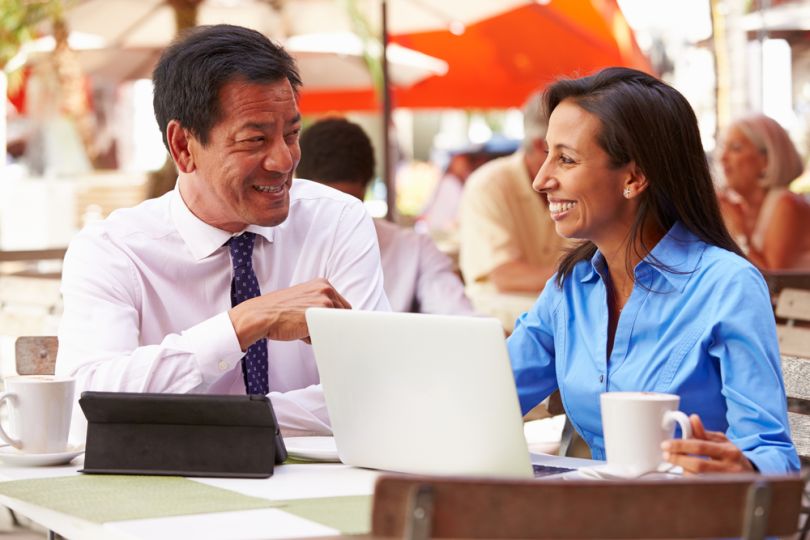 An employee referral program is a recruitment strategy that encourages and incentivizes current employees to refer qualified candidates from their personal networks. 
There are different types of employee referral programs that measure specific goals and offer different incentives, but the bottom line is to encourage employees to help fill certain open roles by reaching out to their networks. 
Benefits of Employee Referral Programs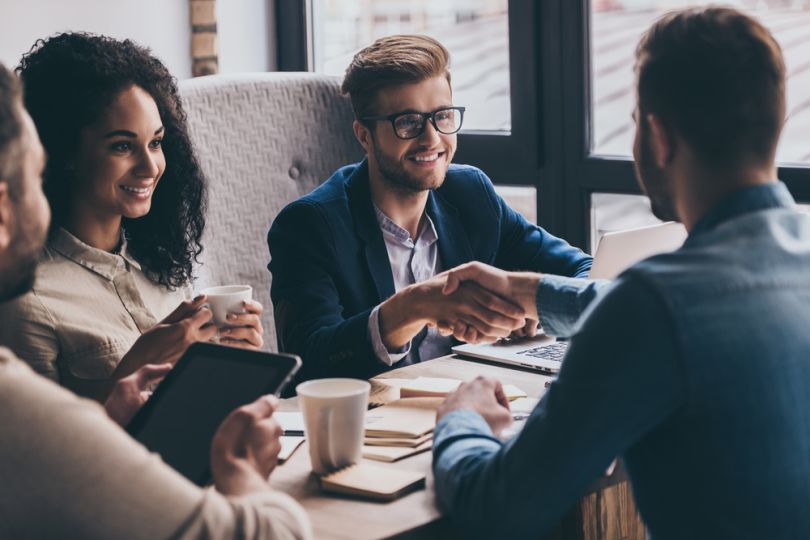 Before you get all weak kneed and sweaty palmed at the thought of asking employees to help recruit, consider some of the very sweet benefits that come with implementing an employee referral program:
Better source of hire: Nearly one-third of referrals are hired.
Faster time-to-hire: Employee referrals decrease time-to-hire by 40%.
Decreased cost of hire: Referrals cost 40% less than candidates from job boards. 
Higher retention rate: Referrals are 13% more likely to stay at least one year than people hired from career sites and 24% more likely than people hired from job boards.
Higher quality of hire: Referred employees not only produce roughly 25% more profit than those sourced from other channels, but they are also significantly more likely to share similar values and fit into the company culture.
Improved employee-engagement: Employees who refer job candidates have shown to be significantly more engaged with a company than those who don't. 
Reach passive candidates: Some of the hardest (and best) candidates to reach are passive, and your top employees are among a network of other passive candidates, just waiting for an opportunity like yours to scoop them up.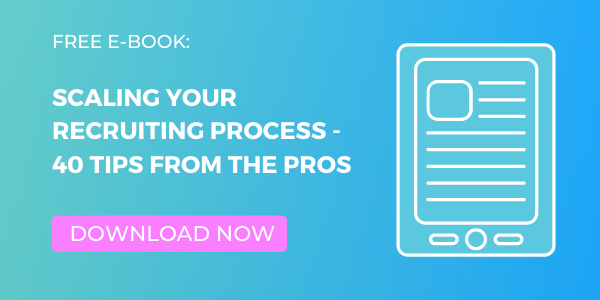 How to Build an Employee Referral Program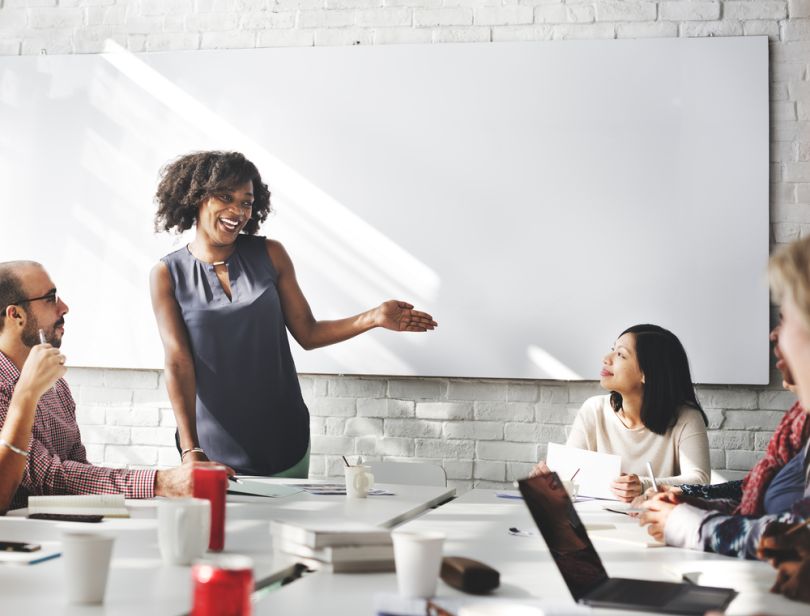 You know the what and the why, now we're going to delve into how to build an employee referral program. There's no perfect way to build a program, but we've included some important factors to consider in this guide.
Prioritize your hiring needs
Depending on the size and growth stage of your company, you may need to prioritize certain hires over others. When asking employees to take time out of their day to contact people in their network, make sure their search is well worth the effort.
If you're really struggling to hire for a certain role, up the ante with more enticing bonuses or prizes for employees that refer a candidate. We'll touch more on different types of bonuses in a bit.  
Define the Candidate Persona
To help employees identify the best referrals in their network, first define the candidate personas you are looking for. You'll want to identify:
the specific role you are hiring for
the current role your ideal candidate possess
their years of experience and education
specific expertise and skills they may require for your open role
the geographical location (unless it's a remote position)
what personalities, traits or skills are lacking on the hiring team
their online presence — where are they spending time online.
Once you've answered all of these questions, draft up a candidate persona with all of the information your employees need to help you find the best referrals. Once you've completed this step, you can then identify what areas of your recruitment strategy can be used to find your ideal candidates. Again, you're asking your team to take time out of their busy lives to help the company recruit, so make sure to arm them with all the information they need. 
Review Your Recruitment Strategy
Before you can start refining your recruitment strategy, review your current strategy to identify what's working and what needs improvement. Do some deep digging into current employees to determine: how they learned about your company, what platform did they use to apply for the role, consider how long they've been at your company and look critically at employee diversity statistics. 
This will help narrow down which recruitment marketing strategies worked with current employees, why employees have continued to stay with your company, why people have left your company, was the application and hiring process user-friendly — something to ask recent hires for the best feedback. All of this will help you improve your recruitment strategy so employee referrals are: A) more likely to complete the application process and B) blown away at your magnificently organized company as a prospective employer. 
Now that you understand the status of your current recruitment strategy, it's time to define your employee referral program goals. 
Set Goals for your Employee Referral Program
In order to measure the success of your employee referral program, set measurable recruitment goals to track and reevaluate over time. It's not practical or possible to focus on all of the recruitment goals at once, so narrow down a couple of primary areas of focus for your recruitment strategy. You can always reevaluate later and set different goals once you've met previous ones. Here are a few recruitment metrics to consider:
Number of Referrals
Quality of Referrals
Applicants Per Opening
Application Completion Rate
Cost of an Unfilled Position 
Time to Hire
Offer Acceptance Rate
Cost Per Hire
Quality of Hire
Quality of Applicant
Employee Retention Rate
Diversity Recruiting 
Employee Engagement
You can narrow down the metrics you track and set reasonable goals by evaluating your current recruitment strategy. Look at what is working, where do you obtain the best candidates in the shortest amount of time and what are some areas of your current strategy that need a little extra attention.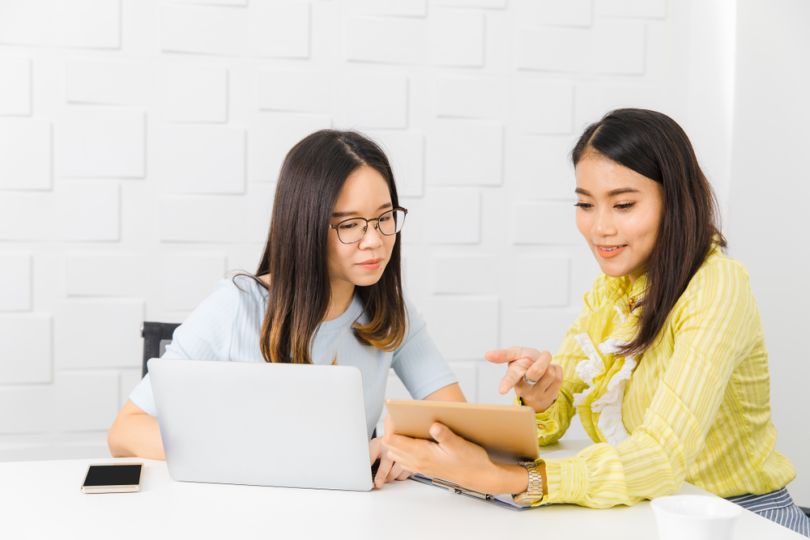 Educate Employees on the Program
In order to ensure your employee referral program runs smoothly and efficiently for everyone involved, it's important to educate employees on your goals, the candidate persona, roles to prioritize and information on how they can effectively recruit referrals.  
Whether your employee referral program runs year round or is only implemented for certain high-priority roles, it's important to provide employees with the job description of the open role, an overview of the qualities you are looking for in the hire as well as some tips on how they can approach people in their network. 
Also help employees share the role on their personal and business social media accounts by providing them with imagery, recruitment videos and written content tailored to different social media platforms. 
Keep the Referral Process Simple and Effective
It's one thing to have an employee tell their friends about an open position, but it's another thing to have the referral actually follow through and apply for the job. You can help employees help their referrals apply by making the referral and recruitment process as simple as possible.
One way to identify and track which employees referred which candidates is to create a unique trackable link for each individual employee to share. If your company utilizes an applicant tracking system, they often have a link builder that tracks jobs shared by individual employees.
Keep Everyone In The Loop
Communication is key when it comes to an employee referral program. When working with people referred to you by employees, you really owe it to both the employee and the referral to keep them updated on the status of the hire. Even if the referral isn't a match for the role, let your employee know, and show your appreciation for referring someone in their network.
Referrals are tricky because feelings and relationships can easily be affected. Employees aren't just going to refer anyone in hopes of receiving some kind of referral bonus. They are going to refer people they think would be a great match for the role, culture and that they would enjoy working with. These individuals are often close friends, so when the referral doesn't get hired, it's up to you to ensure the relationship is left intact.
Similarly, many people assume to have a leg-up by being referred, and while referrals are often top candidates, that doesn't always mean they will get hired. If they've been asked/referred by a friend to apply for a job and go through the recruitment process, it can be really disappointing to not get the job. After all, they probably didn't plan on applying for a job until your employee convinced them to, so it can feel like they've wasted their time.
Don't let referrals leave on a bad note. Provide them with helpful feedback on why you didn't hire them, send a thank you note for applying and encourage them to join your talent community for future open roles. 
Offer an Employee Referral Bonus
The best way to get employees to refer friends is to offer some kind of incentive. Employee referral bonuses can either be monetary or non-monetary. Monetary bonuses usually range from $1,000-5,000, and are typically conditional based on the employee remaining with the company for a minimum period of time. The difference in the amount of bonus cash may be determined by the seniority of the role hired, the difficulty of the role hired or the length a role has been open.
There are also a wide variety of non-monetary bonuses companies offer employees to refer candidates, such as: 
Extra time off
All-expense paid trips
Tickets to games, events and concerts
Gift cards
The smaller prizes are also a nice gesture to offer anyone who refers a candidate even if they don't get hired.
Support a Diverse Employee Referral Bonus
One of the biggest downsides to hiring by employee referrals is that employees are limited to the people in their network — which typically means they are referring people who share similar backgrounds, experiences and interests. While referrals are often the best source of candidates, they all too often lead to homogenous teams of like-minded thinkers and doers. 
It's been proven time and time again that hiring diverse candidates is critical to the success and growth of any company. In order to turn words into action, Glowforge utilized their employee referral program to bring in more diverse candidate referrals, offering a steep $5,000 referral bonus for employees who refer under-represented candidates. Talk about putting your money where your mouth is.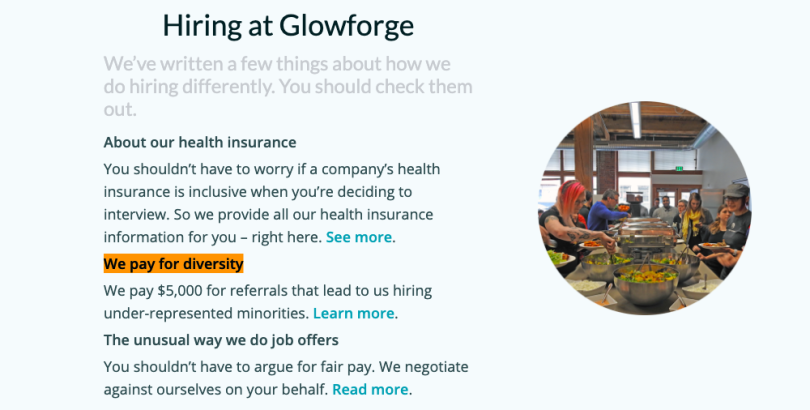 Host an Employee Referral Event
What's easier, getting a referral to apply for a job or getting a referral to meet at a bar with the promise of free food and drink? Not sure about you, but most people would rather spend their time meeting new people in-person and more importantly, consuming free food and drinks. 
Employee referral events are a highly effective recruitment strategy. Unlike most recruiting events, an employee referral event is often more enticing because the employee who referred them can attend the event with them and introduce the referral to other people at the company. It's more laid back, and both candidates and employees will get a good sense of how the other will fit into the job opportunity. 
Promote Your Employee Referral Program
Every time you open a new role and define a candidate persona, make sure to continuously communicate this information to the team. Once referrals have entered the recruitment process, keep candidates and employees in the know on where their referral is in the process, and make sure the experience is nothing but positive even if they aren't offered the position.
And if you're offering some kind of employee referral bonus, kindly remind employees about the very sweet benefit they could enjoy if they took the time to refer people from their network. 
FREE E-BOOK: SCALING YOUR RECRUITING PROCESS - 40 TIPS FROM THE PROS. DOWNLOAD HERE.