26 Of The Best Recruitment Videos - From A to Z
Updated:
January 13, 2021
Updated:
January 13, 2021
Recruiting videos are an essential part of every recruitment strategy.  It can, however, be a large undertaking of time, money and resources to create a well-crafted video that targets your candidate persona. While there is no wrong or right way to film a recruitment video, there are a variety of different styles, ideas and topics you may want to focus on to get the best ROI on your efforts. 
To provide you with a breadth of ideas, styles and topics to consider when planning your next recruitment video, we've gathered 26 unique recruitment videos, from A to Z.
FREE CANDIDATE INSIGHT REPORT: THE TOP PERKS & BENEFITS FOR TECH IN 2021. DOWNLOAD HERE.
26 Recruitment Videos From A to Z
Appian
In a spinoff of Vogue's 73 Questions video series, Appian asks a few of their Business Development Representatives 26 questions ranging from their favorite places to eat to their favorite Appian moment to date. They film the interview while walking through the office, offering a more casual vibe and providing candidates with a tour at the same time.
BlueCore
Having the skills to both collaborate within a team and independently own projects are keys to success for those interested in pursuing a career at Bluecore. This video covers all the information a candidate looks for in a recruitment video, from their mission and values to career growth opportunities all backed by employee testimonials.
CSG
Benefits are a top priority for any candidate, and in this recruitment video, a CSG recruiter shares one benefit that really hits close to home — paid parental leave. This video is a great way to share how the company's benefits actually impact employees' lives, allowing this new parent the opportunity to spend time with his newborn, who is preciously featured in the film. He also asks candidates to share their favorite benefits so that they can continue to improve their benefits package. 
Digital Remedy
Digital Remedy takes a unique spin on their recruitment video by participating in a viral internet video trend — the Mannequin Challenge. Throughout the video, viewers receive a tour of the office with stops along the way featuring employees frozen in time as if mannequins. You also hear voiceover testimonials of employees that correlate to actions in the video.
Enova
Candidates love to hear about company cultures that encourage employees to explore their interests and support their evolving career path within the company. In this recruitment video, Enova shares testimonials from an employee who has held multiple roles at the company and another who supports developers growth and interests by offering them a month off of their day job to learn a new skill in tech. 
FloQast
When FloQast was hiring like crazy they hosted a stellar recruiting event, and utilized the opportunity to double dip on content creation. They created this video full of great content from the event to repurpose and share as they continue to hire. They also have several other videos covering the unique cultures of specific departments.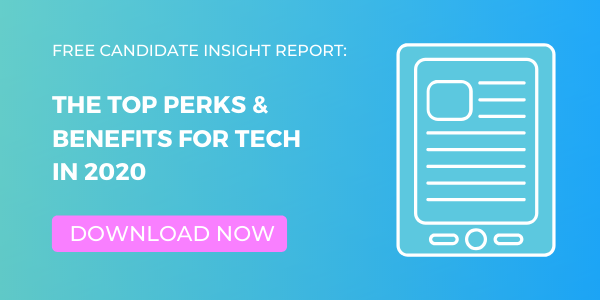 GrubHub
GrubHub is unapologetically obsessed with two things: food and their mission. In addition to interviewing people across the company, they asked employees "What Do You Bring To The Table," opening up the opportunity to share how they contribute to their team, as well as what they literally bring to the table to eat. This is a clever way to tie their culture, values and mission together in this recruitment video.
HomeAway
Few companies take advantage of boomerang employees (employees who leave and return to the company at a later date). In this video, HomeAway shares stories from a few of their very own Boomerang employees. Also, HomeAway has 26 - count 'em, 26 - videos about Life at HomeAway. The international company created recruiting videos for each of their offices across the globe in addition to short videos interviewing individual employees and documenting special events, like an annual Battle of the Bands competition, Movember celebrations and Bring Your Kids to Work Day.
Instructure
The beauty of creating an About Us video is that it can be repurposed for both clients and candidates. Why? Because both care about your company's story and mission. Instructure does just that with this inspiring video on why education is key to the human experience from employees to customers. They also have a series of more traditional recruitment videos as well.
JP Morgan
J.P. Morgan has well over a hundred recruitment videos. From Intern Stories to #BestAdvice and Technology Careers, the company covers all their recruiting bases. This video from a recruiter in China offers some advice for candidates interested in kickstarting their career at the company. 
Kabbage
This video by Kabbage starts with a candidate walking into their interview accompanied by a friend on her way in. When…things take a shocking turn. Needless to say, this recruitment video shares the truly fun, creative (and creepy) side of their team in all the best ways.
LogMeIn
LogMeIn's classic recruitment video incorporates the greater goal of the company with interviews, where employees offer candidates reasons to consider the company as an employer. The company culture,  both internal and international, is apparent and their team is passionate about what they do. 
Motley Fool
With a name like Motley Fool, having a fun and quirky culture is non negotiable. While that may be the case, the company focuses their recruitment video on the many opportunities their employees have to learn, grow and evolve in their careers based on their unique interests. 
NetApp
The Vice Chairman at NetApp is so passionate about the culture and values at his company, he regularly records videos to discuss different topics about nurturing and cultivating their culture and what to do when you catch someone doing something right — hint, it revolves around one of their core values. 
Outcome Health
At Outcome Health, they live by the motto "Activate Good." This recruitment video shares one specific story of an employee who was passionate about giving back and providing opportunities and mentorship for students to grow into a career that they're passionate about, no matter their interests. This is just one of many stories where the company helps employees partner with local non-profits and give back to the community in the ways that matter most to them. 
Pivotal Payments
Rather than having employees share their perspective, Pivotal Payments has a carefully curated narrator share their story in this video accompanied by quirky clips of their team throughout different offices. This is a great way to save employees the stress and nerves of having to perform and interview on camera while still sharing your company culture and personality in a cohesive and well-thought-out recruitment video. 
Quirky
The interns at Quirky have many more responsibilities than getting coffee and filing papers. This recruitment video shares all of the different types of department and internships candidates can look into. They also encourage people to submit a video interview and provide instructions on how to submit their application on the website.
RetailMeNot
RetailMeNot is keen on hiring veterans. So much so that they partnered with an organization called Veterans4Quality that helps companies recruit military veterans. This video highlights a few of their military veteran employees, who were sourced through the Veterans4Quality, and shares how the program has impacted their lives with a career at RetailMeNot. 
Steelhouse
Once a year, SteelHouse has an off-site celebration, and in 2018, they decided to film a company-wide music video. Throughout the video, employees are shown getting their boogie on while sharing why they love working for the company and their favorite part of the celebration.
Trendkite
In addition to having a bunch of fun and enticing benefits, like free food and hover-boards, Trendkite prides itself in hiring a team of passionate, energetic, initiative takers, who can balance owning their work and having fun with colleagues. A core value for them is "One Team," and celebrating both their individual and team wins no matter how small or big.
uShip
Digital office tours are really helpful in providing candidates with insight into the office and work environment way before they come in for an interview. uShip provides a behind the scenes tour of the different departments, recreational areas and games and ties it up by offering candidates the opportunity to visit the office and join them for a free lunch whenever they're in Austin. And if you don't have access to any humans, a uShipper demonstrates how a puppy is a great alternative to offer a digital office tour. 
Vertafore
Vertafore has a series of four recruiting videos that are each about a minute long and focus on one individual employee. Each employee comes from a different department and are at different stages in their careers to share their perspective on the company and their unique experience. 
WeWork
In 2018, WeWork pledged to hire 1,500 refugees in just five years. They created a series of videos sharing stories from refugees and how their lives were impacted from starting a career at the company. No matter how you intend to scale, it's important to create content that attracts your target candidates.
Xero
Unlike most of the other videos on this list, Xero created a long twenty minute video on a very important topic for candidates — employee happiness. As a team that's dedicated to learning and growing, they sit down with an expert on how to create a team that's motivated and engaged. 
Youtube
As the top video-sharing website in the world, you can expect a great recruitment video from the experts at YouTube. Needless to say, they have a ton of great video content at their disposal, and they utilize it to both tell their story and share why employees are passionate about working there. 
Zappos
If you know anything about Zappos' culture, you know it's a bit funky in the best possible ways. So much so, that the PBS News Hour decided to have a ten minute special with their CEO about their unique culture. If you've created a culture so great that people are asking you to record a recruitment or company culture video, you know you've done something seriously right. 
FREE CANDIDATE INSIGHT REPORT: THE TOP PERKS & BENEFITS FOR TECH IN 2021. DOWNLOAD HERE.