Company Culture Videos: Learn From 17 of the Best Examples Out There
Companies that consistently succeed in recruiting do two things very well:
First, they put in the effort to develop an honest culture that legitimately reflects the organization and its people.
Second, they work tirelessly to communicate that culture to prospective candidates everywhere.
But when it comes to company culture, not all promotional techniques are created equal.
These days, video is the king of online content, so creating a suite of company culture videos is a must-have element of any recruitment marketing strategy.  
Let's walk through the basics of why company culture videos are important and cover a few elements to include in your own efforts before wrapping up with 17 examples from companies that have flat out nailed it.
Why Make a Company Culture Video?
Videos on social media generate 1200% more shares than text and images; emails with video generate a 96% increase in click-through-rates; video can increase monthly website traffic two to three times.
FREE E-BOOK: SCALING YOUR RECRUITING PROCESS - 40 TIPS FROM THE PROS. DOWNLOAD HERE.
The Importance of Company Culture and Recruitment Videos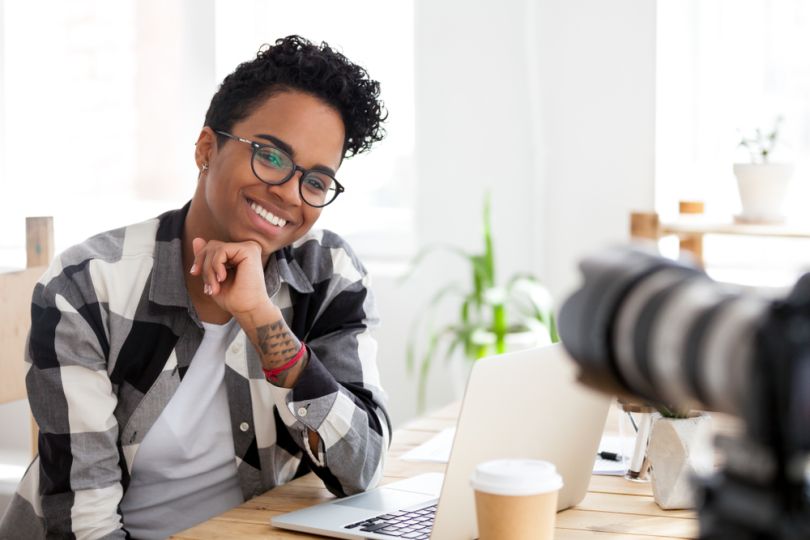 Regardless of your industry, video content is on the rise and engagement rates are unrivaled compared with other formats. Don't believe us? Let's look at the numbers.
Video just works, and the stats don't lie. Videos on social media generate 1200% more shares than text and images; emails with video generate a 96% increase in click-through-rates; video can increase monthly website traffic two to three times.
54% of internet users want more video content from brands that they support. If you haven't implemented a video content strategy for your recruitment efforts, you're literally depriving potential candidates of what they're looking for.
Some recruitment agencies have reported 800% more engagement with job ads featuring embedded video. If it works for an agency, it will absolutely work for an in house team.
On average, companies publish 18 videos per month. Now, you're probably wondering how the heck companies have the time, money and bandwidth to publish more than five videos each week.
The thing is, company culture and recruitment videos don't have to be elaborate or high-tech to be effective. 56% of videos are under two minutes long, and videos under two minutes actually get the most engagement.
Needless to say, videos should be a part of your recruitment marketing mix. Whether they be shared on social media, embedded in your emails or on your website's career page, don't let the fear of creating video dissuade you, because with experience comes expertise.
What Makes For Great Company Culture Video?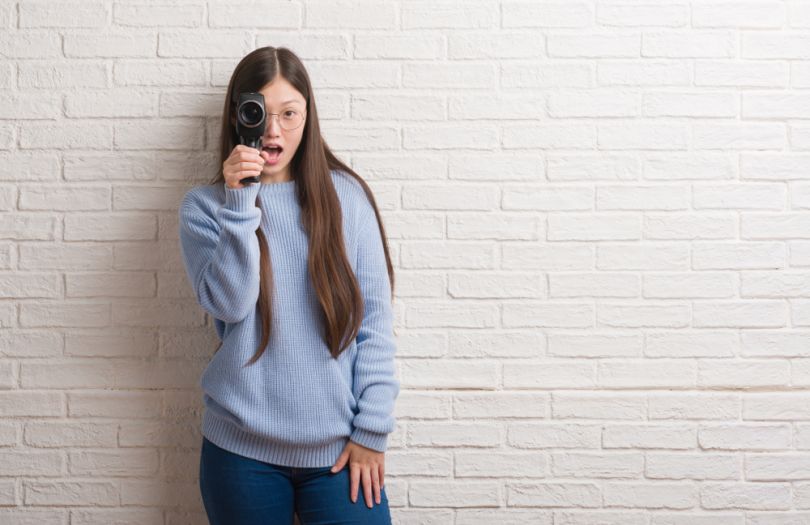 It's not just that videos are popular with candidates. They're also a wise recruitment play.
We picked the brain of Built In's own Director of Content and Strategy, Tiffany Meyers, who heads up our video production efforts for some insight into what makes a recruitment video great and she shared a few key tips. 
Put your best foot forward, because candidates are paying attention - "Because qualified tech candidates are in such high demand, they're in the position to be choosy, so they're really taking time to learn about your employer brand before applying," says Meyers. "From a recruitment perspective, it's smart to tell your employer brand story across media — and video is one of the most powerful ways at it."  
Be open and honest and good things will happen - When it comes to video, it pays to be authentic. "We know that candidates want to work for companies whose values sync with their own," says Meyers. Be honest with your core values and you'll attract like minded candidates that will give their all.
Don't just pitch your jobs, develop a real relationship - So we know candidates want to know more about your company, but can't they learn that from a career page or job post? "Video can do something a job post can't do," says Meyers. "It can tell an emotionally resonant story about your values as a company. That makes it easier for the candidates who fit your culture to find you."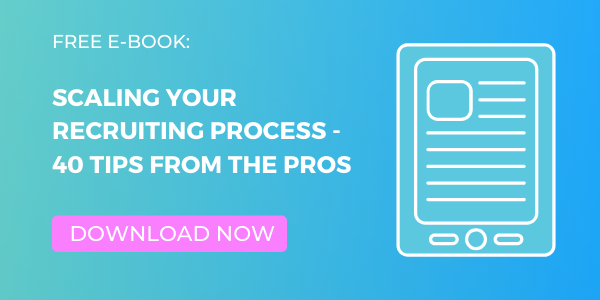 17 Examples of Amazing Company Culture Videos
Now that you've heard it from a pro, let's check out some examples of companies creating successful video content to get some ideas that can be applied to your recruitment video strategy.
Hyperloop One Gets Motivational
Hyperloop One is a hardware and software company that's building the world's first full scale hyperloop test track for freight and people. This video provides a moving overview of the company's mission, successes to date and plans for the future as told by employees through their individual experiences.
Together, they tell a compelling story of the company's culture and the people who have come together united by a passion to build a new mode of high-tech transportation. When creating an evergreen video like this that can be repurposed over and over again for marketing and recruiting efforts, it's worth investing the time and money necessary to make a high quality video.
Thanx Does It The Old Fashioned Way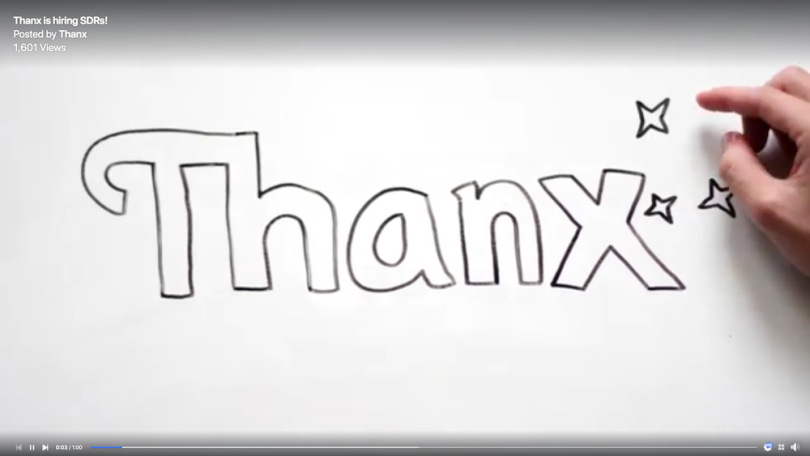 Thanx is a Software as a Service (Saas) company that helps merchants utilize data to build relationships with customers. Recruitment videos tend to be a little predictable, but Thanx bucks convention with a unique approach. The company created this video — a hyperlapse stop motion animation — to help it recruit junior sales reps.
Simply put, it's effective because it's mesmerizing. The hand-drawn motif captures the viewer's attention, increasing the amount of time they spend watching. The subject matter (an overview of the company's training program) is also smart, as 70% of job seekers indicate that job-related training opportunities influence their employment choices. You don't have to be an artist to create something like this, and given the choice, most candidates will prefer lo-fi authenticity to professionally produced vanilla content.
Tala Thrives On Passion
Tala is a data science and mobile technology company that created a mobile app that helps users evaluate their credit and provides them with customized loans. We partnered with Tala to produce this culture video that highlights the impact the company is making on customers round the world.
The video features employees passionate about the company's mission and the power of their role in the company. Giving people the chance to share what they care most about work will attract candidates driven by a similar purpose. Solving big problems isn't easy, but the best candidates are looking for work with purpose, so don't shy away from discussing complex issues.
Yaro Flips The Script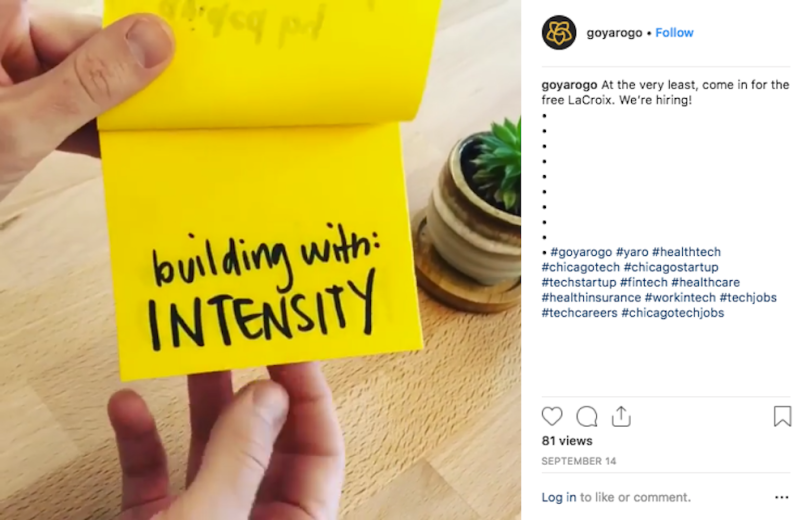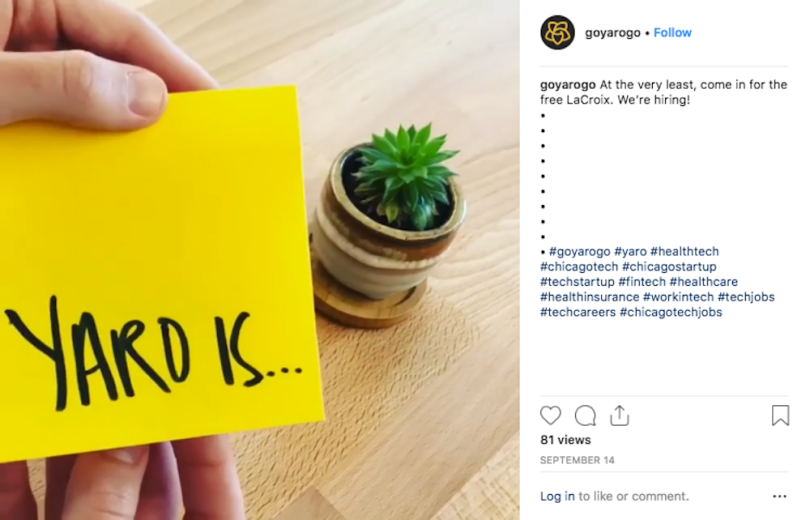 Yaro is a health tech company that partners with healthcare providers and practitioners to help consumers gain transparency into their healthcare. They found a fun way to showcase their core values with this simple Instagram video. The flipbook motif certainly stands out more than a few bullet points on a careers page.
This is a great example of how you can create a culture video without breaking the bank or working overtime. With its highly visual format, Instagram is the perfect platform for short videos, so make sure you're incorporating some company culture content throughout your feed.  
Ellevation Education Leans on Its Experts
Ellevation Education is a software platform that supports English language learners and their educators. This culture video features an interview with their People Operations Manager and covers the company's growth, diversity and culture. From the company's history and what they look for in candidates to some favorite perks and a few of the sub-groups that make their culture unique, she provides a comprehensive overview of the company in only 65 seconds.
People in HR naturally understand in the ins and outs of a company's culture, diversity and growth initiatives and they're more likely to be comfortable talking about the subject in a compelling manner, so if you're looking for someone to star in your culture video, consider starting with your HR team.
Alert Media Keeps It Simple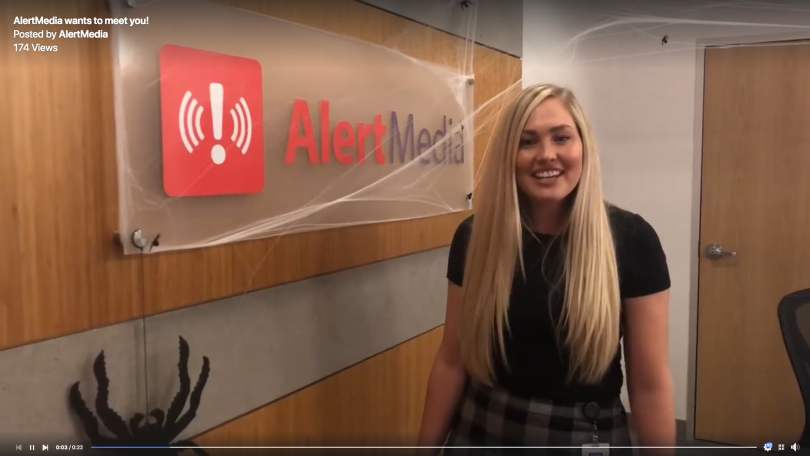 Alert Media is a cloud-based platform that provides emergency communications and monitoring. This recruitment video comes courtesy of their Director of Talent, who is promoting a recruitment event they will be hosting.
They posted a promotional video one week before the event to get people hyped, and followed it with another the day of as a reminder and to provide important details to help attendees prepare. Videos are typically seen as a major investment, but this one serves as an example of how to affordably implement the channel into your mix.
Fuze Brings In The Top Dogs
Fuze has created a global cloud-based communications platform to help businesses unify their voices throughout communication efforts. They brought in some of their most senior leaders, including the Executive Chairman and CEO, to discuss company culture in this professionally produced video.
Members of the C-suite have a powerful voice, but finding time on their calendar to get them on camera can be challenging. This video makes excellent use of their limited time by covering a broad topic in an evergreen manner. It can be used time and time again, and it can be used across platforms for multiple purposes from recruitment to employer branding. Also, not a bad idea to have interviewees wear branded swag!
Bungie Goes Deep - Real Deep
Bungie is a game development studio that has helped in the creation of several major games, including Marathon, Myth, Halo and Destiny. Unlike the other examples on this list, this video is a long-form documentary released to celebrate the company's 20th anniversary. They gathered clips of video throughout the company's history and interviewed current employees about the evolution of this wildly successful video game developer.
While this may not be the first thing you think of when you hear "recruitment video," this sort of in-depth content is a recruiter's dream. Learning about a company's history from the people who built it with their own blood, sweat and tears provides insight into where it came from and where it's going in a way no job description or career page ever could.
Fiverr Gets The Last Laugh
Fiverr is an e-commerce digital marketplace that offers creative and digital services in 150+ freelance categories. The company satirized all those generic recruitment videos out there with this piece, appropriately titled "Another Generic Recruitment Video."
The video pokes fun at many of the cliches we've come to expect from recruitment videos with a monotone voice over and over the top caricatures before getting to its real point - convincing people that Fiverr is the place to be. This strategic use of comedy stands out from the crowd and positions Fiverr as a legitimately fun place to work.
Microsoft Keeps It Real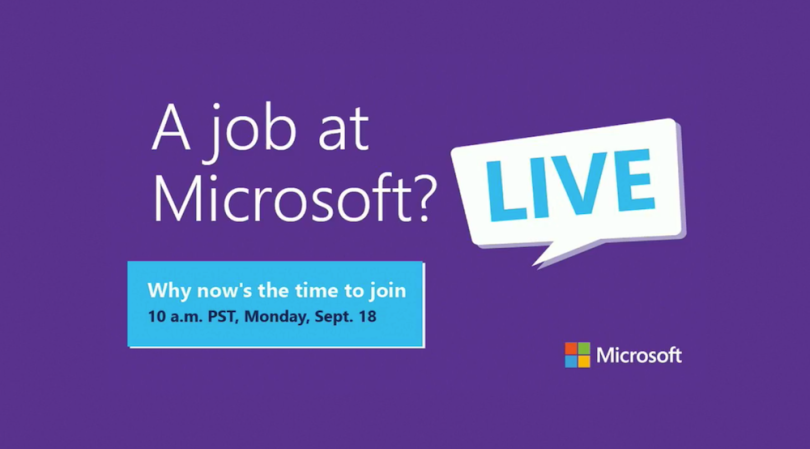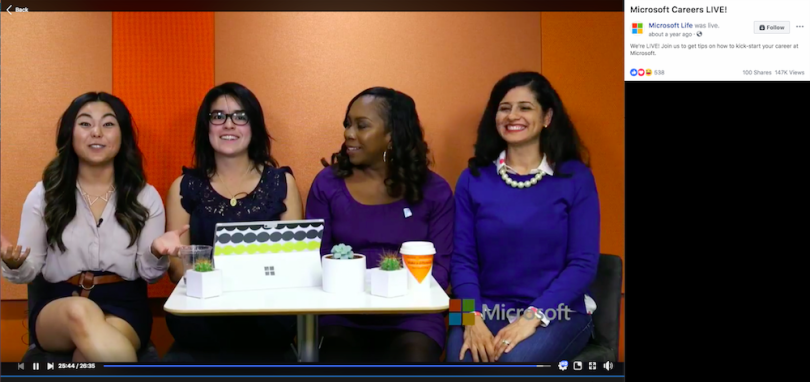 Microsoft is the world-famous software company that we all know and love. This live Facebook video features a Q&A panel discussion with four employees answering questions and offering tips for prospective employees interested in starting a career with the company.
Live video offers a sense of authenticity that pre-recorded videos just can't match. There were a few hiccups at the very beginning of this video, but that's OK — these are real employees answering real questions, not video producers. Taking the time to answer questions from real candidates is also a home run, as it let's you connect with passive candidates before they apply.
Rackspace Nails The First Impression
Rackspace is a managed cloud company that offers web, app and email hosting. This video features multiple interviews with employees who talk about memories from their first day at the company, their initial impression and why they continue to work there.  
First impressions can last a lifetime, and it's interesting to hear from current employees what they remember from their first day, whether it be a few months ago or a few decades. Accepting a new job is a big decision, and hearing from people that have been in the same position can go a long way toward putting candidates' nerves at ease.
Shapeways Rides A Viral Wave
Shapeways creates 3D printing technology, supporting creatives with design tools and services. This video features the entire company participating in a viral video trend, and the fun they had creating it is reciprocated when watching it.
They participated in the Mannequin Challenge, a short-lived viral trend in which people freeze mid motion as a camera creeps through a room full of human mannequins. Producing video content for a viral trend can be risky, as there's no guarantee people will respond to your offering, but Shapeways took a low-risk approach by keeping things very DIY. It's simple, contributes to a trending topic and shows off the fun side of the company's culture. What's not to like?
Basecamp Goes Global
Basecamp, formerly known as 37signals, is one of the top project management tools in America. Even in its early days, the company boasted a distributed team of employees from all over the world, and it made sure prospective candidates understood its remote-work process with this culture video.
Remote employees are often some of the most valuable team members, but it can be easy for them to feel overlooked when it comes to company culture. Basecamp avoided this potential issue by ensuring prospective candidates understand how it operates and that it values its remote team members just as much as those that sit in HQ. As distributed teams become more common, this is something every company should consider.
Blackbaud Focuses On The Mission
Blackbaud is powered by people passionate about making an impact on organizations who "care about cause as much as they care about code." With a tagline like that, it's no surprise that the company leads with its mission in this exceptionally produced culture video.
Candidates care about purpose, and Blackbaud delivers by showing examples of the organizations and causes they're working to support. The old saying "show, don't tell" comes to mind here, as seeing the company's impact in action provides real examples of how the product is improving lives.   
Vivid Seats Gets Granular
Vivid Seats is an e-commerce platform for selling and purchasing tickets to local events. We worked with them to produce this video targeted to prospective software engineer candidates. It positions the company as an employer of choice for engineers, helping them stand out from the crowded field of companies recruiting this skill set.
Highly competitive candidates like software engineers have plenty of options, so creating a recruitment video with content specific to their field allows you to tailor your messaging and significantly increase relevancy. It can also significantly increase the number of applicants, which never hurts!
BambooHR Steps Out of the Office
Via Youtube
BambooHR is an all-in-one human resources software for small and medium-sized businesses. The platform helps companies manage everything from employee records and mobile apps to approvals and reporting. 
BambooHR all but abandons the typical in-the-office company culture video. Because the company values their employees' personal lives and work/life balance highly, they take the opportunity to show their employees in and outside of the office, living their lives and talking about what they like to do. This is a great way to attract talent that also highly values work/life balance, any company can say it but BambooHR shows it. 
Fiverr Goes Meta
Fiverr is an online marketplace for businesses to find freelance services. From graphic design help to voice-over work, the platform connects businesses on every kind of budget with experienced freelancers ready to dive in. 
In this unique company culture video, Fiverr uses voiceover to describe everything going on, poking fun at the tropes all too common in recruitment videos, busy people walking and talking with their laptops, employees in a boardroom listening intently, and a guy on a longboard. Fiverr shows they have a sense of humor before making their point, that great people can work anywhere but if you're the best, they want you. This is a great way to show the company doesn't take itself too seriously while still portraying their office life and what kind of place they really are.
FREE E-BOOK: SCALING YOUR RECRUITING PROCESS - 40 TIPS FROM THE PROS. DOWNLOAD HERE.