Social Media Recruiting: Everything You Need to Get Started and 17 Examples
Despite the potential to connect with and recruit millions of candidates, many companies still haven't embraced social media recruiting, and those that have often operate without a cohesive strategy.
Social media recruiting takes a little work to get right, but when well executed it represents a powerful advantage. This article will walk you through everything you need to know to get started.
FREE E-BOOK: SCALING YOUR RECRUITING PROCESS - 40 TIPS FROM THE PROS. DOWNLOAD HERE.
Table of Contents
What Is Social Media Recruiting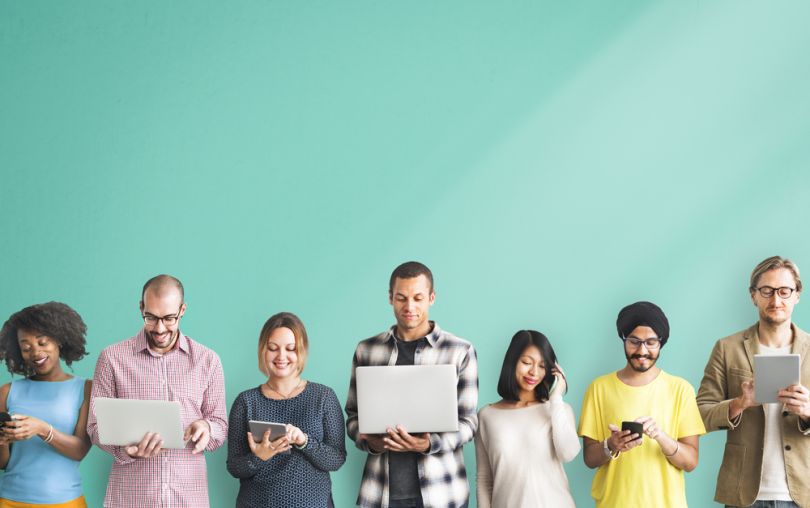 Social media recruiting is a recruitment strategy that combines elements of employer branding and recruitment marketing to connect with and attract active and passive candidates on the digital platforms they frequent.
Recruiting the best talent takes much more than posting a job to your careers page and waiting for the candidates to roll in. To connect with the best people you have to go where they go, and these days that means social media. Instead of taking our word for it, here are a few social media and recruitment statistics you should consider.
Nah, we're just kidding. Keep on reading and we're sure you'll make the right choice.
7 (More) Reasons You Should Be Using Social Media for Recruitment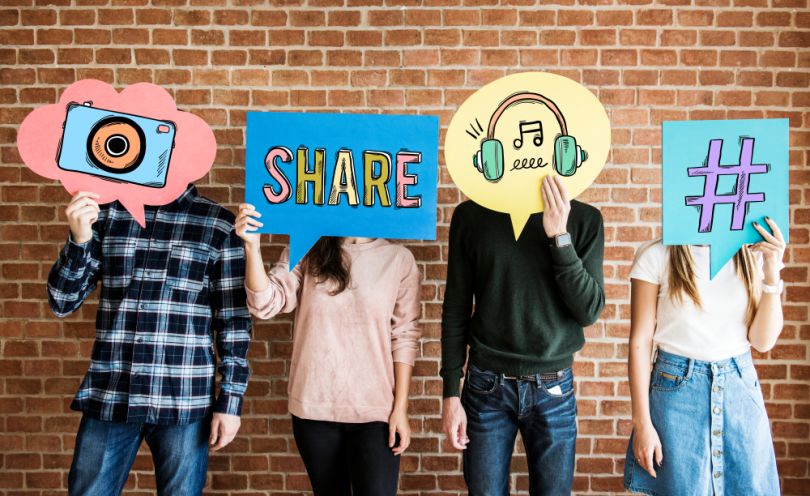 We've broken down seven of the main benefits of social media recruiting to help you better make a case for employing social media recruiting in your strategy.
Boost recruitment marketing efforts.
There are a variety of mediums and sources you can utilize for your recruitment marketing efforts, but social media can take your efforts to the next level, reaching millions of skilled candidates across the globe in seconds.
While we've certainly seen some interesting tactics for recruiting new talent, traditional mediums like billboards, newspapers and events don't offer the same immediacy or scalability that social media does. They also don't provide built-in tracking that hones in on the data you're most interested in, like page views, engagement and followers.
Aside from saving you time and money when analyzing your efforts, these resources will also better inform you of which platforms are performing well with your audiences so that you can continue to focus and tailor your social media recruiting efforts.
Tailor your recruiting efforts.
Social media platforms provide myriad options for reaching specific groups of people, allowing you to target the candidates most suited for your roles. Narrowing the applicant pool early in the recruiting process will let you spend more time focusing on the best applicants.
Each platform has its own audience and culture, providing you with the opportunity to get granular and take the right message to the right people at the right time. This also means you'll have to get creative when crafting your pitch, as a one-size-fits-all approach rarely works.
Create and repurpose a variety of content.
There is no limit to the content you can create in your social media recruiting efforts. From the written word and compelling imagery to video and interactive content, the sky is the limit. While video content has become the newest trend, with 76% of companies using video reporting an increase in traffic, it's important to keep in mind that different content will perform better on certain platforms, so you'll want to do some research to figure out what resonate best with your target candidates.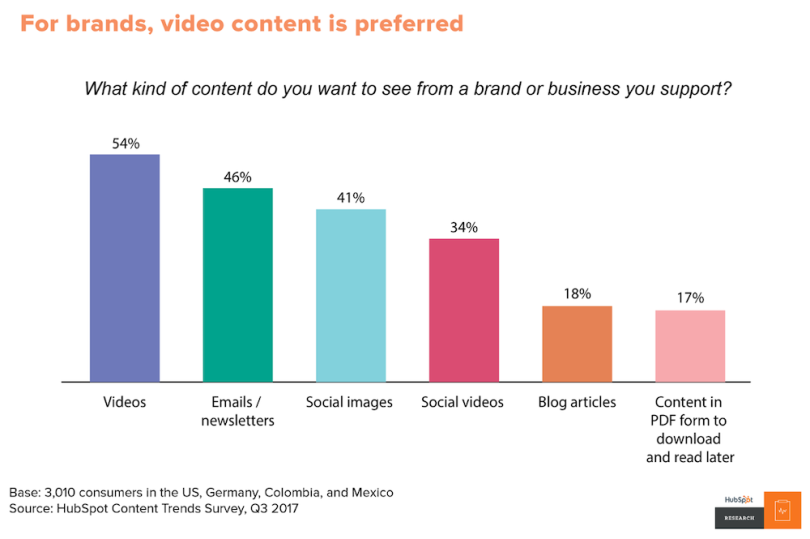 Also, just because you create a great video for Facebook, doesn't mean you can't repurpose a clip of it for Instagram or take an image from the video for Twitter. If you're able to repurpose content, by all means, do so. However, when you do repurpose content, make sure it follows best practices and is tailored for each different platform.
Promote your employer brand.
69% of job seekers say that a company's reputation is a critical factor when considering a new job. So critical, in fact, that 84% of people who are currently employed say that they would consider leaving their job if another company with a better reputation came calling. Social media is an excellent resource to promote your employer brand to potential employees that may not be looking at your job descriptions. Here are some areas to consider when creating social content:
Relay the day-to-day life at your company with content about:
Company culture is a major factor for people looking to upgrade their work experience. Show off the fun aspects of working at your company, like team traditions, shared interests and other quirks that make your company unique.
Perks and benefits always play an important role when candidates compare offers. Make the connection between your top perks and benefits and how they improve the personal and professional lives of your employees.
Employee spotlights provide insight into the individuals that make up the company and its culture. Give employees a voice in the employer brand by interviewing them about topics they care most about at their job.
Recruitment events should absolutely be a part of your social agenda. You should also promote growth and learning opportunities for employees, like conferences and company sponsored training. Post pictures and videos from your events across your primary social platforms.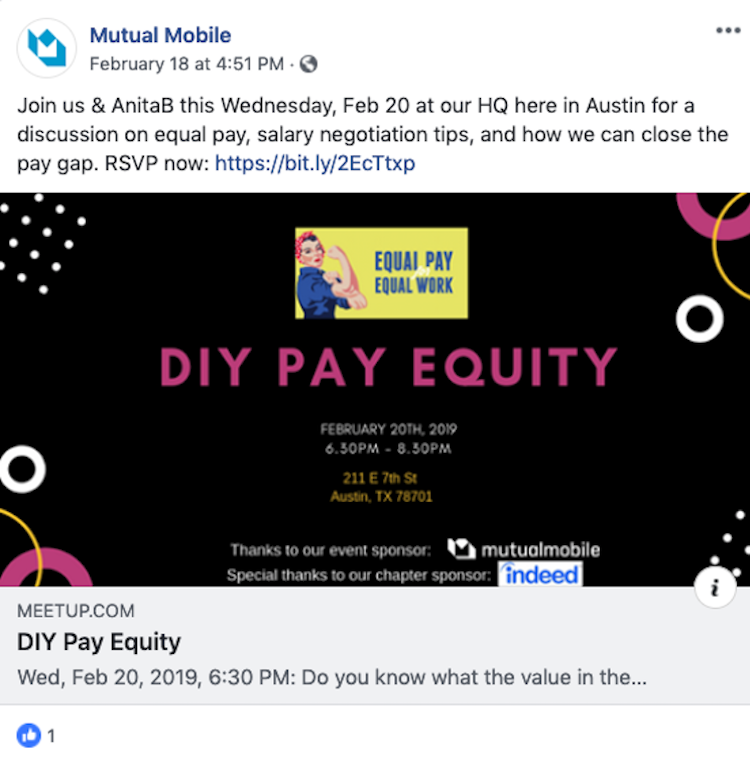 Job openings are a simple way to encourage candidates who are already interested in your company to apply for open roles. Share some enticing information about the role and company that's tailored to the specific candidate persona you've established for the position.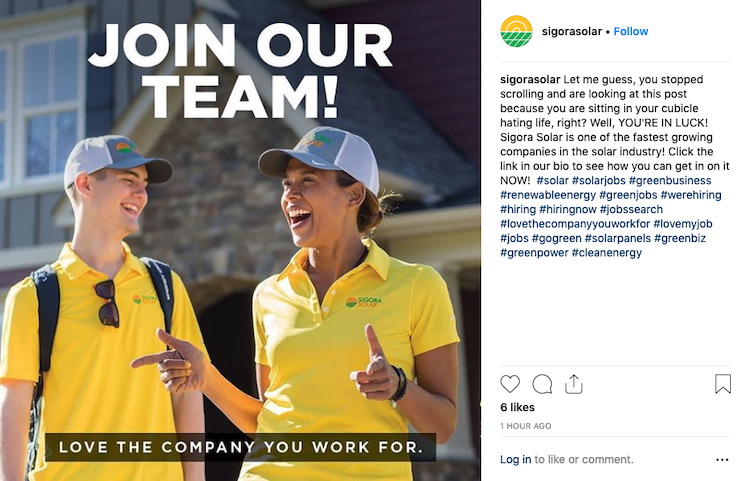 Interview tips and live Q & A forums open up conversations for prospective candidates to ask questions about the company and open roles. This can also help clarify any misperceptions or provide insight into what candidates are most interested about in your company.
Need some ideas to get your creative juices flowing?
Increase your reach.
Unless you're one of the few companies lucky enough to have candidates lining up for your jobs (and let's be real, there are only a handful of businesses that fall into this category), it's imperative that you reach as many potential candidates as possible. Simply put, the more qualified candidates you reach, the greater your odds of making a great hire. Social media recruiting can help you:
Reach passive candidates who aren't currently looking for a job and may never have heard of your company by providing them information tailored to their interests and expertise. You'll also reach the 79% of active candidates who use social media in their job search, so it's a win-win.
Personalize communications efforts by reaching out to individuals on social media via direct messaging or comments to spark a conversation without coming off as spammy. You'll also stand out as a company that takes the time to make personal connections with candidates.
Target niche personas/industry experts with paid advertising opportunities on different social platforms. Get the information most important to candidates on the platforms they frequently engage with.
Connect with passive candidates.
Today, 70% of the workforce are passive candidates. Though they may be open to new opportunities, they aren't actively looking which means traditional recruiting methods will be virtually useless. Social media recruiting allows you to get your roles in front of millions of candidates that you would never reach otherwise.
Even better, because social media is both so broad and direct in the audiences it allows you to reach, you can connect with specific audiences on an individual level, lending to a more personalized experience for candidates
Get to know candidates beyond their resumes.
The traditional resume may be great at summarizing a candidate's professional background, but it offers little insight into who they actually are as a person. Social media recruiting allows you to develop a more comprehensive understanding of candidates, including their personality, interests and mutual connections (backdoor references are the best references).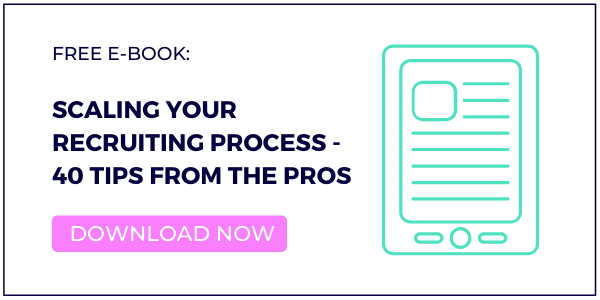 Creating a Social Media Recruiting Strategy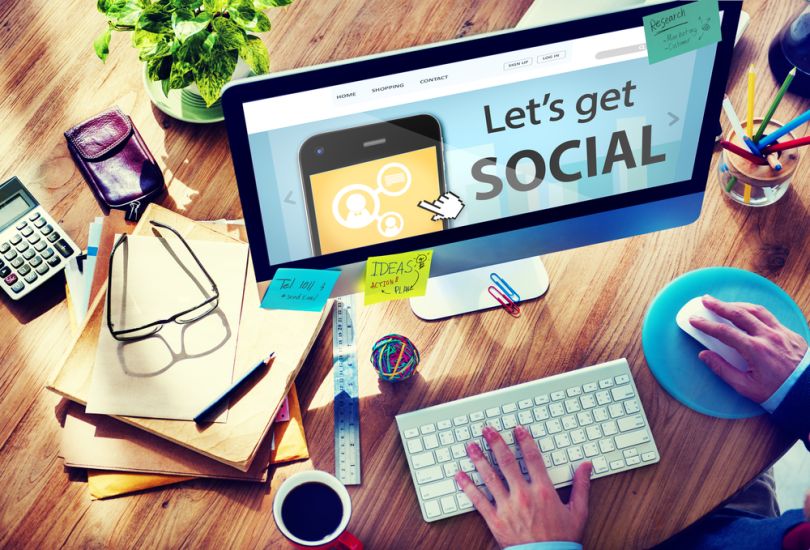 If you've made it this far, you're in it to win it. Now it's time to build out your initial social media recruiting strategy. Your strategy will change plenty over time as you learn and evolve, so you don't need to worry about getting it perfect at the outset. Getting started is more important than getting it perfect. Keep in mind that every company has different needs, and there's more than one way to succeed with social media recruiting. With that in mind, we're keeping our approach broad so that you can tailor it to your needs.
Here are the 8 basic steps for creating or revamping your social media recruiting strategy.
1. Research competitors & candidates
Start by figuring out what you're up against. Figure out what platforms are most popular among your competitors, pinpoint the type of content they create for each platform and how that correlates to engagement. On the flip side, you should also research where your candidates are at — perhaps you'll discover an untapped resource for talent acquisition.
2. Create candidate personas
Before you can effectively recruit, you need to establish candidate personas for the roles you are looking to fill. Know what personality traits will add to your culture and balance that with the qualifications necessary to be successful in the role. Analyze what areas of recruitment your company struggles most with and prioritize that in your strategy.
3. Set goals
You know who and where, now you need to establish measurable goals to benchmark and optimize your recruitment strategy over time. Figure out exactly what you want to accomplish with your social media recruiting strategy that you haven't been able to do with traditional tactics.
4. Determine & measure metrics
Before you get too engrossed in the likes and follows, make sure that you're also tracking recruitment metrics. This will help you determine which platforms and strategies yield the highest quality candidates in the shortest time frame.
There's lots of research on this topic, but for now, some key performance indicators to consider are time, cost and source of hire, referral rate, offer acceptance rate and social engagement. Pick the metrics that relate directly to the goals and know how to effectively measure them, whether it be in an Excel document, through your ATS or on the platforms themselves.
5. Choose the right social platforms
We'll discuss some of the social media platforms most popular with recruiters in just a minute, but don't limit yourself to those five. Depending on your industry and target personas, you may need to branch out to more niche social platforms to reach the right candidates. You may also want to consider using a social media management tool to organize your efforts and simplify analysis.
6. Divide and conquer
Don't go it alone. Your company is a group of people that collectively make up its culture and employer brand, and they can be your brand ambassadors. Create a calendar and designate different people to create content and connect with prospects.
7. Train your team
While you want to relay the voices of individual employees, it's important to maintain a cohesive voice that is a true reflection of the company's brand and mission. People use social media for a variety of purposes, so make sure to create some guidelines so that employees understand the goal at hand and will create content with that in mind.
8. Optimize over time
Sit down with your team periodically and review the metrics, goals and results of your social media recruitment strategy. From there, you can find your strengths and weaknesses and adjust your resources and efforts to better meet your future needs.
Top 5 Social Media Recruiting Sites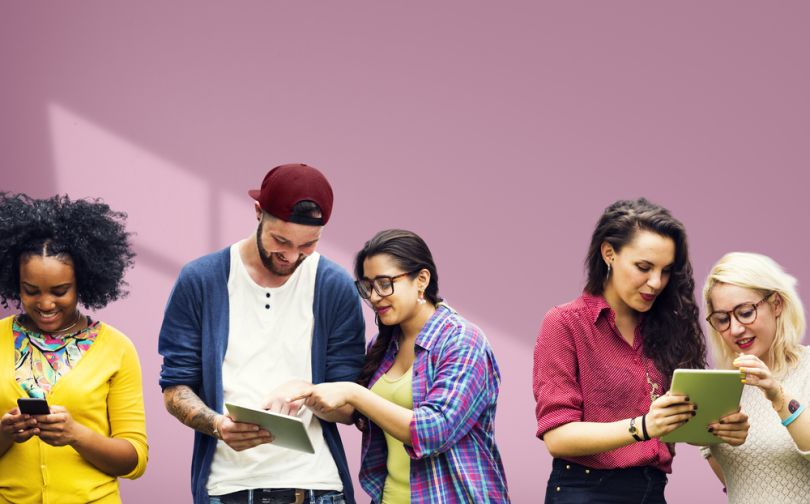 From major players to niche networks, there are countless social media platforms out there, making it easy to connect with just about any type of candidate. With so many options, it's important to remember that your social media recruiting strategy should not be a one-size-fits-all approach.
Tailoring your efforts to each platform will improve results and maximize your investment. To that end, we've provided a breakdown of some of the most popular platforms to get you started. We sourced data on how many recruiters use each platform from SHRM and the best time to post from HubSpot.
LinkedIn Recruitment
What Percentage of Companies Use LinkedIn for Recruitment: 96%
Why You Should Use LinkedIn for Recruiting: With more than 11 million active job postings, LinkedIn is a go-to for most recruiters, but a refresher never hurts. As the original professional social network, LinkedIn offers an unparalleled overview of a candidate's work history. It also provides insight into their interests, endorsements and referrals.
Who's on LinkedIn: 562 million global professionals — including more than 160 million in the United States — across hundreds of industries.
How to Connect With Candidates on LinkedIn: LinkedIn allows you to do much more than post a job. Start by connecting with and following prospective candidates. Start conversations with personalized messages introducing yourself and your company. Comment, like and share industry content to gain attention and authority. Follow, endorse and write recommendations for talented individuals to build rapport. Ask for referrals and introductions and reciprocate the favor.
Best Days to Post on LinkedIn: Tuesday, Wednesday and Thursday.
Best Times to Post on LinkedIn: 7-8 AM, 12 PM, 5-6 PM
Companies Using LinkedIn for Recruiting
LinkedIn is an obvious and essential part of every company's social media strategy, but the platform is not exclusively for posting jobs and creating a company profile. It's important to also connect with candidates and share information about your company as an employer. Here are a few examples of companies doing just that.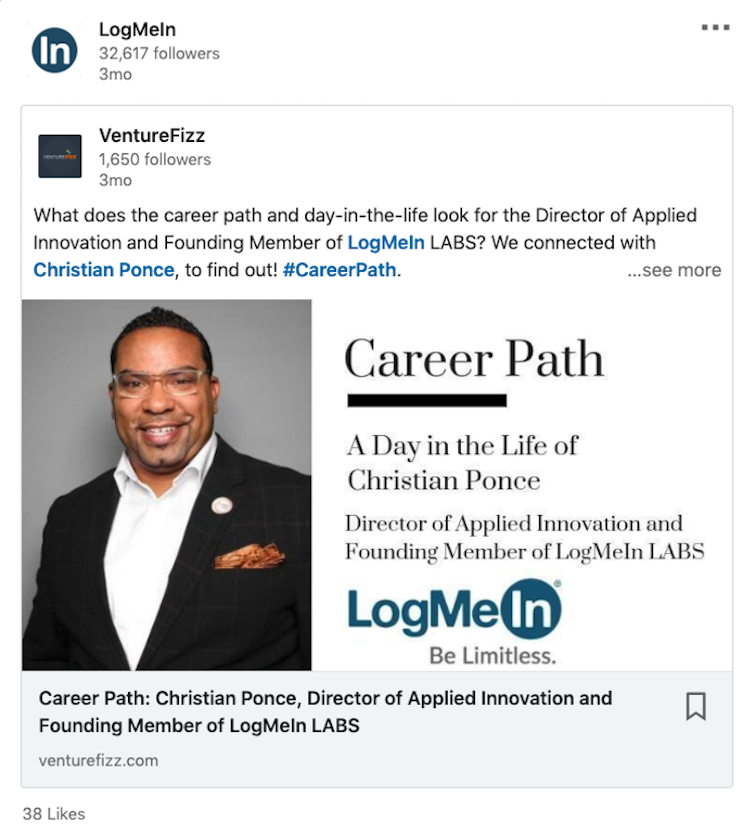 LogMeIn covers a topic that is of great interest to candidates but is often untouched by employers — career pathing. This post links to an interview with their Director of Applied Innovation and Founding Member of the company, where candidates can learn more about a potential career path at their organization.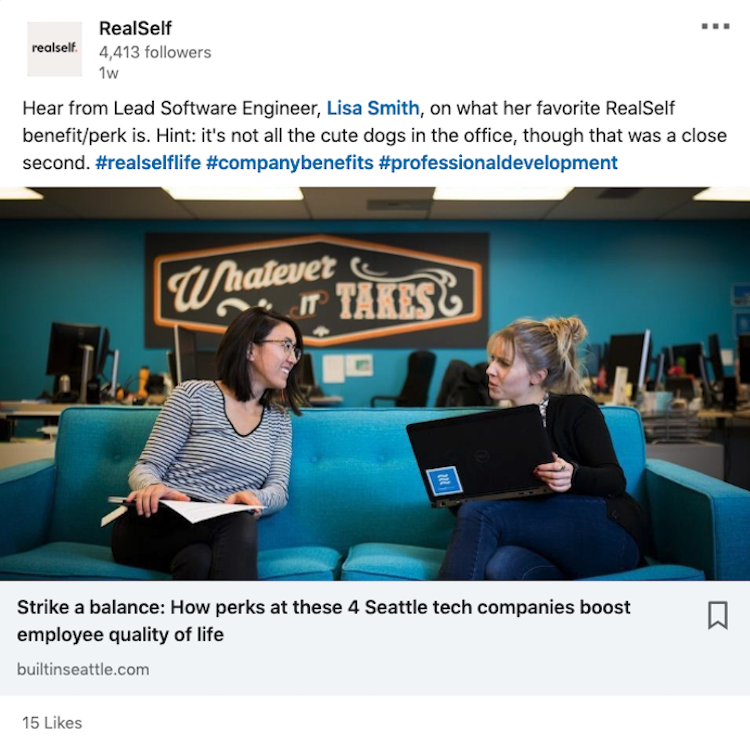 RealSelf isn't afraid to boast about their awesome benefits in this LinkedIn post, and sharing the viewpoint of a real employee adds credibility in the form of third-party validation.
Facebook Recruitment
What Percentage of Companies Use Facebook for Recruitment: 66%
Why You Should Use Facebook for Recruiting: Facebook may not be a dedicated professional network like LinkedIn, but it's sheer size makes it an indispensable resource for recruiters. Its casual atmosphere can shed some light on an individual's personality away from work, and it provides countless ways to find and connect with candidates. It even offers a job board.
Who's on Facebook: Just about everybody. Facebook has more than 2 billion global users, including 207 million in the United States.
How to Connect With Candidates on Facebook: The options are just about endless here. Follow and interact with prospective candidates. Join (or create) groups relevant to the positions you're looking to fill. Create and share content to promote your company and employer brand. Promote recruiting and networking events. Start chats on Messenger. And, of course, post openings on the Facebook job board.
Best Days to Post on Facebook: Thursday, Friday, Saturday and Sunday.
Best Times to Post on Facebook: 9 AM, 1 PM, 3 PM
Companies Using Facebook for Recruiting
Because Facebook has such a broad and engaged global audience, Facebook is another go-to resource for social media recruiting. It also offers a variety of features, from a job board to live videos and events.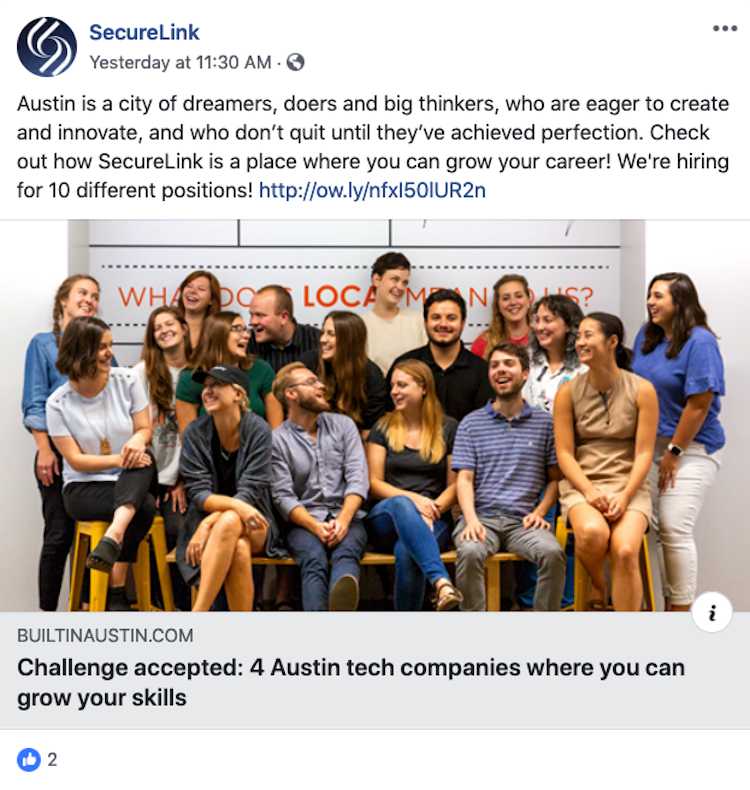 SecureLink utilizes Facebook to share their job openings and the opportunities their company has to offer in terms of skill growth.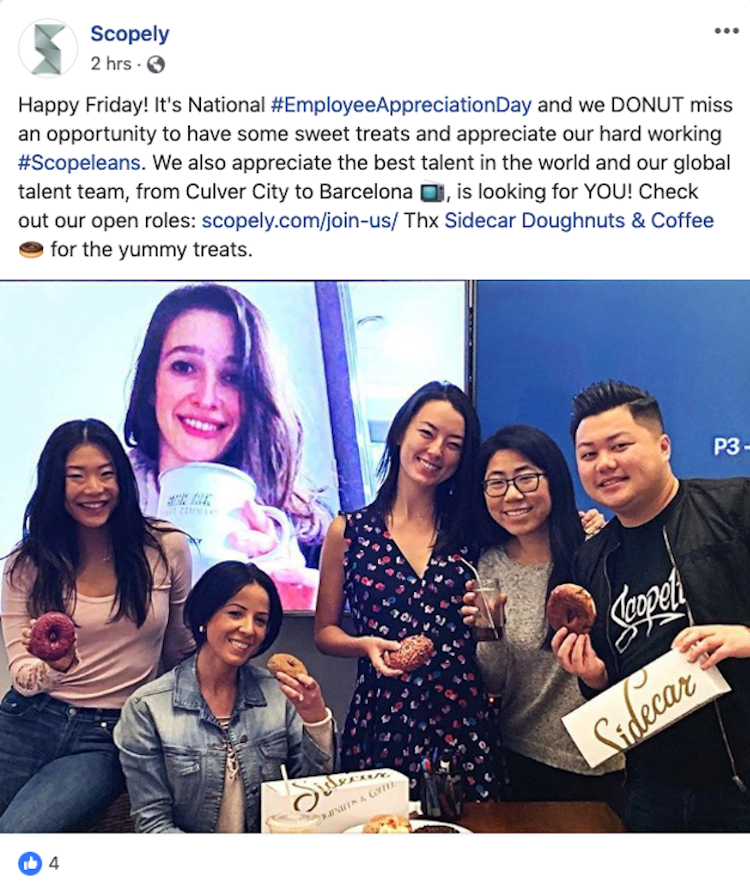 Scopely shared a bite of their company culture with this Facebook post. Not only do they share their current open positions, but they also incorporate a trending topic — National Employee Appreciation Day.
Instagram Recruitment
What Percentage of Companies Use Instagram for Recruitment: 7%
Why You Should Use Instagram for Recruiting: Instagram's visual format has become hugely popular with millennials (the largest portion of the workforce) and Generation Z. Despite its popularity, less than 10% of recruiters leverage this channel, which represents a huge early mover opportunity.
Who's on Instagram: More than one billion global users, including more than 200 million in the US. Nearly 70% are millennials and Gen Zers.
How to Connect With Candidates on Instagram: Curate a variety of visual content that captivates your audience's attention and encourages them to follow the company page. Engage with people of interest by following, liking and commenting on their content. Participate in trending topics by posting related content with appropriate hashtags. Host Q&A sessions with the Stories feature either live or with their infinite library of stickers.
Best Days to Post on Instagram: Monday and Thursday.
Best Times to Post on Instagram: 8-9 AM, 5 PM
Companies Using Instagram for Recruiting
Instagram is all about beautiful imagery and video content. In order to compete with other employers, you've got to get creative and show off your culture in posts, Instagram Stories, Instagram TV or live videos. Here are a few companies that do just that.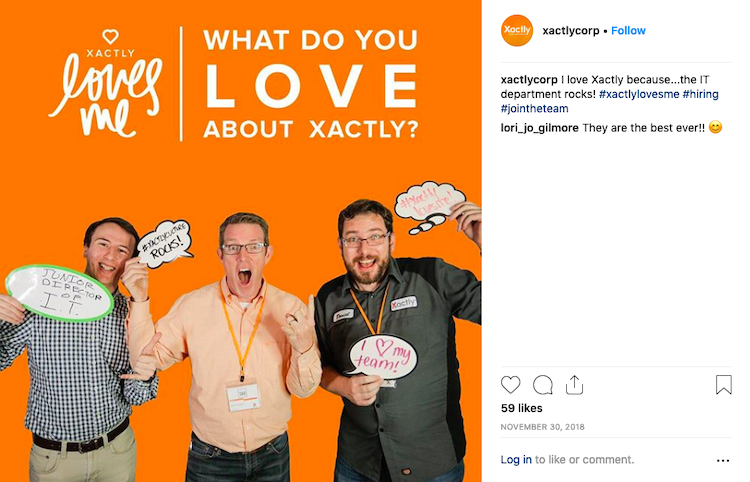 Exactly Corp keeps it simple yet creative with their Instagram recruitment posts. They include a few members from their IT department with some quotes about why they love working for the company and on the team. They also utilize a few hashtags, including #Hiring and #JoinTheTeam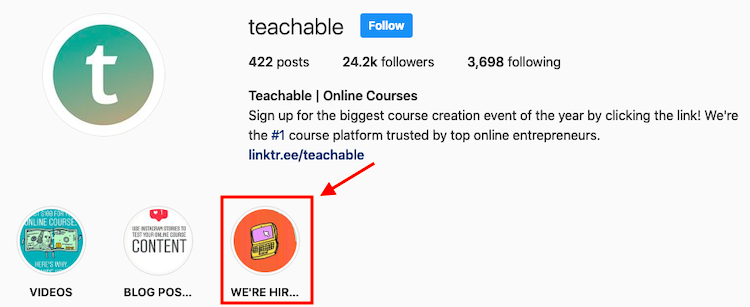 Teachable took advantage of one of Instagram's most popular features — the Instagram Story. You can either choose to have your story posted for a brief 24 hours or you can save it on your profile, which is what Teachable did here.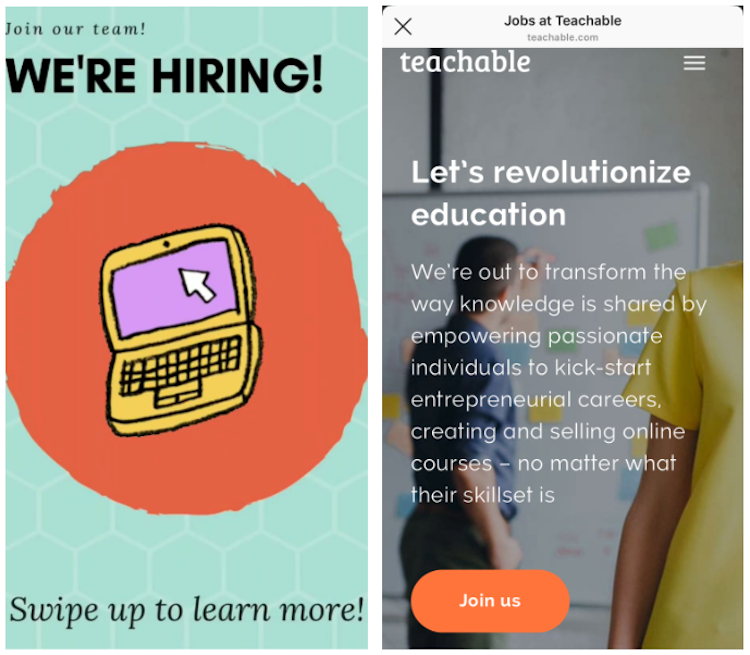 When you click on the "We're Hiring" story on their profile, the image on the left appears with a CTA asking users to swipe up to learn more about their opportunities. When users swipe up on their mobile screens, they are brought to the company's career page, which you can see on the right.
Twitter Recruitment
What Percentage of Companies Use Twitter for Recruitment: 53%
Why You Should Use Twitter for Recruiting: With its 280 character limit, Twitter is known for being short and sweet. That brevity isn't a bad thing, though, as Twitter has become a go-to source for news and events. Everyone from celebrities to major companies uses Twitter to engage with people worldwide.
Who's on Twitter: 330 million global users, including 63 million in the US. Twitter supports more than 40 languages.
How to Connect With Candidates on Twitter: Twitter gave birth to the hashtag, so start there. Search for relevant hashtags to join conversations and attract like minded candidates. Like, comment, follow, tweet and retweet to engage with candidates. Retweet and share timely information by live-tweeting and live-streaming. Pin relevant tweets to keep them visible on your profile.
Best Day to Post on Twitter: Wednesday.
Best Times to Post on Twitter: 12 PM, 3 PM, 5-6 PM
Companies Using Twitter for Recruiting
Twitter is an entirely different ballgame from any of the other social media sites out there because it values content on its brevity and timeliness. Here are a few companies who have mastered the short and sweet Tweet.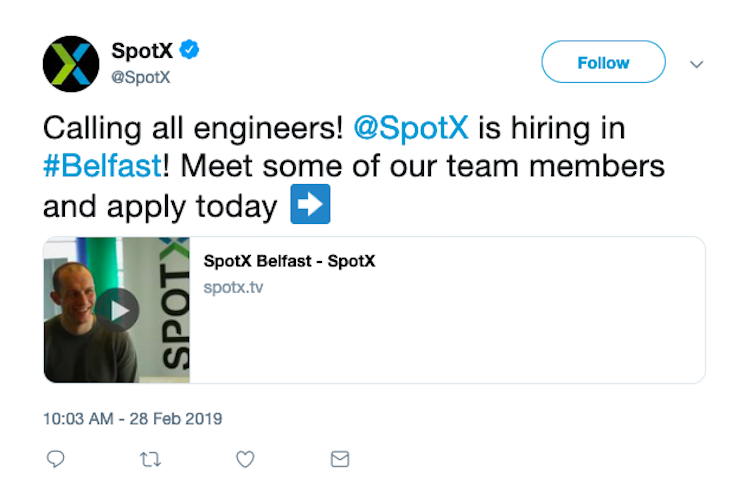 SpotX makes their message loud and clear — they're hiring engineers, and they encourage people who are interested in those specific roles at their company to learn more about their organization. They include a company hashtag and link to this video about their opportunities.
FREE E-BOOKS: SCALING YOUR RECRUITING PROCESS - 40 TIPS FROM THE PROS. DOWNLOAD HERE.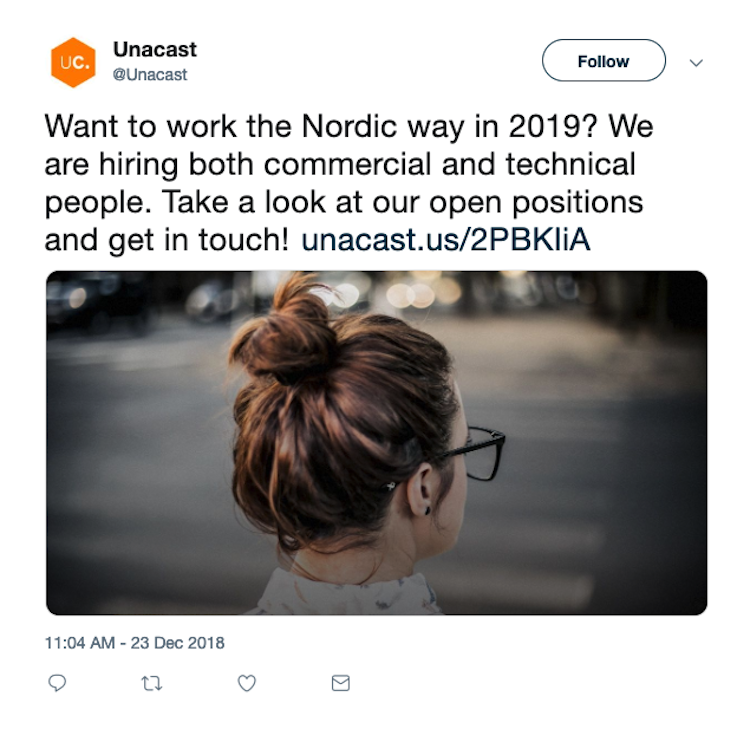 Unacast stays simple by including the roles they're hiring for and a link to their careers page for people to continue their research. Including links is often critical on Twitter because the character limit is often too shirt to include all the information you want to provide.
Youtube Recruitment
What Percentage of Companies Use Youtube for Recruitment: 11%
Why You Should Use Youtube for Recruiting: If you're one of those "back in my day" types you may want to look away: when given the option between text and video, 72% of internet users choose video. And when it comes to video, Youtube is the undisputed heavyweight. Like Instagram, few recruiters have embraced the channel, so those who get in now will have the advantage.
Who Are Potential Candidates on Youtube: 1.8 billion global users, including 184 million the US.
How to Connect With Candidates on Youtube:  This one is a little more straightforward. Create great video content tailored to your prospective candidates. Don't forget to repurpose videos from the company website and other social media channels.
Best Days to Post on Youtube: Thursday and Friday.
Best Times to Post on Youtube: 9-11 AM, 12-4 PM
Companies Using Youtube for Recruiting
With nearly 5 billion videos watched on the platform each day, Youtube is the go-to place for uploading and viewing videos. However, creating great video content is much more difficult than it seems. You have to find people willing to appear and be recorded, you need to have someone highly skilled in editing and incorporating music and sound in addition to having a quality camera and game plan for filming. Here are a few companies that have mastered their recruitment videos on Youtube.
HeadSpace covers all aspects of their company from employee testimonials to customer appreciation letters, perks and benefits and the overall culture of working for this highly impactful company.
Carbon Black hones in on their sales team to provide candidates with insight into the department. They spotlight several of their international employees and they provide additional resources in the caption for candidates to learn more about their open roles.
Social Media Recruiting Best Practices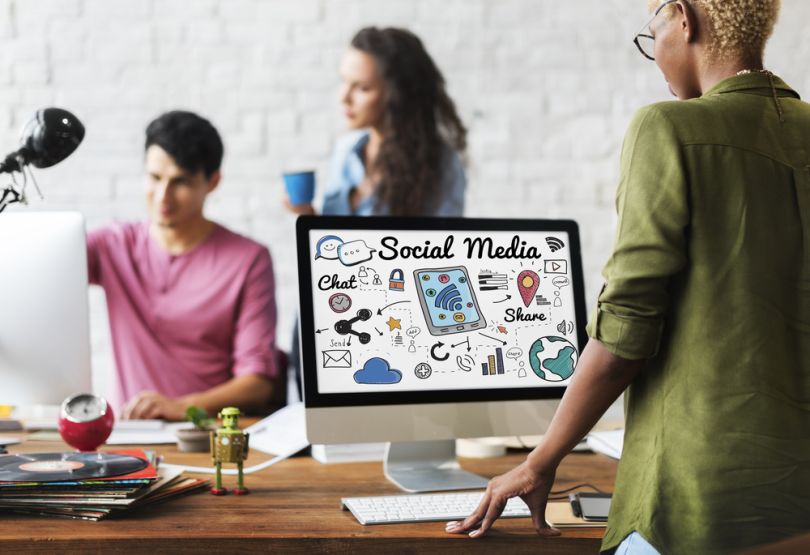 We've covered some high level ideas, but now it's time to get a little more specific. Let's walk through a few tips and best practices for recruiting on social media.    
Create an editorial calendar.
Producing creative content every day can be time consuming, frustrating and even feel like more effort than it's worth. Trust us, it's not — but it is crucial to be consistent. Simplify the process by creating an editorial calendar with daily themes to refer to when creating content. It's okay to switch things up — the calendar is not set in stone.
Get your team involved.
You are not an island, so don't recruit like one. Get everyone at your company involved in the recruiting process and your results will skyrocket. Arm them with some pre-produced content to make things even easier.
Send direct messages.
Regardless of your platform of choice, you'll be able to send candidates one-to-one messages. This is an excellent way to start the conversation, but don't lead with a hard sell. Create a personalized message expressing your interest in the candidate, and be sure to include specific information about the individual so they know you are serious and aren't spamming.
Comment on their content.
Odds are your prospective candidates are sharing their own thoughts and opinions on social media, which is the perfect opportunity to start a conversation. Don't be afraid to respond directly to content they've posted (just don't be creepy or generic) and encourage them to direct message you to continue the conversation.
Start a group discussion.
LinkedIn and Facebook feature thousands of industry specific groups which can be fertile ground for motivated recruiters. Asking a question or sharing an opinion can spark a discussion and expose you to hundreds of potential candidates, but make sure to do more than just post your jobs. Contribute to these groups in a meaningful way and you'll always be welcome.
Shout them out.
Tagging potential candidates in a company post or @reply on Twitter can  start a conversation that others can chime in on, bringing traffic to both the company and candidate's social profiles.
Livestream an event or conference.
When it comes to the digital world, video is now king. This opens up a world of possibilities for social media recruiting. Livestream an event in your office or conference at which you're presenting. Host Q&A sessions for viewers to learn more about your company and ask questions that your team can respond to in real-time. Share a behind the perspective of life at your company.
Take full advantage of hashtags.
Hashtags are one of the best ways to connect with specific audiences, but do your due diligence before getting started. A hashtag's relevancy — and the quantity of people following it — will vary by platform. Likewise, broad terms can get lost in the mix while overly specific terms may have no following. Keep brand-specific tags consistent across platforms, and always research a hashtag before using it. Make sure whatever trends related to the hashtag align with the company's mission.
FREE E-BOOK: SCALING YOUR RECRUITING PROCESS - 40 TIPS FROM THE PROS. DOWNLOAD HERE.