A Guide to Creating Employee Spotlights
Plus, see how 10 companies spotlight their employees.
Employee spotlights are a critical part of any employer branding strategy. Think about it, candidates are applying to spend several years of their life, 40+ hours a week working for your company.
That's a massive commitment. And the primary resources they have to base their decision on is a job description and a careers page. More and more, candidates are expecting companies to provide them with insider knowledge on what it's actually like to work for them and what the team culture is really like. 
Providing candidates with internal employee spotlights at different stages of the recruitment process will help them make a more informed decision as to whether or not your company and role is right for them. Feel free to click on the links below to skip ahead.
ACTIVATE TALENT AND YOUR EMPLOYER BRAND. LEARN MORE. 
Essential Elements of an Employee Spotlight
The type of employee spotlight you want to create will depend on how much content you want to include. However, every employee spotlight should contain the following components:
Employee name

Role at your company

Direct quote from the employee

Image of employee
Employee Spotlight Questions
In order to know what kind of questions you want to ask employees, you first need to pick a topic for the spotlight. Here are some of the most popular topics discussed in employee spotlights:
Company culture

Employee engagement 

Team culture

Leadership

Mission and core values

Accomplishments and success stories

Resources and opportunities

Professional growth

Passion projects

Perks and benefits

Employer testimonials 

Something unique about your company or the individual
Employee Spotlight Responses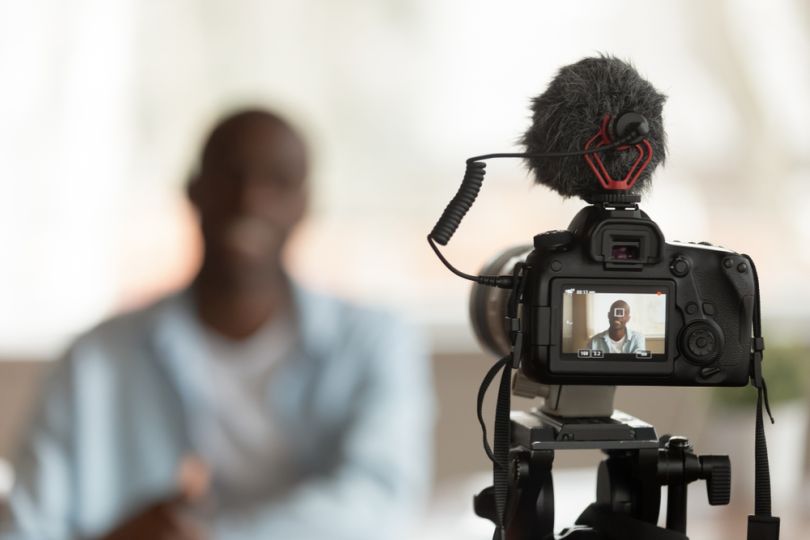 When you interview your employees, you can either meet in-person, or you can ask them to respond to the questions in writing on their own time. There are perks to both. Conducting an in-person interview can be beneficial because you receive unfiltered responses from people in a more natural voice; however, because they are speaking and not writing, their responses will require a bit of editing and subsequent approval of edits.
On the other hand, if you have interviewees submit their responses in writing, they will have done most of the editing on their own, which can be helpful or they may over-edit, causing their responses to sound scripted. 
Choosing the right interview method will depend on the desired length and medium of your employee spotlight. If you want a quick quote for a social media post, you can probably informally ask your colleague for a few words. If you're looking to share a longer blog post, you'll want to schedule time on their calendar to discuss the goal of the article so they can tailor their responses as such.
And if you're looking for any kind of sound bite that will be recorded on camera, you'll want to give your interviewee plenty of time to prepare and rehearse their answers before you record.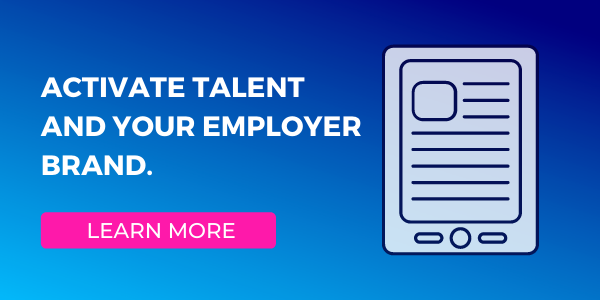 10 Examples of Employee Spotlights
Now that we've covered the basics on how to create an employee spotlight, let's check out different ways companies have highlighted their top employees. 
Ask the right questions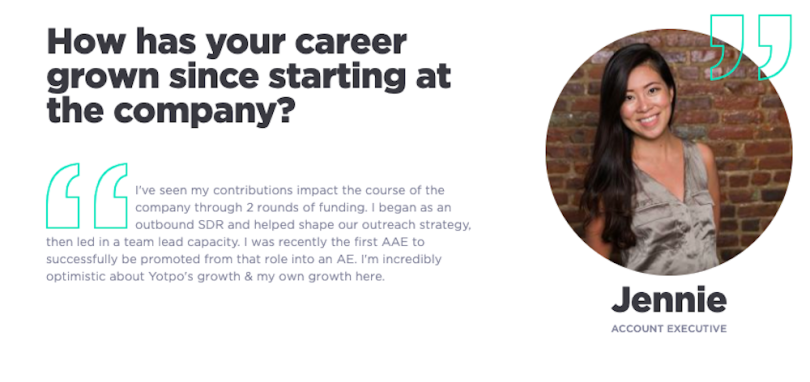 To provide candidates with some context, the team at Yotpo included the question from their spotlight interview with the employee's response. They also kept the spotlight short and sweet, and yet it still covers a lot of information about professional development opportunities at the company.
Better yet, conduct a mini interview

Gravity Payments took their spotlight a step further by conducting a mini interview that can be found on their careers page. Shorter employee spotlights are great because you can include several different employee perspectives on one page, providing candidates with a wider breadth of knowledge about your team.
Take it a Step further with an in-depth interview

In-depth interviews are great for giving candidates an opportunity to step into the shoes of one of your current employees and learn about their unique experiences at your company in detail. In this interview, the employee at ezCater is asked nine questions spanning from "How did you get your job at ezCater" to "How does the engineering team collaborate with other teams within the company?" This is a great example of how an employee spotlight can really give candidates an insider's view of an individual employee's experience.
Share your employee's career path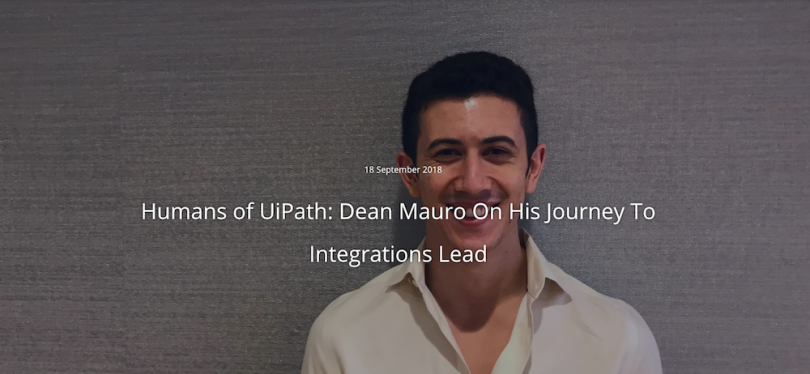 When candidates are looking to apply for a role in your company, it can be helpful for them to learn how your current employees got their roles. UI Path provides candidates with in-depth interviews from employees who share what they did before applying to the company and why they decided to take the job. The articles also provide some helpful tips for applicants to prepare for their unique hiring process.
Give insight into their day-to-day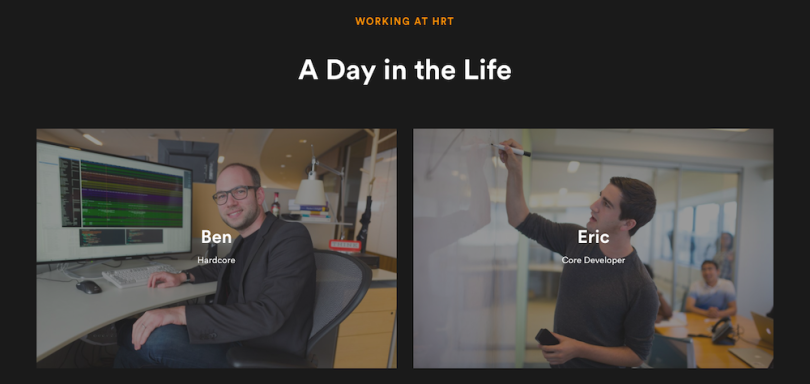 On Hudson River Trading's careers page, a large section is designated for employee spotlights that focus on the day-to-day life of employees in different roles. Most of them are in a developer role, which makes sense, because developers are some of the hardest roles to hire for. For roles that are difficult to hire for or open roles that are priority, it's time well spent creating employee spotlights to bring in more candidates.
Highlight your C-Suite and Leadership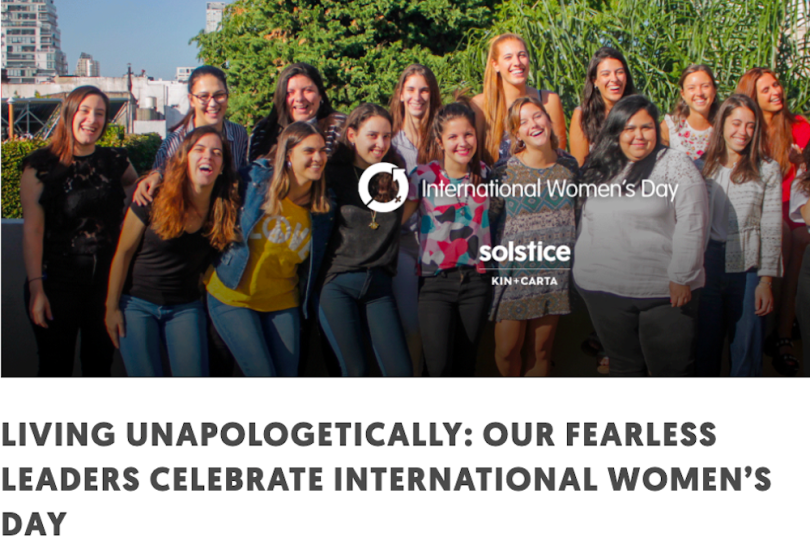 While it can be quite challenging to get time on a member of your C-Suite's calendar, they can provide some of the most authoritative and insightful knowledge on the company for a candidate. Solstice, for example, interviewed three women members of their C-suite to share how they became interested in a career in technology, the challenges they face as women in tech and what it's like to work at Solstice as a woman in tech.
Utilize Your newest hires

Interviewing a new hire is quite different from interviewing your CEO. While they don't have the long-term experience or full insight into the company's culture, new employees have a unique newbie perspective to offer candidates. Project44 interviewed a few employees to share their first impressions and experiences with the company by asking questions like "What was the largest obstacle you faced during your onboarding? How did you overcome this challenge?" and "How are employees empowered to help shape or participate in the office culture?" This helps candidates know what to expect and how to prepare for their potential role.
Hone in on a specific team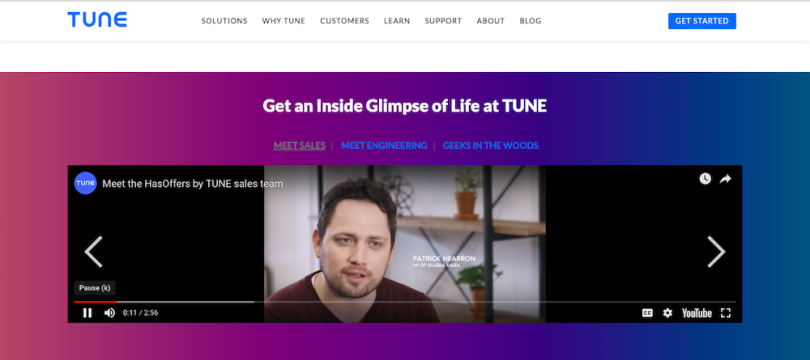 While you may have a company culture at large, each team has a unique subculture of their own. To showcase this, Tune created a series of video employee spotlights from several individuals on a specific team to provide a wider scope of who the candidate would be working with. As you can see above, they have a video for their sales team, and if you click on the arrows, you can also hear from their engineering team about a unique retreat the team takes.
bring everyone together for a company-wide spotlight
To provide candidates with an all-encompassing glimpse at your company's people and culture, create a company-wide video. This allows you to include sound bites from several different employees and share what your office and teams look like. Cisco Meraki does just that in this employer branding video. It not only provides an entirely different experience for candidates learning about your company, but it is content that can be shared across different platforms time and time again for future open roles. So, while it may take more effort to create, the return on investment is certainly worth your while.
Don't forget to promote, promote, promote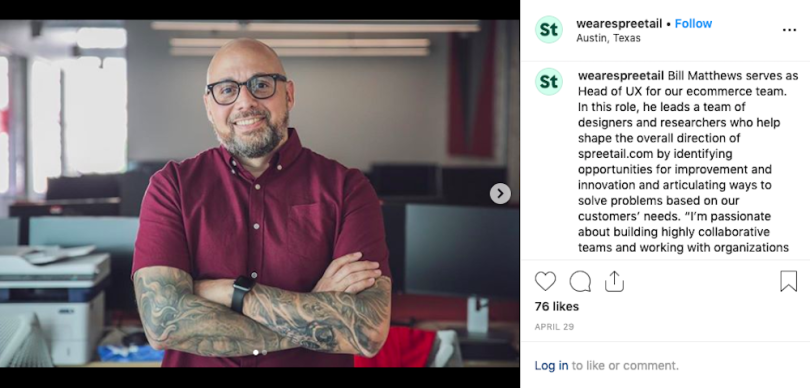 No matter what type of employee spotlight you decide to create — or maybe you'll create several to see what resonates with your candidates — make sure to promote your employee spotlights on your careers page, social media and career platforms. Spreetail even has an instagram account solely for showing off their culture and sharing employee spotlights like this one. In each post, they include background information about the employee, their role and what they do on a daily basis. Then they delve into a direct quote from the employee covering a variety of different topics. Pro tip: Unlike other social media platforms, Instagram is great for longer captions with a 2,200 character limit.
ACTIVATE TALENT AND YOUR EMPLOYER BRAND. LEARN MORE.