Best Employee Engagement Tools to Implement in 2021
25 of the best platforms and software to track engagement
Communication is key to boosting employee engagement. Simply asking, "How are you today?" and "How are we doing?" makes team members feel valued, appreciated and respected. Demonstrating compassion will help you win over and retain top talent; 77% of employees are willing to extend their workday for an empathetic employer, while 60% would accept a lower salary to have a compassionate boss.
Thankfully, in the digital age, monitoring and improving employee engagement is easier than ever before. There are a plethora of employee engagement tools, software and platforms that you can implement to keep tabs on your workforce engagement. From instant messaging platforms to automated employee engagement surveys, we'll cover the top employee engagement tools to implement in your 2020 strategy. 
To help you determine which platform is right for your team, we've included software ratings from reliable sources, such as the world's largest B2B marketplace, G2 and software comparison site, Capterra. Note: All reviews are on a scale of five.
FREE E-BOOK: SCALING YOUR RECRUITING PROCESS - 40 TIPS FROM THE PROS. DOWNLOAD HERE.
Table of Contents
Best Project Management Tools
Project management tools empower employees to own their role, providing them autonomy over how they spend their time in the office while ensuring deadlines are met. Utilizing a task management platform also improves communication between team members and gives employees insight into how their work influences the success of larger projects. 
Ultimately, this will help employees engage more meaningfully with their work. Below are four of the best project management tools to boost employee engagement.
ProofHub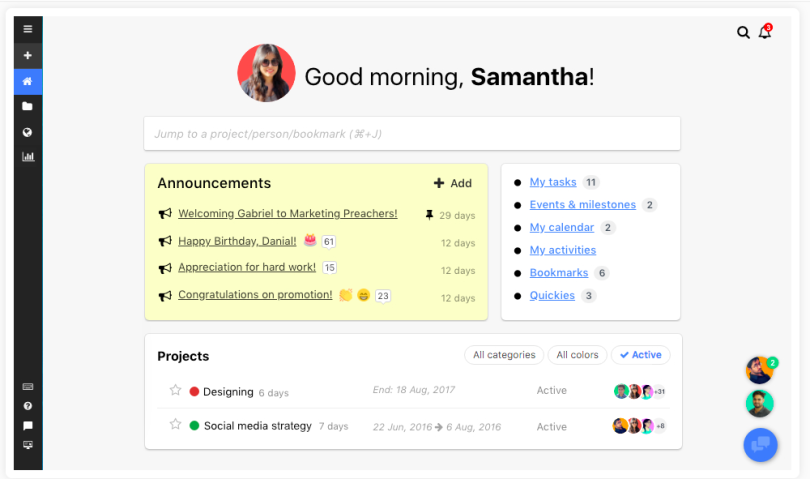 ProofHub is a project planning software that serves as a centralized workspace through which team members can share documents, follow task lists and monitor timelines. The platform streamlines communication, improves accountability, encourages collaboration and makes individual progress visible; employees can clearly see how their work impacts the project's success and contributes to the organization's broader goals. 
ProofHub also boasts reporting capabilities so teams can track their success and identify areas for improvement. The software is cloud-based, which eliminates bulky implementation processes and ensures important information is routinely backed up. It also integrates with additional apps to adapt to your team's needs. 
G2 Crowd Rating: 4.3 (21 reviews)
Capterra Rating: 4.3 (38 reviews)
Monday.com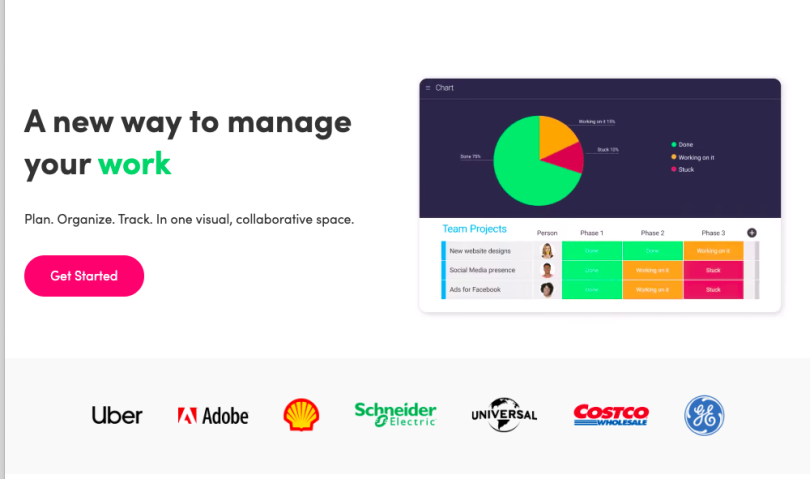 Monday.com is a highly intuitive task management platform that makes it easy for teams to work together. Through boards and groups, teams can visually segment out projects in accordance with broader goals and objectives. 
Monday.com also utilizes powerful automations so team members can follow along with a task's progress and be notified when it's their turn to jump in. Clear handoffs between employees hold individuals accountable while simultaneously encouraging teamwork. Employees can also customize how they view a board so it's intuitive to them. 
G2 Crowd Rating: 4.5 (752 reviews)
Capterra Rating: 4.7 (1,926 reviews)
Trello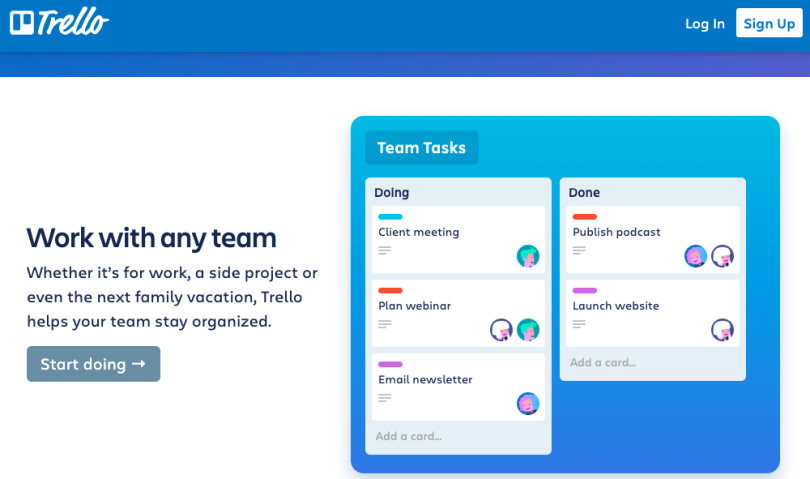 Trello utilizes lists and task cards to outline the workflow for a given project. Cards contain every detail of information needed to complete the project, including a task list, project description, due date and list of team members. Employees can comment on tasks to share updates or ask questions, housing all relevant communication in one place so each team member stays informed.
Employees manually move tasks from one stage of the production cycle to the next, which are represented as lists. This urges individuals to take ownership of their role and communicate with one another. Plus, it reinforces the sweet satisfaction of completing an assignment. 
G2 Crowd Rating: 4.3 (10,056 reviews)
Capterra Rating: 4.5 (14,800 reviews)
Weekdone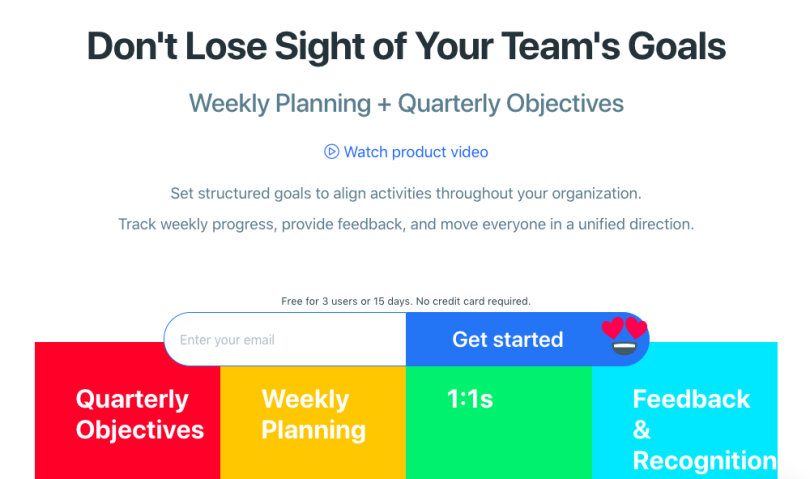 Weekdone is a progress and productivity tracking platform that improves communication between employees and their managers. Ahead of each week, employees complete their profile with plans for the week, project statuses and report any recent obstacles to their success, whether internal or client-facing. 
Managers can track their direct reports' progress toward goals and recognize achievements. Weekdone has managers set team goals that align with the company's vision and inform each weekly plan. This instills a sense of purpose in employees that surpasses standard profit goals, which has a positive impact on employee engagement: employees who believe their organization has broader goals outside of profit margins are 27% more likely to stay at the company.
G2 Crowd Rating: 3.9 (15 reviews)
Capterra Rating: 4.6 (29 reviews)
Teamwork Projects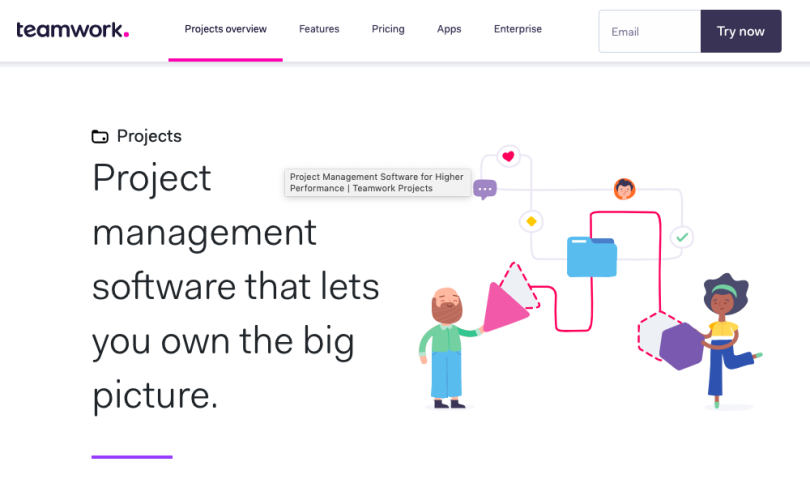 Teamwork Projects provides a suite of products that improve efficiency, collaboration, transparency and communication within teams. Employees can include everything from timeline to task details in project outlines, and seamlessly communicate with team members.
Managers get visibility into who's working on what and can easily track projects statues. They can also view projects at an glance to help with prioritization, hone in on individual responsibilities and collect feedback to ensure the team is set up for success. Real-time and customized reports help you understand what's working and how you can continually improve.
G2 Crowd Rating: 4.3 (625 reviews)
Capterra Rating: 4.5 (599 reviews)
Best Employee Engagement Survey Software
48% of employees claim that asking for feedback and acting on it would help reduce voluntary turnover. And no, annual reviews are not enough. Fortunately, soliciting feedback from your employees no longer requires a town hall meeting or hours of your managers' time. Below are seven of the best software for administering and analyzing employee engagement surveys. 
Culture Amp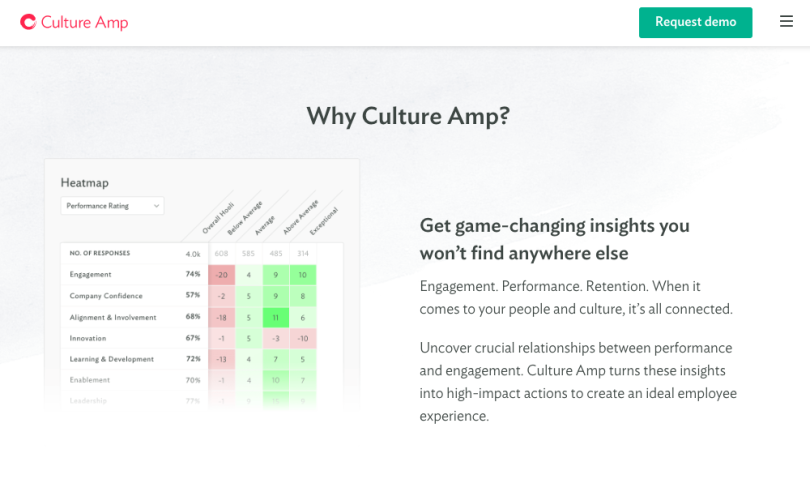 Culture Amp, "The Employee Feedback Platform," helps employers understand what matters to employees and immediately take action. It allows employers to create custom employee feedback programs, administer employee engagement surveys and compare results against top companies in their industry. 
Templated questions make it easy to develop surveys, but employers also have the ability to tailor questions to specific teams. Culture Amp then analyzes responses to quantify results for the entire workforce and provides recommendations on how employers should prioritize their efforts. The platform's reporting feature makes it easy to identify your team's drivers of employee engagement and act on them.
G2 Crowd Rating: 4.8 (70 reviews)
Capterra Rating: 4.7 (62 reviews)
15Five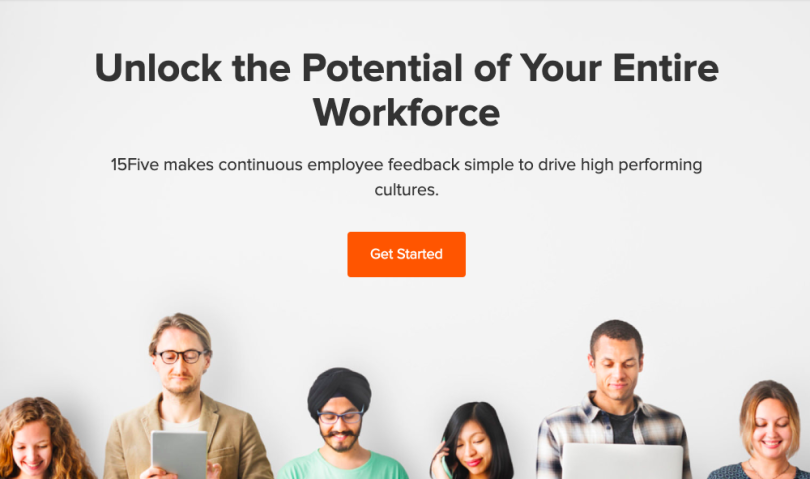 15Five allows employers to send weekly check-in engagement surveys that help identify points of weakness within the company. The data can then be leveraged during one-on-ones. 15Five was named as such because it takes 15 minutes for employees to complete a survey and five minutes for managers to review and comment on the responses. Using 15Five, employers can utilize the platform's prompts to customize the survey specifically for their team. 
The platform helps managers prioritize employee reviews and recognition. Additionally, managers are prompted to set team priorities at the start of each quarter, and then track progress weekly to keep their reports on target. The "Best-Self Review" urges managers to focus on their employees' growth and development quarterly, which fosters their engagement.
G2 Crowd Rating: 4.6 (1,318 reviews)
Capterra Rating: 4.8 (712 reviews)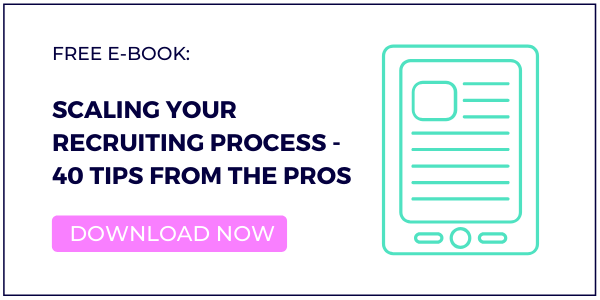 Hyphen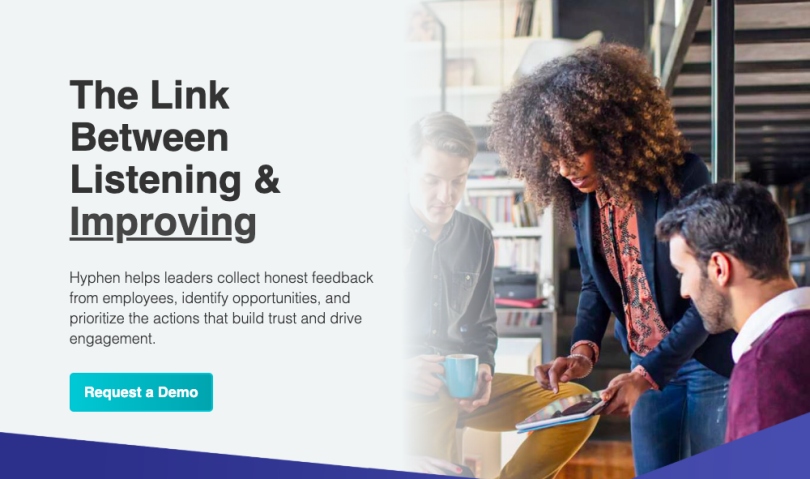 Hyphen gives employers the tools to conduct regular surveys and pulse polls to stay informed on their team's engagement levels. Its product Hyphen Voice has a two-way communication feature that enables leadership to communicate directly with employees in a private channel. This helps leaders ask follow-up questions to better understand their team members' interests in the office and make employees feel heard and valued. 
Hyphen Insight is a powerful analytics tool that assesses survey and poll results. It also provides brief suggestions for improvement, which helps leadership make informed decisions about their employee engagement strategy.
G2 Crowd Rating: 4.8 (25 reviews)
Capterra Rating: 4.7 (36 reviews)
Officevibe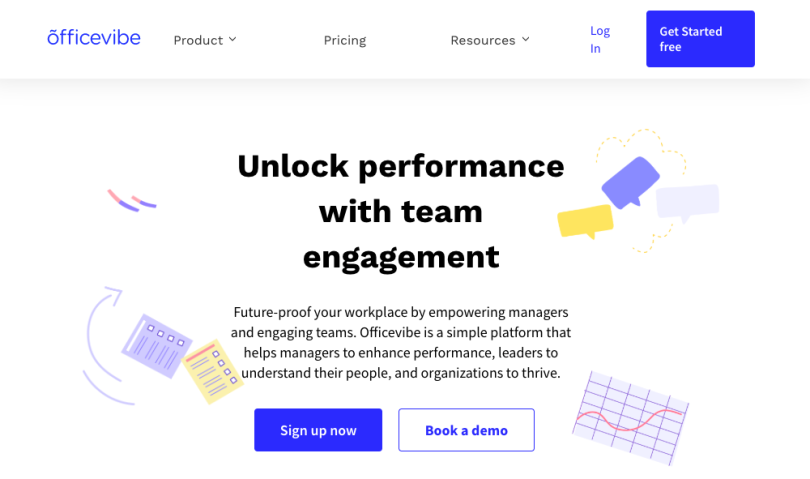 Officevibe allows employers to automatically send weekly, anonymous surveys to gather data on employees' engagement levels, what they're dissatisfied with and how leadership can take steps to improve. Managers can analyze their team's data and are offered advice from experts on how to address problem areas. 
The employee engagement survey questions can be formatted as numerical scale, Likert scale or open-ended questions. Employers also have the opportunity to create custom polls that pertain to specific company events or projects. 
G2 Crowd Rating: 4.3 (628 reviews)
Capterra Rating: 4.6 (43 reviews)
TINYPulse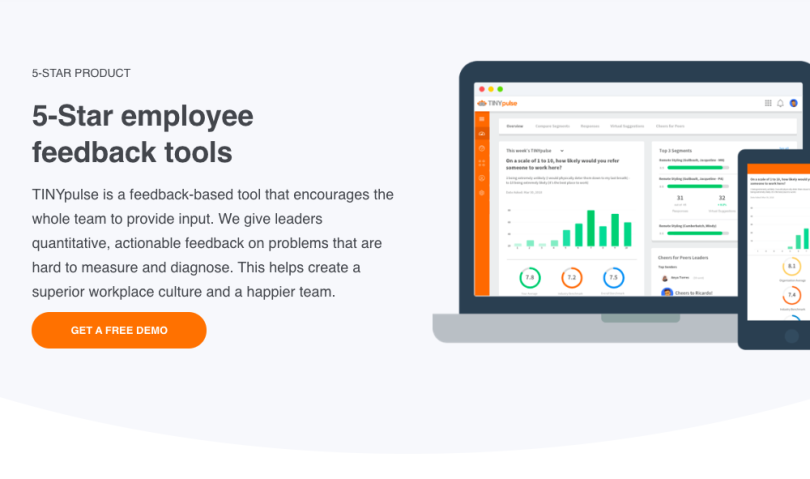 TINYPulse interacts with employees at every stage of the employee lifecycle to gather feedback and offer suggestions to improve communication, employee recognition and engagement levels. The platform sends a weekly, anonymous, one-question survey to the entire team to help employers regularly measure employee engagement. The platform collects and analyzes responses as soon as they are submitted.
Employees have the opportunity to offer anonymous suggestions to the company. Employers can respond directly to these messages without revealing the employee's identity, which promotes problem solving without compromising anonymity. 
G2 Crowd Rating: 4.3 (157 reviews)
Capterra Rating: 4.7 (33 reviews)
Achievers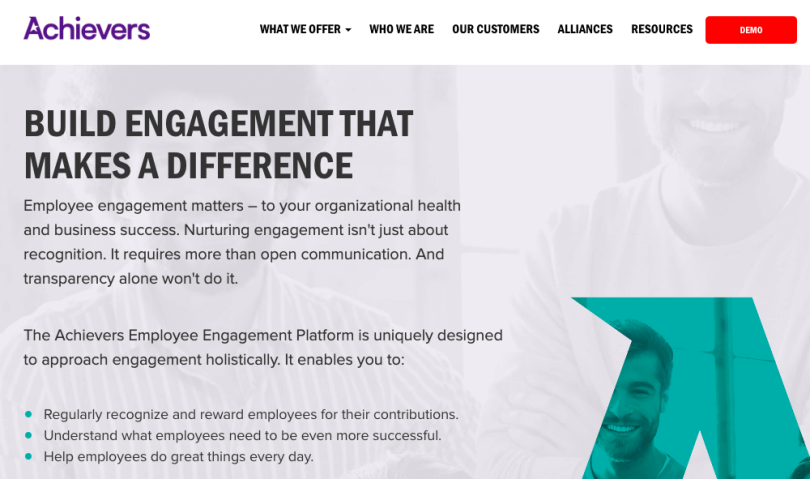 Achievers offers employers a comprehensive solution to employee engagement through Achievers Listen and Achievers Recognize. Achievers Listen makes it easy to send regular employee engagement pulse surveys and check in on your team members through visual polling features. The platform then offers up suggestions for improvement. 
Achievers Recognition uses a points-based program to engage employees and reward them for their contributions. It integrates with social channels to promote recognition as employee spotlights, which helps build your employer brand. 
G2 Crowd Rating: 4.3 (55 reviews)
Capterra Rating: 4.6 (10 reviews)
6Q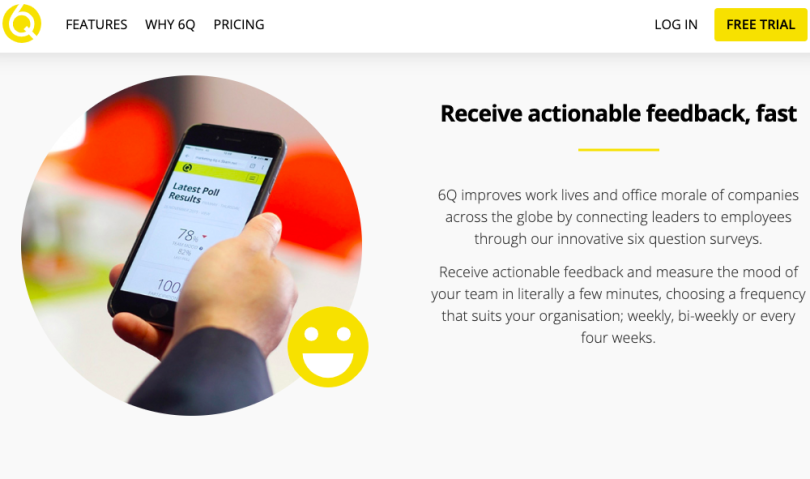 Using 6Q, leaders can ask their employees six questions — hence, 6Q — each week, making it easy to keep a pulse on employee engagement without significantly cutting into work time. Questions can be answered anonymously, or responses can be tracked individually. 
After 24 hours, 6Q analyzes and reports on the survey responses and offers segmentation based on location or department. Leaders then have the opportunity to compare their results against other organizations and access a resource library for tips on how to make improvements. 6Q also includes an employee recognition feature to encourage peer-to-peer appreciation.
G2 Crowd Rating: 3.5 (1 review)
Capterra Rating: 5.0 (1 review)
Best Employee Recognition Software
It's long been known that recognizing employees for their contributions and achievements has a tremendously positive impact on engagement levels. In fact, 90% of employers say implementing a values-based employee recognition program improved employee engagement.
Whether positive or negative, feedback should be timely, which is why acknowledging an employee's accomplishment shouldn't wait until their annual review. The following three platforms offer an easier way to make employee recognition a priority. 
Reward Gateway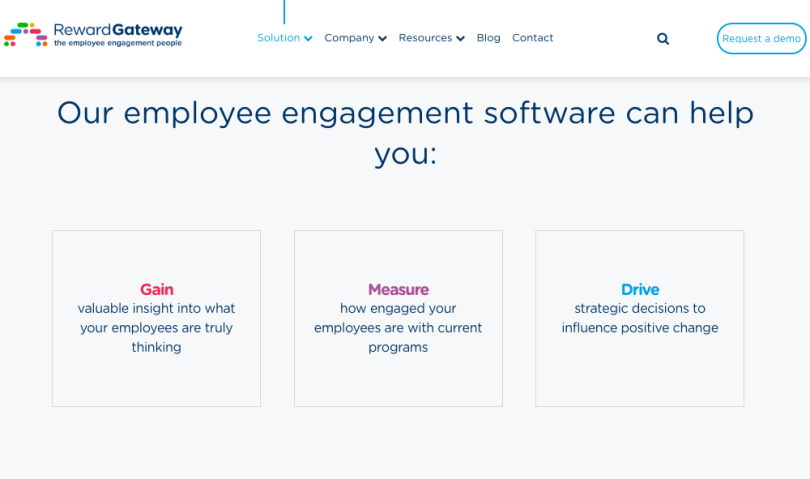 Reward Gateway includes an employee recognition program in which managers can acknowledge their reports' major achievements and team members can congratulate or thank their colleagues on a job well done. This encourages a culture of compassion and shows employees they're valued by every member of the team. 
The platform includes a communication feature for company-wide announcements and private conversations between team members. This helps promote transparency and employee connections. Reward Gateway also offers survey tools so employers can regularly measure employee engagement and track their progress. 
G2 Crowd Rating: 4.5 (112 reviews)
Capterra Rating: 4.8 (19 reviews)
Kazoo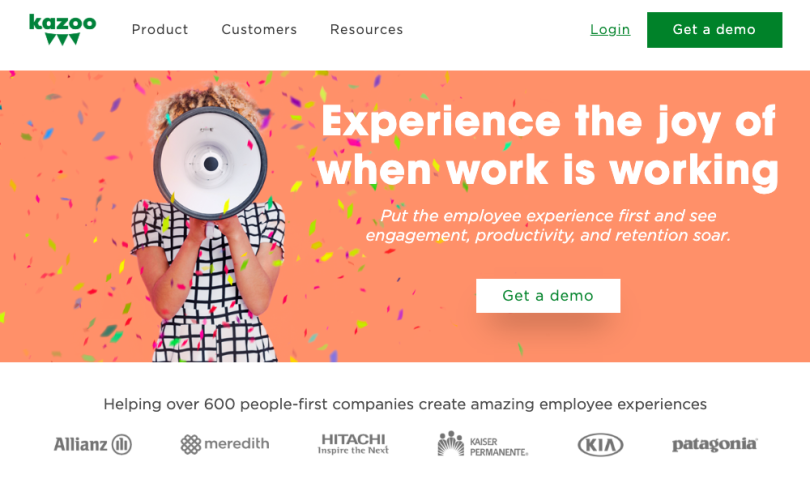 Kazoo promotes peer-to-peer recognition and encourages teams to celebrate wins with the rest of the company. Employees can earn Behavior Bonuses, which promote and reinforce positive behaviors that align with your core values and enhance your company culture.
Shoutouts are housed in the activity feed, giving everyone visibility into your team's successes. Employees are rewarded for their achievements with exciting prizes from a bank of 30,000+ products including branded merchandise, experiences or charitable giving opportunities. 
G2 Crowd Rating: 4.3 (85 reviews)
Capterra Rating: 4.8 (18 reviews)
Kudos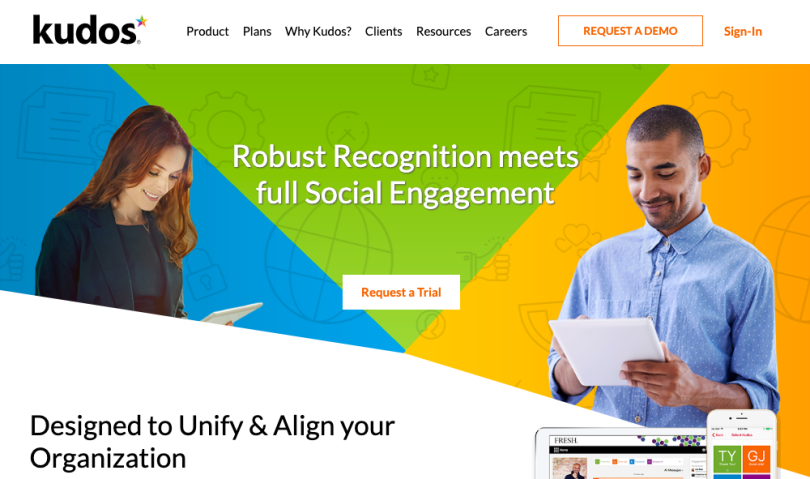 Kudos encourages leaders to celebrate and recognize major wins, as well as their employees' value-based achievements. Employees earn points for their accomplishments, which they can later cash in for a reward. Employers have the option of awarding eGift cards, company-branded swag, local gift certificates, extra PTO and more.
G2 Crowd Rating: 4.8 (719 reviews)
Capterra Rating: 4.9 (636 reviews)
Best Employee Review Platforms
Not only is having the opportunity to provide feedback important to employees, they also want to receive feedback from their managers regularly. Again, annual performance reviews aren't frequent enough to be beneficial: 78% of Gen Xers believe performance reviews are formalities that do not offer constructive opportunities for growth. These three platforms make it easy for managers to routinely provide feedback and coach their direct reports toward their goals. 
Impraise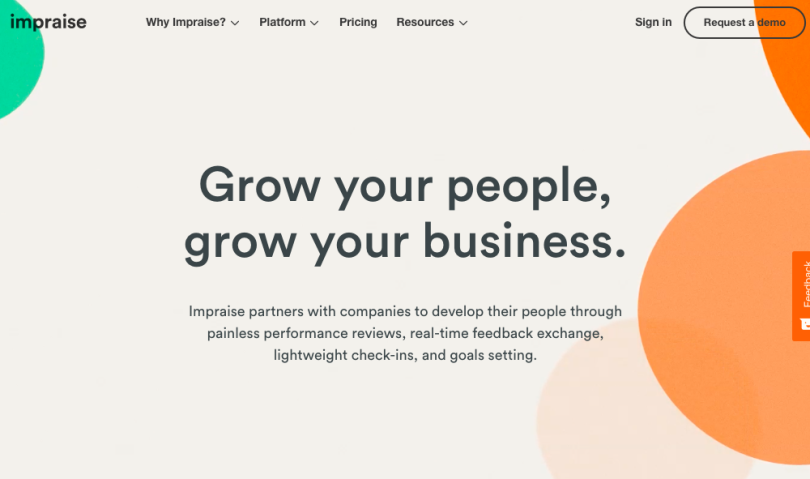 Impraise is a performance management platform that positions feedback at the heart of your organization. Employees can set goals while managers track, rate and praise progress to motivate individuals toward the next milestone. 
HR professionals can easily implement performance reviews by utilizing one of the many templates offered within the platform or by creating their own. The platform also motivates managers to give feedback with helpful coaching reminders and an overview of their team's status. 
G2 Crowd Rating: 4.7 (12 reviews)
Capterra Rating: 4.4 (48 reviews)
Reflektive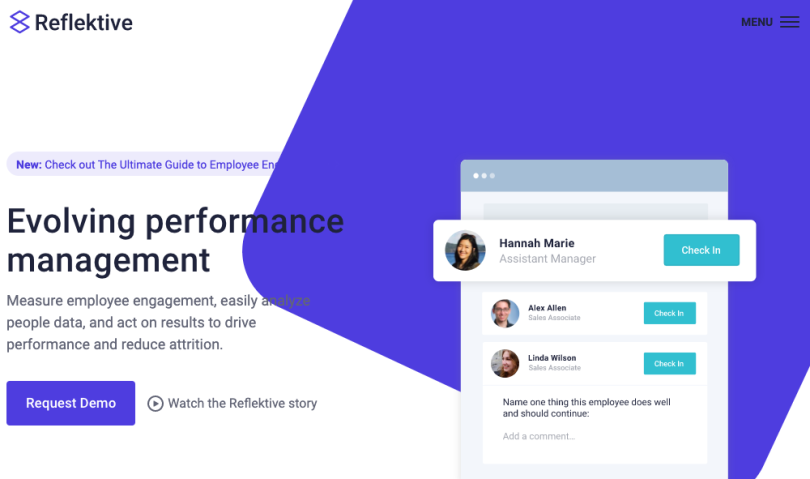 Reflektive serves as a one-stop-shop for performance management and employee feedback. Managers can help their direct reports set individual goals that encourage continuous employee development. They can also set team goals so employees are always aware of what they're working toward.
Managers can easily create review cycles, including performance reviews, 360 reviews and simple check-ins. Frequent conversations build trust between managers and employees and naturally encourage coaching opportunities that can lead to major career developments. Employers can also send quick, anonymous surveys to take stock of their team's engagement levels. 
G2 Crowd Rating: 4.2 (272 reviews)
Capterra Rating: 4.4 (12 reviews)
Lattice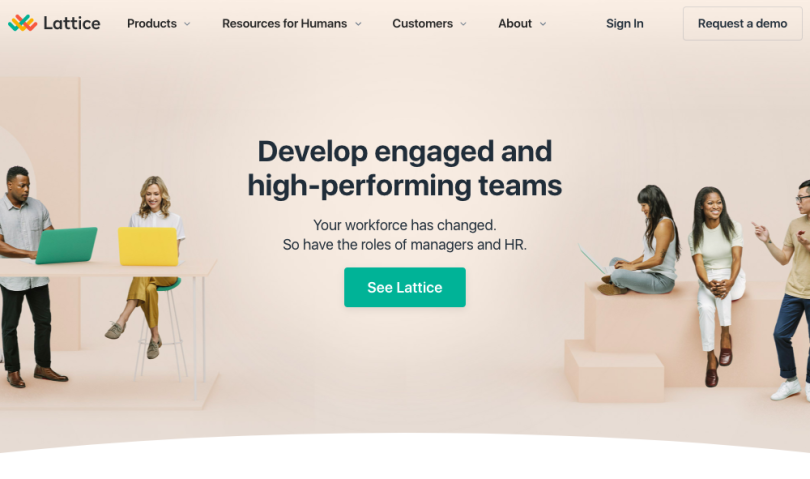 Lattice promotes a continuous performance management model and encourages regular employee feedback from managers. The platform integrates with several commonly used apps so it's easy for managers to send timely feedback to their reports. 
Managers can work with employees to set goals, track progress, set up one-on-ones and review employee engagement survey results. For the HR team, Lattice makes it easy to import people data from an HRIS and track key engagement metrics, as well as set up goals-based review cycles that help evaluate the health of your organization.
G2 Crowd Rating: 4.6 (1,481 reviews)
Capterra Rating: 4.6 (44 reviews)
Best Communication Platforms
Making it easy for employees to communicate with one another, check in with their manager and receive updates from the company is important to fostering meaningful engagement. From video conferencing software to email platforms, here are some of the best employee engagement tools for internal communication. 
Slack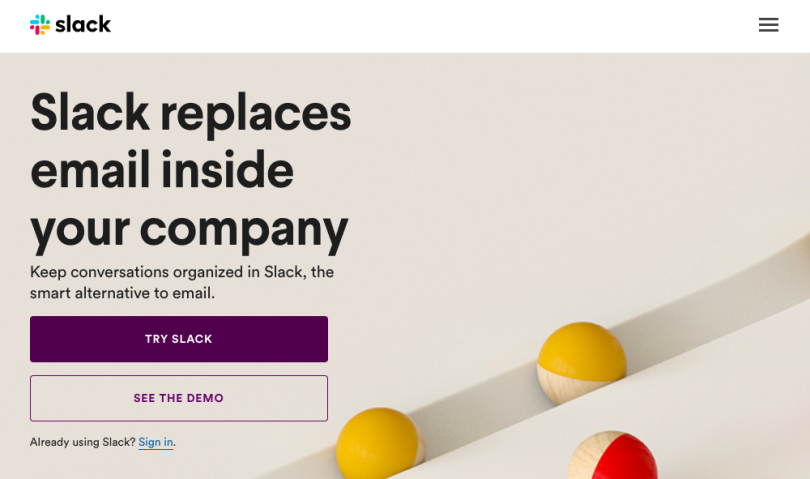 Slack equips teams with a single platform for real-time communication. When an email is liable to get buried in an inbox, direct messages make it easy for employees to chat one-on-one with their teammates or manager. 
Through channels, employers can send important information to the entire office, a single department or the whole leadership team. Channels also afford the opportunity for concise side conversations that foster personal relationships between coworkers without interfering with business announcements. 
G2 Crowd Rating: 4.5 (24,663 review)
Capterra Rating: 4.6 (16,787 reviews)
Google Hangouts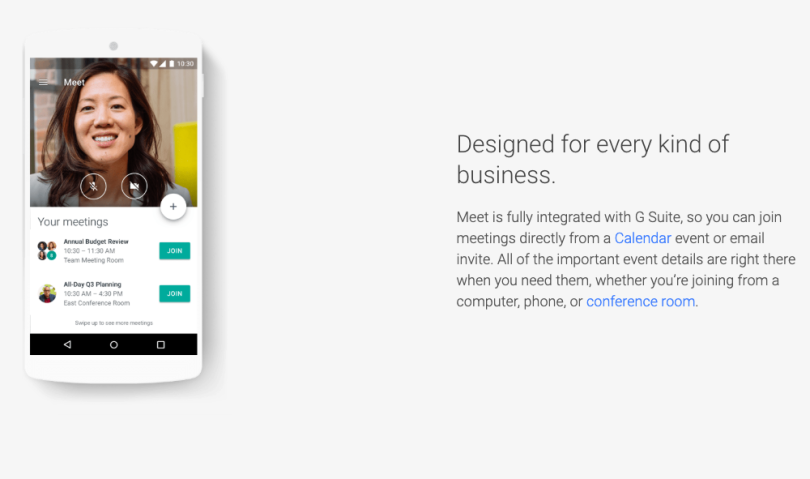 If you're already using Gmail, Google Hangouts is a seamless integration that houses all communication in one place. With instant messaging, video and voice calls, it's easy to quickly connect with employees across the office or across the country. Plus, with completely free calls to other Hangouts users, remote employees can stay connected without paying data or voice coverage fees. 
G2 Crowd Rating: 4.3 (3,539 reviews)
Capterra Rating: 4.5 (6,849 reviews)
Zoom Video Conferencing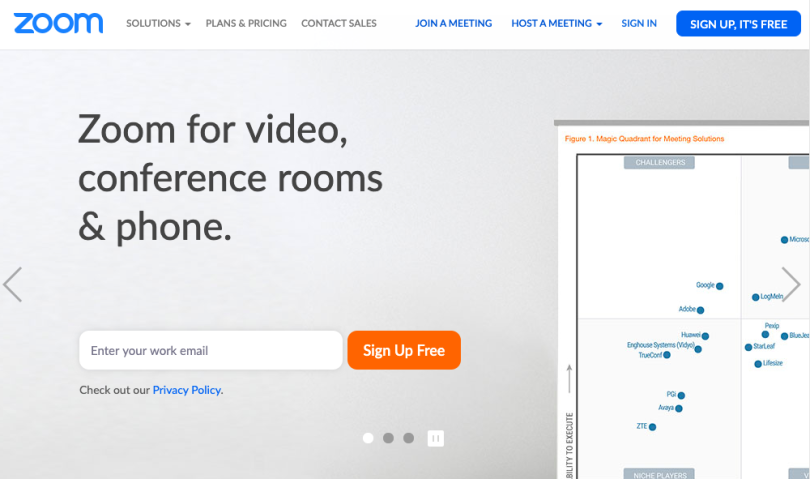 With Zoom, teams can connect face-to-face, even if they're miles apart. The video conferencing software also boasts voice and instant messaging features so teams can communicate through whatever channel suits their needs. 
As a cloud-based solution, Zoom Rooms provide organizations with the resources to host conference calls with individuals across different geographical locations and offices. Collaborative tools such as whiteboarding and screen sharing improve communication. 
G2 Crowd Rating: 4.5 (20,182 reviews)
Capterra Rating: 4.6 (3,696 reviews)
MailChimp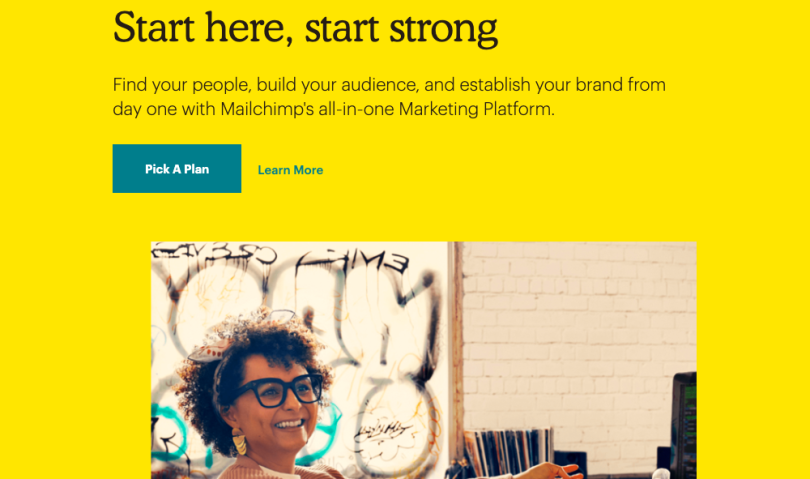 MailChimp is an all-in-one email marketing platform that's most frequently utilized for client communications. However, because of its intuitive design features and affordable pricing, it's a great tool for sharing company updates internally.
Whether you choose to deploy quarterly reports about the business or weekly team newsletters, a mass internal email improves top-down communication and boosts transparency. Ensuring all team members are privy to the same pertinent information will also build trust and camaraderie between employees. 
G2 Crowd Rating: 4.3 (14,146 reviews)
Capterra Rating: 4.5 (11,859 reviews)
Bonus Employee Engagement Tools
To round out your employee engagement tech stack, utilize the following additional tools to establish a comprehensive strategy to improve employee engagement. These will help you support a team of happy and healthy employees who are passionate about the work they do.
Lessonly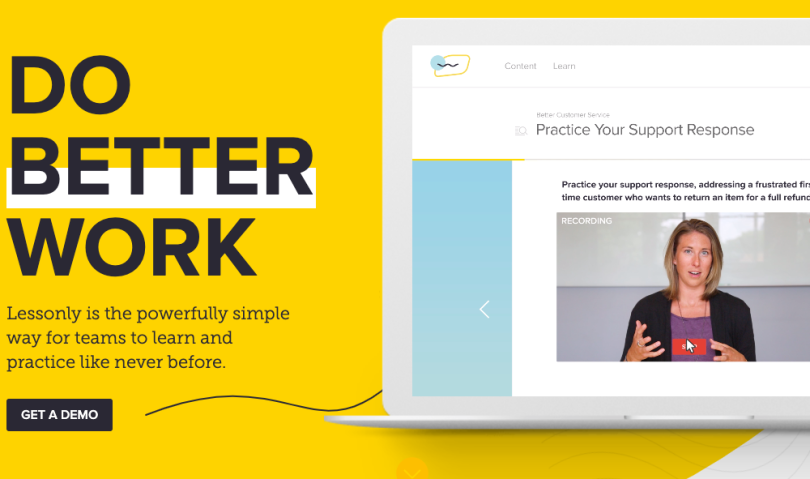 Lessonly is a cloud-based learning management platform that promotes better training and continued learning. Lessonly empowers employees with the tools and skills they need to be successful in their role and offers training opportunities in customer service and sales. It encourages professional development, which makes individuals feel valued and appreciated by their employer. 
G2 Crowd Rating: 4.7 (302 reviews)
Capterra Rating: 4.7 (120 reviews)
Limeade Well-Being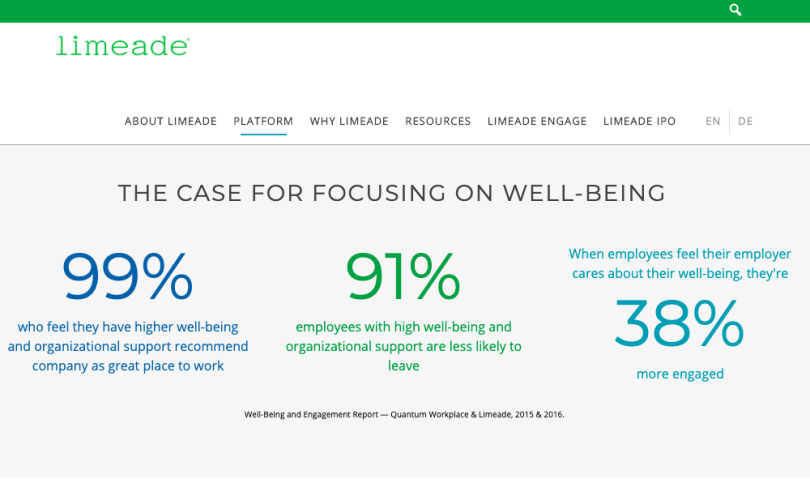 In addition to an employee engagement platform, Limeade also offers Limeade Well-Being, an employee wellness platform that caters to the whole individual. The platform includes a well-being assessment and pulse surveys to better understand your organization's needs. From there, Limeade provides an activity library, personalized recommendations and rewards. The platform also helps coordinate sponsored activities that support a positive work culture. 
G2 Crowd Rating: Not yet rated
Capterra Rating: Not yet rated
Qualtrics EmployeeXM™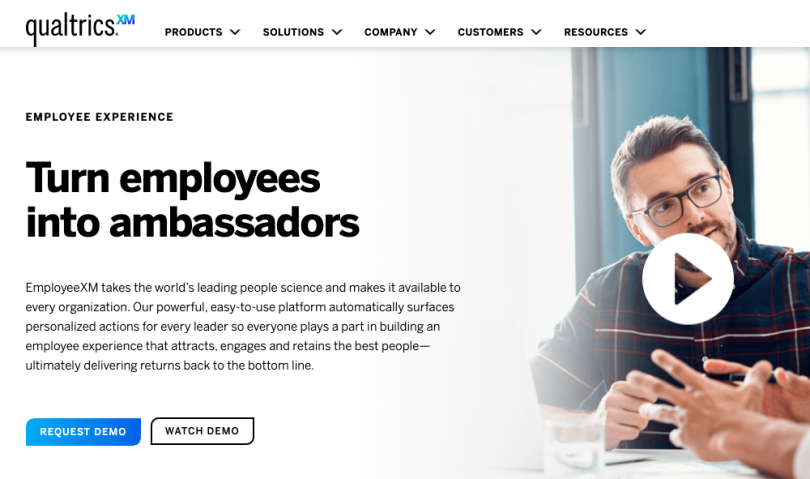 Qualtrics EmployeeXM™ offers various tools that enable companies to evaluate their employee experience. Over the course of five stages and the entire employee life-cycle, the platform offers robust pulse survey capabilities, training optimization resources, onboarding assistance and a unique exit feedback system to ensure every aspect of your organization remains healthy and productive. 
G2 Crowd Rating: 4.2 (278 reviews)
Capterra Rating: 4.7 (53 reviews)
Energage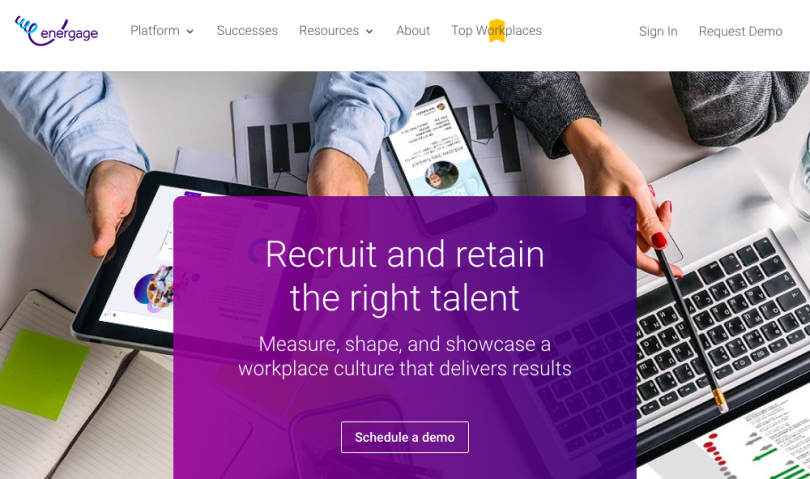 Energage is a unique platform intended to assess and improve company culture. Through a comprehensive 10-minute workplace survey, employers can understand what drives and resonates with employees, as well as how they perceive the company's type of organizational culture. Pulse surveys also make it easy to track how the culture evolves over time. Leverage this data within the platform to build out your employer branding strategy and attract more engaged employees.  
G2 Crowd Rating: 4.6 (84 reviews)
Capterra Rating: 4.5 (39 reviews)
Whichever employee engagement tools you choose to implement in your office, it's vital that your team regularly measures employee engagement. In order to make improvements and engage your team on a deeper level, you must first understand your shortcomings. Once you've had the opportunity to analyze the data, check out this article for 68 employee engagement ideas.
FREE E-BOOK: SCALING YOUR RECRUITING PROCESS - 40 TIPS FROM THE PROS. DOWNLOAD HERE.