Employee Value Proposition: How 30 Companies Define Their EVP
From recruitment to retention, and employment competition to employee engagement, defining your employee value proposition will help your team across the board.
Not entirely sure what an employee value proposition is and why you need one? Click the link to learn more in our previous article.
For a refresher, here's a brief overview.
FREE E-BOOK: THE COMPLETE GUIDE TO CREATING AN EMPLOYEE VALUE PROPOSITION. DOWNLOAD HERE.
What Is an Employee Value Proposition (EVP)?
There are two sides to an employee value proposition:
The value (skills, experience, personality etc.) a candidate has to offer an employer.
The value (growth opportunities, culture, benefits, etc.) an employer has to offer candidates.
The employee value proposition should not be confused with a company's mission statement, core values or culture code. The EVP is about the reciprocity between employers and candidates adding mutual benefit and value to one another's employment opportunity and employer brand.
30 Employee Value Proposition Examples
There's no right way to write an employee value proposition. So, rather than creating a one-size-fits-a-few-companies template, we've gathered 30 examples from some of the top employers in seven markets across the US.
 
AlertMedia's Employee Value Proposition

At AlertMedia, we strive to be the very best at what we do, both in the eyes of our customers and our coworkers. We believe a healthy work-life balance can be highly motivating and productive. We are truly a team in every sense: we believe in one another and support one another as we all work collaboratively toward a common goal.
AlertMedia products and services are making a real difference to real people, improving outcomes and in some cases, saving lives. By joining our team, you are joining us in our mission to help organizations around the world keep their people safe, informed, and connected.
Surround yourself with highly motivated and passionate peers who are all working together and supporting one another towards the same goal. At AlertMedia, you will always be learning and improving in our consistently fun and challenging environment.
Ansarada's Employee Value Proposition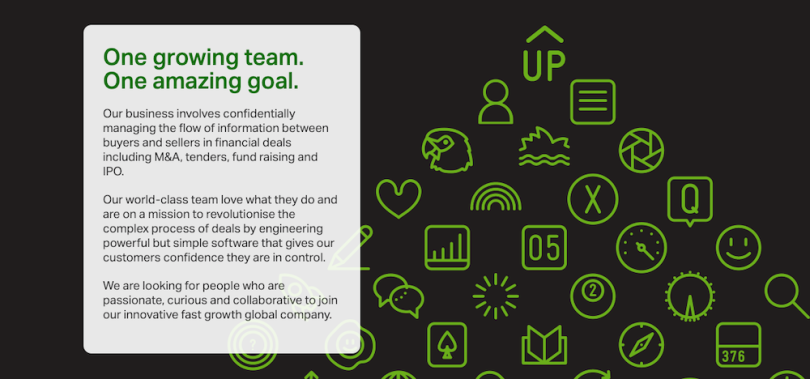 One growing team. One amazing goal.
Our business involves confidentially managing the flow of information between buyers and sellers in financial deals including M&A, tenders, fundraising and IPO.
Our world-class team love what they do and are on a mission to revolutionize the complex process of deals by engineering powerful but simple software that gives our customers confidence they are in control.
We are looking for people who are passionate, curious and collaborative to join our innovative fast growth global company.
Avalara's Employee Value Proposition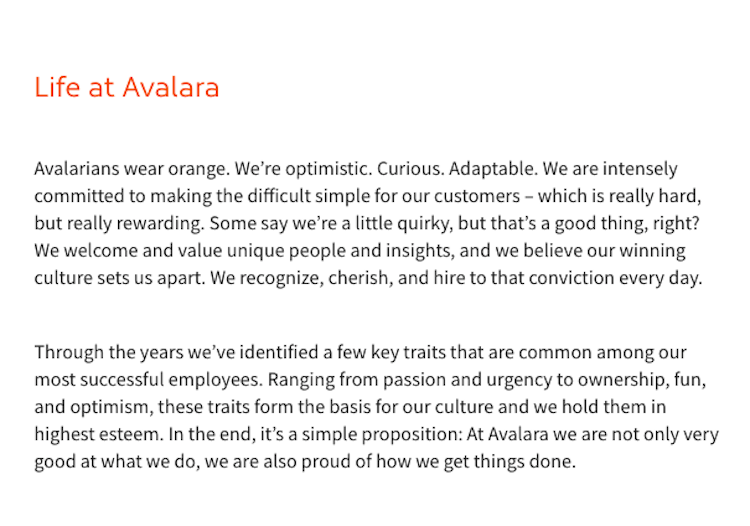 Avalarians wear orange. We're optimistic. Curious. Adaptable. We are intensely committed to making the difficult simple for our customers – which is really hard, but really rewarding. Some say we're a little quirky, but that's a good thing, right? We welcome and value unique people and insights, and we believe our winning culture sets us apart. We recognize, cherish, and hire to that conviction every day.
Through the years we've identified a few key traits that are common among our most successful employees. Ranging from passion and urgency to ownership, fun, and optimism, these traits form the basis for our culture and we hold them in highest esteem. In the end, it's a simple proposition: At Avalara we are not only very good at what we do, we are also proud of how we get things done.
BetterCloud's Employee Value Proposition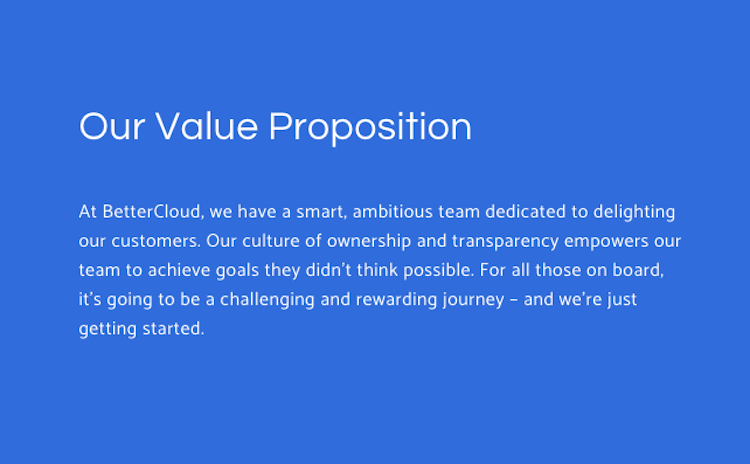 At BetterCloud, we have a smart, ambitious team dedicated to delighting our customers. Our culture of ownership and transparency empowers our team to achieve goals they didn't think possible. For all those on board, it's going to be a challenging and rewarding journey – and we're just getting started.
 
BlueModus's Employee Value Proposition

A lot of companies talk about their awesome offices, cool events and great perks. We can, too. But when you come to work for BlueModus, you not only get to work in great digs, you also become part of an incredible team that we think separates us from other tech companies.
We've created a culture that attracts bright, passionate, caring people who sincerely want to do their best for clients and partners. We're occasionally a little geeky. Always fun-loving.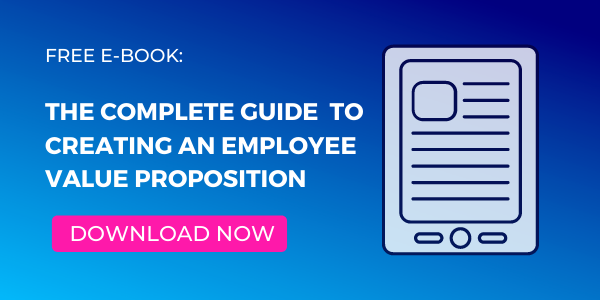 Call9's Employee Value Proposition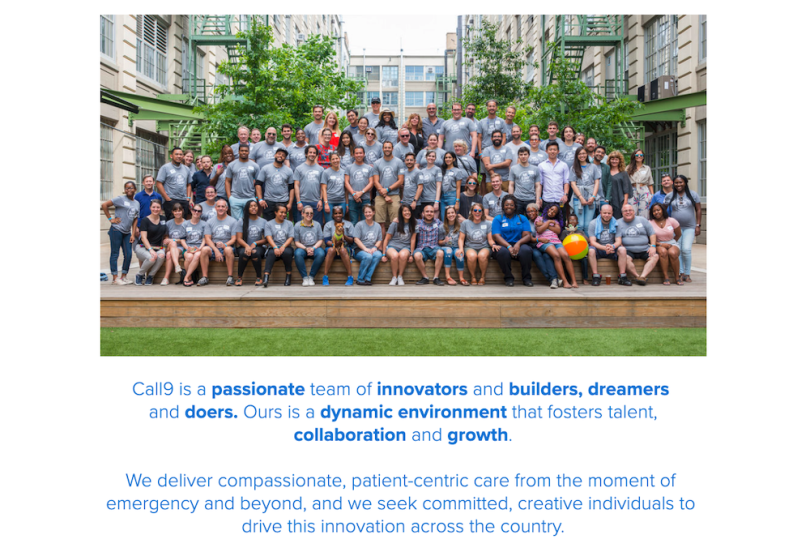 Call9 is a passionate team of innovators and builders, dreamers and doers. Ours is a dynamic environment that fosters talent, collaboration and growth.
We deliver compassionate, patient-centric care from the moment of emergency and beyond, and we seek committed, creative individuals to drive this innovation across the country.
Cheetah Digital's Employee Value Proposition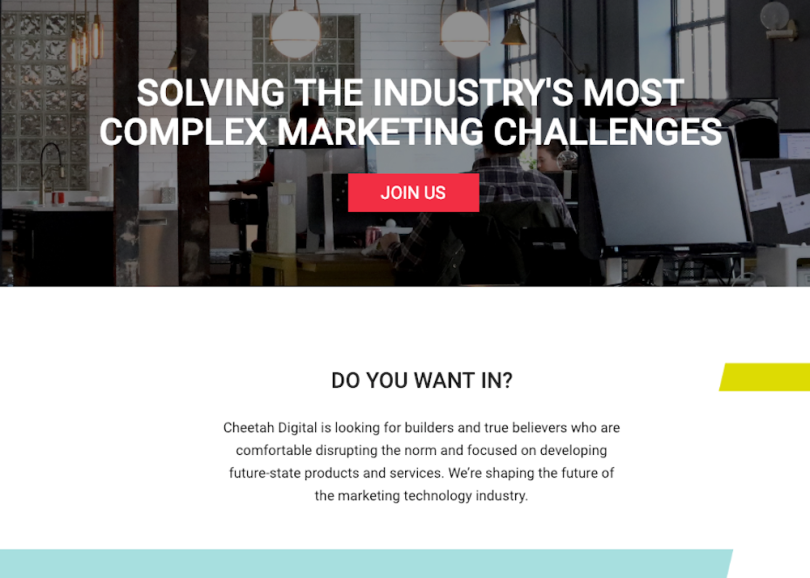 Cheetah Digital is looking for builders and true believers who are comfortable disrupting the norm and focused on developing future-state products and services. We're shaping the future of the marketing technology industry.
Ellevest's Employee Value Proposition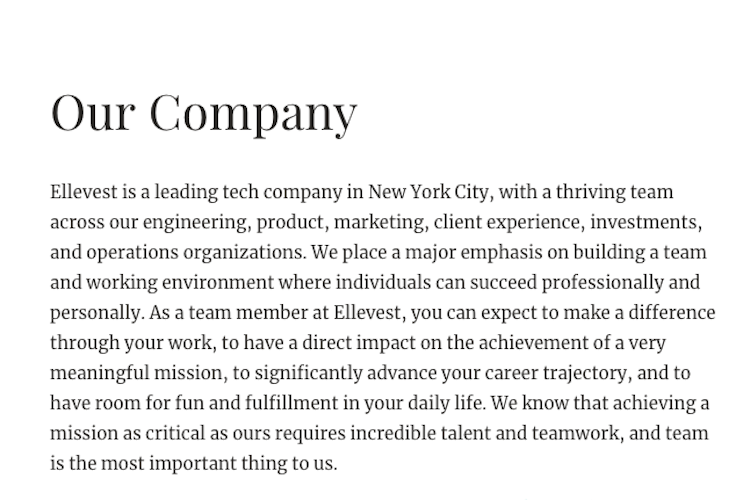 Ellevest is a leading tech company in New York City, with a thriving team across our engineering, product, marketing, client experience, investments, and operations organizations. We place a major emphasis on building a team and working environment where individuals can succeed professionally and personally.
As a team member at Ellevest, you can expect to make a difference through your work, to have a direct impact on the achievement of a very meaningful mission, to significantly advance your career trajectory, and to have room for fun and fulfillment in your daily life. We know that achieving a mission as critical as ours requires incredible talent and teamwork, and team is the most important thing to us.
E Source's Employee Value Proposition

We tackle complex challenges and work hard. We're risk-takers, fast learners, and experts in our field. Together, we're redefining an industry that's in desperate need of a shakeup. Our employees have strong work ethics, sharp intellects, and high energy. We reward that with great parties, a casual work environment, and playful activities.
EZ Texting's Employee Value Proposition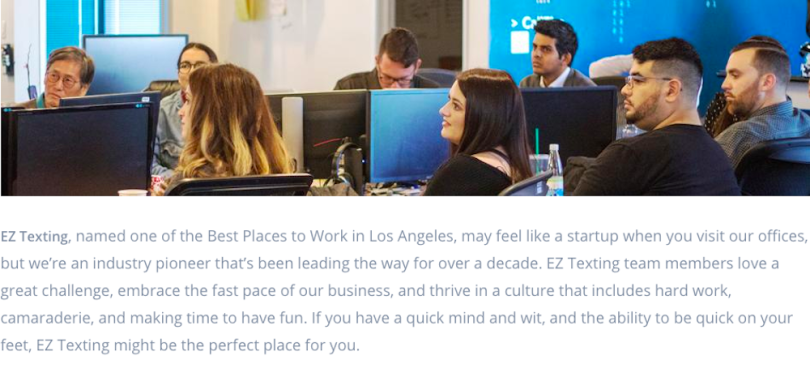 EZ Texting named one of the Best Places to Work in Los Angeles, may feel like a startup when you visit our offices, but we're an industry pioneer that's been leading the way for over a decade. EZ Texting team members love a great challenge, embrace the fast pace of our business, and thrive in a culture that includes hard work, camaraderie, and making time to have fun. If you have a quick mind and wit, and the ability to be quick on your feet, EZ Texting might be the perfect place for you.
HYFN's Employee Value Proposition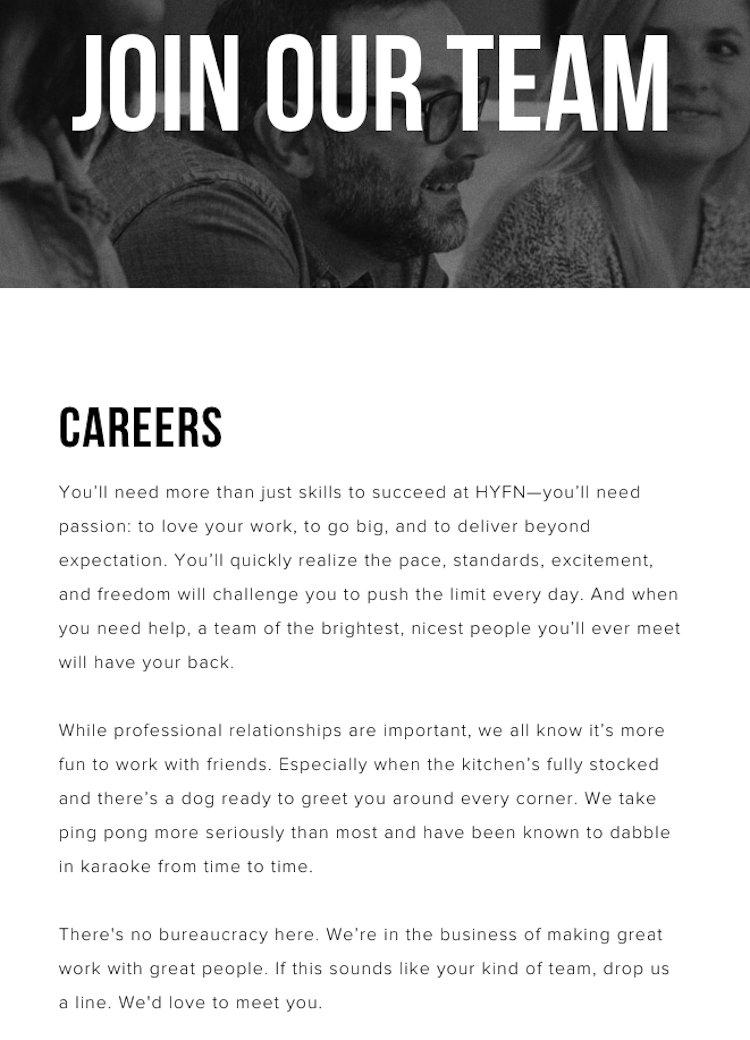 You'll need more than just skills to succeed at HYFN—you'll need passion: to love your work, to go big, and to deliver beyond expectation. You'll quickly realize the pace, standards, excitement, and freedom will challenge you to push the limit every day. And when you need help, a team of the brightest, nicest people you'll ever meet will have your back.
kununu's Employee Value Proposition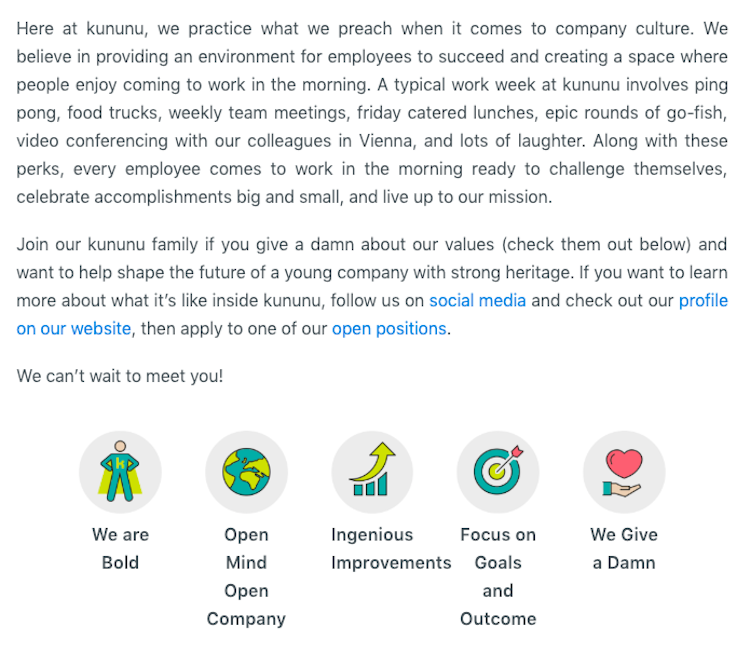 Here at kununu, we practice what we preach when it comes to company culture. We believe in providing an environment for employees to succeed and creating a space where people enjoy coming to work in the morning. A typical work week at kununu involves ping pong, food trucks, weekly team meetings, friday catered lunches, epic rounds of go-fish, video conferencing with our colleagues in Vienna, and lots of laughter. Along with these perks, every employee comes to work in the morning ready to challenge themselves, celebrate accomplishments big and small, and live up to our mission.
Lifion's Employee Value Proposition

We are a special venture within a large established company. We "re-write the rules" and define our own standards for success. We have access to the resources of a fortune 500 with the velocity of a startup. Our team is high powered and committed: we expect the same from every person we hire. Our industry is at the beginning of a transformational shift and we intend to lead it.
LiveLike's Employee Value Proposition

At our core, we are a big group of nerds, sports fanatics, and generally lovable people. We're as passionate about next-gen sport live streaming as we are about tacos, occasional dogs, and appropriately timed gifs. So our team has access to every major VR/AR/MR system, and so will you. We've worked extremely hard to get where we are right now but we wholly embrace the laid back but "get s**t done" attitude.
LogicManager's Employee Value Proposition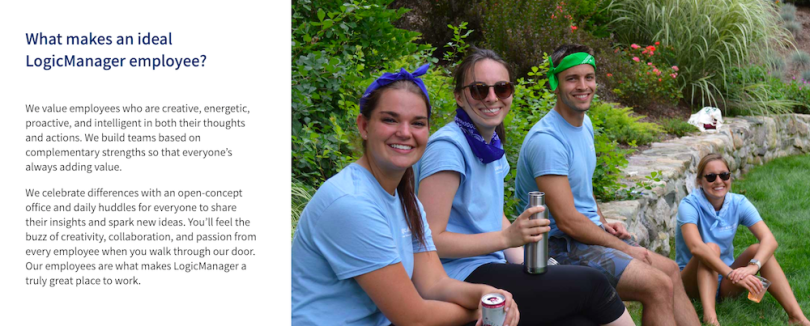 We value employees who are creative, energetic, proactive, and intelligent in both their thoughts and actions. We build teams based on complementary strengths so that everyone's always adding value.
We celebrate differences with an open-concept office and daily huddles for everyone to share their insights and spark new ideas. You'll feel the buzz of creativity, collaboration, and passion from every employee when you walk through our door. Our employees are what makes LogicManager a truly great place to work.
Lottery.com's Employee Value Proposition

We know that the world owes us nothing and that our incredible team is our biggest asset. We have a phenomenal culture and unparalleled drive, and each member of the team is carefully selected because they fit with our tribe and our vibe.
We celebrate our awesome diversity, believe that everyone is an entrepreneur, and appreciate the unique talents and perspectives that each of us bring to the table. After all, when our team members win, we win as a whole, and more than anything, we love to #wintogether.
Mimecast's Employee Value Proposition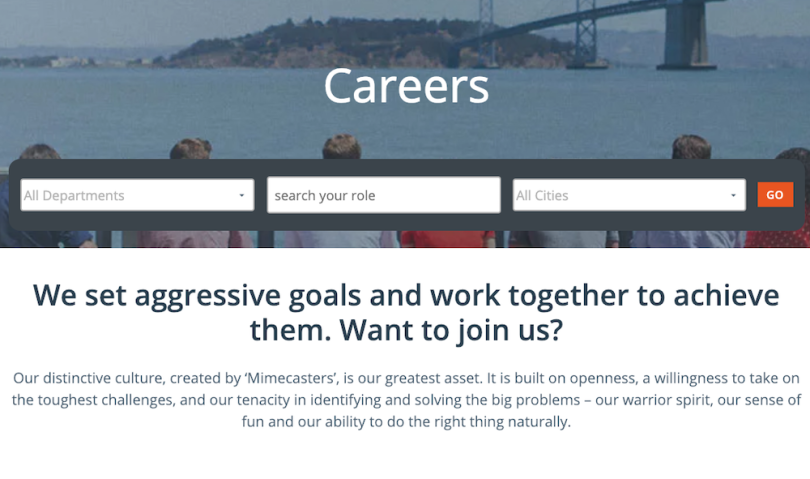 We set aggressive goals and work together to achieve them. Want to join us?
Our distinctive culture, created by 'Mimecasters', is our greatest asset. It is built on openness, a willingness to take on the toughest challenges, and our tenacity in identifying and solving the big problems – our warrior spirit, our sense of fun and our ability to do the right thing naturally.
Mimecasters work together on health, wellness, community volunteering and sponsorship activities as well as social events where we can celebrate and share in each other's success.
Otus's Employee Value Proposition

At Otus, you will work with people that are passionate about improving the lives of teachers and students. We are group of talented designers, developers, coaches, and leaders. We love what we do and strive to the best work we can each day.
On our team you will find musicians, beer enthusiasts, designer toy collectors, table tennis fanatics, and more.
PatientPop's Employee Value Proposition

At PatientPop, you have the ability to influence your team, and even the entire company, while carving out your career path and future. Our culture fosters an environment that allows employees to thrive personally and professionally. We're passionate about employee development, evidenced by our new hire training and onboarding program, PatientPop 101. We also have a training program for new and tenured managers, weekly Lunch-and-Learn sessions, and a monthly leadership book club.
As a company we share common values of honesty and accountability. We're mentors and team players who believe that happy employees support one another at all levels of the business. Leadership sets the tone for an organization, and we focus on fostering a positive, collaborative environment.
Plastiq's Employee Value Proposition

Our incredibly diverse, insanely skilled team is making amazing things happen every day. We're curious. We're passionate. We're collaborative and we're candid. And we're growing quickly.
If you want your next professional experience to help you master new skills, build meaningful relationships, and access limitless growth opportunities, consider joining our family. We're so excited to meet you.
Rapid7's Employee Value Proposition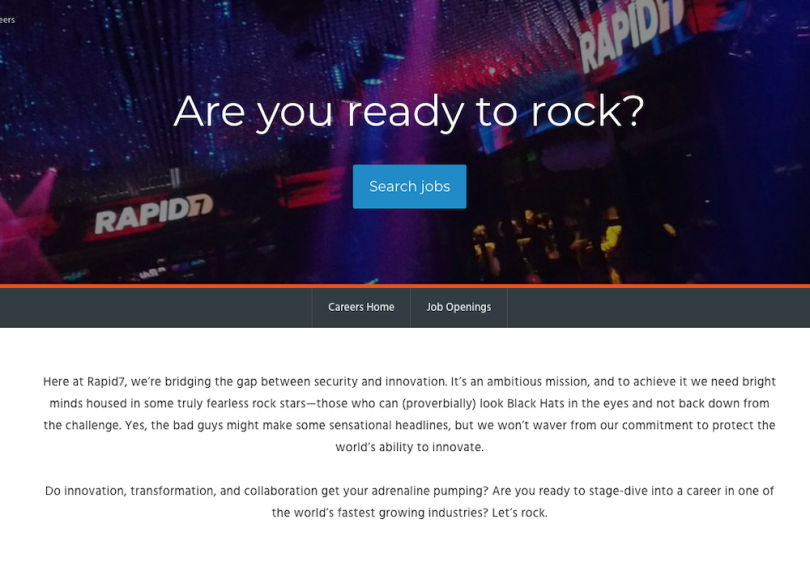 Here at Rapid7, we're bridging the gap between security and innovation. It's an ambitious mission, and to achieve it we need bright minds housed in some truly fearless rock stars—those who can (proverbially) look Black Hats in the eyes and not back down from the challenge. Yes, the bad guys might make some sensational headlines, but we won't waver from our commitment to protect the world's ability to innovate.
Do innovation, transformation, and collaboration get your adrenaline pumping? Are you ready to stage-dive into a career in one of the world's fastest growing industries? Let's rock.
ReachLocal's Employee Value Proposition

Join the team that's helping drive more customers to the world's local businesses. Room to advance your digital marketing career. A cool, laid-back environment. If this sounds good to you, then come join our team!
Recurly's Employee Value Proposition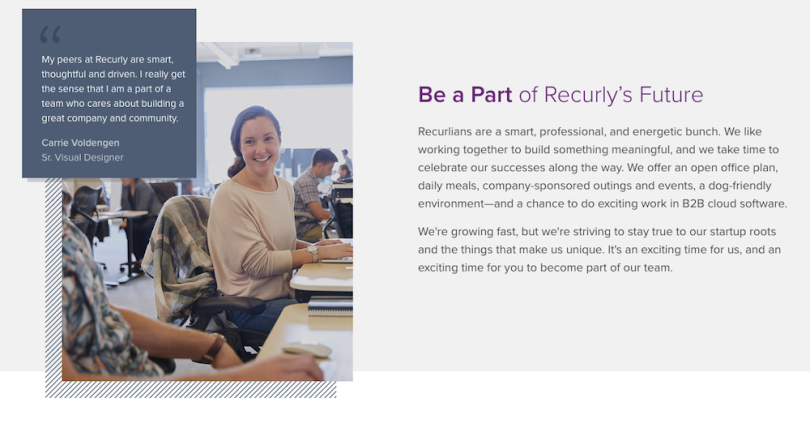 Recurlians are a smart, professional, and energetic bunch. We like working together to build something meaningful, and we take time to celebrate our successes along the way. We offer an open office plan, daily meals, company-sponsored outings and events, a dog-friendly environment—and a chance to do exciting work in B2B cloud software.
RigUp's Employee Value Proposition

We're changing the way people work in one of the oldest and most complex industries in the world. Here, you will work on hard problems that no one else has worked on before with smart people who care about building products that people want. If you were the kid who ran a lemonade stand, we want to hear from you.
riskmethods' Employee Value Proposition

We're looking for self-starters with an entrepreneurial mindset who want to be part of our long-term success story.
At riskmethods, you'll discover new opportunities, take ownership of important initiatives, learn at a fast pace and be part of an international team.
No matter who you are, where you come from or what you did before: If you're good at what you do, we want to hear from you.
SailPoint's Employee Value Proposition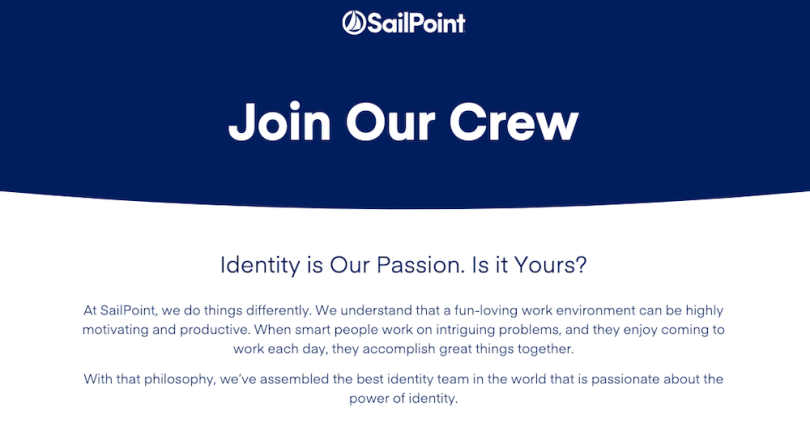 At SailPoint, we do things differently. We understand that a fun-loving work environment can be highly motivating and productive. When smart people work on intriguing problems, and they enjoy coming to work each day, they accomplish great things together.
With that philosophy, we've assembled the best identity team in the world that is passionate about the power of identity.
Strava's Employee Value Proposition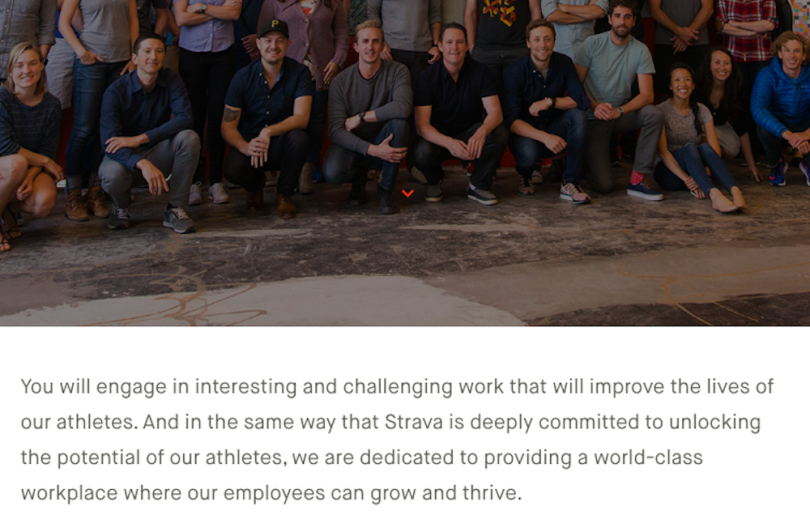 You will engage in interesting and challenging work that will improve the lives of our athletes. And in the same way that Strava is deeply committed to unlocking the potential of our athletes, we are dedicated to providing a world-class workplace where our employees can grow and thrive.
UiPath's Employee Value Proposition

First, let's cover the table stakes. Yes, you'll get all the usual perks. But if you're the rare creature we need, that's not why you're here. You're here because you want to build the future. You're here to free people from repetitive, boring jobs and have a blast in your job along the way. We're growing faster than we expected and that's humbling. This means you'll grow fast too. And one day, you can say that you were there at the beginning.
UpKeep's Employee Value Proposition

We're looking for friendly, creative problem solvers to join our team. Our ideal candidate is a self-starter and can use best judgment to make fast and efficient decisions. As a startup, we're flexible, agile and we love to learn. We believe in getting to know each customer and understanding their unique needs. We don't believe in strict policies or rigid structures, if you're looking to push the boundaries then UpKeep is the place for you!
Yapta's Employee Value Proposition

Yapta means confidence in travel. Working at Yapta means confidence in the leadership, the products and in yourself. We are a team of self-starting, collaborative individuals who know and understand the importance of work/life balance.
FREE E-BOOK: THE COMPLETE GUIDE TO CREATING AN EMPLOYEE VALUE PROPOSITION. DOWNLOAD HERE.