Startup Culture: What It Is, Why It Matters and How to Build It
7 steps to build and maintain a strong startup culture
Startups have migrated to the forefront of discussions surrounding company culture, but not for the reasons you probably think. Sure, having a keg in the office and a luxurious work-from-home policy is great, but these employee perks don't contribute to the culture startups are known for.
Rather, it's the open communication and people-first mindset that sets startup culture apart from its corporate counterpart — perks are merely a cultural byproduct. Bringing dogs into the office might get you a few more applicants for your open role, but a strong startup culture will keep employees around. 
Read on to learn what exactly startup culture is and how you can build one of your own.
Startup Culture at a glance
Startup culture is different from corporate culture because it typically reflects the personalities and passions of the team members. That's not to say that employees don't influence the culture of more established organizations, rather that individual contributions are more impactful at startups or smaller companies.
FREE E-BOOK: HOW TO CREATE CORE VALUES THAT WILL INSPIRE YOUR WORKFORCE. DOWNLOAD HERE.
Table of Contents
What is startup culture?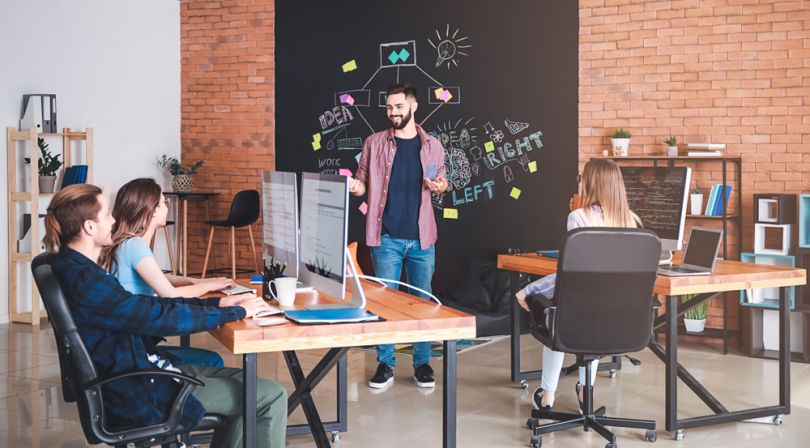 Startup culture is a type of clan culture, which is typically characterized by a horizontal leadership structure, open communication, flexibility and free-flowing creativity. People are the priority — from employees to customers — and startup culture resembles "one big, happy family." People associate startups with cold brew on tap, unlimited PTO and dog-friendly offices. While these are great employee benefits, perks do not constitute culture.
What makes startup culture different?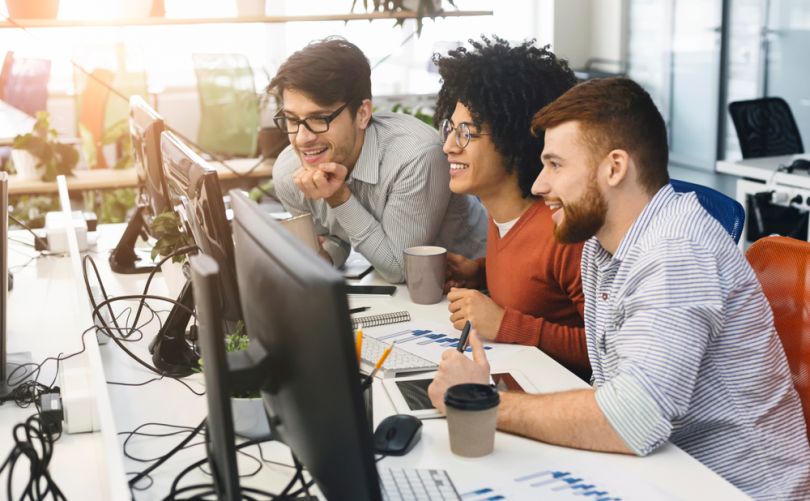 Startup culture is different from corporate culture because it typically reflects the personalities and passions of the team members. That's not to say that employees don't influence the culture of more established organizations, rather that individual contributions are more impactful at startups or smaller companies. The high value placed on people manifests in a flat hierarchy with limited barriers between team members and the C-suite. 
Furthermore, because people are the priority, startup cultures often boast improved work-life balance and more flexibility than corporate cultures. Small teams have the ability to be more accommodating to employees, which encourages a healthy work-home relationship from day one. This naturally leads to the exciting and unique employee perks associated with startup culture, including open vacation policies and free lunches.
Why is it important to define your startup culture?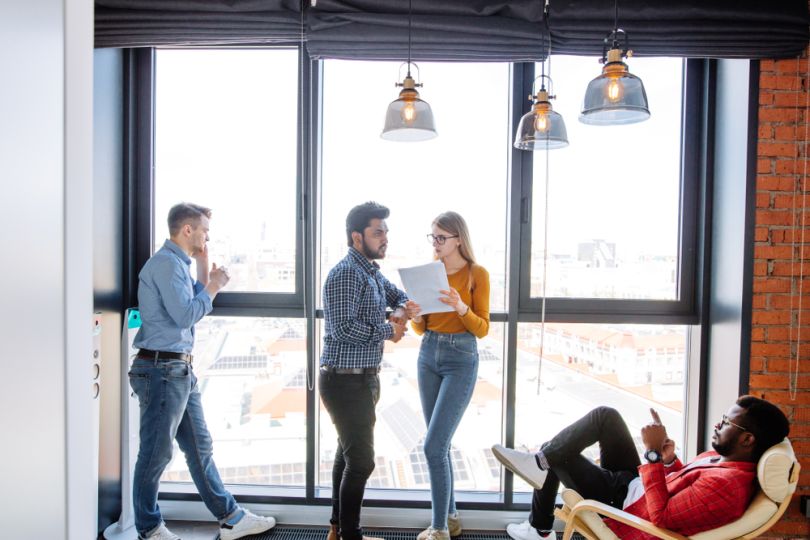 Key word: your. No two companies, even if they're both startups, are exactly the same. Company culture is the ethos — the personality — of your organization and its unique team members. It constitutes your values as an organization, the way you do business, how you treat your employees and your company vision.
Still, it's easy to get caught up in looking the part. While a solid benefits package and healthy working environment are linked to increased productivity and employee satisfaction, they do not constitute company culture.
Around the three- to four-year mark, 70% of startups often experience a rough patch in their culture known as the "cultural chasm." This refers to the dystopian feeling that permeates the workspace as the company grows. Essentially, long-term employees identify negative, disheartening changes from the early days to now.  
In order to avoid or recover from the cultural chasm, it's vital that your team take the time to create a detailed outline of your culture, from the type of organizational culture you want to embody down to the handful of core values that will guide every decision you make. Failing to do so leaves your team susceptible to unwanted changes in your culture that can harm your business — think high turnover and poor retention — and ultimately cost you more time and effort as you work to change your culture.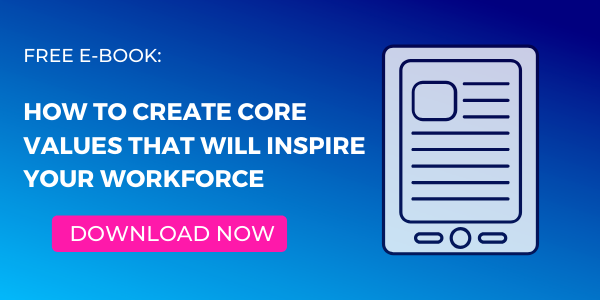 How to Build a Strong Startup Culture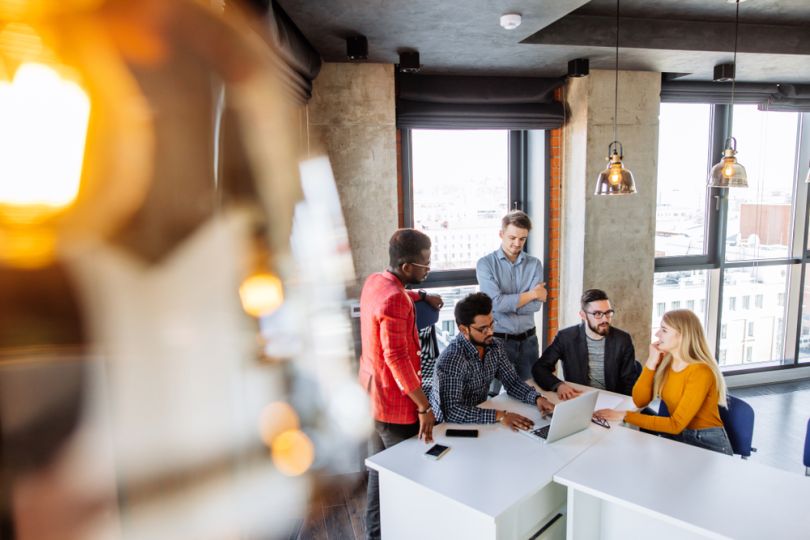 Regardless of how different it is from corporate culture, startup culture is not something to phone in. Building culture the right way requires thoughtful planning and complete buy-in from the full leadership team. Again, perks do not constitute culture. Follow these three steps to build a successful startup culture that will last.
1. Establish Your Company Mission
You can't do anything without a mission; it's the backbone of your business. Without one, you're effectively just asking people for money. Think about what sets your company apart, how you aim to benefit consumers and how you'll impact society. 
Your mission should clearly and concisely define the following: who you are as an organization, how you do business and why you matter. Determine your company mission before day one, i.e., before you hire your first employee. Culture starts to form then and will veer off course if you're not prepared.
2. Define Your Core Values
What are your team's goals? What is your company mission? How do you want employees to behave? How do you want to help customers? These are a few of the questions to answer when defining your core values. Simply put, figure out what makes your company tick.
Tailor your values to your company mission — saying you value innovation and risk-taking without having long-term plans to break into a new space or goals to be on the cutting edge of your industry creates a disconnect. The expectations you set for how employees act and how business is conducted must align with broader company strategies.
Regardless of whether your company is still in its startup stages or well-established in the industry, defining your core values is vital to creating a strong, positive work culture and maintaining it as you grow. Lean on past work experiences — both good and bad — to create a concise list of relevant company values, and get a focus group of employees who have been with your company for several years to identify which values they believe most align with your company.
3. Communicate Your Mission and Values
Employees can't positively contribute to your culture if they don't know what it is or supposed to be. Take the time to train your team in your mission and core values. Ensure that everyone is on the same page regarding what's expected of team members, how these values will guide the company and, above all else, why they matter. Providing meaning not only helps employees understand the importance of upholding values, but also incentivizes positive behavior. Knowing how every action contributes to broader goals fosters a cohesive, mission-driven culture.
How to Maintain a Startup Culture While Scaling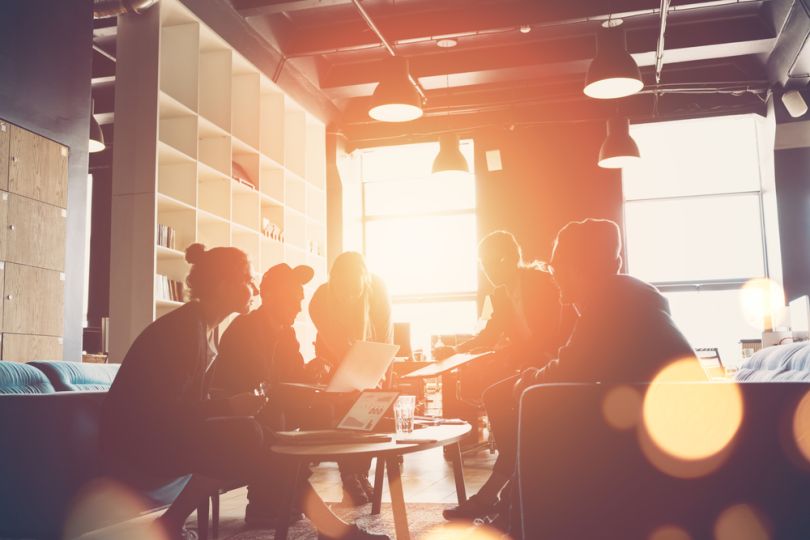 Remember, culture is a living entity — it will evolve as time passes and shift as you add new team members. Preparation is key, but culture is something that must be diligently monitored and maintained. Follow these guidelines to preserve your strong company culture as you scale your organization. 
1. Lead by Example
Culture is set by leaders, maintained by employees and monitored by HR. However, setting values and a mission statement is merely half the battle; modeling the behaviors you want is the other. Culture is not something to set and forget, and startup culture is particularly susceptible to change as your team grows. Reinforce value-based actions and a mission-driven culture by continually embodying the core values you set forth at the start. 
Doing so encourages the same behavior in team members and builds trust between employees and leadership. If senior leaders operate outside the rules, employees will view the C-suite as disingenuous and untrustworthy. A lack of trust breeds toxicity, leading to a bad company culture. 
2. Recruit and Hire Carefully
Each individual you add to your team will play a part in your culture's evolution. Thus, it's imperative you carefully evaluate candidates not only on their skills, but on their cultural relevance. Hire individuals who share your values, believe in your mission and are passionate about the work you do. Avoid falling into the culture-fit trap — recruiting cookie-cutter replicas of your current employees will not enhance your culture. 
Instead, hire for culture adds — the candidates who will mesh with your culture as well as bring unique experiences and perspectives to your team. Diverse workforces are more successful and having a variety of backgrounds represented on your team helps generate new, exciting ideas that can propel your business forward.
3. Recognize and Reward Employees
In addition to leading by example, reinforce positive behaviors by recognizing and rewarding your culture catalysts. These are the individuals who continually live out your core values and go the extra mile for your organization. Create employee spotlights about standout contributors and engage your HR department to implement an employee recognition program. Create a platform for peer-to-peer shoutouts, be it through a shared Slack channel or on a centrally-located bulletin board in the office.
Additionally, promote from within whenever possible. Doing so rewards long-term top performers, fosters career growth and improves the efficiency of your recruitment process. Rather than dedicating the time and resources to sourcing an outside hire, mitigate the cost-per-hire by looking internally. Inside hires also ensure the individual will understand and positively contribute to your company culture since they're already familiar with it. 
4. Regularly Reevaluate Your Culture
Let's face it, as your company grows and changes, so will your culture. This will happen naturally as new faces join your team, but you should be prepared to make purposeful adjustments. Startups are liable to change overnight as business takes off, so regularly consider aspects of your culture like communication style and organizational structure.
Flat hierarchies are customary at startups, but you may need to infuse more structure into your teams in order to maintain a cohesive culture as you grow. Don't be afraid to make adjustments — startup culture values adaptability and is highly flexible, so change is not something to shy away from. Poll your people through employee engagement surveys to keep a pulse on what matters to your team and how they view your cultural evolution. After all, you can't make improvements without first understanding what is no longer working.
4 Examples of Successful Startup Cultures
While every company is different, it helps to learn from those that have been successful. Take a look at what these four leaders have to say about the process and how their businesses have benefited from being intentional about startup culture.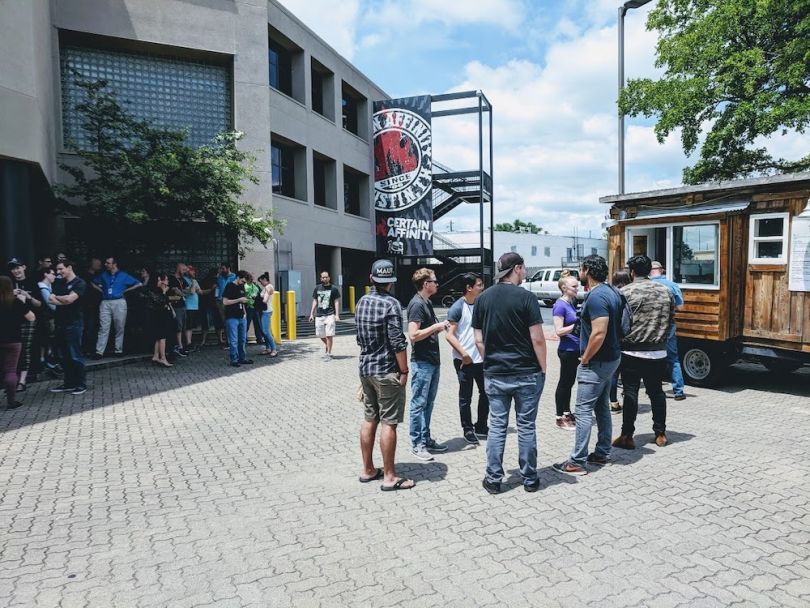 Certain Affinity – Austin, TX
According to Mojdeh Gharbi, Co-Owner and Vice President of Marketing and Operations at Certain Affinity, Austin's well-known slogan played a pivotal role in building the company's culture. "The phrase 'Keep Austin Weird' may seem like an empty bumper sticker slogan, but there does seem to be a genuine desire among Austinites to preserve and maintain the things that made them fall in love with the city in the first place," says Gharbi.
"For us, it means building a culture that brings the best talent together, embraces humility while working on the most renowned games in the industry and never taking ourselves too seriously," she adds. "It's what has allowed us to consistently be profitable for more than 12 years without a single layoff and still growing."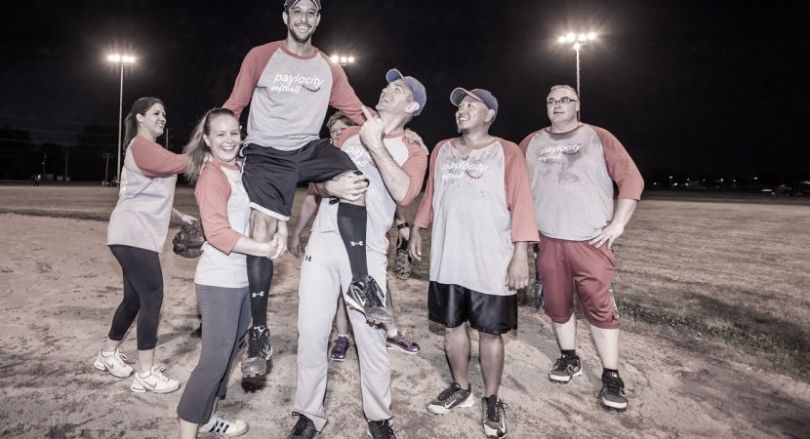 Paylocity – Chicago, IL
The leadership team at Paylocity relies on feedback from employees to help guide its engaging culture. "We have worked hard to define our culture with feedback from employees, partners and clients," says Steve Beauchamp, CEO of Paylocity. "Our company values are: growth fuels opportunity, live the reputation, think next generation, earn it every day and be unbeatable together."
Core values are embedded into everything the team does, from new hire orientation to internal promotions. "We have a very open and transparent culture where we continually seek feedback from our employees on how we can improve," adds Beauchamp. "We think it is really important that our team understands our goals and objectives and knows how they can contribute to them." Beauchamp and his team work hard to "keep people connected so that we can maintain a great culture as we grow."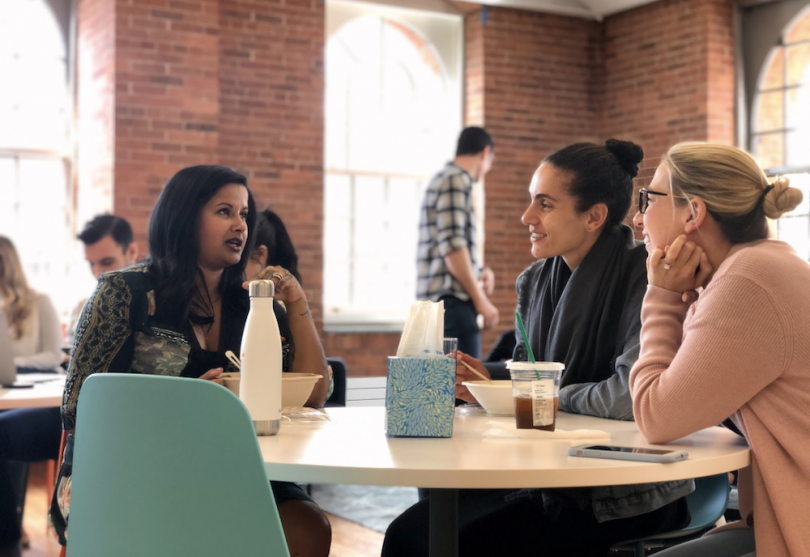 Galileo – New York, NY
Core values set the culture at New York-based Galileo and employees have a hand in shaping its evolution. "They aren't just platitudes on a wall," says Kevin Kwon, Head of Growth Marketing, on Galileo's core values. "Rather, they guide how we go about the exciting and challenging work of fundamentally changing healthcare."
"In the past, I've worked at later-stage companies where the culture was already set," he adds. "Everyone who joins Galileo has a chance to shape the DNA of who we are and what we're building through their contributions and interests."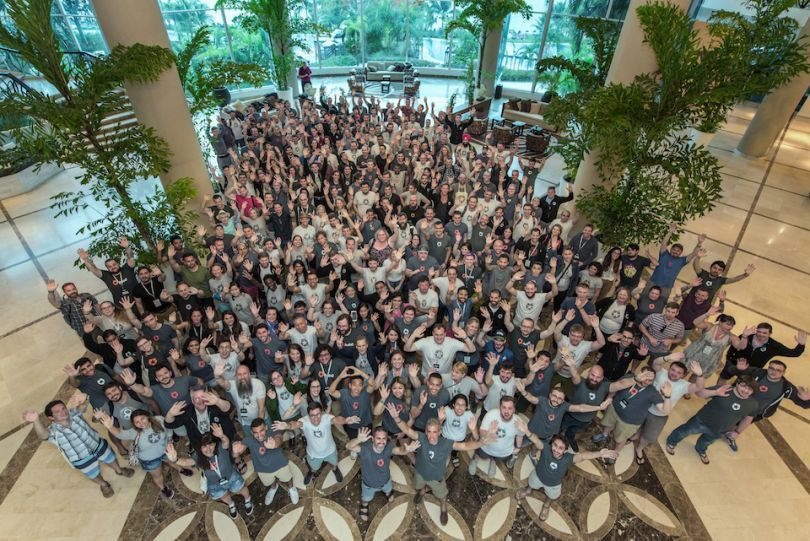 Auth0 – Seattle, WA
Mission guides the company culture at Auth0 and is reinforced by the team's core values. "Innovation, experimentation and learning are the backbone to our company culture," says Clayton Moulynox, Director of Culture. "Just as our mission is to free up developers to innovate, we're constantly fostering an environment that supports trying new things, starting stuff and not being afraid to fail and learn — all in the pursuit of moving forward and innovating."
"Many roles at Auth0 are remote (about half of our staff currently work from somewhere other than our major offices) which has bred strong trust and what I like to describe as a 'relationship culture,'" adds Moulynox. "It also gives people the power to work in ways that produce their best results."
Whether you're working to reinvigorate your corporate culture to resemble that of a startup or you're launching your organization, building a startup culture requires commitment. Get serious about who you are, what you value and where you want to be. Remember to continuously evaluate your efforts and lean on your team for feedback. Not yet convinced on the importance of a strong culture? Check out these 42 shocking company culture statistics.
FREE E-BOOK: HOW TO CREATE CORE VALUES THAT WILL INSPIRE YOUR WORKFORCE. DOWNLOAD HERE.