10 Publicly Traded Companies That Are Betting on Robotics
The robotics industry is booming, and lots of companies are cashing in on the revolution. In 2018, the automotive, healthcare and defense sectors relied more heavily on robotic technology than ever before — a trend that's predicted to continue.
Five Examples of Public Robotics Companies
iRobot- IRBT
Boston Dynamics- SFTBY
AeroVironment- AVAV
Raytheon- RTN
Stryker- SYK
And robotics technology isn't merely applied to mundane or repetitive tasks; robots can now perform complicated procedures that have long been the domain of specially trained humans, including scouring dense forests to find missing hikers and even performing minimally-invasive heart surgery.
Here are 10 publicly traded companies where humans work hand-in-hand with robots to tackle complex problems.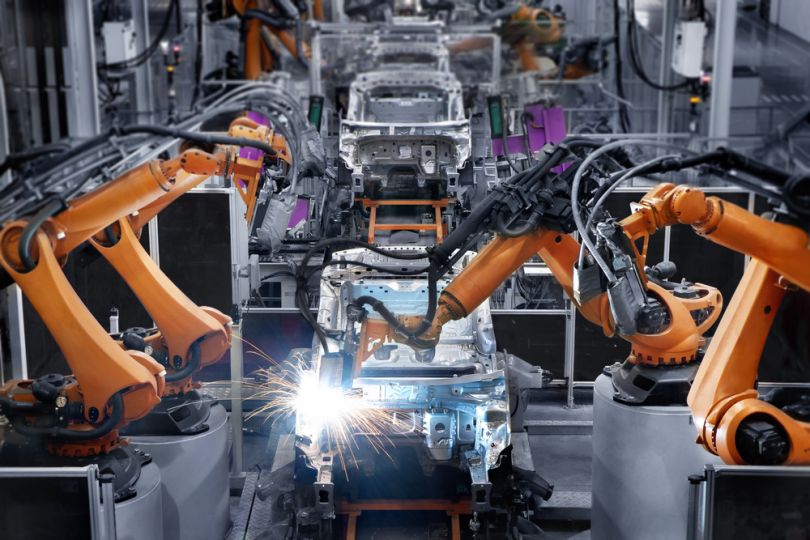 Industrial/Consumer Robotics Applications
The use of AI-enabled robotics is burgeoning in the industrial and consumer sectors, especially the former, where it's used to do everything from quickly ship packages to explore oceans for untapped oil deposits. Below are four publicly traded companies that develop robots or implement them in some aspect of their business practices.

iRobot
Location: Bedford, Massachusetts
Stock Symbol: IRBT
How it's using robots: IRobot has developed a series of AI-enabled robot vacuums, mops and pool cleaners. The iRobot Roomba vacuums create a map of the house they are cleaning and track the patterns for most efficient routes and spots that need the most cleaning attention.
Industry Impact: The 25 year-old robotics company developed a pool cleaner dubbed "Mirra," which is programmed to clean the surface of the water as well as a pool's walls and floor. IRobot's cleaner uses AI to track its routes and identify areas where bacteria buildup can occur.    

Boston Dynamics
Location: Waltham, Massachusetts
How it's using robots: Boston Dynamics creates human- and animal-like robots that do everything from carry heavy loads in factories to perform reconnaissance for the U.S. military. Originally part of MIT and acquired by Softbank, the company has a stable of nine robots that all perform different tasks.    
Industry Impact: Boston Dynamics boasts an impressive lineup of robots. The "Wildcat," an animal-like robot, can run at a speed of 32 kilometers per hour. The company's "LS3" is a load-carrying robot that's designed to follow the U.S. Marines and carry up to 181 kilograms. "Atlas" is a humanoid robot that can run, jump and carry.

Oceaneering International
Location: Houston, Texas
Stock Symbol: OII
How it's using robots: Oceaneering International's fleet of Remotely Operated Vehicles (ROVs) assist oil and gas companies with underwater operations. The company's eight different robots do everything from lift massive amounts of weight to help with underwater rig inspections to help fix any problems with underwater pipelines.      
Industry Impact: The National Oceanic and Atmospheric Administration (NOAA) has tasked Oceaneering International with updating navigational charts and researching marine habitats and fisheries off the coast of Florida. Oceaneering will use its fleet of aquatic robots to research about 650 nautical miles by December 2018.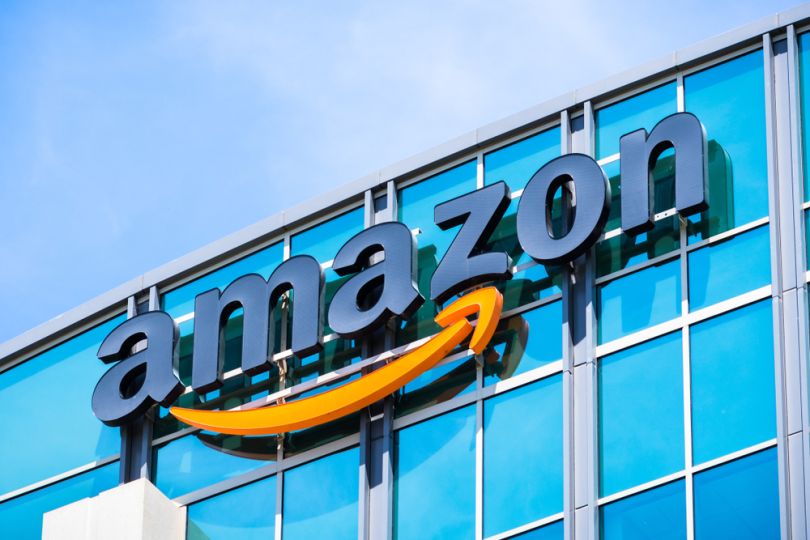 Amazon Robotics
Location: North Reading, Massachusetts
Stock Symbol: AMZN
How it's using robots: Amazon Robotics creates and implements autonomous robots, control software and robotic language and vision sensing for its fulfillment center operations.  Originally called Kiva Systems, the company uses its robots as automated storage and retrieval mechanisms throughout its vast warehouses.
Industry Impact: The implementation of robotics has reportedly cut Amazon's costs by up to 20%. The floor-roaming robots can locate and carry entire shelves or individual products to conveyor belts, which saves time and resources. Amazon Robotics has reportedly developed retrieval systems for GAP, Walgreens and Staples.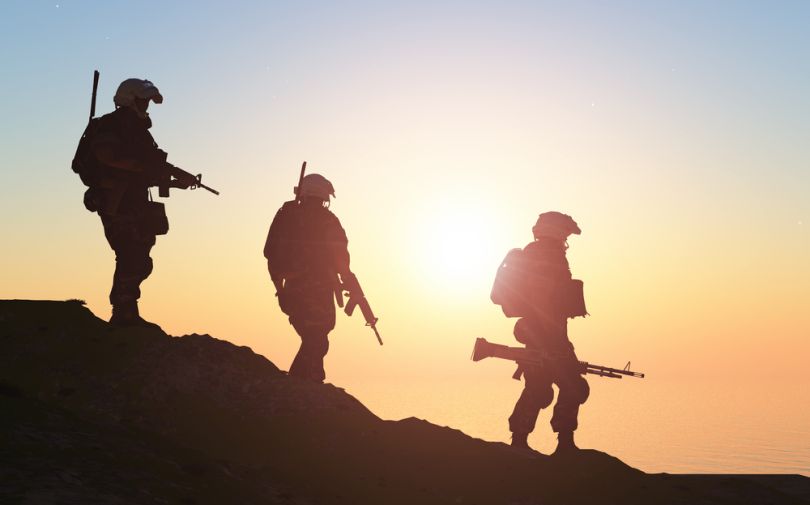 Defense/Military Robotics Applications
From unmanned, AI drones that roam the sky to working alongside military personnel on the battlefield, AI-enabled robots are drastically changing the nature of defense and warfare in a variety of ways. For its next wave of battlefield technology, the U.S. Department of Defense (DoD) is beginning to rely more on outside defense contractors. Here are three publicly traded ones on the forefront of military robotics.

AeroVironment
Location: Monrovia, California
Stock Symbol: AVAV
How it's using robots: AeroVironment is a developer of unmanned aircraft systems for the Pentagon and dozens of other allied nations. AeroVironment's six unmanned robots can be launched by hand for reconnaissance missions or via aircraft carrier to defend U.S. territories and ships.        
Industry Impact: The AeroVironment Puma helps rescue and research teams survey land and gather data. It was used by the U.S. Coast Guard to chart Antarctic ice sheets and by firefighters to assist in their search for a missing colleague who disappeared during a wildfire.
The Switchblade is a much larger drone that needs to be launched and is designed for warfare. It is equipped with thermal visioning and can fire missiles with extreme precision.
Boeing
Location: Chicago, Illinois
Stock Symbol: BA
How it's using robots: One of the world's largest producers of civilian and military aircrafts, Boeing is uses robots to help build military planes. They work alongside humans to construct fuselages and are also employed as autonomous vehicles to transport heavy aircraft parts.
From robotic submarines, military drones and a space plane that launches military satellites, the company's autonomous vehicles roam the ocean depths and outer space       
Industry Impact: Boeing uses autonomous robots in a large portion of their military operations- from start to finish. The company's Echo Voyager is an unmanned submarine that's used to ferry military equipment deep beneath the sea. The Boeing High Altitude Long Endurance (HALE) unmanned aircraft can reach 65,000 feet and is mainly used for reconnaissance and missile defense.   
Raytheon
Location: Waltham, Massachusetts
Stock Symbol: RTN
How it's using robots: Defense contractor Raytheon designs robots to help soldiers on the ground and autonomous aircraft to defend the skies. In addition to an array of autonomous drones, the company is now working on an exoskeleton that helps logistics personnel move heavy military equipment,
Industry Impact: One of Raytheon's newest military robots is the "Coyote," a drone used to track and shoot down enemy UAV's. The Coyote's unique swarming ability enables tens of the small autonomous drones to gather in a group, identify enemy targets and employ attached warheads to take them out.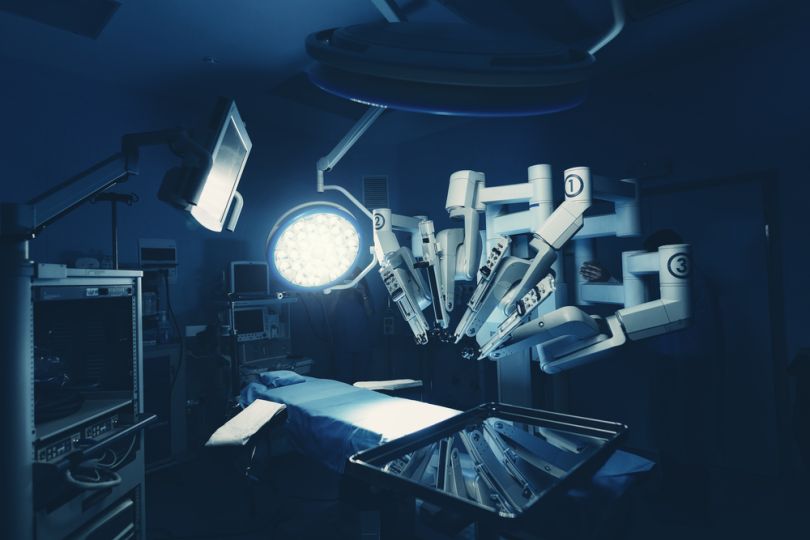 Healthcare Robotics Applications
Robotics and artificial intelligence have become much more prevalent in the healthcare industry, implemented in everything from research to training to surgeries. A couple of examples include KASPAR, a child-sized robot that's designed to help parents support a child with autism, and Xenex, a robot that disinfects hospital facilities using ultraviolent light.
Below are three publicly traded companies whose robots make the healthcare industry safer and smarter.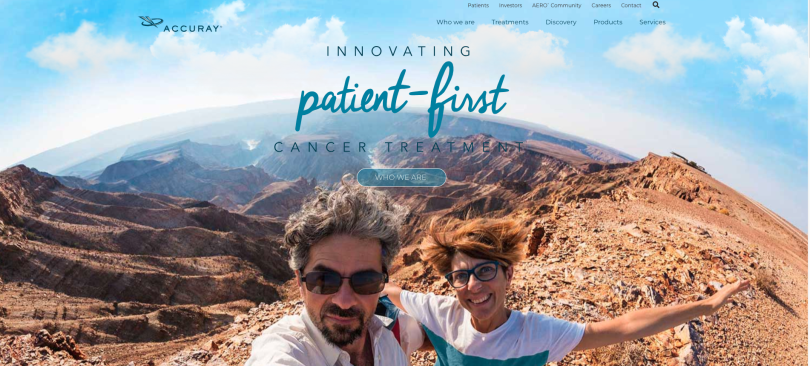 Accuray
Location: Sunnyvale, California
Stock Symbol: ARAY
How it's using robots: Accuray's robots help with cancer treatments and surgeries. Employing a variety of arms, they administer radiotherapy to affected parts of the body, including the pancreas, lungs and brain.          
Industry Impact: The Accuray CyberKnife System is the first surgical tool that administers robotic radiotherapy. Instead of traditional chemotherapy that targets a wide area of the body, the robotic surgery tool pinpoints specific areas where cancers are found and keeps collateral damage to a minimum.

Intuitive Surgical
Location: Sunnyvale, California
Stock Symbol: ISRG
How it's using robots: Considered the originator of surgical robotics, Intuitive developed its da Vinci System to assist on minimally invasive surgeries. Surgeons face a console that displays exactly what the robot is seeing while the robot makes incisions and performs surgeries more precisely than humans are able. It also comes with several different attachments for instruments and vision.         
Industry Impact: Widely deployed around the world, Intuitive's da Vinci reportedly is used every 36 seconds to perform minimally invasive surgery.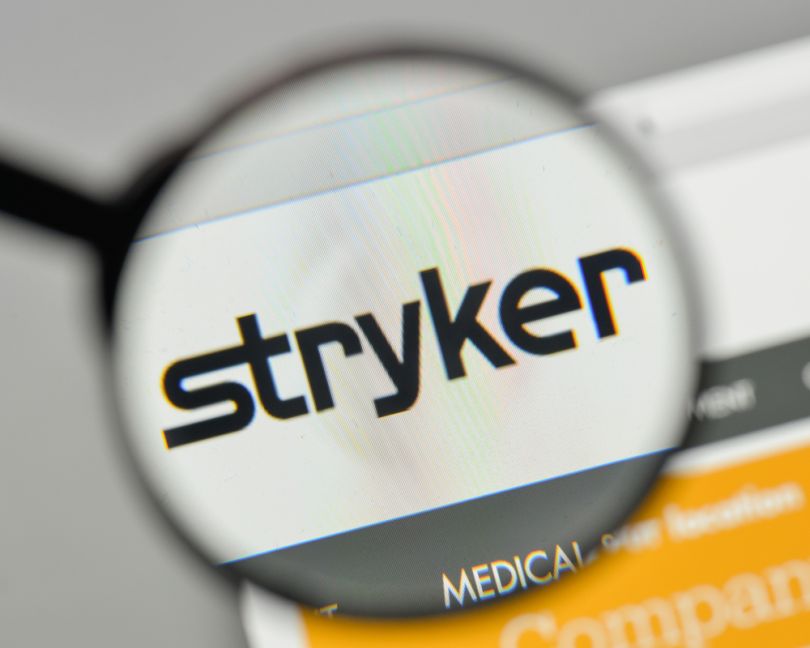 Stryker
Location: Kalamazoo, Michigan
Stock Symbol: SYK
How it's using robots: One of the largest biotechnology companies in the U.S., Stryker makes robotic-arm assisted surgery machines. Using 3D modeling of bone anatomy, the company's Mako robots assist surgeons in joint surgeries for partial and total hip and knee replacements.        
Industry Impact: In June 2017, the Stryker Mako robot performed the 100,000th robotic-arm assisted surgery in the U.S. when it helped surgeons complete a knee surgery.
Images via Shutterstock, social media and screenshots of company web pages.