Top 10 Product Management Tools That Every PM Should Use
From managing workflows to informing executive decisions, collaboration tools are integral to product management.
Product managers are always trying to get as close to the customer as possible. If they can reflect consumer preferences and the tailwinds of the market in the products they release, good things — like monthly active users and new subscriptions — will follow.
But customers are busy, which means collecting meaningful data on their habits and preferences can be tricky. And with growing demands on product managers' time, both real-time and asynchronous collaboration and workflow tools are likely to become ever more important as a way to keep projects on track and meet rapidly shifting market demands.
Top Product Management Tools
UXPin
Microsoft Power BI
Rally
Slack
Jira
Monday.com
Mural and Miro
Stormboard
Confluence
Clear and intentional communication is key, both internally within the product team, and, even more importantly, with engineering and design teams and other stakeholders at your company. We talked to five product managers and a brand manager with product responsibilities to learn what tools are helping them thrive.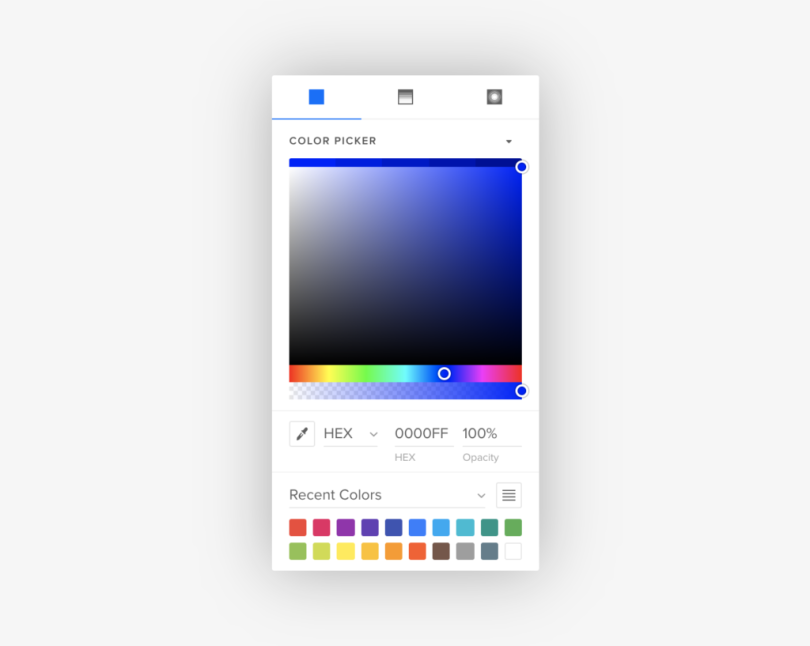 UXPin 
UXPin is a user interface design and prototyping tool for presenting early stage ideas to internal stakeholders and prospective customers. Todd Boes, who is the chief product officer at the Boston-based customer training platform company Thought Industries, said the tool gives product managers a way to get involved in UX design earlier in the development process.
Using standard web components like drop-down menus and frameworks such as Bootstrap and Material Design, the platform allows users to generate a web application with a shareable URL. Engineering systems and component libraries can be pulled into the design in a drag-and-drop environment that can create a faithful facsimile of the real product.
"For a lot of customers, when they look at it, it's hard to differentiate [the prototype] from a real production-ready product."
Before tools like this, Boes said, a product manager would "sketch a concept on a napkin or a piece of paper." Though there were off-the-shelf workflow tools to translate these ideas into design prototypes, they were primitive. Thus, a designer would need to take a PM's rough concept into Adobe Creative Suite or a similar design program to give it a credible visual identity.
"Now a product manager can take the first cut, and then share it with the designer who can look at it and say, 'Oh, I get what you're doing.' Even when created by someone without a software engineering background, the prototypes are highly polished," Boes said. "For a lot of customers, when they look at it, it's hard to differentiate it from a real production-ready product."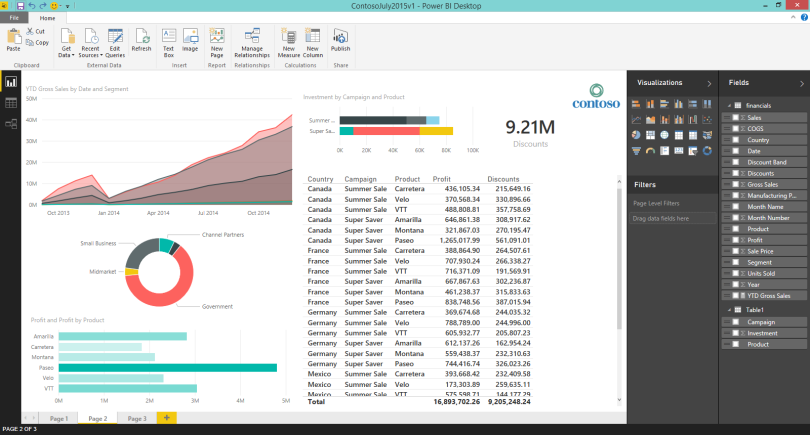 Power BI 
Used to inform executive-level business decisions, Microsoft's Power BI is a data visualization and analytics tool that allows for complex queries across customer databases. Boes said the platform presents information from multiple data sources, such as Salesforce, SAP Business Warehouse Server, Azure, Google Analytics and QuickBooks, in columns and tables that can be quickly compared across key performance indicators, such as monthly active users, the weekly time a visitor spends on a site, and pass-through rates.
"As a product manager, you want to be alerted if there's a drop in customer usage of your product."
"[Product managers] typically have a set number of KPIs, but those KPIs change a lot. So they may come out of a meeting with their executives who want to look at the data in a different way," Boes said. "The nice thing about Power BI is you can go back to the tool and say, 'Oh, let me slice it this way and build a new chart and share it with executives so they can track this on a daily basis."
Speed and agility in data analysis can be especially important for software-as-a-service (SaaS) subscription companies, who live or die by customer retention, Boes said: "As a product manager, you want to be alerted if there's a drop in customer usage of your product. And, if so, you want to reach out to the customer and try to understand why. I suppose it's a nice kind of flag, or insight, as to the potential churn of your product."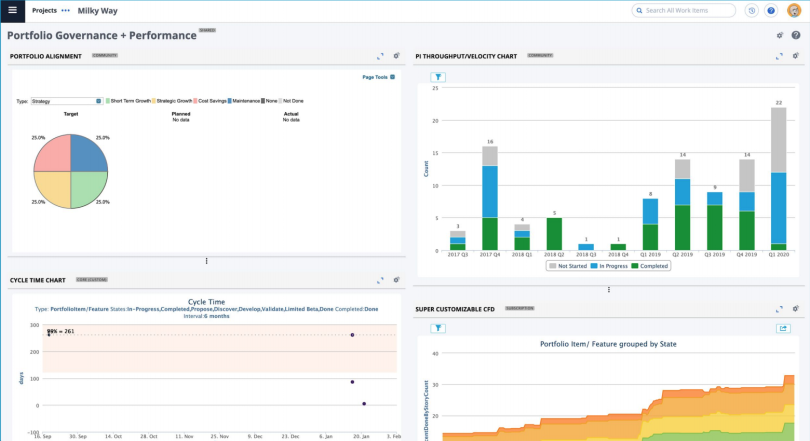 Rally
Uma Subramanian is a former senior technical product manager at GE Healthcare, a subsidiary of General Electric, who recently started her own healthcare consultancy, Royal Sapphire Corporation. One of her favorite tools is Rally, a workflow management tool by Broadcom that can be used to create product features and user stories, assign tasks and track the progress of development and engineering teams.
"Information access can be restricted — an important consideration when working with sensitive medical information."
With Rally, each employee is assigned a customized login, username and password. Information access can be restricted by team — an important consideration, Subramanian said, when working with sensitive medical information. A product dashboard displays feature overviews, technical requirements, acceptance rates, risk reviews and a record of architecture and deployment changes. All this information can be readily monitored and analyzed to align product development across teams. "The tool is really helpful because a product manager has to take the voice of the customer and give it to the teams, so they can deliver the product. Rally does that really well for agile models," Subramanian said.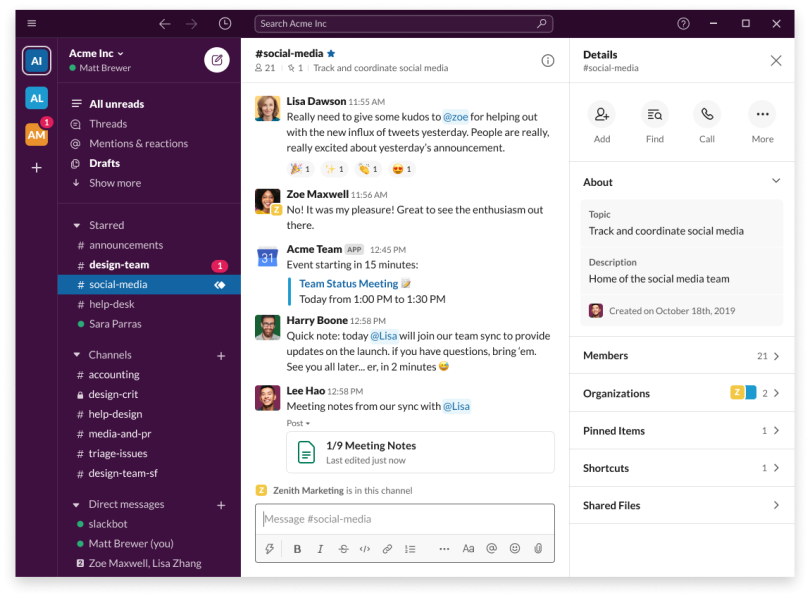 Slack
Most of us are familiar with Slack, a real-time, instantly searchable catalog of team conversations and office chatter that brings the quirky banter of emoji, repartee and animated GIFs to online office communication. The backronym, in case you were wondering, stands for "searchable log of all communication and knowledge," which CEO Stewart Butterfield coined ex post facto at the urging of others. For product managers, the platform's value lies in both its cultivated etiquette of informality, which allows information to flow quickly across channels, and its capacity to preserve data in perpetuity.
The platform's value lies in its cultivated etiquette of informality.
Aviad Pinkovezky is chief product officer at Hippo Insurance and a former Isreali military intelligence officer, who led a team of 30 military product managers and engineers for nearly a decade. In summer 2018 when Hippo Insurance launched a home insurance plan integrated with a complimentary kit of IoT devices — including a Notion smart home sensor — instant group messaging between engineers and product developers helped the team pivot quickly to meet sensitive compliance guidelines that varied from state to state, he said. "When we were already in the process of starting R&D, Slack allowed us to create a real-time notification of the issue and to coordinate a resolution between the product manager, the engineering team and the compliance team in order to meet the deadline efficiently."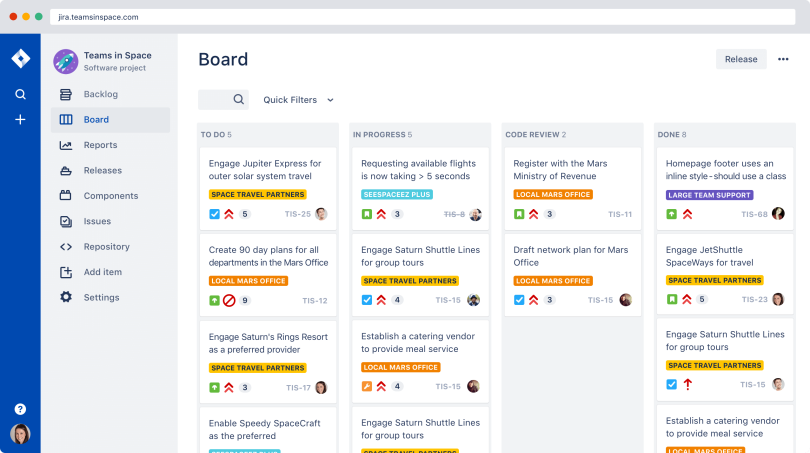 Jira
Developed by the Sydney-based software company Atlassian, Jira is an agile product development tool for tracking projects and flagging software bugs. Pinkovezky said it allows product managers to issue collaborative workflow tickets that provide directives and guidance to teams. "It's essentially a very effective tool to create prioritization, assign tasks and answer questions that are not the kind of questions that need to be addressed via Slack. Everything that has a material impact over the scope of the deliverable should be documented on the Jira ticket," Pinkovezky said.
"It's essentially a very effective tool to create prioritization, assign tasks and answer questions."
Tickets can be transferred quickly among roles within an omnidirectional organization as a project evolves, but they tend to establish a linear task progression. "So it starts with the product manager, then it goes into the PMO (project manager office), then it goes to the team manager, then it goes to the specific engineer who is working on the project. So it allows you to monitor the workflow and to create a workflow that meets the team requirements," Pinkovezky said. The living document also helps quality assurance teams understand where coding glitches arise in the development sequence.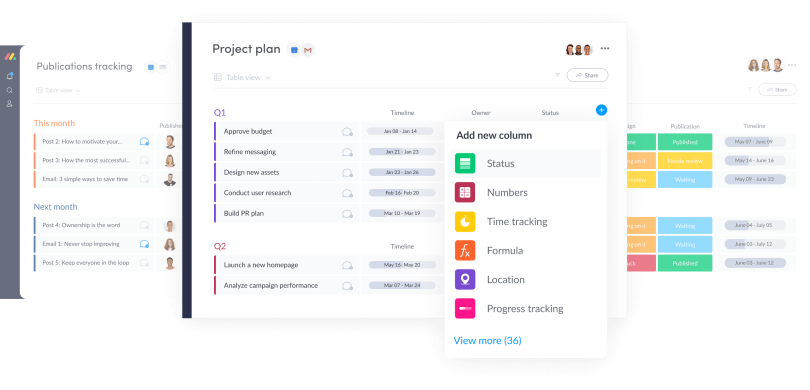 Monday.com
This intelligent content management platform works well for deadline-driven consumer tech companies, like Moon Ultra, said Brand Manager Chelsea Beyerman, whose role frequently overlaps with the responsibilities of a product manager. Templates allow the company, which manufactures a temperature- and brightness-adjustable mobile phone light, to assign work to groups — marketing, DevOps, creative — in a dynamic way that syncs timelines and projected completion dates. "So, if a deliverable is late coming in, you can adjust that and [Monday.com] will automatically adjust everything else for you. It will push things out the number of days that need to be pushed out without having to go through hundreds of lines of tasks and update each one individually. So it's a very smart tool," Beyerman said.
"So, if a deliverable is late coming in, you can adjust that and [Monday.com] will automatically adjust everything else for you."
Presently, Beyerman is using Monday.com to coordinate the development of an e-commerce website now in beta. The platform has shaved time from the editing process, she said, by automating task lists that funnel down to teams and individuals. "Just from version one, I could have 50 edits, anything from design to copy to color to layout. For example, the development team might update the header to be less justified. Or the copy color might change from orange to blue. The list goes on and on." Monday.com, according to Beyerman, makes these updates unconscious and seamless.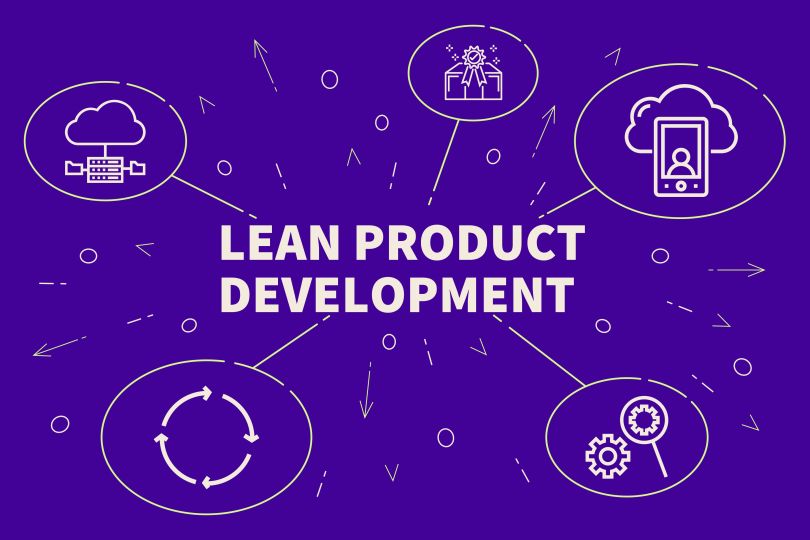 The Lean Product Playbook
The best tools aren't always software-based, said Travis Fell, who is carving out a new role as the first product manager at the mobile security company Hypori, a subsidiary of Intelligent Waves. He recommends the book The Lean Product Playbook by Dan Olsen as a useful framework to introduce and guide product strategy conversations with an executive team and stakeholders.
Included in the book is a case study of the personal finance software company Quicken, which struggled to stay afloat in the early 1980s before it focused on improving its app's core functionality through user testing. This comeback narrative has helped Fell illustrate the value of the "product pyramid," a development process that begins with random testing of target users, to key stakeholders at the company. "I transitioned to how Quicken used testing to build a very compelling product strategy and to illustrate the levers of product strategy, which is something that myself and my team need to think about," Fell said.
"I want to get into this habit of building just a little bit at a time and avoid developer gold-plating."
Fell added that a lean approach to product development demands a workplace culture that embraces rapid ideation and speed to market; the book has helped him advance these ideas, and stress the need for improved analytics software, to company leaders. "I want to get into this habit of building just a little bit at a time and avoid developer gold-plating. [That means] continually submitting our ideas to the jury of test users for market feedback."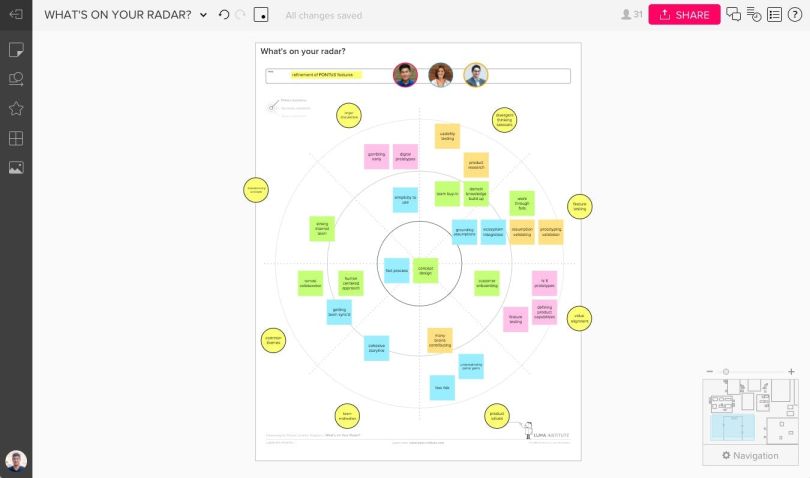 MURAL and Miro
Another intellectual framework Fell considers nearly indispensable is the book Innovation Games: Creating Breakthrough Products Through Collaborative Play by author and product strategy consultant Luke Hohmann. Included in the book are a series of games that solicit feedback and apprise stakeholders of key aspects of product strategy. However, with the recent rise of remote teams, Fell plans to turn to visual collaboration platforms that enable this type of whiteboard ideation virtually, such as MURAL and Miro.
These interactive, multi-person platforms, he says, offer functionality beyond the type of screen sharing you can do in a Zoom or Google Hangouts meeting. They are more like canvasses, allowing users to create diagrams, flowcharts and frameworks for knowledge sharing that provide greater context for online meetings and workshops.
"So it's the same shared workspace we're used to, just in kind of a cloud-based virtual world."
"So, as with video conferencing, you can see everyone's head in their little square, like the Brady Bunch. But then there's a virtual collaboration space where people are moving virtual yellow stickies and writing things on the board and voting for different features in the same virtual workspace. So it's the same shared workspace we're used to, just in kind of a cloud-based virtual world," Fell said.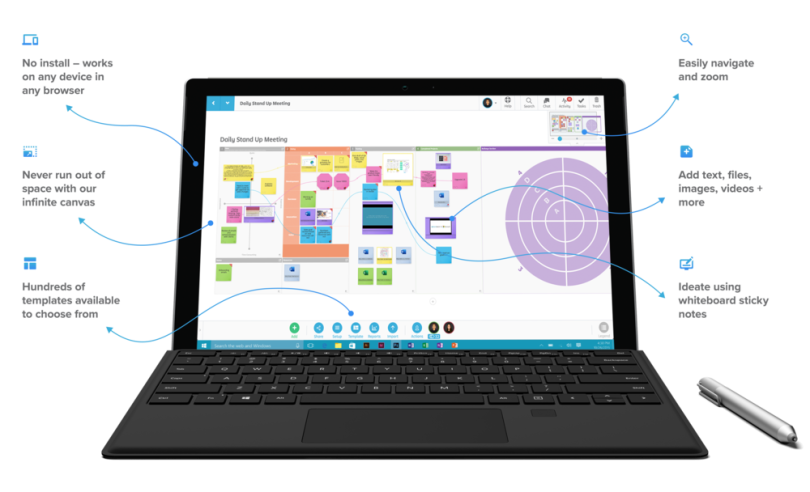 Stormboard
Lauren Hutton, who is a product manager at the tech-enabled commercial real estate company SquareFoot, describes herself as someone who "loves collaboration and can't function without a whiteboard and Post-it Notes." But being part of a team in a satellite office physically separated from the New York headquarters presented communication challenges. "I started using Stormboard as a way to conduct workshops online. It's pretty intuitive and allows me to lead structured focus groups, prioritization sessions and empathy maps for user persona development," Hutton wrote in an email.
"It's pretty intuitive and allows me to [create] empathy maps for user persona development."
SquareFoot's platform, which features over 300,000 office listings, gives customers access to inventory, brokerage services and flexible space offerings. To date, the firm has executed over 1,300 leases in more than 30 markets. As companies grow and their leasing needs change, Stormboard makes it easy for Hutton to work with her team to make adjustments on the fly. "I can share outcomes with the wider company and our workshop outputs can turn into working documents that are updated easily by anyone involved in the project," Hutton wrote.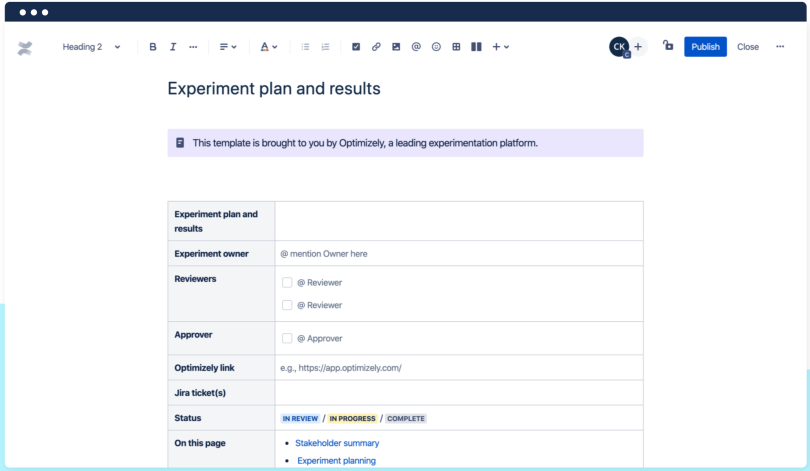 Confluence 
Confluence is a team workspace that allows product managers to create product requirements documents in a concise, "just enough" template. Fell said the one-page dashboard packs a lot of useful information into a small space: project participants, target release dates, team goals and business objectives, customer research, assumptions, user stories, and user interaction and design features. While there are options to embed links to more extensive technical documentation and customer data, the simplicity of the presentation — like an executive summary of a lengthy piece of legislation — is one of the platform's greatest assets. "This is one way to help the developer understand what's really going on in the end user's head. And it gives them a starting point for developing that understanding," Fell said.
"I think the thing that's really powerful about it is the social interactions it enables."
The living, social quality of the workspace is also beneficial, Fell added: "It's kind of the next evolution of Notes and Microsoft Word. I think the thing that's really powerful about it is the social interactions it enables. In almost any confluence page, you can comment or highlight content and then add the handle of someone else. And it's just a good way to generate conversation."