Stay Connected From Anywhere With These 21 Online Whiteboard Software Applications
Updated:
February 3, 2021
Updated:
February 3, 2021
With so many professionals firmly settled into the remote-work lifestyle, the ways in which people get work done and collaborate with their coworkers has changed. While teammates used to gather around whiteboards with sticky notes and Expo markers, many are now confined to their home offices, forcing them to rethink their brainstorming strategies. 
Luckily, companies across the world are tackling the challenges of the remote-work era. The number of online whiteboard software applications has increased in recent years, offering teams an alternative to in-person collaboration. These applications act as digital canvases suitable for sprint planning, project management, diagramming, story development, and more. Teams can even use digital sticky notes and illustrative tools to log to-do items and pen their most creative ideas. 
From Miro to Monday.com, there are plenty of interactive whiteboard applications available to meet your team's needs, regardless of the industry. In fact, several whiteboard applications are designed specifically for educators, offering a way for them to engage with students through virtual videos, personalized lessons, and other remote-friendly solutions. 
Here's our pick of the top 21 online whiteboard software applications helping teams stay connected — and productive — from anywhere in the world. 
Online Whiteboard Software Applications You Should Know
Miro
MURAL
Monday.com
InVision
Airtable
IPEVO
Conceptboard
Milanote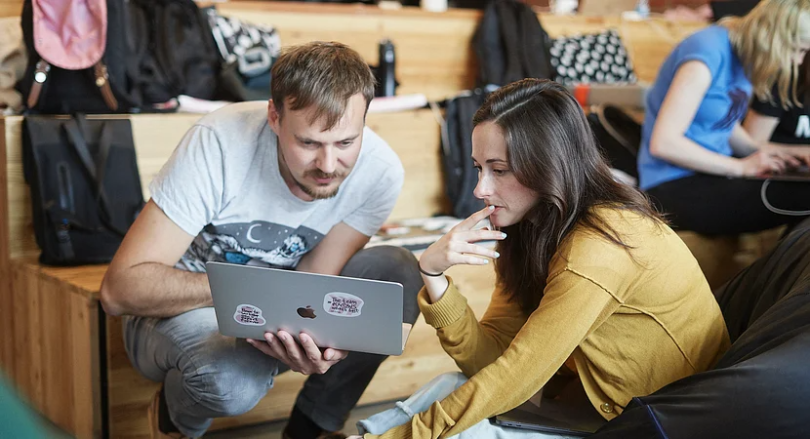 Miro 
Founded: 2015
What it does: Miro's digital whiteboard helps remote teams work together in real time. Using their platform, teams can run online meetings and workshops, brainstorm ideas, organize sprints and huddle boards, plan projects, and diagram and map complex processes. Miro integrates with a wide range of popular applications including Dropbox, Slack, and Google Drive.
Who uses it: Cisco, Salesforce, Liberty Mutual Insurance, Okta, and TransUnion.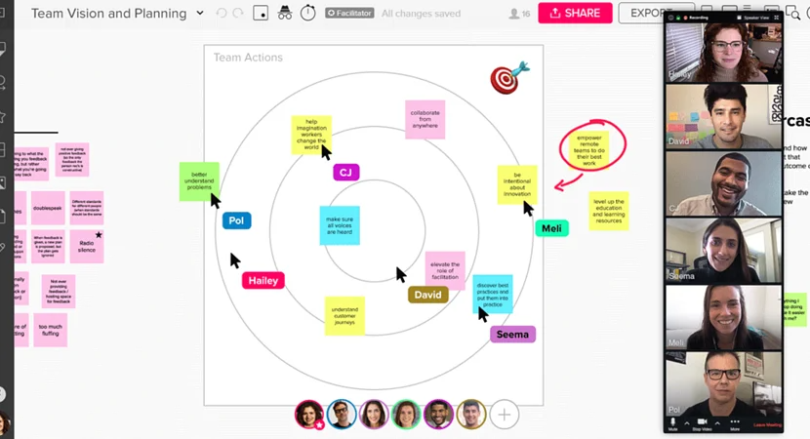 MURAL 
Founded: 2011
What it does: MURAL's digital workspace helps teams solve problems and build consensus visually. The company's platform allows teams to create digital sticky notes, build workflow diagrams, develop stories, drag and drop visuals, organize content and ideas, and sketch and write digitally. MURAL also enables teams to make voice calls, drive text conversations, add feedback, and connect and distribute murals.
Who uses it: Atlassian, Autodesk, GitHub, Intuit, and IBM.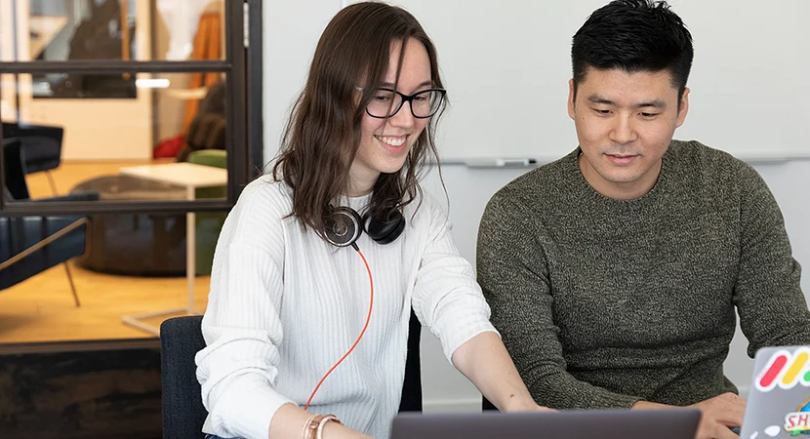 Monday.com 
Founded: 2012
What it does: Monday.com's platform is designed to "connect people to workplace processes." The company's software allows teams to create customizable workflow templates, keep track of important deadlines, automate tasks, and gain valuable insights. Monday.com's customizable remote work templates boast various features such as employee onboarding, remote equipment checks, and COVID-19 risk assessments.
Who uses it: Adobe, ThoughtWorks, Uber, Zippo, and Universal Studios.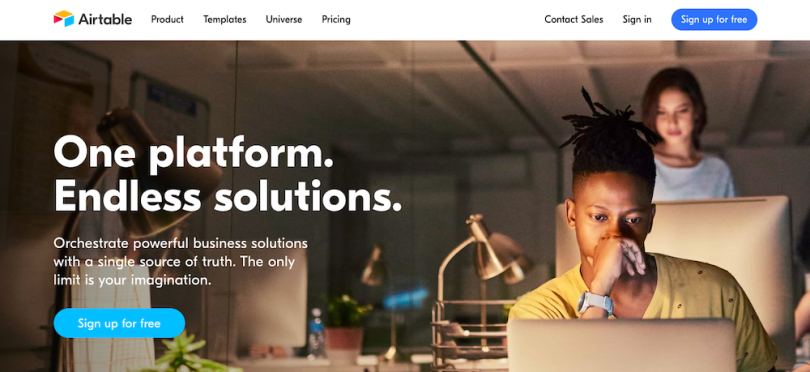 Airtable
Founded: 2012
What it does: Airtable's software is designed to feel like a database and spreadsheet wrapped in one. Their platform allows teams to create content calendars and product roadmaps, send notifications, automate tasks, orchestrate work through integrations, and edit, comment, and collaborate in real time. Airtable integrates with a broad range of applications including Asana, Eventbrite, and Box.
Who uses it: Medium, Expedia, Netflix, Shopify, and Cole Haan.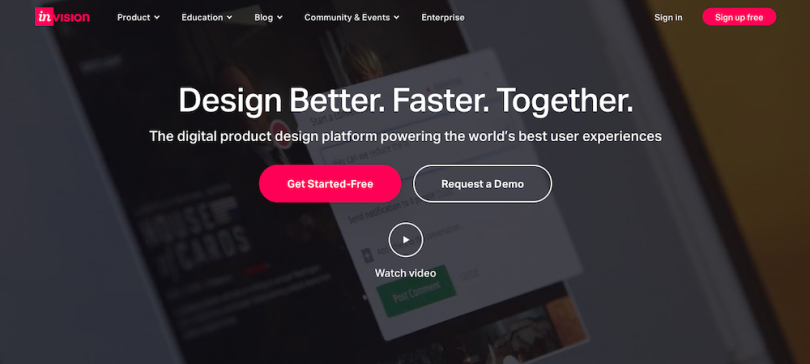 InVision 
Founded: 2012
What it does: InVision helps teams collaborate across geographies in order to build digital products. Using the company's platform, teams can create interactive prototypes, gather feedback about projects, explore ideas, and share designs. InVision is guided by the aim to drive inclusive collaboration with digital product design and development.
Who uses it: Peloton, Amazon, HBO, Lyft, Etsy, and Spotify.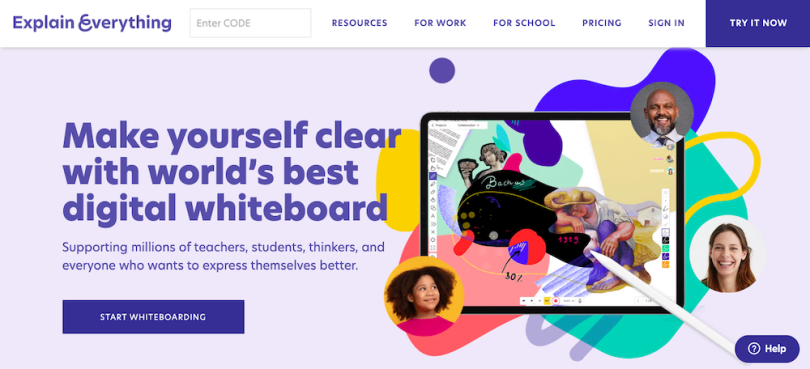 Explain Everything 
Founded: 2010
What it does: Explain Everything's digital whiteboard is designed to facilitate collaboration within the workplace and the classroom. Their interactive tool allows users to create animations and video presentations, provide feedback, and communicate in real time. Explain Everything features a full palette of colors, pens, highlighters, pencils, images, and more.
Who uses it: Stanford University, Capgemini, Headspace, and Deloitte.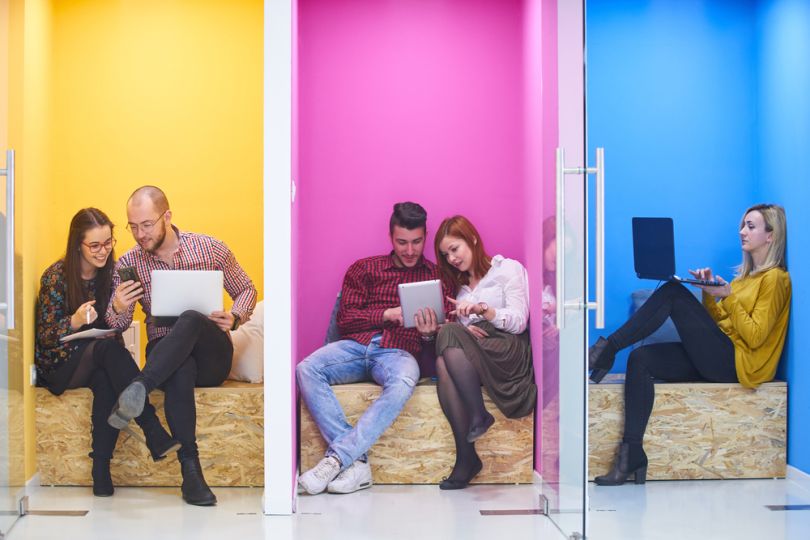 Lucid
Founded: 2010
What it does: Lucid offers a digital canvas that allows distributed teams to collaborate creatively together. Their virtual whiteboard, Lucidspark, helps teams brainstorm together, share ideas, swap feedback, and create workflows and project documentation. Lucid also enables teams to assign tasks, share meeting agendas, keep track of time, and vote on ideas.
Who uses it: Google, NBC Universal, GE, and Johnson & Johnson.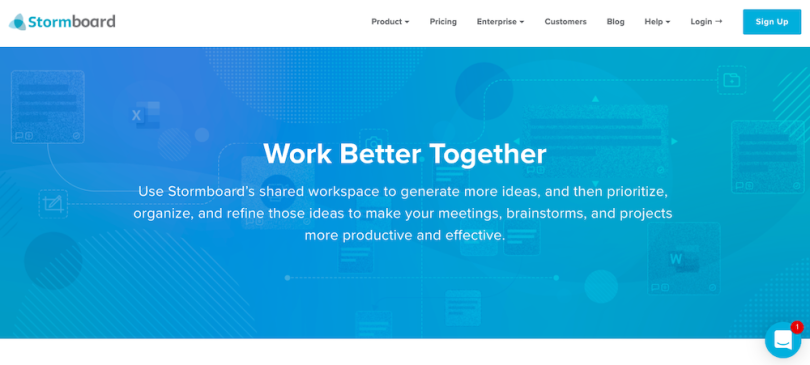 Stormboard
Founded: 2009
What it does: Stormboard's digital workspace enables teams to prioritize, organize, and refine ideas. Through the company's platform, teams can hold meetings, brainstorm using digital sticky notes, share feedback, contribute content, and create reports. Stormboard integrates with a variety of applications such as Jira Software, Trello, and Zapier.
Who uses it: The Economist, Stonewall Consulting, Norican Group, and JumpShift.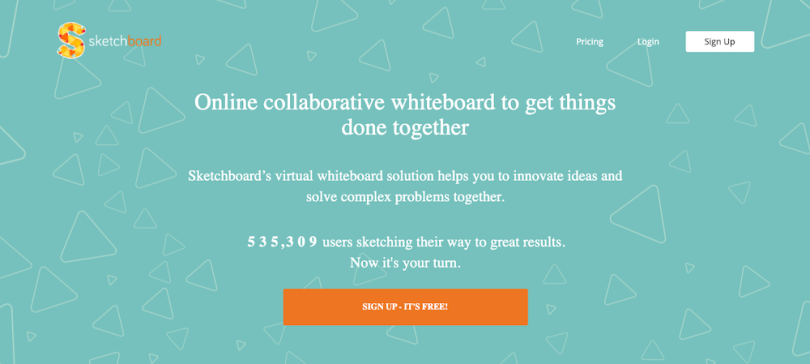 Sketchboard
Founded: 2013
What it does: Sketchboard offers an "endless online whiteboard" that helps teams solve problems and collaborate. Their platform allows teams to share ideas and feedback, compose sketches and diagrams, create digital notes, and develop roadmaps. Additionally, Sketchboard is designed to help teams find and fix bugs more quickly.  
Who uses it: Jitsi, Crunching Koalas, and others.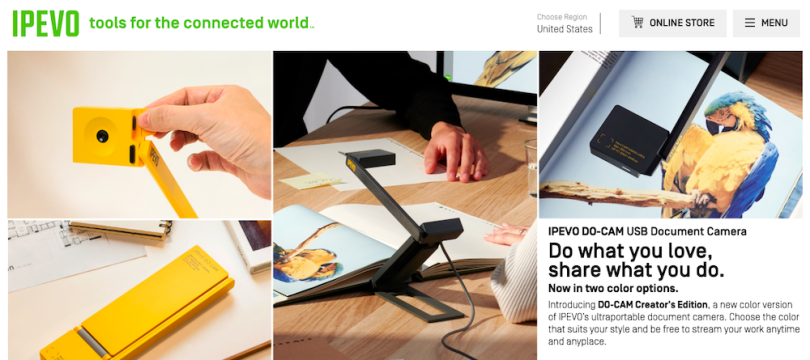 IPEVO
Founded: 2005
What it does: IPEVO's digital teaching tools are designed to empower educators. The company's whiteboard software lets users display, adjust, and annotate live images, and create recordings. IPEVO's other products allow educators to stream live images and project live instructions from a smartphone.
Who uses it: Educators.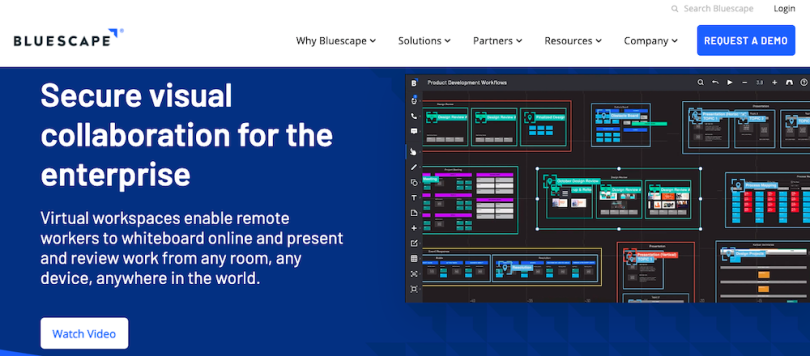 Bluescape
Founded: 2012
What it does: Bluescape enables remote teams to visualize and collaborate with multiple pieces of content at once. The platform's capabilities include video conferencing, documents and data sharing, content organization, live brainstorming, and digital notecard creation. Additionally, Bluescape allows teams to view schedules and files as well as project scope and timelines.
Who uses it: Entertainment companies, educational institutions, and government organizations.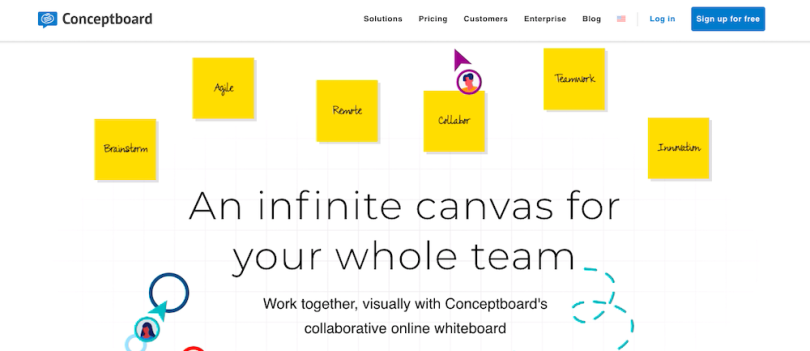 Conceptboard
Founded: 2010
What it does: Conceptboard's platform empowers teammates to create, manage, and stay connected on projects. The platform allows teams to work on tasks in real time, connect on video calls, collect feedback, and create sketches and digital sticky notes. Conceptboard also offers a library of customizable templates to create Gantt Charts, Kanban boards, and more.
Who uses it: Siemens, Lufthansa, U.S. Air Force, and Perry Ellis International.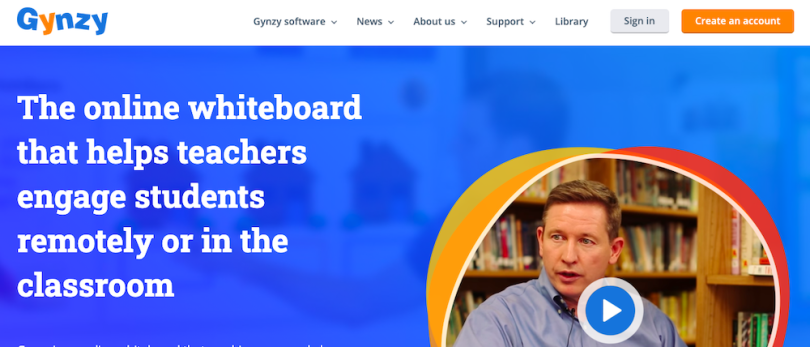 Gynzy
Founded: 2009
What it does: Gynzy's interactive whiteboard helps teachers engage with their students remotely. Educators can use the company's software to create lessons, social emotional learning activities, morning routines and warm-ups, word searches, handwriting practice, and more. Additionally, Gynzy provides pre-made lesson plans related to topics like social studies, science, math, and grammar.
Who uses it: Educators.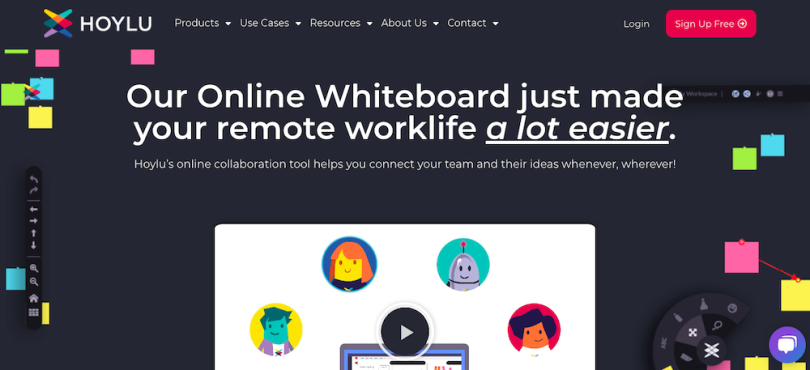 Hoylu
Founded: 2016
What it does: Hoylu's virtual workspace is designed to connect distributed teams and their ideas in real time. The platform boasts drawing tools, digital sticky notes, weekly planners, agile retrospectives, and customizable templates. Hoylu also offers an interactive wall collaboration and computing solution that allows teams to brainstorm, plan projects, and conduct design reviews.
Who uses it: University of Washington, LG Electronics, SNCF, and Ithaca College.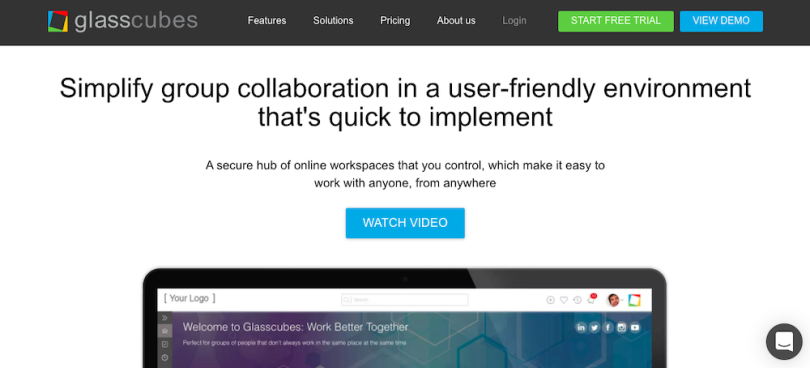 Glasscubes
Founded: 2008
What it does: Glasscubes offers an online workspace that lets teams collaborate and communicate remotely. Their software enables users to share files securely, manage projects, broadcast information to large groups of people, and form online communities. Additionally, Glasscubes allows teams to monitor team engagement and keep track of deadlines, tasks, and priorities.
Who uses it: Chartered Institute of Public Relations, Girlguiding UK, and Neustel Law Offices.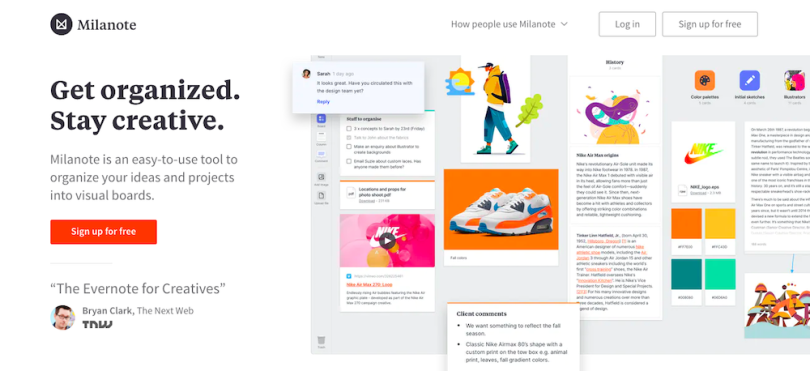 Milanote
Founded: 2016
What it does: Milanote enables creative teams to organize ideas and projects into visual boards. Using the company's platform, teams can write notes and lists, upload images and files, manage projects, conduct live brainstorming sessions, gather feedback, and send important notifications. Creative professionals can also take advantage of Milanote's moodboard, which allows users to explore new illustration concepts and styles in a freeform way.
Who uses it: Amazon, Nike, Xero, Facebook, and Dropbox.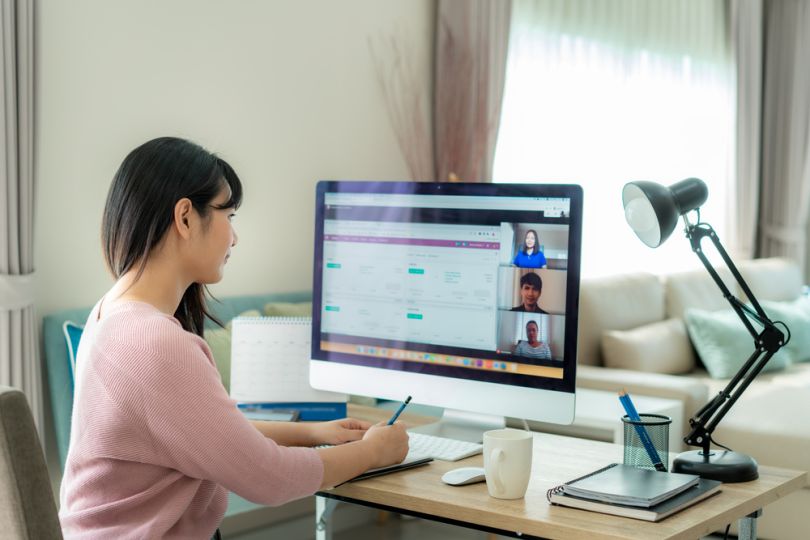 GroupMap
Founded: 2012
What it does: GroupMap's software serves as a real-time online brainstorming tool. The platform allows teams to customize and organize workflows, capture individual responses, chat in real time, and gather feedback through polls. Teams can also use GroupMap to create reports in order to bolster the decision-making process. 
Who uses it: Educators, facilitators, and managers.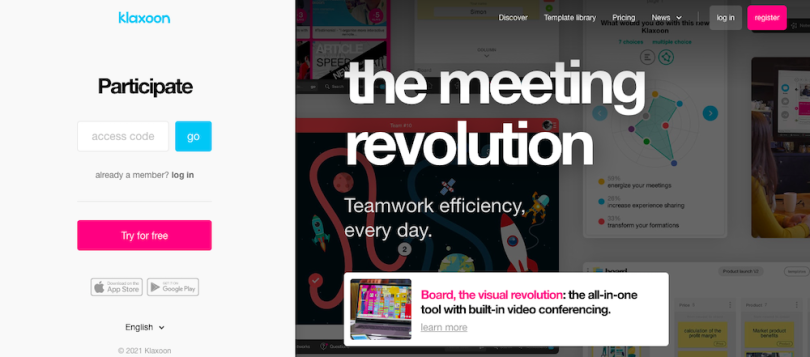 Klaxoon
Founded: 2015
What it does: Klaxoon allows teams to hold project planning and brainstorming sessions remotely. Their platform enables teams to hold engaging meetings, share ideas, run projects, collect feedback, assess project progression, and gauge team satisfaction. Klaxoon's templates are suitable for training programs, sprint planning, user story mapping, market analysis, and more.
Who uses it: McDonald's, Bosch, HP, and L'Oreal.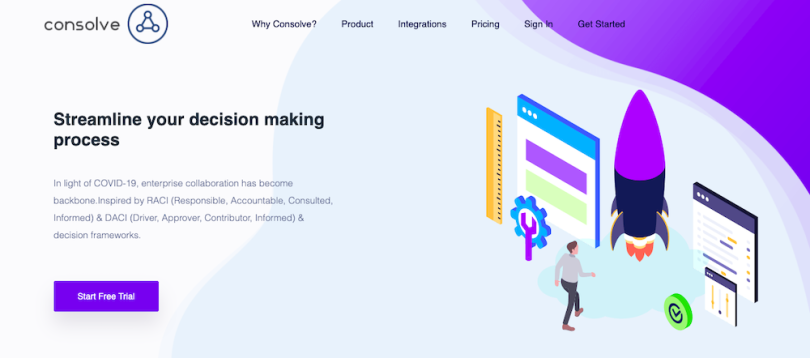 Consolve
Founded: 2020
What it does: Consolve helps distributed teams streamline the decision-making process. Using the company's platform, teams can search for decisions by name or date, view decision statuses, and set a timeline for when a decision needs to be made. Consolve integrates with a variety of applications including Zoom, Slack and Atlassian.
Who uses it: AirBase, Stanford University, and others.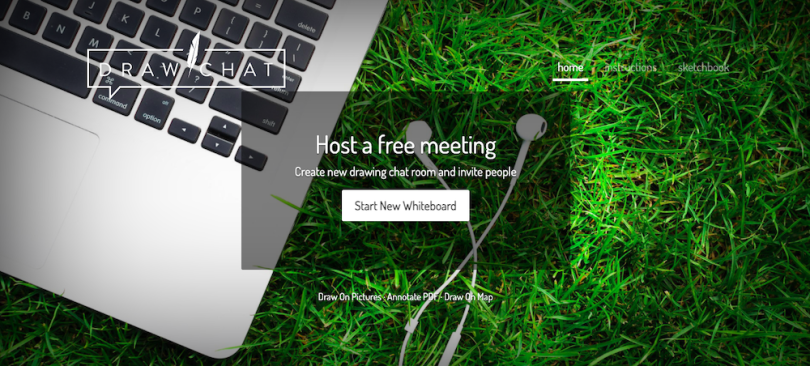 Draw.Chat
Founded: 2017
What it does: Draw.Chat offers a collaborative drawing board solution for online meetings. Their platform allows users to draw, chat, and communicate during an audio or video conference. Draw.Chat also boasts a real-time graphic image editor and a variety of storage and file-sharing options.
Who uses it: Creative professionals. 

Google Jamboard
Founded: 2016
What it does: Google Jamboard acts as an all-in-one virtual workspace. Remote teams can use the system to host virtual meetings, edit documents and presentations in real time, create group calendars, organize files, and form group chats. Google Jamboard also enables teams to archive and search data, manage their organization's devices, and gain insight into work patterns.
Who uses it: Salesforce, Nielsen, Broadcom, and Colgate-Palmolive.