Everything You Need to Write a UX Designer Job Description
Updated:
February 19, 2021
Updated:
February 19, 2021
UX designers (short for user experience designers) can be likened to the architects of the internet.
Architects and UX designers are both tasked with:
Designing the blueprints (or wireframes) of what they are building.
Determining what door (or button, webpage, etc.) a visitor will enter through.
Anticipating how people will navigate throughout the space based on personalities and usage scenarios.
Identifying structural issues and visitor experience issues.
Researching and testing different models to optimize the space.
Communicating and coordinating with designers and developers.
Helping people find their desired destination in a logical and efficient manner.
Creating a functional and aesthetic space that will bring people back again and again.
Ok, that's enough with the metaphor. So UX Designers are like architects, but how do you write a UX Designer job description? We're glad you asked. Let's walk through the process together.
If you know what you're looking for, feel free to jump ahead. Otherwise, keep on reading.
FREE RESOURCE: JOB DESCRIPTION TEMPLATE LIBRARY. ACCESS IT HERE.
Table of Contents
What Does A UX Designer Do?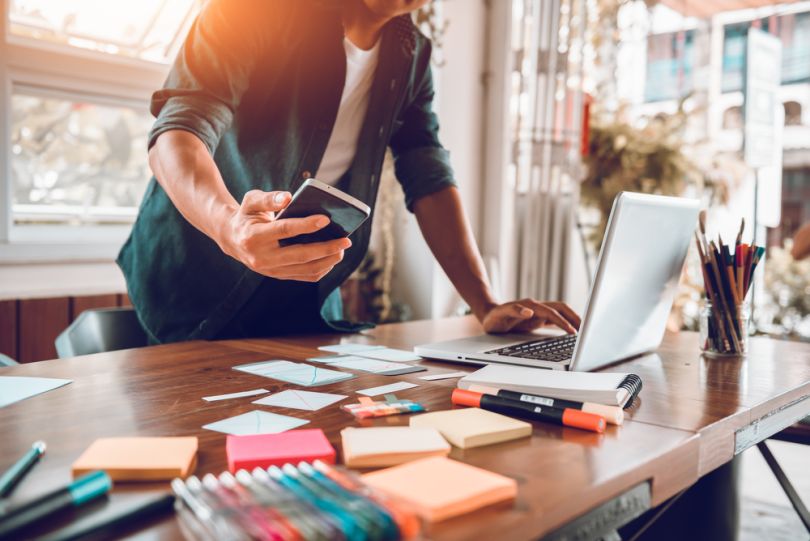 At the highest level, UX Designers are tasked with designing great digital products (or fixing ones that need a little love).
The UX Designer is the voice of the user. Their job is to ensure that users will understand how to interact with your product, and enjoy doing so. They blur the lines between technology, art and behavioral economics, combining a host of technical and soft skills.
Broadly speaking, a UX designer's day-to-day work falls under four categories:
Research
At the end of the day, you create products to meet the needs of your users. Unfortunately, understanding those needs is no small task. During the research phase, UX designers speak with customers - or potential customers - to better understand what they need and want. In the case of optimizing an existing product, research will explore how it can be improved.
Product Design
Unlike traditional graphic designers, UX designers focus less on the look of the product and more on the feel of it. In this case, you can think of design in terms of how a person will use or interact with the product. UX Designers are responsible for creating as seamless an interaction as possible.
Testing/QA
"Move fast and break stuff" may be the law of the land these days, but testing and QA are still crucial components of the product development lifecycle. UX designers play a key role in the testing process by ensuring their design has been adhered to and that it functions in the intended fashion.
Deployment
Once the product has been researched designed and tested, it's time to go live. At this stage, UX designers work with graphic designers and developers to ensure the product comes to life as intended.
If you're not in UX Design (and let's be real, if you're reading this article, you aren't) these terms may be completely foreign, so we've created a glossary of the most common skills companies look for when hiring UX Designers.
User Persona Development: Creating fictional representations that reflect your target audience based on research and experience.
User Scenario Development: Developing hypothetical scenarios to anticipate how your target audience will interact with your product.
Interaction Modeling: Modeling patterns likely to surface when users interact with your product.
Site Mapping: Organizing the design of a product in the preliminary stages of UX Design that includes URLs and metadata for search engines to crawl.
Wireframing: Developing rough frameworks for the layout of a product, also known as the "screen blueprint" or "skeletal framework."
Mockup Development: Creating a rough draft of what the product will look like, including elements like content, navigation and graphics to help visualize the final product before creating a prototype.
Prototyping: Creating a prototype that is a more detailed representation that is tested before the final product is launched.
Screen Flows/Flow Chart Development: Similar to wireframe and sitemap, screen-flow development describe the framework of the product in text rather than in visuals.
Storyboarding: Creating a visual play-by-play (story) of how users will navigate and interact with the product.
User-Centered Design (UCD): Creating a product tailored to the behaviors and interests of your users.
A/B Testing: Testing two different designs and analyzing the results to determine what the target audience prefers.
Responsive Development: Designing a product that is optimized for computers, tablets and mobile devices.
Web Analytics: Gathering and analyzing data from users and research to optimize site experience and usage.
Accessibility: Understanding how to build a website with features that improve the experience for people with various disabilities.
Graphic Design: Optimizing site visuals that also remain true to the brand.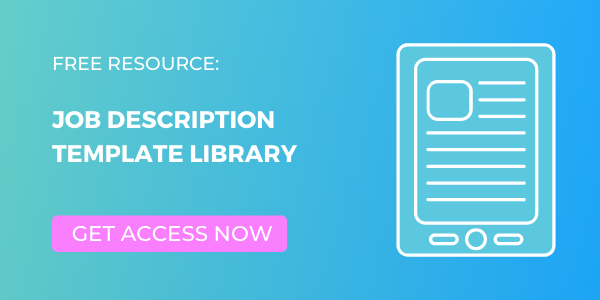 Five UX Designer Job Description Examples
Let's take a look at a few real examples of UX Designer job descriptions that we sourced from our seven online communities. Though these are real job descriptions, we have redacted some information to protect the privacy of the companies that originally posted them.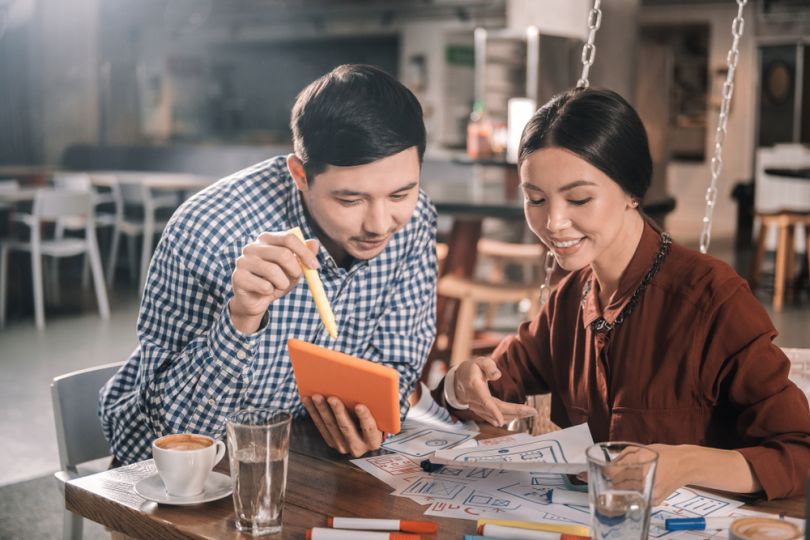 Example 1: UX Designer Job Description
[Redacted] is looking for a senior level UX/UI designer to work on a turnaround portfolio investment with the goal of revamping consumer facing web platforms, re-branding efforts, and creative/strategic design of internal tools.
You'll be responsible for:
Translating concepts into user flows, wireframes, mockups and prototypes that lead to intuitive user experiences.
Developing and executing a new user experience for consumer facing web platforms; revamping consumer facing web platforms, re-branding efforts, and creative/strategic design of internal tools.
You will be expected to take a strategic role in owning and driving design and collaborating across teams to produce results.
Presenting and communicating UX/UI recommendations and strategies to executives, developers, and other stakeholders.
You'll gain loads of experience in this role but before you do, you should have:
Competence in designing consumer applications across mobile and web.
Expertise in standard and emerging UX software such as Sketch, OmniGraffle, Axure, InVision, UXPin, Balsamiq, Framer, Principle, and/or the like is a must. Basic HTML5, CSS3, and JavaScript skills are a plus.
Ability to work with internal teams to understand detailed requirements and design complete user experiences that meet customer needs. Must be self-sufficient, organized, and adaptable.
Understanding of UX Design best practices to design solutions, and a deep understanding of mobile-first and responsive design.
Expertise conducting research to inform the overall viability of a new product idea as well as to inform design and user experience approach.
Experience working side by side with developers to ensure that UX/UI requirements are clear, final product meets specifications, and coming up with resolutions for issues that arise.
Willingness to travel is a plus.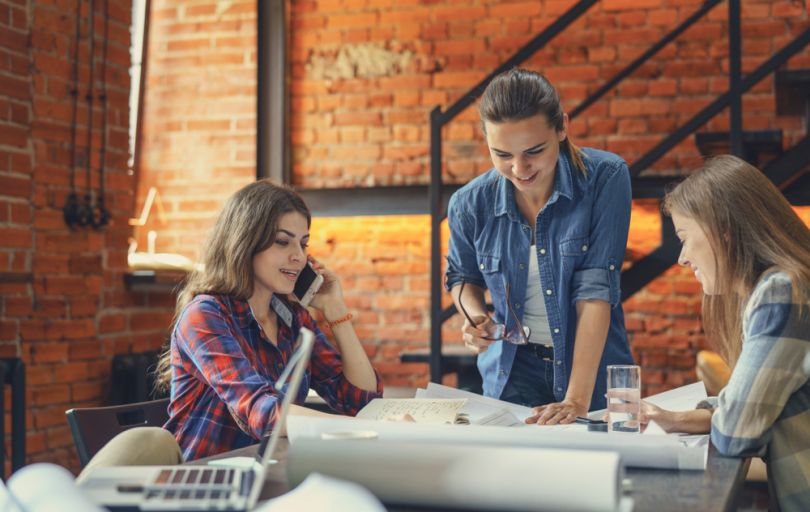 Example 2: UX Designer Job Description
Your passion is creating great user experiences through user-centered design. You thrive in a cross-functional group of creative, driven, smart professionals who strive to be experts in their field. You understand that a great user experience leads to better brand recognition and repeat customers. You're the newest member of the [redacted] UX Design team.
Our UX team is unique in that we work across both the [redacted] brands to establish best practices in usability and user experience for both product offerings. This role will work out of the [redacted] office in [redacted]. [Redacted] is an honest, friendly, and fun community. This permeates nearly every interaction that we have with each other, our customers, and our products.
Our UX Designers:
Formulate, establish, and annotate the navigation, functionality, organizational structure and page-to-page flows of our user experience for our company sites and through our affiliated sites and mobile applications.
Collaborate with business partners, graphic designers and developers to define the functionality and navigation solutions for various products
Work with internal and external constituents as the primary point of contact responsible for driving major UX projects from conception to implementation
Stay abreast of advances in user interface (both technical and experiential) and look for ways to appropriately integrate these advances into products
Communicate designs through fully documented wireframes and prototypes
Express user experience best practices across the company, and mentor colleagues and staff on best-in-class usability concepts
What you need to be successful:
At least 5 years of experience in user experience design with expertise in interaction design, information architecture, usability engineering, or all three; consulting or agency background a plus
Hands-on experience creating site maps, process flows and wireframes for high traffic consumer sites
Ability to communicate effectively in visual, written and interactive form: design documents, flow charts, prototypes, etc.
Desire to deal with business issues, thinking beyond design
Ability to articulate strategic issues while balancing these with user needs and technological constraints
Experience working in small collaborative teams, including working constructively with development teams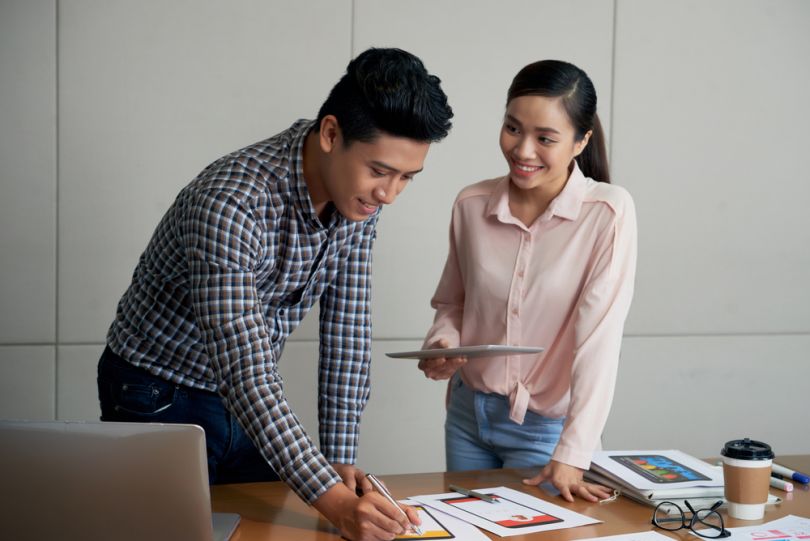 Example 3: UX Designer Job Description
We are looking for an experienced Product Designer / UI/UX Designer with some development experience to deliver an engaging and unified customer experience for all of our products, from web to mobile. You will work with the Product, Engineering, Marketing and various Business Units to bring high quality product designs to market in service of our customers and internal stakeholders.
Job Details
Lead the design of our up and coming flagship product
Partner with Product, Engineering, Insights and Business Teams to help define product requirements and prototype design solutions
Develop design concepts, wireframes, high-fidelity mockups, and prototypes
Utilize usage data, testing and stakeholder feedback to achieve a deep understanding of user workflows and pain points
Ensure that all products exhibit a consistent brand experience in collaboration with the Marketing Team
Work closely with developers to ensure an accurate translation of your designs to the final product
Be a champion for the user, whether internal or external, to make their product experience simple and enjoyable
What We're Looking For
Bachelors or Master degree in design field such as interaction design, or human-computer interaction (HCI) or equivalent
Minimum 2 - 3 years of professional experience prototyping and designing client-side applications for Mobile and Web
Proficiency in design and prototyping applications such as Adobe Photoshop, Adobe XD, Sketch and Invision
Understanding of Javascript frameworks and web application design patterns
Working knowledge of HTML and CSS; ability to deliver production-quality HTML/CSS a plus
Comfort with an iterative design process based on qualitative and quantitative feedback
Advertising technology and/or mobile gaming experience a plus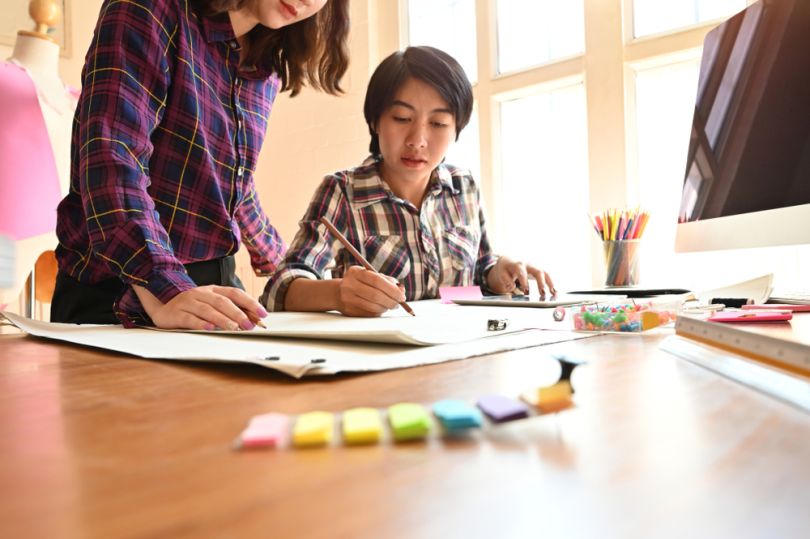 Example 4: UX Designer Job Description
At [redacted], our mission is [redacted]. You'll collaborate with multiple teams, work across disciplines, encountering and conquering many challenges that are new and exciting. Each day you'll be working towards profoundly transforming primary care.
Your Role and Impact
The UX Design and Research team is looking for a talented UX Designer with proven success in creating tools for professional users and collaborating across disciplines to achieve great user experiences. You'll be making tools for [redacted].
Responsibilities
Lead design thinking from problem definition through ideation
Create effective plans to design, prototype, learn, and iterate quickly in an outcome-driven environment
Advocate for human-centered approaches to complex problems, building agreement among diverse stakeholders using firm grounding in user and business needs
Craft useful and usable experiences through process diagrams, sketches, wireframes, prototypes, visual designs, and handoffs to engineering
Routinely collaborate with product managers, designers [redacted] to build a shared understanding of product vision and your design approach
Learn about user attitudes and behaviors, establish your design hypotheses, prototype solutions, evaluate results, and help engineers bring your designs to life
Collaborate with data science to enable machine learning on the clinician-patient interaction and use it to increase automation over time
Partner with [redacted] to help them serve [redacted] in new and better ways. You'll translate [redacted] data into intuitive visualizations and design ways for [redacted] to gather information and share plans with efficient, empowering experience.
Requirements
Bachelor's degree or higher in a design-related field (human-computer interaction, interaction design, human factors, or graphic design) or equivalent practical experience
Strong interaction design and user interface design portfolio
Demonstrated expertise with tools such as Sketch and InVision, Adobe Creative Suite, and excellent knowledge of CSS and HTML5
Experience designing for information-rich, task-based environments - designing for [redacted] is a plus
Ability to bring rational order to task flow as well as information architecture and presentation, including visualization
Demonstrated influence on interdisciplinary teams to adopt human-centered approaches
Ability to anticipate and mitigate possible design and process issues at a macro and micro level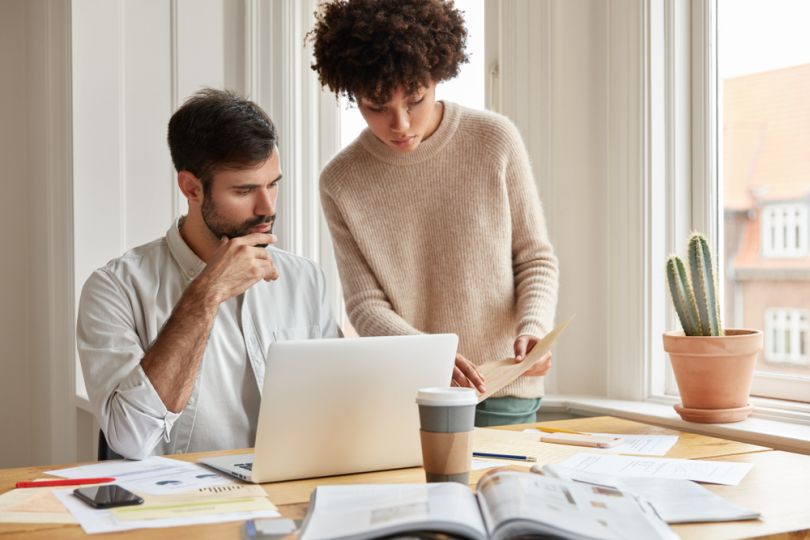 Example 5: UX Designer Job Description
[Redacted] is seeking a UX Designer to deliver the customer experience for some of the company's key digital engagement and optimization products and services. We are looking for innovators; professionals with an unrelenting belief in the power of design to transform businesses, and with the passion and commitment to help [redacted] become recognized for elegant and powerful product experiences.
You'll be joining a talented team of designers and researchers [redacted]. Our customers are a savvy, demanding group; you and this team are responsible for delivering best-of-breed applications in a fast-paced, agile, startup-like environment.
[Redacted] offers fabulous company benefits and a fast paced, highly motivated, enormously fun work environment, not to mention a career with great growth potential.
Responsibilities:
Deliver best-in-class user experiences (user interface designs, interaction models, prototypes, etc.), in a fast-paced, agile, startup-like environment
Fully understand and be a strong advocate for the Voice of the Customer
Lead rapid iterative prototyping efforts with varying fidelity/presentation tools (e.g., sketches, storyboards, wireframes, clickable prototypes, compositions, and assets)
Translate business and product requirements into visually beautiful concepts and highly-usable responsive experiences. You must be flexible and able to succeed within an open and collaborative peer environment.
Partner with our UX researchers to test and iterate design concepts
Along with the team, identify strategic research needs and CX improvement opportunities
Develop and ensure best design practices and communicate quality expectations across the organization
Spend time with [redacted] customers, prospects, partners, and internal stakeholders to understand user needs and evaluate designs
Demonstrate a command of design methods, tools, communication, and presentation skills
Required Skills:
5+ years experience
A thorough understanding of customer experience, user-centered design, with excellent hands-on graphic design skills and an ability to translate user requirements into a design vision and then into an actionable plan to deliver design specifications desired
Proficiency in software tools such as InVision, Sketch, Axure, Adobe Creative Suite or similar
Experience with [redacted] software development, cloud software, product management, user testing or experience with Drupal will also be a plus
Experience running workshops
Experience with designing data visualization and analytics applications
Ability to multi-task, prioritize requests, communicate with stakeholders, and meet expected milestones
Experience working in a fast-paced, agile environment and partnering effectively with Product Management and Engineering stakeholders
Online portfolio or links to work examples required
UX Designer Job Description Template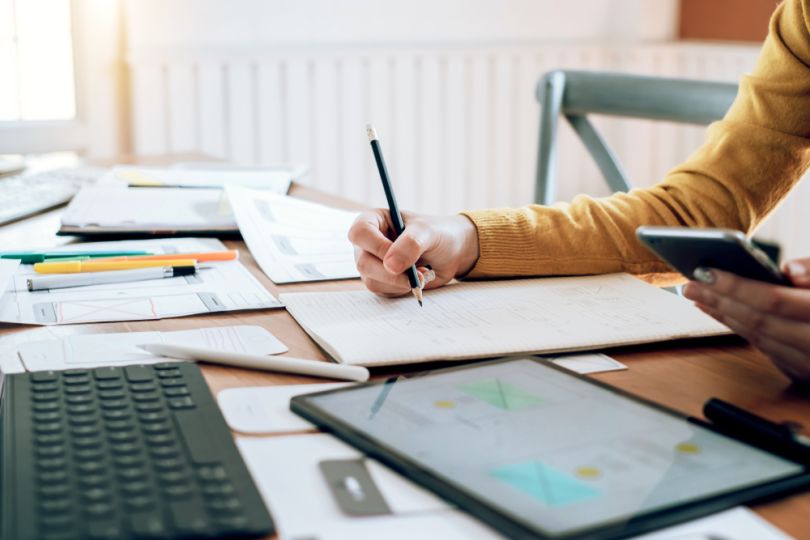 You've gained a basic understanding of what UX Designers do, you've read over five great job description examples, now it's time to put pen to paper.
But have no fears. We don't expect you to jump right in and write a flawless UX Designer job description all on your own. We've created a UX Designer job description template to get you started. Use this as a starting point, and take your draft back to your team for review before posting.
Reminder, this is only a template; please adjust this to your specific hiring needs.
Company Bio
[Use this section to provide an attention grabbing overview of your company. Include information about your culture, perks and benefits, career development opportunities and anything else that will get candidates excited about your company.]
Responsibilities
Develop interaction models, sitemaps, wireframes, prototypes, screen flows and storyboards.
Present each stage of the design process to stakeholders, clients and internal design, development and C-suite teams.
Create aesthetic and seamless navigation flows that reflect the marketing and sales funnel.
Develop user personas and scenarios based on experience and research of our product/service.
Conduct research and execute A/B testing to optimize product design and functionality.
Analyze data about users with A/B testing results and alter designs accordingly.
Collaborate closely with designers and developers to build both functional and aesthetic websites that are in line with our brand.
Requirements
Bachelor's degree in a design or tech-related field, such as interaction design, human-computer interaction, human factors, computer science, graphic design, web design/programming or visual design or X years experience in related field.
X years of experience in User Experience Design.
X years of experience with interaction modeling, site mapping, wireframing, creating mockups & prototypes, screen flows, storyboarding, A/B testing, responsive development, web analytics, graphic design.
Proficiency with applications such as Adobe Creative Suite, Axure, Balsamiq, Framer, Gliffy, Helio, InVision, Marvel, Proto.io, OmniGraffle, Sketch, User Testing, UX Pin or Vision Online.
Submit a diverse portfolio with [include materials relevant to your team's needs].
Proven research and analysis skills to test usability and preferential features with A/B testing.
Strong presentation and communication skills when meeting with stakeholders, clients and internal teams.
UX Designer Salary Information
We've saved the best for last. Salary information should absolutely be included in every job description you write (and if you don't believe us, you really need to check out this article).
Here are the average salaries for UX Designers in seven of the top tech employment markets in the US. You can click on each bullet to use our local compensation analysis tool for further research.
Cross Market Average Salary for UX Designer: $92,243
FREE RESOURCE: JOB DESCRIPTION TEMPLATE LIBRARY. ACCESS IT HERE.