Driving Diversity and Inclusion Within the Workplace: 19 Companies That Sponsor H-1B Visas
The H-1B visa program initially went into effect several decades ago, when President George H.W. Bush signed the "Immigration Act of 1990." The program was intended to help American tech firms address labor shortages, allowing them to temporarily hire nonimmigrant workers to fill roles related to areas like computer programming and engineering. Today, the nation's largest companies continue to use the H-1B visa program, culling a majority of their workforce from foreign countries. In Silicon Valley, this need for foreign-born tech talent is especially great. 
However, American companies' ability to hire international professionals just became a lot harder. In response to high unemployment numbers prompted by the coronavirus pandemic, President Trump made the decision earlier this year to freeze the distribution of green cards and temporary worker visas, which includes the H-1B visa. In response, companies like Facebook, Apple and Twitter filed an amicus brief, outlining their beliefs that these new restrictions could have a disastrous impact on the nation's economy.
While Trump previously referred to the H-1B visa program as a "cheap labor program," researchers have found that, in fact, hiring international talent has created more job opportunities for American-born professionals. When viewed in light of Trump's past decisions regarding immigration, the program's suspension could be seen by some as another stab in the side of the American Dream. 
Regardless of one's stance on the subject, there's no doubt the H-1B visa program has played an integral role in the cultivation of the American workforce. For many of the nation's largest employers, hiring professionals from outside of the country has also helped foster a culture of diversity and inclusion. It seems that seeking talent in other places may have more benefits than previously imagined, making the issue not one merely about economics, but about society at large. As marginalized populations continue to fight for justice, it has become increasingly important for large organizations to remember their place in the struggle for equality, making it more essential than ever to bring together brilliant minds, regardless of where they come from. 
These 19 companies that sponsor H-1B visas are doing their part to drive diversity and inclusion within the workplace. 
Companies That Sponsor H-1B Visas:
Amazon
Google
Microsoft
Facebook
IBM
Apple
Intel
Deloitte
Cisco
Qualcomm
Accenture
Oracle
Capgemini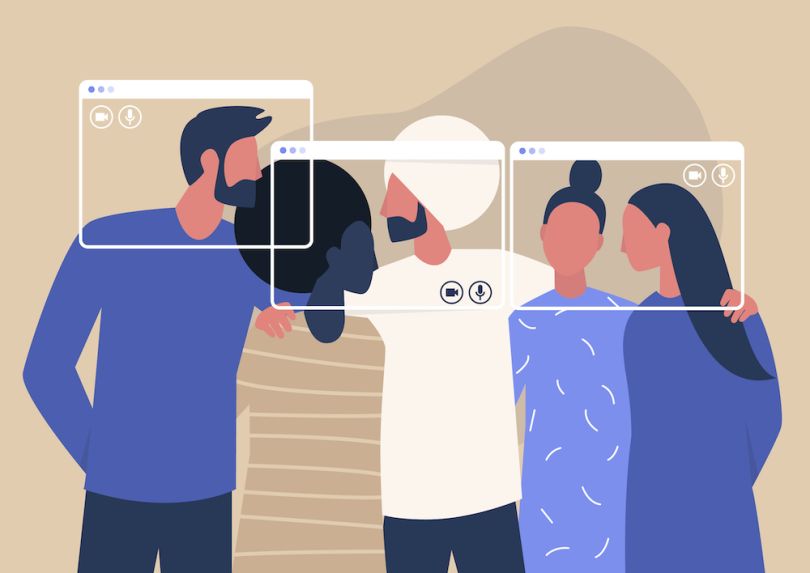 1. Amazon
E-commerce kingpin Amazon has indelibly changed the course of online delivery, establishing itself as a true pioneer within its field. Earlier this year, Amazon announced its decision to donate $10 million to organizations that support justice and equity, further bolstering its status as a diversity frontrunner. Unsurprisingly, Amazon leads the tech world in terms of international employment, having received over 3,500 approved H-1B visa applications in 2019. 
2. Google
As one of the world's leading tech titans, Google has amassed an army of employees that spans nearly 60 countries. In recent years, the company has strengthened its diversity and inclusion initiatives, establishing a broad range of programs designed to foster diversity within the global tech community. Considering Google's global reach, it's no surprise the company had more than 2,700 H-1B visa applications approved in 2019. 
3. Microsoft
In recent years, Microsoft has been voicing its opinions over immigration. In 2018, CEO Satya Nadella made headlines after speaking out against Trump's decision to separate immigrant children from their families at U.S. borders. Since then, Microsoft has been ramping up its diversity and inclusion initiatives in an attempt to bolster its status as a global household name. In 2019, the company received approval for over 1,700 H-1B visas. 
5. IBM
As one of the nation's most well-established tech firms, IBM has long been a part of the global tech races. The company has made an effort to boost international student hiring, offering a variety of programs designed to attract global tech talent. IBM currently employs techies from regions across the globe such as Europe, Latin America and the Middle East. 
4. Facebook
Like its Silicon Valley compatriots, Facebook has been attracting foreign-born talent for years. Earlier this year, the social media giant joined the ranks of several tech companies to express disapproval of Trump's decision to suspend guest worker visas during the coronavirus pandemic. In 2019, the company had more than 1,500 H-1B visas approved. 
6. Apple
Like other high-tech behemoths, consumer product pioneer Apple has been focusing more closely on diversity in recent years. Earlier this year, CEO Tim Cook became one of several Silicon Valley executives to add his voice to the nation's racial justice dialogue, announcing the company's plans to launch a $100 million Racial Equity and Justice Initiative. Apple is also largely run by international tech workers, and in 2019, the company had over 1,100 H-1B visas approved. 
7. Intel
Since 1968, software trailblazer Intel has reshaped the nation's tech industry, making itself one of the world's most recognizable tech corporations. Today, the company has dozens of offices across the globe, employing close to 100,000 tech professionals. Being an epicenter of foreign-born tech talent, Intel had over 1,000 H-1B visas approved in 2019. 
8. Deloitte
Consulting leader Deloitte has worked towards strengthening its global presence in recent years. The organization boasts over 300,000 employees in more than 150 countries and territories. In 2019, Deloitte had over 1,600 H-1B visas approved. 
9. Cisco
IT icon Cisco has been a part of the Silicon Valley scene for several decades, and in that time, has transformed itself into a sprawling global network. The multinational conglomerate boasts 274 office locations across 96 markets, making it one of the most internationally-focused high-tech firms. Owing to its massive global reach, Cisco has a strong history of sponsoring H-1B visas. 
10. Qualcomm
Networking giant Qualcomm has steadily earned a reputation as one of the tech world's most impactful companies. With offices in more than 30 countries, the company has begun amplifying its diversity and inclusion initiatives and has even established a Diversity Task Force to keep track of these measures. Dedicated to strengthening its international presence, Qualcomm received approval for over 600 H-1B visas in 2019. 
11. Accenture
IT services frontrunner Accenture has substantially broadened its global reach since its founding in 1989. The company employs approximately 500,000 people across more than 120 countries, making it a truly international organization. Owing to its strong global ties, Accenture has a history of sponsoring H-1B visas. 
12. Oracle
Since its inception during the 1970s, cloud technology provider Oracle has dominated the tech industry, becoming an international household name. Boasting an employee base that exceeds 150,000, the company hosts a wide range of diversity and inclusion initiatives and focuses heavily on strengthening its international standing. As a globally-recognized IT leader, Oracle is one of many tech powerhouses that sponsors H-1B visas. 
13. Capgemini
IT innovator Capgemini may not be a Silicon Valley original, but the Paris-based company has undoubtedly made a major impact on the world's tech scene. The company boasts over 200,000 employees across nearly 50 countries, making it an undisputed global tech leader. In 2019, the company had over 800 H-1B visas approved. 
14. Infosys
Digital services and consulting giant Infosys has established itself as a true global force within the tech realm. Boasting over 200,000 employees worldwide, the company offers various diversity and inclusion initiatives including one called Culture Chat, which enables employees to connect with their colleagues across the globe. As a truly international tech company, Infosys holds a history of sponsoring H-1B visas. 
15. Uber 
Uber has ruled the ride-sharing space since its inception in 2009, carving out an identity for itself that encompasses the globe. With more than 80,000 employees worldwide, the company has made an effort in recent years to support the organization's immigrant workers and their families. In light of the company's commitment to supporting America's immigrant workforce, it comes as no surprise that Uber is also one of the nation's biggest H-1B visa sponsors. 



16. Walmart
Retail giant Walmart has come a long way since its humble days as a mom-and-pop shop. The company employs more than 400,000 people and has committed itself to supporting diversity, equity and inclusion within its workforce and elsewhere. Given its dedication to promoting diversity within its communities, Walmart is no stranger to H-1B visa sponsorship. 



17. JPMorgan Chase & Co.
As one of the nation's oldest financial institutions, JPMorgan Chase & Co. has long ruled the financial services industry. Operating across more than 100 markets, the company has become an integral component of the global finance sector. JPMorgan Chase & Co. employs over 200,000 people worldwide and has previously sponsored H-1B visas. 



18. Cognizant
Digital solutions provider Cognizant has been reshaping the tech landscape since its establishment in 1994. Since then, the company has amplified its international presence, boasting over 200,000 people across the globe. In line with the company's commitment to diversity and inclusion, Cognizant has historically sponsored a high number of H-1B visas. 



19. Tata Consultancy Services
Based in Mumbai, Tata Consultancy Services has locations spanning the globe, making it a true driving force in the global IT services sector. With an employee base that exceeds 300,000, the company has made substantial efforts to drive diversity within the workplace and has even created a program designed to promote inclusive hiring in Latin America. In 2019, Tata Consultancy Services received approval for more than 1,700 H-1B visas applications.