Artificial Intelligence in Cars Powers an AI Revolution in the Auto Industry
Artificial intelligence (AI) and self-driving cars are often complimentary topics in technology. Simply put, you cannot really discuss one without the other.
Though AI is being implemented at rapid speed in a variety of sectors, the way in which it's being used in the automotive industry is a hot-button issue right now.
Artificial Intelligence in Car Manufacturing
Car manufacturers all over the globe are using artificial intelligence in just about every facet of the car making process. AI can be witnesses working its magic through robots putting together the initial nuts and bolts of a vehicle or in an autonomous car using machine learning and vision to safely make its way through traffic.
With every car manufacturer and their mother racing to develop artificial intelligence and self-driving technologies, there are also a slew of tech companies and startups with the same purpose.
Though many believe personal, autonomous vehicles are the future, there are multiple ways in which AI and machine learning are being implemented in how vehicles are built and how they operate on the road.
Check out how these companies are putting the AI pedal to the metal.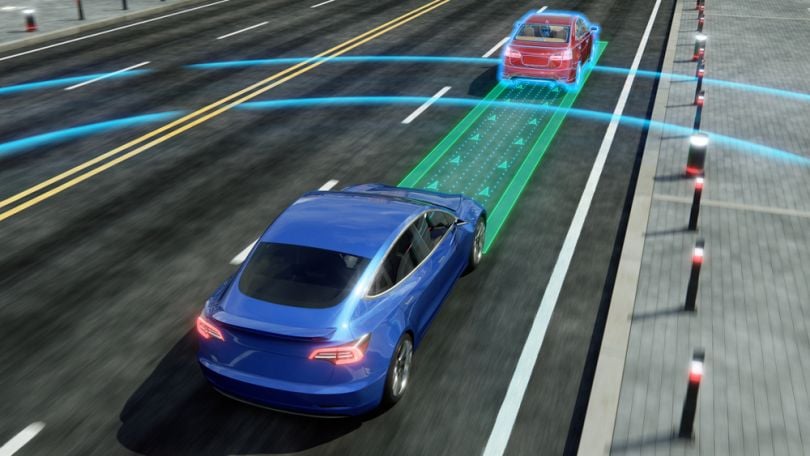 Autonomous vehicles
Let's start with the elephant in the room: self-driving vehicles.
Many major auto manufacturers are working to create their own autonomous cars and driving features, but we're going to focus on relatively young tech companies and startups that have formed out of the idea of self-driving vehicles.
Whether their technology is for use in public transportation, ride sharing or personal needs, the following companies are at the forefront of autonomous vehicle technology.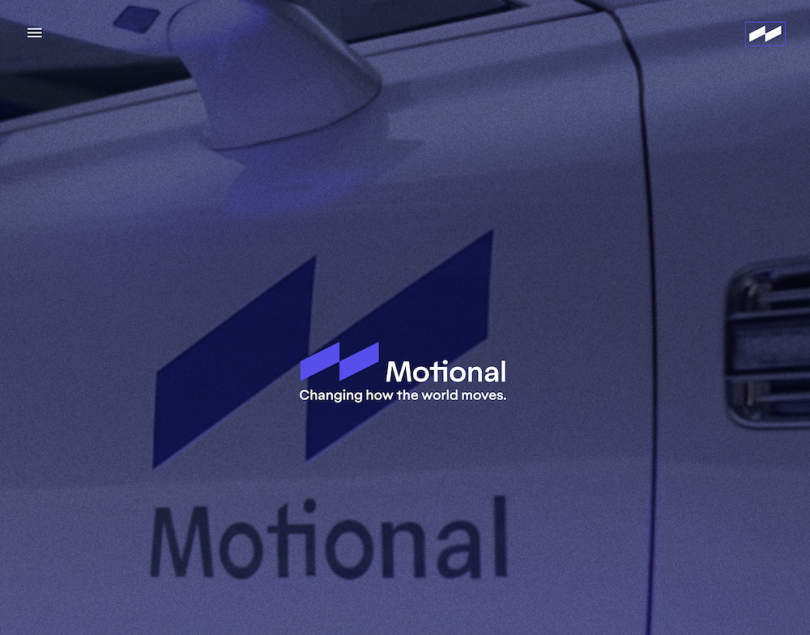 Location: Santa Monica, CA
How it's using AI in automotive: Motional is a joint effort between Apertiv and the Hyundai motor group, each combining its technical expertise with real world experience to design autonomous driving technology that pushes the potential of self-driving technology into reality.
The company's autonomous driving technology utilizes three sensor types — LiDAR, radar and cameras — to prioritize safety at all times, leading to the world's first robotaxi pilot and an operational commercial robotaxi service that has provided over 100,000 self-driven rides with a record of zero at-fault incidents.
Motional unveiled its newest robotaxi, the next-generation Hyundai IONIQ 5, in 2021.
Industry impact: Since 2018, Motional has teamed up with major rideshare organizations Lyft, Via and Cox Automotive to increase the accessibility of self-driven transportation throughout the world.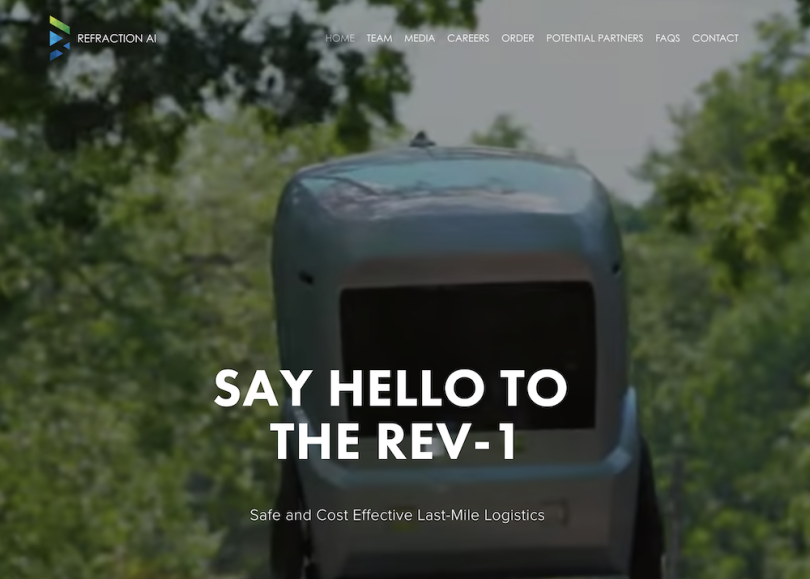 Location: Ann Arbor, Michigan
How it's using AI in automotive: Refraction AI manufactures a robotic, self-driving delivery solution for last mile goods from places like restaurants, pharmacies and grocery stores, facilitating faster, cheaper and safer delivery that keeps up with customer expectations.
The company's flagship vehicle, named REV-1, is designed to operate in all weather conditions and has a size and weight that makes it versatile enough to switch between car and bike lanes to prioritize delivery time without impeding traffic. Along with powerful AI that allows REV-1 to choose the best possible path for making a delivery, low-cost sensor technology like cameras are utilized to allow the vehicle to stop on a dime — leading to a safe, compact and scalable solution to autonomous delivery.
Industry impact: Refraction AI has begun rolling out the REV-1 and partnering with restaurants in Ann Arbor, Michigan to offer autonomous food delivery. Restaurants currently featured include ingerman's Delicatessen, Miss Kim, Wolverine Sushi Bar and more.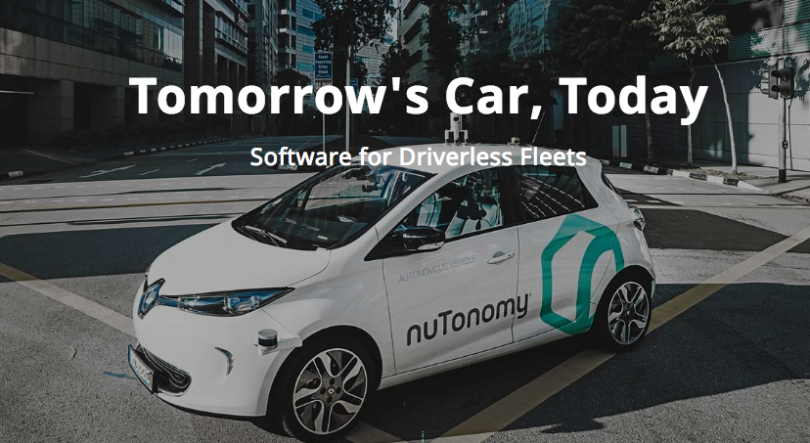 nuTonomy: Navigating complex traffic situations
Location: Boston, Massachusetts
How it's using AI in automotive: nuTonomy is creating autonomous technology for completely driverless vehicles. 
nuTonomoy's technology, nuCore allows for flexible and human-like vehicle handling (without the error). The software enables vehicles to navigate even the most complex traffic situations.
The company's goal is to provide fleets of autonomous cars wherever they're needed to ensure safer roads, less traffic and less pollution.
Industry impact: Recently, nuTonomy partnered with Lyft to test out vehicles in Boston's Seaport District, providing rides to Lyft users and gaining more traction toward transforming the way people get around.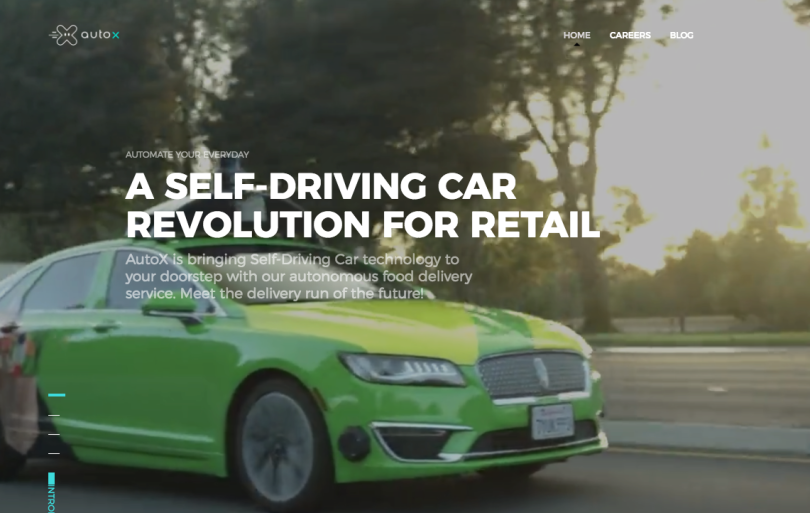 AutoX: Self-driving grocery delivery
Location: San Jose, California
How it's using AI in automotive: AutoX makes retail-based autonomous vehicles. 
The company's vehicles combine AI software, sensors, real-time cameras and thousands of test miles, both virtual and real, to ensure safe decisions on the road.
Currently with a focus on grocery delivery, users can pick items through their app and have them delivered along with the ability to browse their vehicle-based mobile store upon delivery.
Industry impact: AutoX recently launched their pilot program within San Jose, testing the service within a geo-fenced zone, planning to expand the area every few weeks.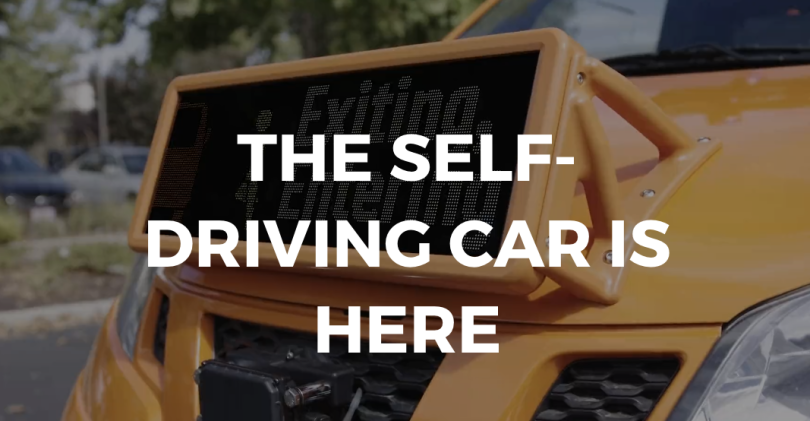 Drive.ai: Transporting passengers on fixed routes
Location: Mountain View, California
How it's using AI in automotive: Drive.ai is utilizing artificial intelligence to change current transportation systems with self-driving services. 
The vehicles are not only autonomous, they also communicate with drivers and pedestrians within the vicinity, such as displaying a sign to pedestrians indicating it will wait for them to cross.
The purpose of the fleets is to transport passengers along fixed routes that are more easily monitored than personal autonomous vehicles, which need to stay updated with changes that can impact driving, such as construction, speed limits, accidents and road closures.
Industry impact: The company is currently testing their vehicles, complete with human safety operators, on fixed routes around Frisco, Texas.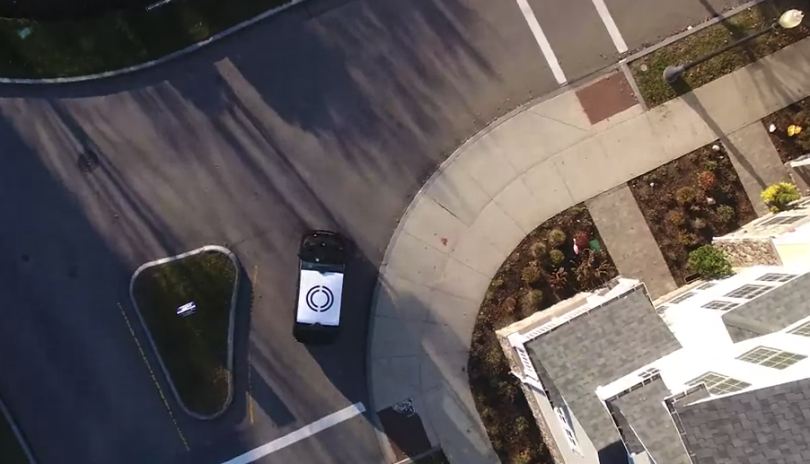 Optimus Ride: Sustainable transportation
Location: Boston, Massachusetts
How it's using AI in automotive: Optimus Ride is a self-driving vehicle company that creates autonomous cars for geo-fenced locations. 
The company's smart, electric vehicles enable the implementation of more efficient and sustainable cities, freeing up parking, limiting the amount of cars on the road and decreasing environmental impact.
Coming out of MIT, Optimus provides easy and safe transportation for campuses, communities and cities.
Industry impact: As of last year, the company's vehicles received the green light to test in cities and town within Massachusetts. Not focused on long distances, the company has also been testing the vehicles by transporting people to and from the local train station from a Boston housing development.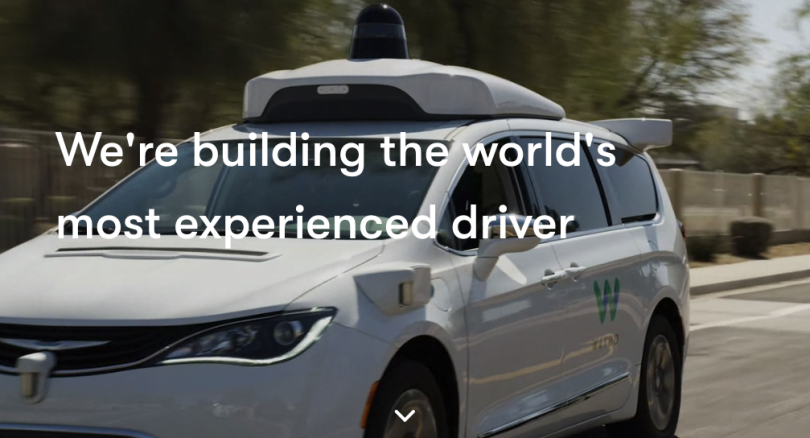 Waymo: 360-degree perception technology
Location: Mountain View, California
How it's using AI in automotive: Beginning as Google's exploration of self-driving vehicles, Waymo is now it's own company creating driverless vehicles that can safely deliver people from points A to B.
With over eight million autonomous miles driven to date, Waymo's 360-degree perception technology detects pedestrians, other vehicles, cyclists, road work and other obstacles from up to 300 yards away.
Industry impact: Waymo is already providing test rides in the Phoenix metro area. If you're local and want to experience it for yourself, you can apply to try it out!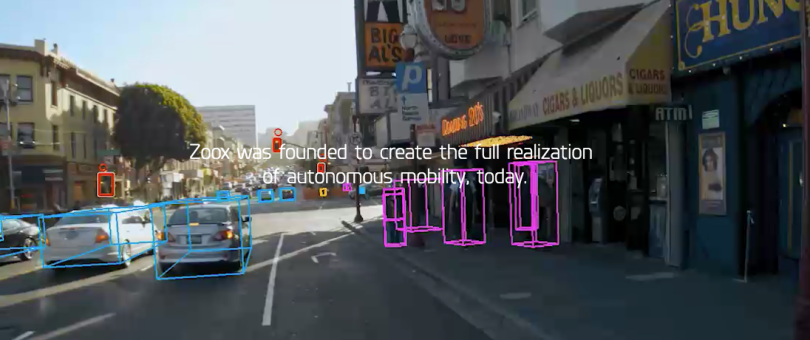 Zoox: Robotic ridesharing
Location: Foster City, California
How it's using AI in automotive: While some companies are outfitting existing vehicles with self-driving capabilities, Zoox is creating their own autonomous vehicles from scratch. 
The cars are being produced to be a robotic rideshare vehicle. Similar to current transportation services like Uber or Lyft, a user would summon a Zoox vehicle for a ride through an app on their smartphone.
Industry impact: Zoox is currently working to transform their prototypes into full-fledged vehicles by 2020.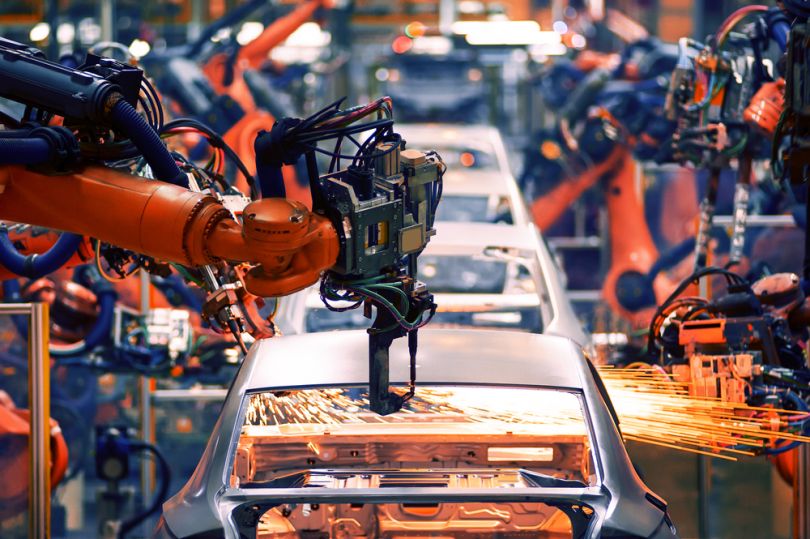 Manufacturing
With over 70 million cars produced last year, it's no wonder manufacturers are seeking out machinery and ways to enhance production.
Artificial intelligence is not only changing the cars on the road, but the factories that build them.
Here are a few examples of how smart machinery and AI-powered systems are making automotive production lines more efficient.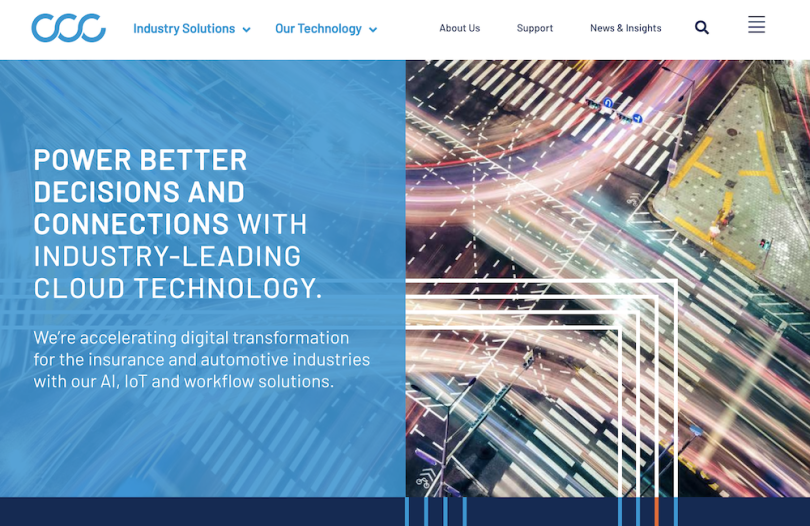 Location: Chicago, IL
How it's using AI in automotive: CCC enables the automotive and insurance industries to make better decisions through digital transformation driven by AI, IoT and workflow solutions. 
The company connects auto manufacturers to a data pipeline that unlocks actionable insights from insurers and repair facilities while also connecting them to a network of over 26,000 repair facilities nationwide, facilitating visibility into how to make vehicles safer and more durable. 
CCC utilizes AI to power decision making for both its insurance and automotive partners while being backed by four decades of data collection. 
Industry impact: CCC worked with Toyota and Lexus to develop Collision Assistance, a mobile platform designed to guide users through the post-collision process and access accident documentation and claims and management services. Collision Assistance was made available to Toyota and Lexus customers in August 2021.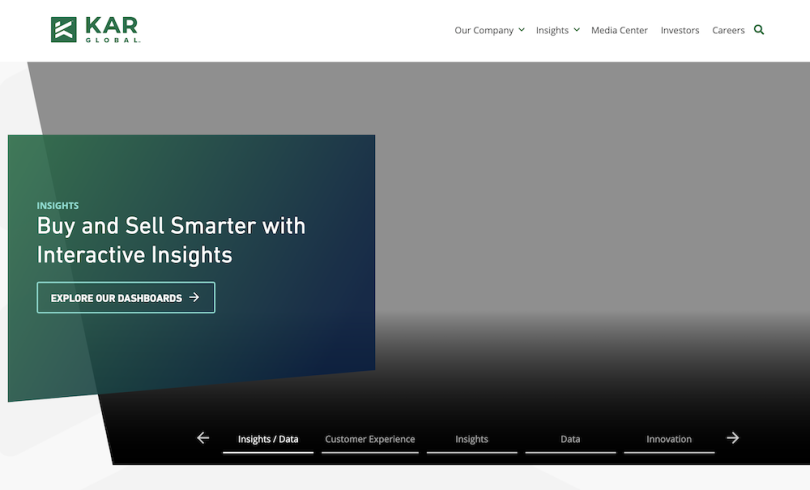 Location: Chicago, IL
How it's using AI in automotive: KAR Global operates a wholesale marketplace and auction company for the used vehicle industry, powered by next generation tools that simplify the remarketing process. 
The company's advanced data science capabilities is built on artificial intelligence that provides its inventory consultants with real-time, actionable information and guidance used to boost conversions with vehicle dealers, uncovering data such as past purchase history, vehicle value, supply on the market, dealer lot information and more. 
Industry impact: KAR Global sold nearly 3.1 million vehicles for a total value of $40 billion in 2020, leading to approximately $2.2 billion in revenue from used vehicle sales.

Rethink Robotics: Human-bot collaboration on the assembly line
Location: Boston, Massachusetts
How it's using AI in automotive: Rethink Robotics makes co-bots, or collaborative robots, for industrial automation. These robots are used to automate factory tasks that are tedious, dirty or even dangerous for human workers.
Though robots have been working on the automotive manufacturing line for years, they never worked side by side with humans. Rethink's robots work with humans on the supply chain, tending machines, handling materials, performing tests and packing finished products.
Industry impact: A Tennessee-based custom injection molding company began using Rethink's Sawyer co-bot to keep production on pace when they lacked employee numbers. The company closed the labor gap and saw an ROI in under four months.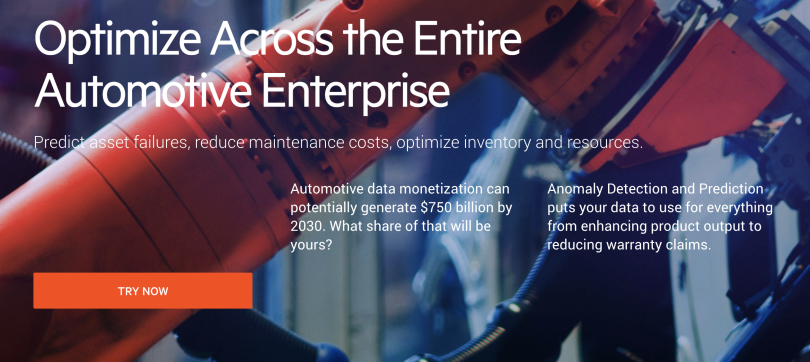 DataRPM: Predicting machine failure with machine learning
Location: Bedford, Massachusetts
How it's using AI in automotive: DataRPM, a subsidiary of Progress Software Corporation, provides anomaly detection and prediction solutions for a variety of industries. 
DataRPM's machine learning technology gets to know a machine's normal patterns of behavior and is able to predict future issues and breakdowns which saves time and money.
DataRPM utilizes machine sensor data to optimize capabilities. The technology reduces unplanned downtime, increases asset life and operational efficiency, and enhances equipment effectiveness.
Industry impact: A UK-based car manufacturer needed to find out what external factors impacted the production of their Engine Manufacturing Center in an effort to cut costs and increase efficiency. After implementing the DataRPM platform, the manufacturer identified machine failures weeks in advance using machine-learning insights.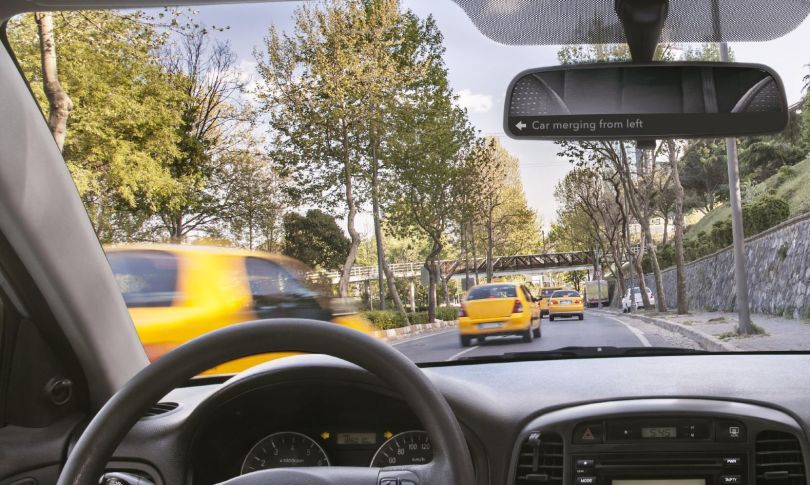 Driver-assist
If you're lucky enough to have a new car that can parallel park itself, then you're in possession of a vehicle utilizing an AI-powered advanced driver-assistance system (ADAS).
There are many different types of ADAS like automatic braking, driver drowsiness detection, lane departure warning and other safety features.
Some systems go beyond those already implemented in many major vehicle brands, being used by companies to re-train their commercial drivers and avoid collisions within their fleets.
Here's how a few companies are using artificial intelligence in driver-assisted technologies to make the roads safer.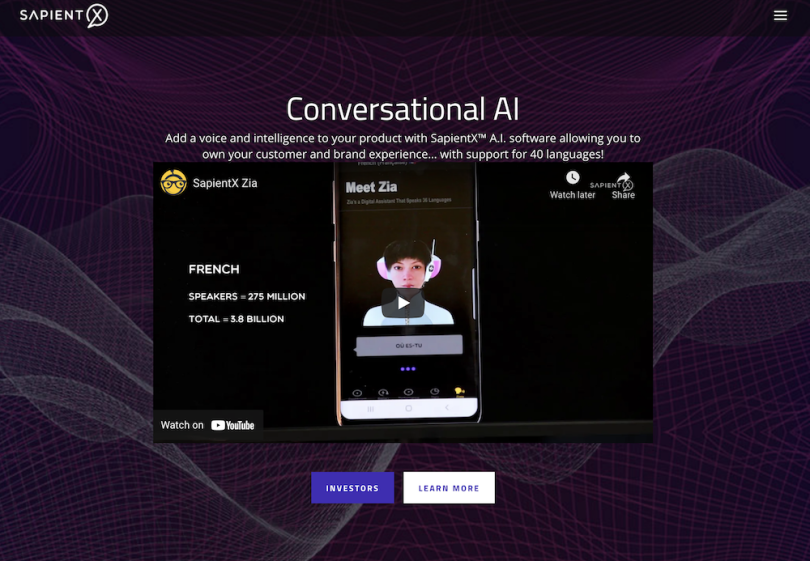 Location: Santa Cruz, CA
How it's using AI in automotive: SapientX produces white-label software that adds conversational voice and intelligence capabilities to tech products throughout industries like automotive, video conferencing, health and air travel.
The company has worked with Mitsubishi Motors and Yamaha to implement natural conversational AI within the company's vehicles, utilizing speech recognition, natural language understanding, speech synthesis and smart avatars within its system to boost the comprehension of context, emotion, complex sentences and user preferences. SapientX's AI systems are capable of running both online and offline while avoiding the need for customers to have to learn commands beyond a wake word, leading to more usable AI when it matters most.
Industry impact: SapientX is currently prototyping its Mia AI-powered assistant within cars produced by Mitsubishi Motors while simultaneously prototyping similar systems with Telecaster video conferencing, Singapore Airlines and KTM Motorcycles.

CarVi: Altering bad driving habits
Location: San Francisco, California
How it's using AI in automotive: CarVi makes an ADAS that can be used for personal vehicles, fleets, ride-sharing or auto insurance companies.
CarVi uses AI to provide driving analysis and real-time alerts to warn drivers of possible dangers like lane departure, forward collisions and driving conditions.
CarVi also uses a scoring system to rate driving skills and help drivers alter bad behaviors and habits.
Industry impact: CarVi is installed in existing vehicles and helps fleet companies track their vehicles, receive reports on vehicle performance, provide dashcam footage of events and cut their insurance premiums with overall safer drivers.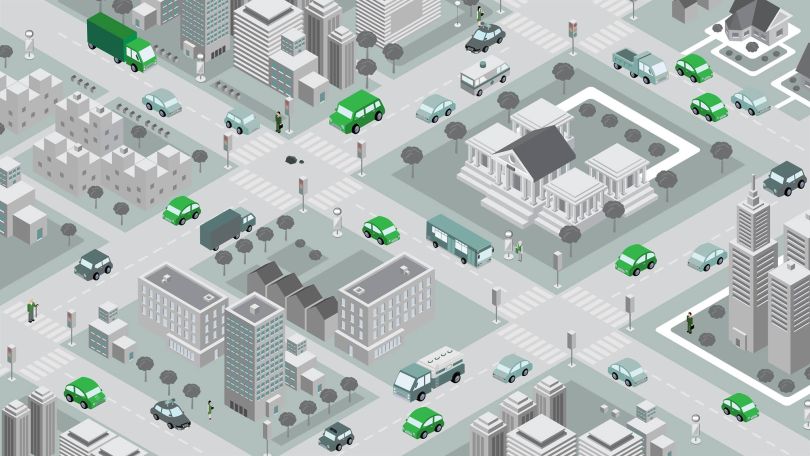 Nauto: Keeping commercial fleets safe
Location: Palo Alto, California
How it's using AI in automotive: Nauto creates AI sensor technology for commercial fleets.
Nauto's intelligent driver system reduces distracted driving that leads to collisions by assessing driver behavior. The system uses data to keep drivers attentive enough to avoid collisions and traffic violations.
With video and facial recognition, Nauto even helps companies process claims with insurance carriers more efficiently.
Industry impact: A Minnesota based transportation company installed Nauto in 99% of their fleet. The company chose Nauto's technology to gauge driver safety and implement training to reduce collisions and decrease insurance claims.
Images via Shutterstock, social media and screenshots of company web pages.