38 Healthcare Technology Startups and Companies on the Forefront of Modern Medicine
In the fall of 2018, corporate finance advisory firm Hampleton published a report titled, "The healthtech sector is currently one of the most dynamic in technology M&A." As a summary of the report notes, "aging populations, increasing patient demands and the rise of lifestyle diseases, coupled with pressure on the costs for delivering care are forcing healthcare providers to innovate to improve the quality of their services and lower their prices." 
Top Healthcare Technology Companies & Startups
Tempus
Flatiron Health
Kyruus
VillageMD
Collective Health
Rally Health
Wellframe
Verge Genomics
Doximity
QuiO
PatientPop
Strata Decision Technology
Hinge Health
Headspace
Those innovations are made possible by technologies that range from blockchain and artificial intelligence to big data analysis and advanced sensors. IoT connectivity plays a key role, too. And data is central, but not on its own. 
As Eric Topol, director of the Scripps Translational Science Institute, told Forbes, "Up until three-to-five years ago, all that data was just sitting there. Now it's being analyzed and interpreted. It's the most radical change happening in health care."
Employing a wealth of digital information, these 38 healthtech companies are harnessing powerful technologies to create healthcare products and services that benefit patients and providers alike.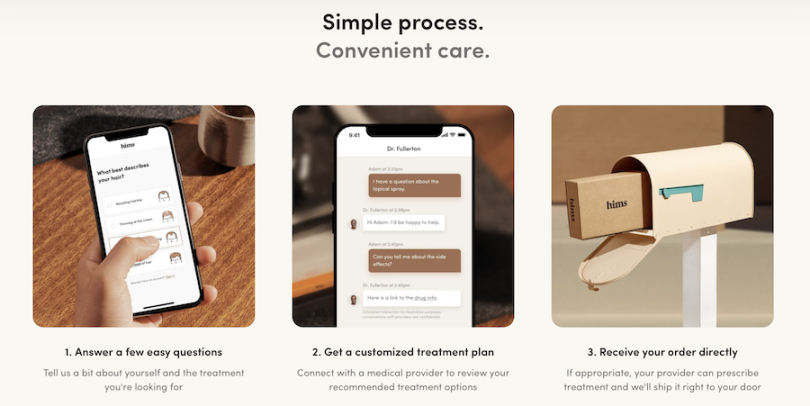 Founded: 2017
Focus: Telemedicine 
What they do: Hims & Hers reinforces the current healthcare system with a more affordable way to receive prescriptions and guidance. The company provides access to top-notch professionals via an online platform, allowing people to seek out the resources they need from the comfort of their homes. By digitizing healthcare, Hims & Hers is making harder health conversations that much easier for patients.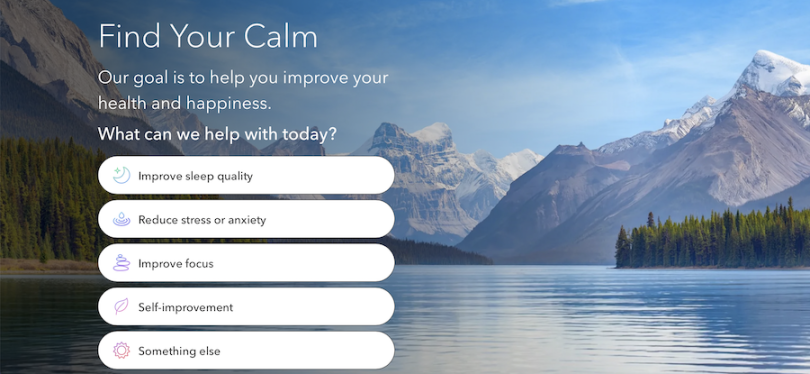 Founded: 2012
Focus: Healthtech & Mobile
What they do: Addressing the problem of not getting enough sleep, Calm has developed an app that presents a slate of solutions for people to explore. Users can experiment with meditation, nature scenes, relaxing music, and other methods. By creating an accessible tool centered around wellness, Calm is helping people access higher-quality sleep with thoughtfully designed technology.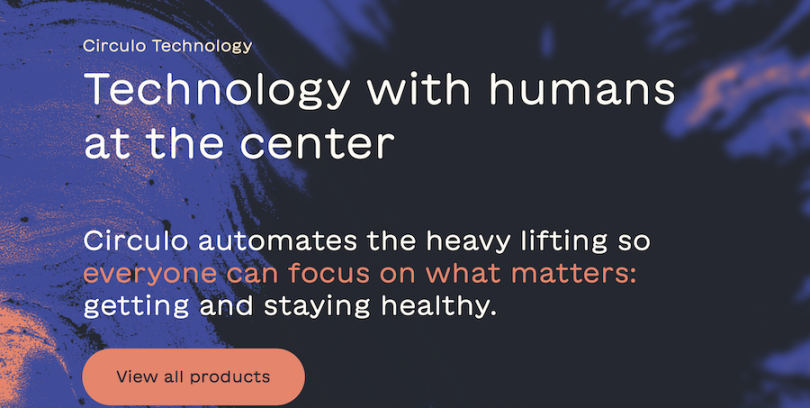 Founded: 2021 
Focus: Healthtech
What they do: Circulo Health is revamping the Medicaid system with artificial intelligence that streamlines the experience for both providers and patients. Because of its unique partnership with Olive.ai, Circulo Health has given healthcare professionals the tools to automate certain tasks and gather information at a faster pace. Underserved communities now have access to high-quality care while providers have the ability to offer tailored treatments with more data at their disposal.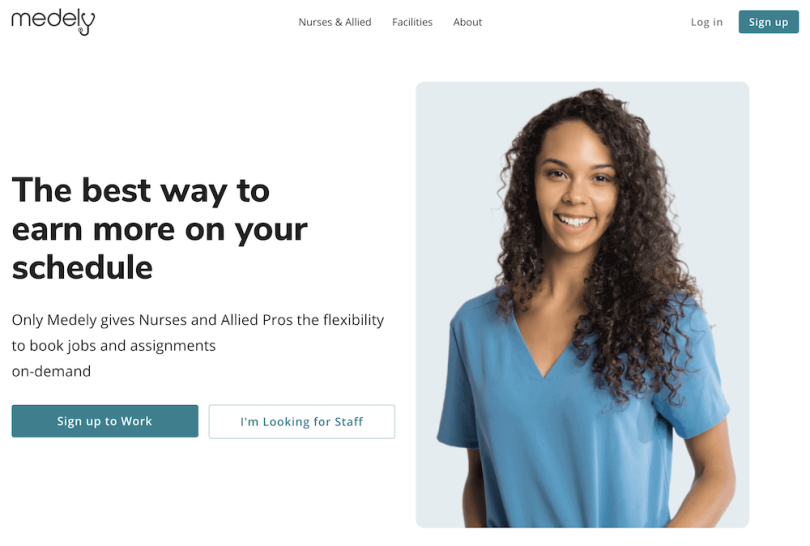 Medely
Founded: 2015
Focus: Software
What they do: Medely allows healthcare professionals, such as nurses and technicians, to find access to on-demand work to supplement their existing careers and support their lifestyles. The platform features tools that let healthcare professionals set their own schedules and find short-term or per diem shifts at local hospitals and healthcare facilities, with automatic earning deposits included and travel assignments available to allow healthcare professionals to explore while helping others live their best lives.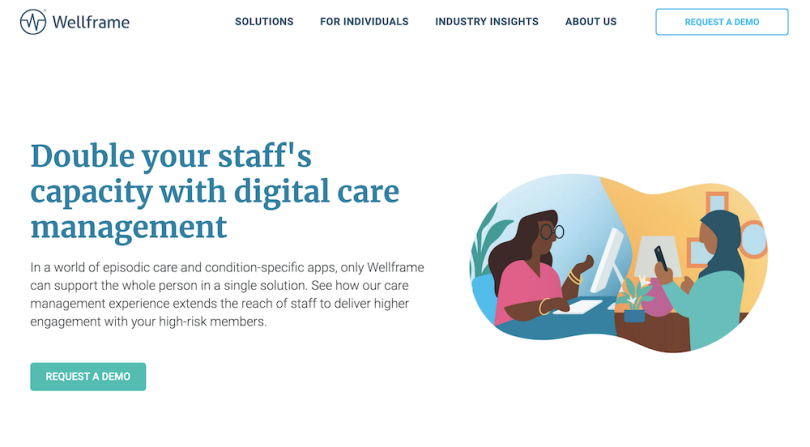 Wellframe
Founded: 2011
Focus: Software
What they do: Wellframe connects healthcare professionals with patients to provide access to vital medical data and reminders through a user-friendly smartphone app. The platform includes appointment and medication reminders, customizable instructions and real-time digital check-ins to ensure patients are staying on top of their treatment, with resources, data sharing and additional tools available via the Wellframe platform as well.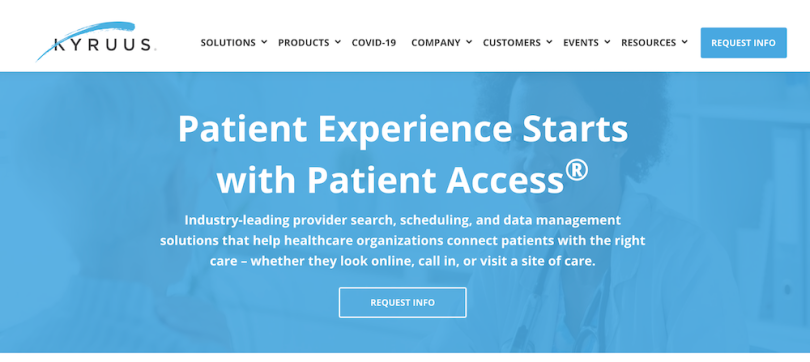 Kyruus
Founded: 2010
Focus: Software
What they do: Kyruus provides a number of data management solutions and products for use by organizations that include hospitals, health systems, medical groups and health plan providers. The platform results in better patient experiences due to intuitive provider search, scheduling, health plan integration and data management capabilities, providing more visibility into where patients can receive the treatment that they need and empowering providers to reach more patients.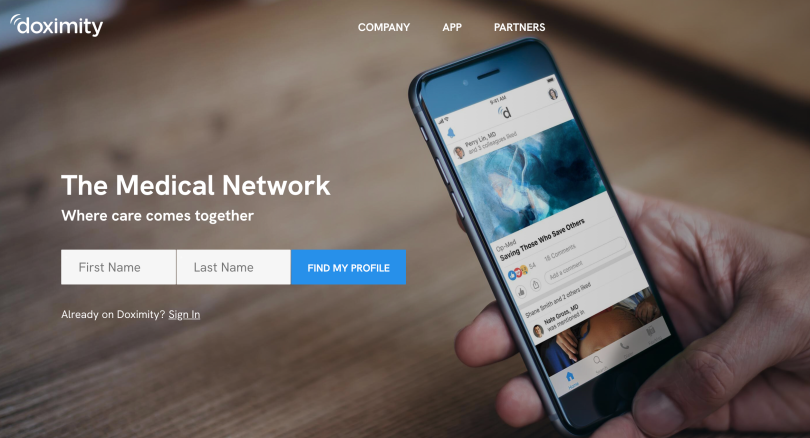 Doximity
Location: San Francisco
What it does: Doximity is the largest network of healthcare professionals in the U.S., with over 70% of U.S. doctors and 45% of all NPs as members. The platform allows for healthcare professionals to connect with one another, read the latest about their field and even share their opinions on a wide range of medical topics. Doximity also created a telemedicine app that allows doctors to connect with patients via call, text or video session from their phone without giving up private phone numbers or emails.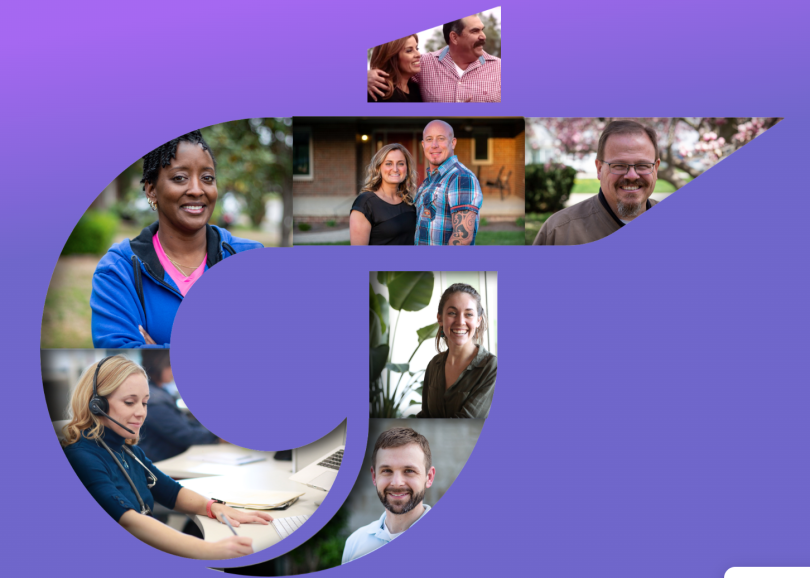 Grand Rounds
Location: San Francisco
What it does: Grand Rounds acts like a healthcare assistant that gets employees access to high-quality medical care within their insurance network. The company's platform uses data science to quickly match an employee to the right doctor or specialist that's in their network. The Grand Rounds app also comes loaded with personalized medical tips and articles, as well as, an activity stream that transparently tracks medical spending.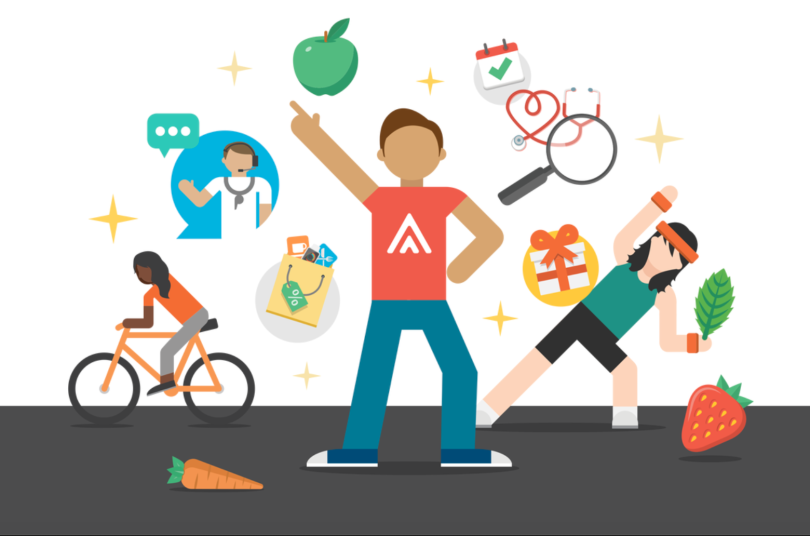 Rally Health
Location: Washington DC, San Francisco
What it does: Rally Health is a consumer-centric digital health platform that helps employees choose the optimal benefits, find nearby care and learn ways to stay healthy (and get rewarded while doing it). Rally's personalized healthcare experience draws from a wide number of data sources in order to guide users on their healthcare journey. They even incentivize employees to stay healthy through challenges and communities, and they have paid out more than $1.5 billion in activity rewards.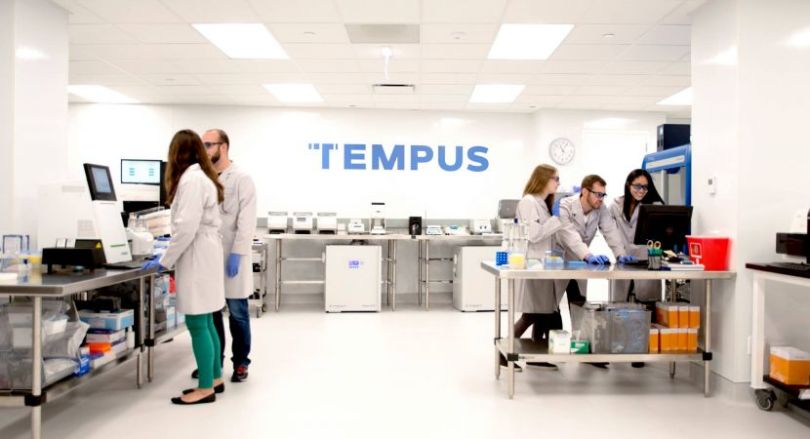 Tempus
Location: Chicago
What it does: Tempus creates data-harnessing technology to personalize cancer treatment using genomic sequencing, clinical data structuring, image recognition, biological modeling and other means. It's stated goal is for each patient to benefit from the treatment of others who came before.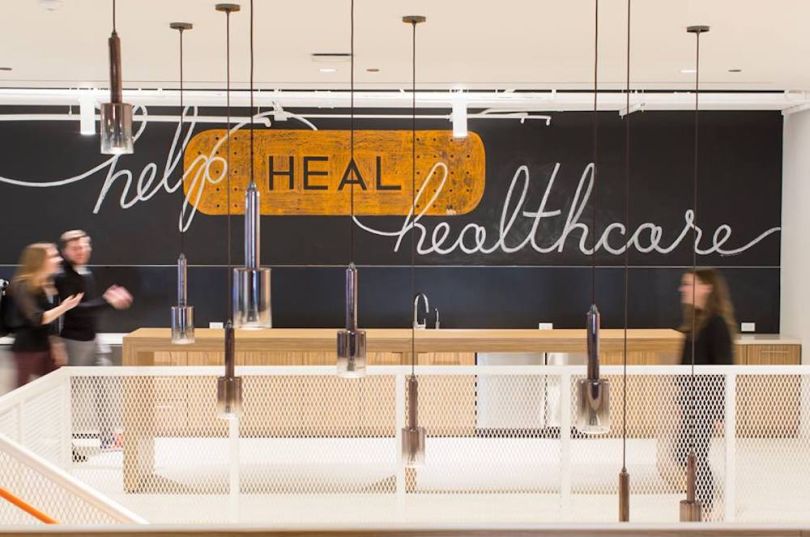 Strata Decision Technology
Location: Chicago
What it does: Strata develops SaaS solutions several areas of the healthcare industry, including finance analytics and business intelligence. It's StrataJazz platform was designed to simplify and streaming planning, budgeting, forecasting and the management of operating and capital spending.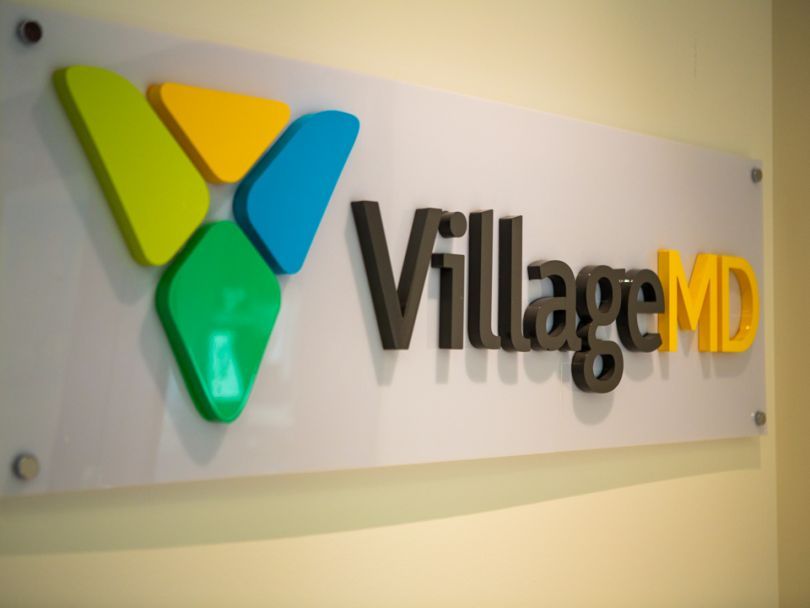 VillageMD
Location: Chicago
What it does: VillageMD aims to be an additional support tool for physicians who want to provide their patients with even better care, whether it's disease education, psychological counseling or upgraded living conditions. Benefits include provider-led integrated care teams, patient-centric support, proactive care and post-hospitalization services. The company's DocOS is a proprietary system for bolstering primary care.

RealSelf
Location: Seattle
What it does: RealSelf provides an online platform for cosmetic surgery patients and providers to share personal stories, get recommendations, see before and after photos, ask and answer questions and receive special offers.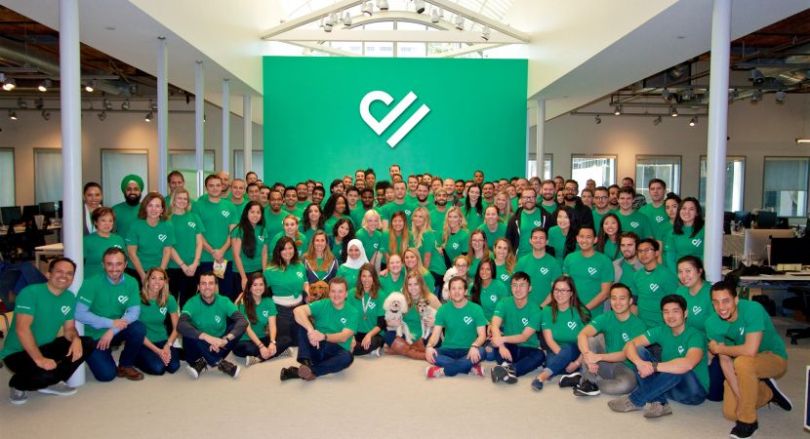 PatientPop
Location: Santa Monica, Calif.
What it does: PatientPop aims to overhaul and improve the entire provider-patient experience with services ranging from digital booking and 24/7 scheduling to appointment confirmation and follow-up. It even emails and texts reminders to patients and sends out post-appointment surveys. Key metrics that include online search rankings and appointment requests are visible via a practice growth dashboard.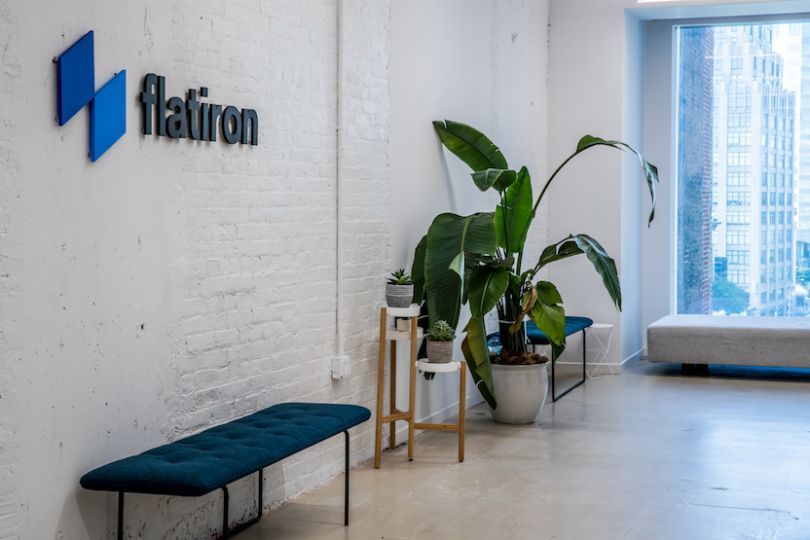 Flatiron Health
Location: NYC
What it does: Flatiron connects community oncologists, academics, hospitals and life science researchers to improve cancer care. Its Flatiron Platform gives users an integrated view of patient population while providing business intelligence analytics and many other services. The company's OncoCloud suite includes OncoEMR, OncoAnalytics, OncoTrials and OncoBilling.

Collective Health
Location: San Francisco
What it does: Collective Health's integrated, cloud-based platform benefits self-insured employers and their workers by merging HR needs such as claims adjudication, administration and financial operations with member support and integrated analytics. Advantages include waste control waste, more effective cash flow management and more accurate financial reporting.

iRhythm Technologies
Location: San Francisco
What it does: iRhythm's diagnostic monitoring solutions are designed to improve health while reducing costs. Its wireless Zio Patch, for the diagnosis of cardiac arrhythmias, is applied by a doctor. Patients then simply press the patch upon feeling any irregular heart rhythms and log a description of said event in a provided booklet or via mobile app/website before returning the monitor by mail so the results can be used to make a diagnosis.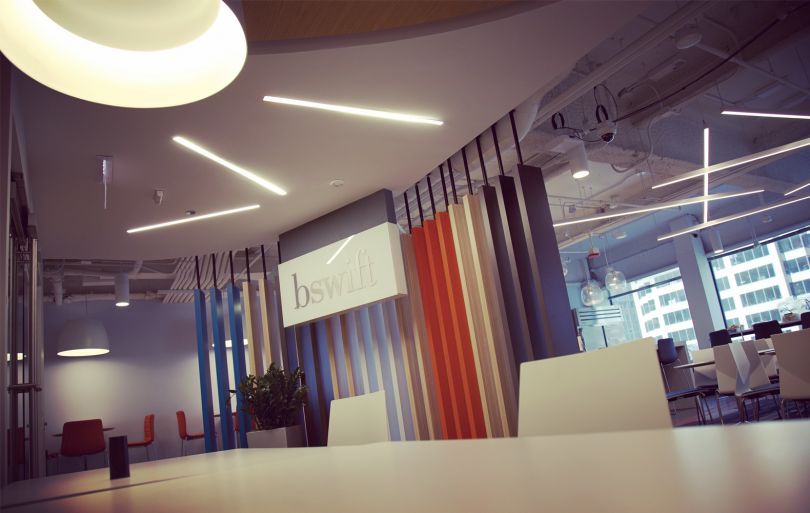 bswift
Location: Chicago
What it does: bswift streamlines HR, benefits and payroll processes via intuitive software that was developed by benefits experts and incorporates such things as decision support tools, wellness incentives and defined contributions. Other services include a call center, dependent verification, COBRA administration and FSA administration.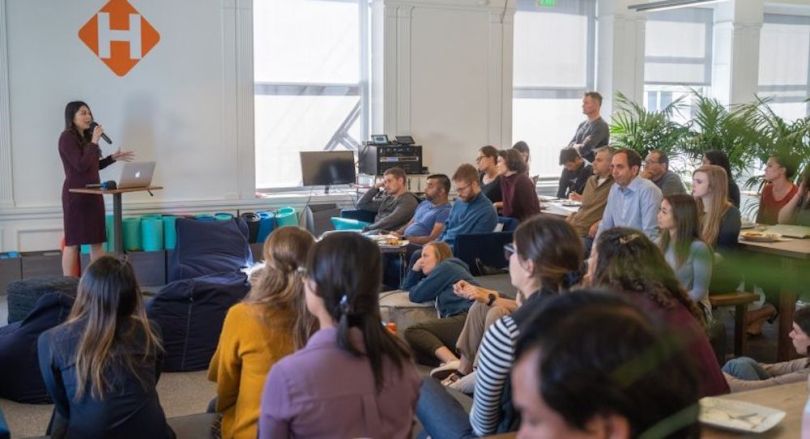 Hinge Health
Location: San Francisco
What it does: Hinge Health is the world's first digital platform dedicated to back and joint pain. The digital clinic helps individuals manage musculoskeletal (MSK) care from every stage ranging from prevention to post-surgery. The videos, medical resources, and one-on-one health coaching help manage acute and chronic pain to reduce healthcare costs and increase quality of life.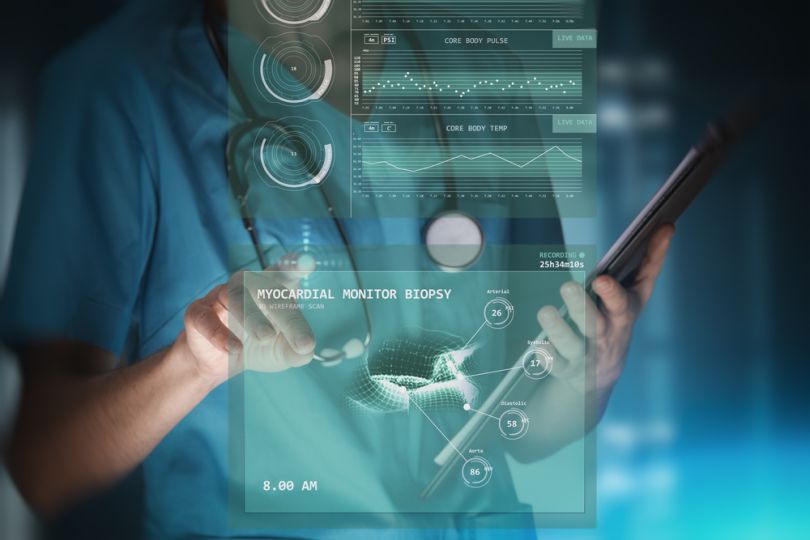 QuiO
Location: NYC
What it does: QuiO provides wireless injection devices and cloud-based monitoring software. Its web portal lets healthcare providers monitor patients and offer timely support — no setup, syncing or smartphone necessary.

Modern Fertility
Location: San Francisco
What it does: Modern Fertility makes fertility tests cheaper and more convenient by taking them out of the lab so women can do them at home or a nearby clinic with a finger-prick or blood draw. Besides testing their fertility hormones, the company provides customized, physician-reviewed reports and offers education sessions via weekly webinars and one-on-one consults with fertility nurses.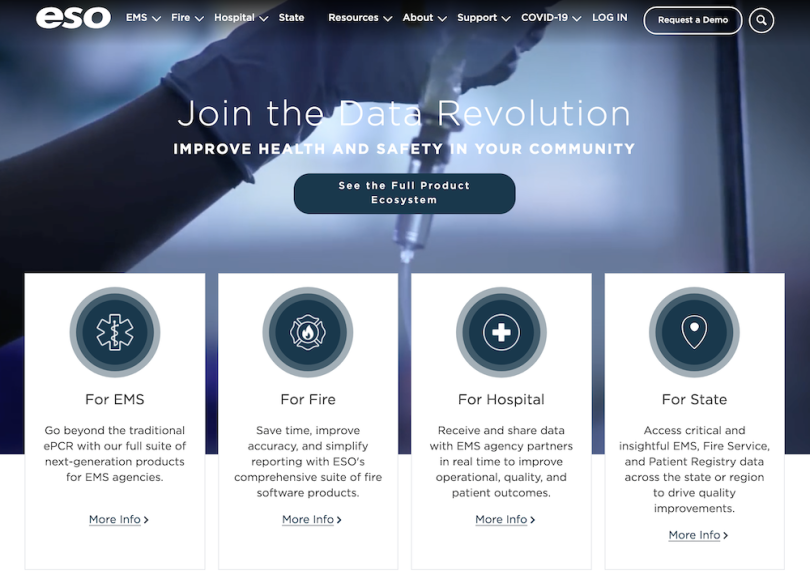 ESO
Founded: 2004
Focus: Software
What they do: ESO produces software for companies and providers across the entire healthcare industry, from doctors to emergency service providers like fire and EMS teams. The platform makes patient data instantly accessible upon hospitalization, key to improving patient outcomes, while offering analytics, scheduling, asset management, incident logging, billing and additional data capabilities across all teams.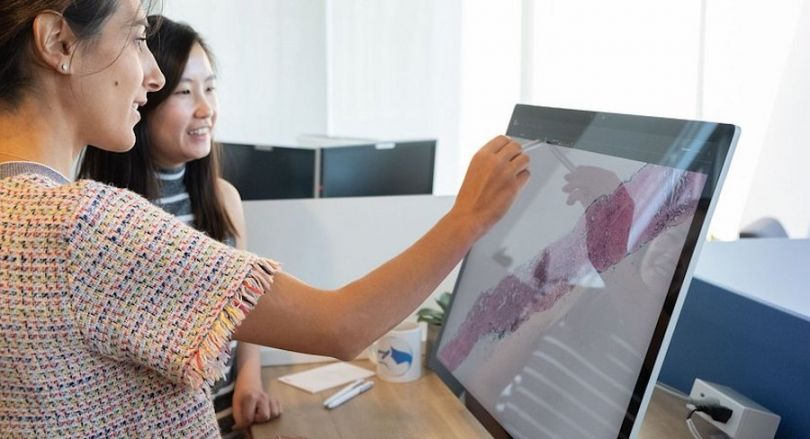 Paige
Founded: 2018
Focus: Oncology + AI
What they do: Paige has developed an AI-native digital pathology ecosystem in an effort to accelerate and transform the discovery and treatment of cancer. The company's AI suite is designed to provide pathologists, clinicians and researchers with insights drawn from decades of data diagnosed by cancer experts worldwide. Paige's platform offers secure, scalable digital slide storage, enabling pathologists to further leverage computational pathology products as they become available for clinical use.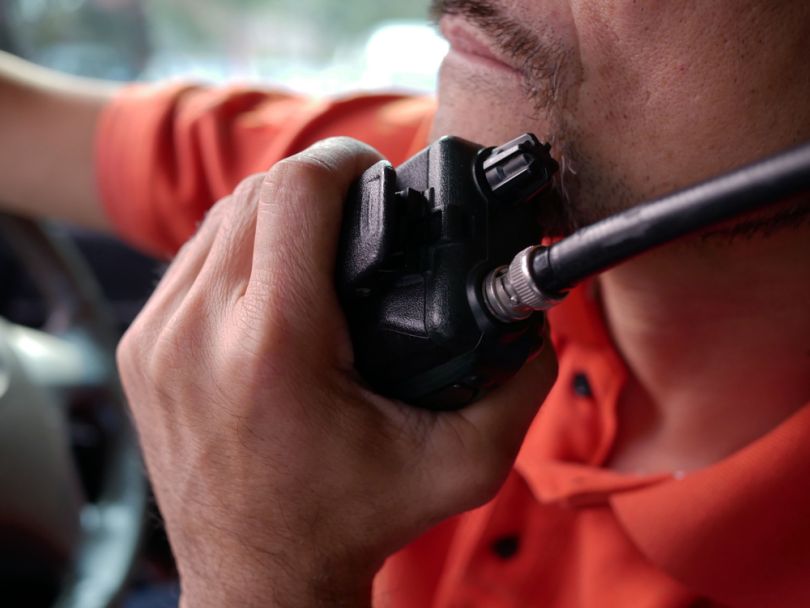 ZOLL Data Systems
Location: Broomfield, Colo.
What it does: ZOLL data management software includes EMS Dispatch solution to reduce workload, prevent errors, make predictions, offer two-way effective communication and more. Its ePCR technology for medics offers guidance for proper data collection by alerting users to missing information. The company also provides EMS billing solutions that employ "smart logic" to more efficiently and effectively provide high-quality services.

Accolade
Location: Plymouth Meeting, Pa.
What it does: Accolade is a concierge service that advises users about healthcare plans and benefits through its Accolade Health Assistant and Maya Intelligence Engine. Human expertise and compassion are combined with cutting-edge technology to deliver a more personalized healthcare experience, with services provided via phone, app and website.

NeoGenomics
Location: Fort Myers, Fla.
What it does: NeoGenomics specializes in cancer testing and offers programs for pathologists and oncologists. Its labs provide genetic and molecular testing services to a variety of medical professionals, and it also offers cytogenetics testing to study chromosomal disease impact. Pathology consulting services are part of the mix, too. Clients include hospital and private pathology labs, office-based oncologists, academic institutions and many others.

Transcend Insights
Location: Campbell, Calif.
What it does: Transcend is a health management technology company that aims to provide a more proactive and coordinated approach to healthcare. Offerings include HealthLogix Populations for health system executives and care teams, and its HealthLogix Care culls a patient's clinical, claims and wellness data from multiple sources. HealthLogix Market serves as a marketplace for third-party healthcare applications.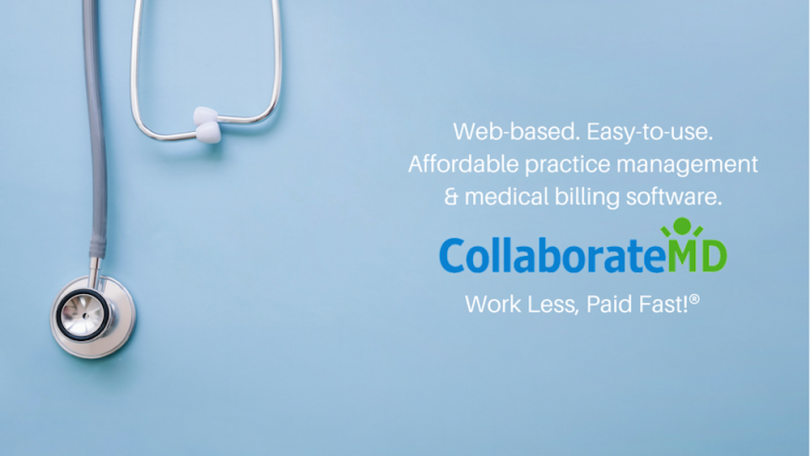 CollaborateMD
Location: Orlando, Fla.
What it does: CollaborateMD provides cloud-based medical billing and practice management software. Benefits include real-time claim submission, report financials and dashboard, patient processing and payment, claim control, scheduling and quick payments.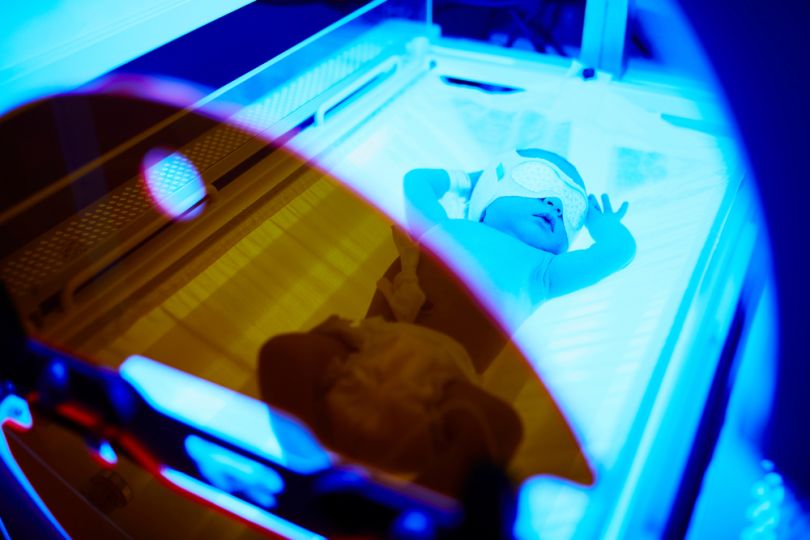 NeoLight
Location: Scottsdale, Ariz.
What it does: NeoLight makes phototherapy beds that provide treatment for premature and full-term infants with medical conditions like hypothermia and jaundice. The product is designed to be used in incubators, bassinets and other neonatal enclosures.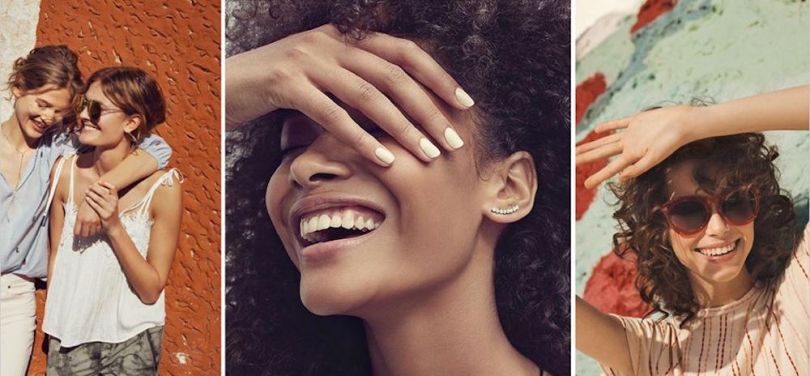 Orthly
Location: NYC
What it does: The app-based Orthly provides invisible dental aligners in a virtually human-free process. Scheduling is simple, and after an initial exam with an Orthly affiliated dentist to take images for 3D impressions, you're on your way to a dazzling smile. According to the company, Orthly costs far less than traditional providers charge for similar products, and the quality is as good or better.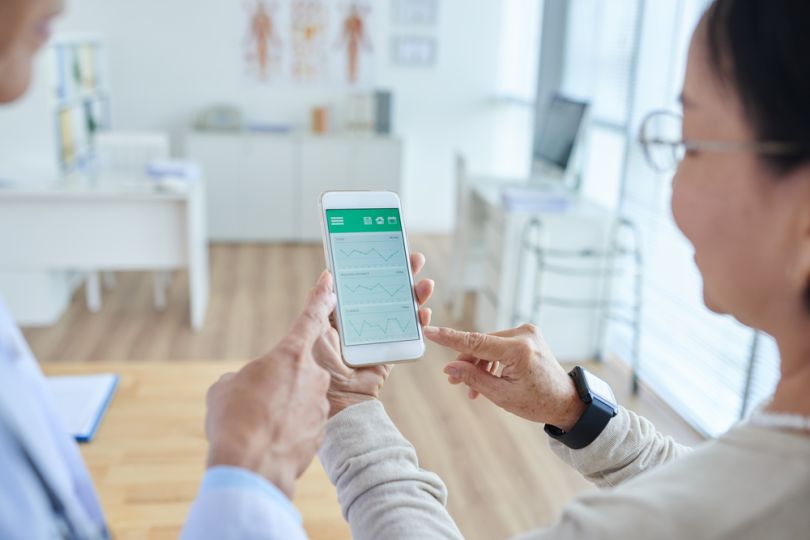 Carie Health
Location: Miami
What it does: Carie Health lets users connect with board-certified physicians from their smartphones, tablets and laptops. A lower-cost solution to traditional healthcare, it's as simple as signing up, locating your personal physician or choosing one from Carie's network, scheduling an immediate or future consultation and visiting the doctor. 

eHealth Technologies
Location: Rochester, N.Y.
What it does: eHealth Technologies is in the medical records business. Its many healthcare solutions include concierge service that provides patient outreach, retrieval of medical records, images and pathology from disparate systems, record organization and image exchange that lets users access images from any connected site. Additionally, its Physician Engagement Suite of software helps patients find the right doctors and facilities. 

Eceptionist
Location: Houston, Texas
What it does: Eceptionist strives to provide better healthcare services at a lower cost via scheduling, telemedicine, e-referral and triage management, wait list and wait time management, case management, care pathways and more. It serves hospitals and other types of healthcare facilities around the world. 

Reflexion Health
Location: San Diego, Calif.
What it does: Reflexion Health's prescription software includes Vera, motion-tracking technology that acts as a virtual exercise rehabilitation assistant that prepares and educates patients for surgery, leads and records exercise performance, measures joints and limbs in motion, provides audio-visual feedback and facilitates "telehealth" visits between patients and healthcare professionals.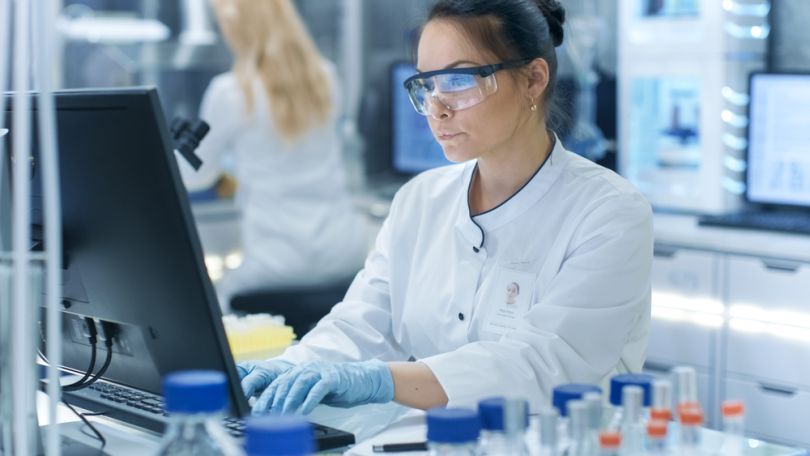 Verge Genomics
Location: San Francisco, Calif.
What it does: Founded by machine learning experts and neuroscience drug developers, Verge uses artificial intelligence to help pharmaceutical companies pinpoint drugs that have the highest likelihood of success so that money spent on a drug's R&D isn't wasted if that drug fails to be approved by the FDA.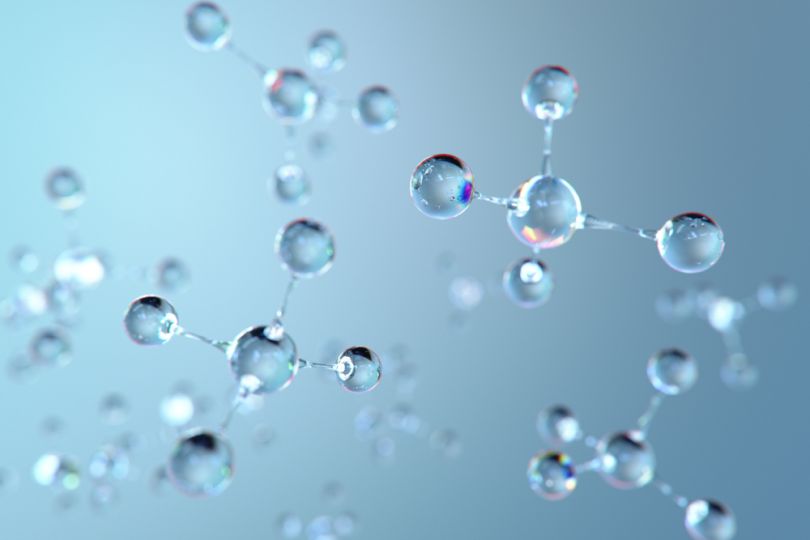 Alector
Location: San Francisco, Calif.
What it does: Through Alector's marriage of antibody technology and neuroimmunology, the company is striving to combat neurodegenerative disorders like Alzheimer's by developing cutting-edge antibody therapies. Ideally, doctors will one day be able to use the body's own immune system to more effectively fight dementia and neurodegeneration.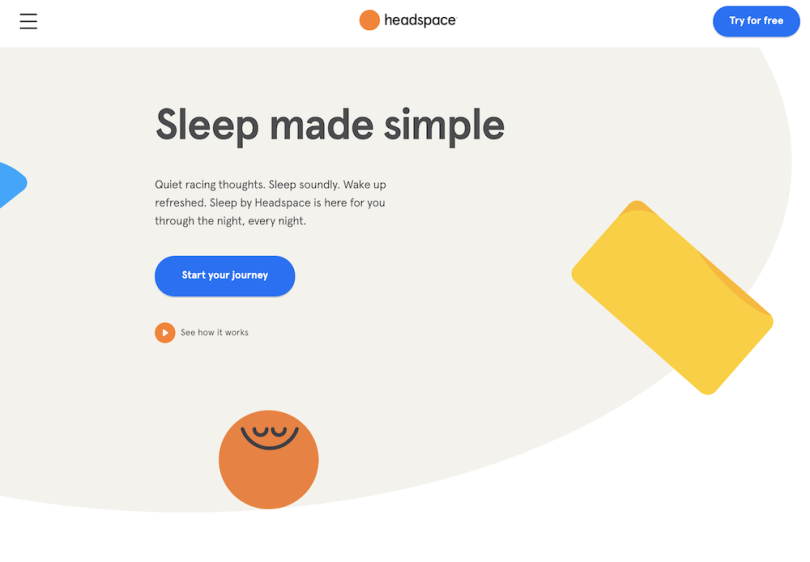 Headspace
Founded: 2010
Focus: Software
What they do: Headspace is one of the world's leading applications for practicing and incorporating meditation into everyday life, with a user base of over 20 million utilizing Headspace to date. The application features hundreds of guided meditations dedicated towards helping users overcome challenges like stress, anxiety, relationship issues and trouble sleeping, with meditation exercises ranging in length to allow users to welcome meditation into their life on their own schedule.
Images via Shutterstock, social media and Built In archive.