Tastier coffee, hurricane prediction and fighting the opioid crisis: 31 ways blockchain & AI make a powerful pair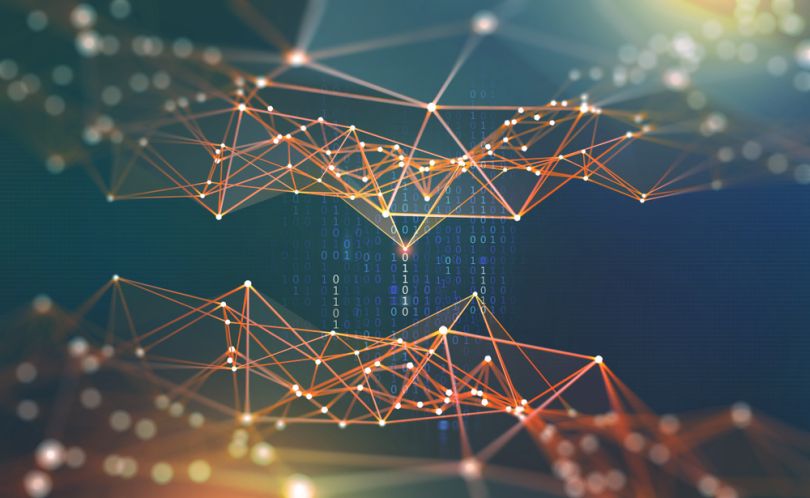 They used to be little more than buzzwords, but that's not the case anymore. Blockchain and artificial intelligence (AI) have evolved into leading technologies that power innovation across almost every industry.
Artificial intelligence refers to machines that are built to perform intelligent tasks that have traditionally been accomplished by humans. Blockchain is a decentralized network of computers that records and stores data to display a chronological series of events on a transparent and immutable ledger system.
AI and Blockchain
AI and blockchain are proving to be quite the powerful pair, improving almost every industry in which they are implemented. Blockchain and artificial intelligence are combining to upgrade everything from food supply chain logistics and healthcare record sharing to media royalties and financial security.
From blockchain's ability to track-and-trace food supply chains to the integration of AI in almost every facet of healthcare, each is tackling some of the world's biggest challenges.
Curious about blockchain and AI? Click here to take a deeper look at technologies that are shaping the future.
It turns out they actually work well in unison, too, building and organizing immense databases, strengthening cybersecurity protocols and performing tasks in a fraction of the time it takes humans.
Here are 31 companies that are combining blockchain and AI with great results.

Finalze
Location: Golden, Colo.
How it's using blockchain: Finalze is a software platform that uses blockchain and machine learning to build applications aimed at improving civil infrastructure. The company's tools automate and speed up construction industry workflow, management and verification processes, and its technology also integrates with wearables to meet safety regulations.
Industry Impact: Finalze aims to make crucial processes more efficient while maximizing ROI in an industry whose revenues are projected to hit $15.5 trillion by 2028.

Blackbox AI
Location: New York
How it's using blockchain: Blackbox AI develops artificial intelligence tools for emerging technologies. The company's engineers create customized information architecture that powers everything from machine learning and natural language processing to blockchain tools. Besides  developing infrastructure for blockchains, the company also offers consultation services that focus on how their products can maximize a blockchain's potential.       
Industry Impact: Hailing from some of the largest tech organizations in the world (including Apple, Intel, NVIDIA and MIT), Blackbox AI's engineers have devised AI-based tools for everything from virtual reality to natural language processing.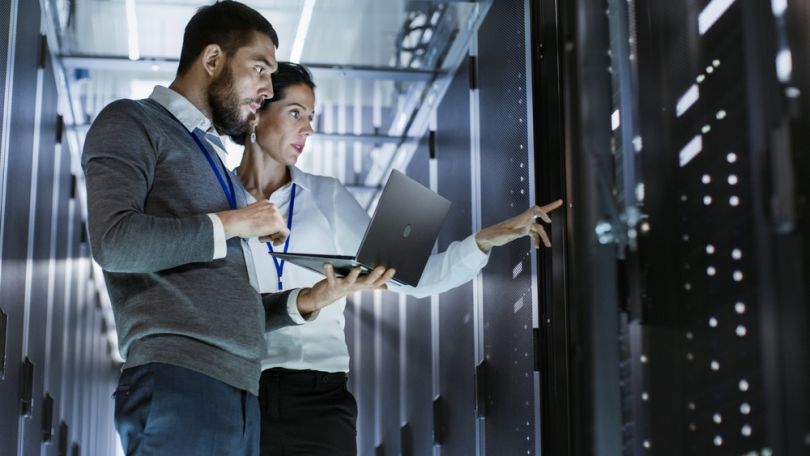 Core Scientific
Location: Bellevue, Wash.
How it's using blockchain: Core Scientific integrates personalized blockchain and AI infrastructure with current business networks, in the process upgrading a business's infrastructure, servers and software that perform everything from supply chain monitoring to real-time data reporting.  
Industry impact: At more than 273 acres, the Core Scientific campus contains two on-site substations and a dam that collects hydroelectric power. Because blockchain and AI take up massive amounts of computer processing and power, Core Scientific ensures that company controlled data centers and blockchain and AI infrastructures always run at optimal efficiency.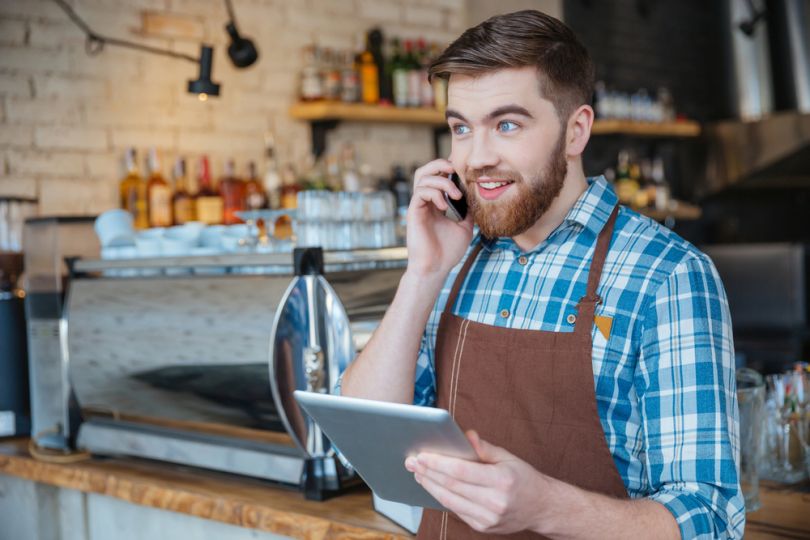 Bext360
Location: Denver
How it's using blockchain: Bext360 uses AI and blockchain to boost supply chain transparency and efficiency in the coffee, timber, seafood and mineral industries. The company's artificial intelligence analyzes crops and predicts growing patterns, while blockchain ensures the recording of a product's supply chain from seed to finished product.
Industry impact: Bext360 has applied mobile apps, bots and blockchain to the coffee supply chain to create a more transparent and ethical journey from bean to cup. The company's AI measures the quality of coffee beans and predicts weather and growing patterns, while the blockchain immutably records the farm where the beans originated and the exact specifications of a coffee shipment. It even acts as a payment ledger to ensure that all parties are paid quickly and fairly.

BurstIQ
Location: Denver
How it's using blockchain: BurstIQ created a "Health Wallet," which combines AI, blockchain and big data to holistically manage a patient's data. The Burst IQ wallet gives a patient's team of healthcare professionals access to his or her health records and wellness plans. The healthcare professionals can then choose to buy, sell or trade patient data for different scientific studies or to learn more about a specific disease. However, the blockchain lets patients keep private their personal identifying information while sharing only big-picture health data.
Industry impact: BurstIQ is using its technology to combat the opioid crisis. By logging a patient's drug use history, BurstIQ can suggest different treatments, physicians or services that can help reduce opioid dependence.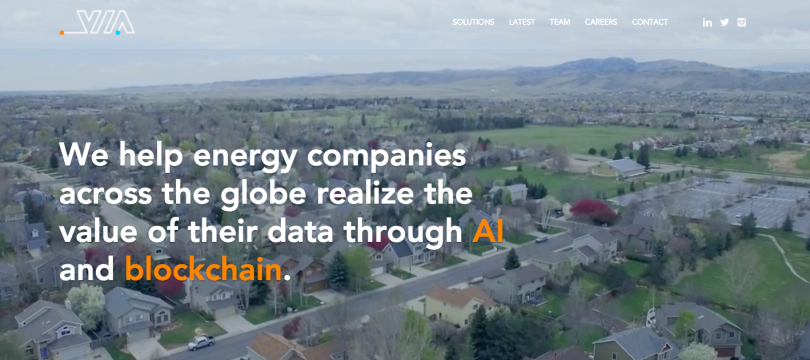 VIA
Location: Somerville, Mass.
How it's using blockchain: VIA combines blockchain and AI to help some of the world's largest energy companies conceptualize and more effectively use data. Its Trusted Analytics Chain (TAC) secures an energy company's data, anonymously culls it from multiple locations and companies and uses smart contracts to give businesses better overall insights into the energy industry.   
Industry Impact: Along with just 14 other companies, VIA was recently accepted into Plug and Play's Energy and Sustainability accelerator program.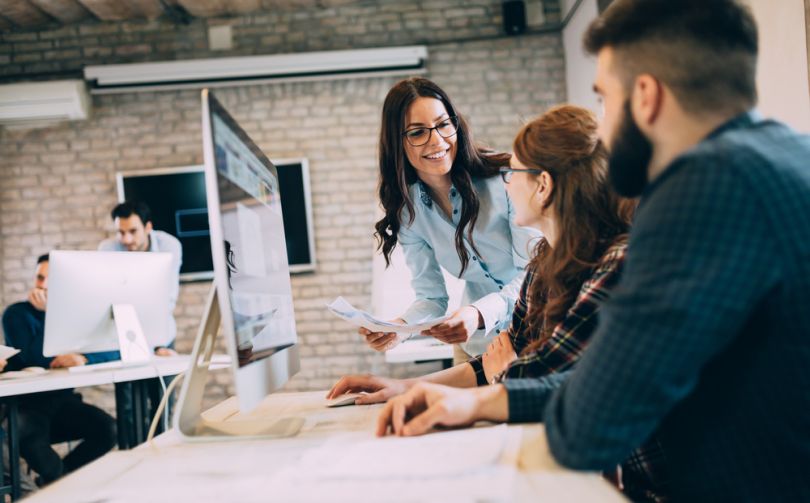 CoinGenius
Location: Rancho Santa Margarita, Calif.
How it's using blockchain: CoinGenius is an AI-driven cryptocurrency trading platform that gives crypto traders AI-based scoring systems, high-quality data feeds and advanced forecasting so they can personalize news and trading features to maximize their efforts.
Industry Impact: CoinGenius' full array of tools, scheduled to be fully developed sometime in the first half of 2019, will feature news, activities and trading information from reputable crypto sources like Hackernoon, Medium and Coindesk.

AlphaNetworks
Location: Cheyenne, Wyo.
How it's using blockchain: AlphaNetworks is a blockchain-powered entertainment platform that uses AI to enhance audience analytics and viewership algorithms. The combination of AI and blockchain powers the company's "Proof-of-Engagement" (POE) tools that automatically trigger payments to content providers based on views and engagement times.   
Industry Impact: AlphaNetworks is led by two-time Emmy winner Seth Shapiro, who formerly piloted NFL Sunday Ticket and TiVo. The company recently announced a $10 million funding round.  

NetObjex
Location: Irvine, Calif.
How it's using blockchain: NetObjex is a smart city infrastructure platform that uses AI, blockchain and IoT to power everything from connected devices to cloud-based products. The combination of these technologies reportedly improves logistics tracking, real-time failure detection and data and device authentication.
Industry Impact: The Brooklyn Library has used NetObjex's data collection technology to grow its customer base and boost positive engagement. In order to use the library's free phone charging station, patrons must first watch a 15-30 second video clip on a blockchain-enabled IoT device that records subsequent survey answers.

Figure
Location: San Francisco
How it's using blockchain: Figure uses blockchain and artificial intelligence to streamline the home loan process by finding new access points for consumer credit products, including home equity lines of credit, home improvement loans and even home buy-lease offerings for retirement. The company claims that money is available only a few hours after customers fill out a loan application.  
Industry Impact: Established by former SoFi founder Mike Cagney, Figure has raised more than $115 million since its inception in early 2018.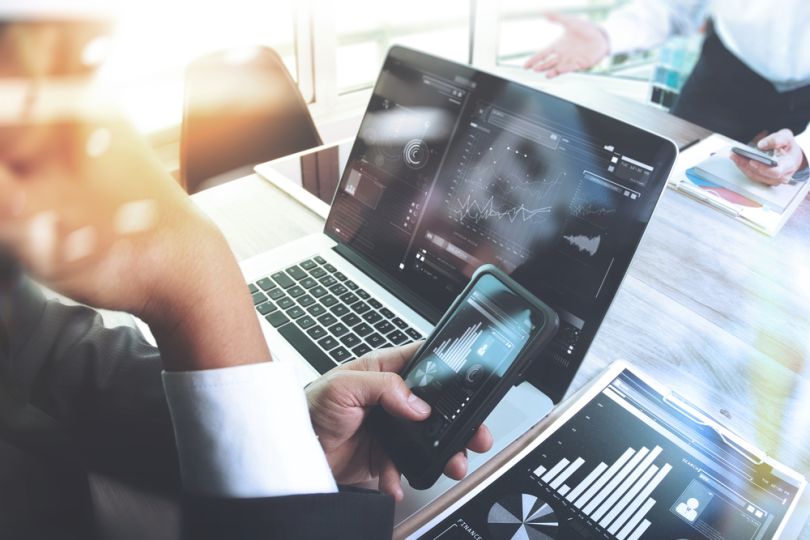 Wealthblock.AI
Location: Chicago
How it's using blockchain: Wealthblock.AI is a SaaS platform for businesses raising capital that handles automated marketing and messaging. A blockchain powers the company's investor referral and suitability checking process so companies can rest assured they're working with only high quality partners. Additionally, Wealthblock's AI automates content and keeps investors continuously engaged.      
Industry Impact: WealthBlock.AI recently announced a partnership with payments platform Dwolla by which investors can use ACH to send payments for like real estate, venture capital and hedge funds.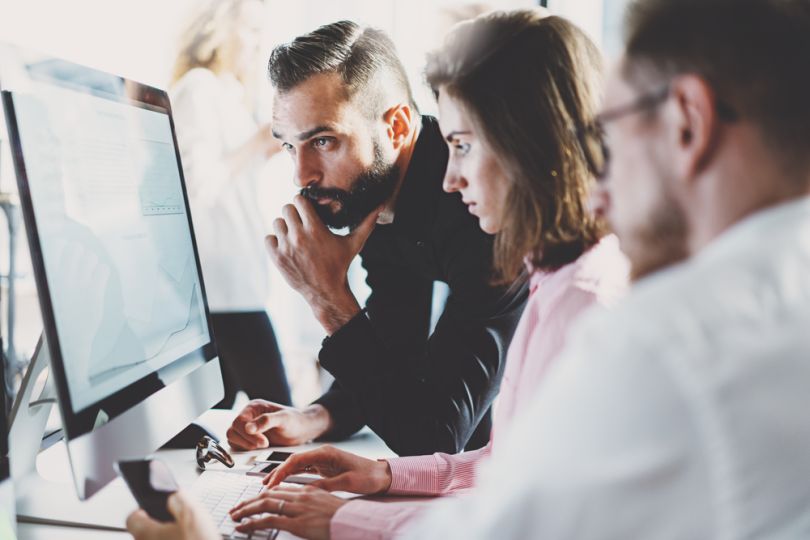 Cyware Labs
Location: New York
How it's using blockchain: Cyware Labs incorporates AI and blockchain-based tools into its cybersecurity and threat intelligence solutions. The Cyware Situational Awareness Platform (CSAP), for example, uses those tools to power a mobile threat intelligence, secured messaging and suspicious incident reporting platform. Consequently, users are provided with an in-depth look at their real-time mobile cybersecurity protocols.     
Industry Impact: The Global Resilience Federation (GRF) and Cyware Labs partnered to create a role-based secure communication and information sharing tool that GRF is now adopting for its analysts in the utilities and legal sectors.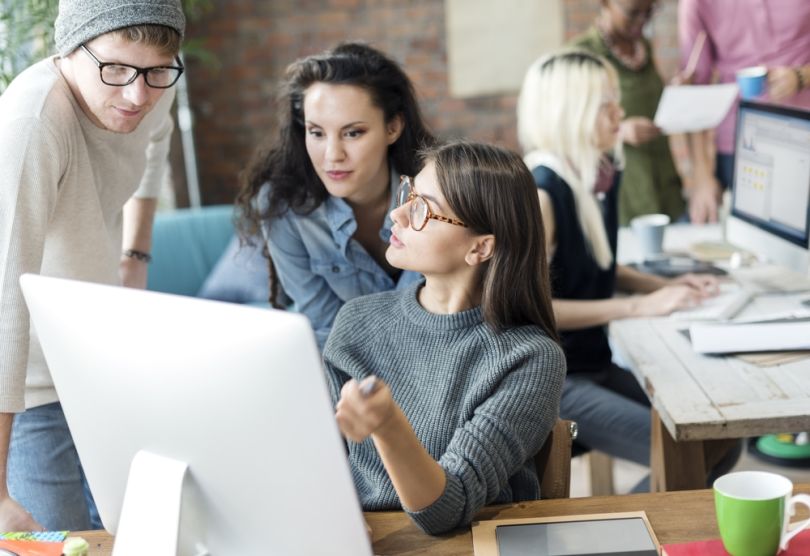 Chainhaus
Location: New York
How it's using blockchain: Chainhaus is a blockchain and AI advisory, education and marketing firm. The company provides a variety of end-to-end solutions for everything from teaching and app development to research and capital raising.
Industry Impact: The Chainhaus Academy has schooled students from global organizations like Citi, AIG, PWC and Deloitee.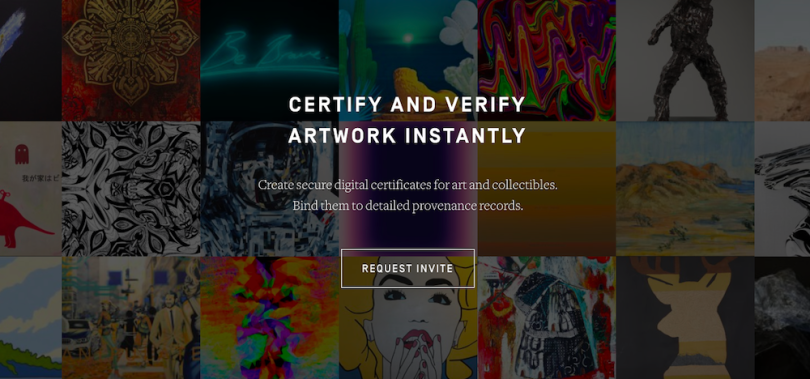 Verisart
Location: Based in London, but with an office in Los Angeles
How it's using blockchain: Verisart uses artificial intelligence and blockchain to certify and verify works of art in real-time. The company's blockchain allows artists to create tamper-proof certificates of work that ensure credit and immutability. The blockchain-backed certificates feature encryption and time-stamping that instantly stop fraudulent copies from being sold as originals.
Industry Impact: While older pieces of art and collectibles will still need to be verified by experts, Verisart's blockchain can immutably document the origin of every new work.

Boxspring Media
Location: Danville, Calif.
How it's using blockchain: Marketed as an Amazon Prime meets a Netflix for business, Boxspring Media creates original content for evolving careers that's interactive, on-demand and designed to be consumed at work. Each Boxspring Media channel focuses on a specific subject (like communication, emerging technologies, etc.) to provide employees with relevant and easily consumable content.    
Industry Impact: Boxspring features content on artificial intelligence and blockchain in the workplace.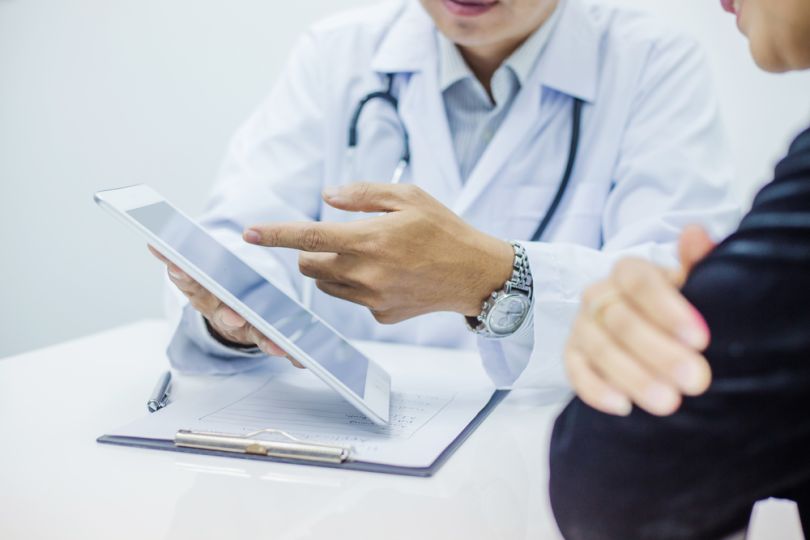 Vytalyx
Location: Austin, Texas
How it's using blockchain: Vytalyx is a healthtech company using AI to give healthcare professionals blockchain-based access to medical intelligence and insights. By storing medical information on a blockchain, a patient's medical staff can use AI to personalize treatments and nutrition plans, increase patient/doctor communication and even search for clinically relevant medical studies almost instantly.       
Industry Impact: Vytalyx is developing individualized AI-powered blockchains for a variety of medical modules, including hormone replacement therapy, cardiology, kidney disease and neurology.

WorkDone
Location: West Hollywood, Calif.
How it's using blockchain: WorkDone automates business processes between SaaS platforms. The company's "Work Heuristics Management" uses smart contracts and machine learning to capture customer-specific, work-related characteristics from all SaaS platforms in a businesses' ecosystem in order to reduce the time people spend on repetitive tasks like customer retention and analysis processes.        
Industry Impact: WorkDone's browser plugin studies a businesses' repetitive tasks and then trains itself to perform those tasks (so far they include invoice processing and customer support-related work). As a result, humans are freed up to do higher-level tasks that require critical thinking.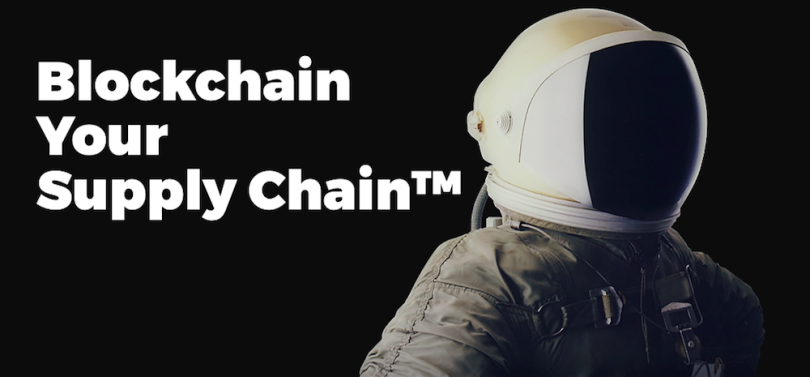 Stowk
Location: Berkeley, Calif.
How it's using blockchain: Stowk's blockchain-based platform, which features AI tools for almost every part of a businesses' operations, streamlines everything from data access and IT governance to procurement.
Industry Impact: Stowk is attempting to take on the automotive industry by creating a blockchain-backed infrastructure for vehicle shipping that provides clearer insights into the logistics process.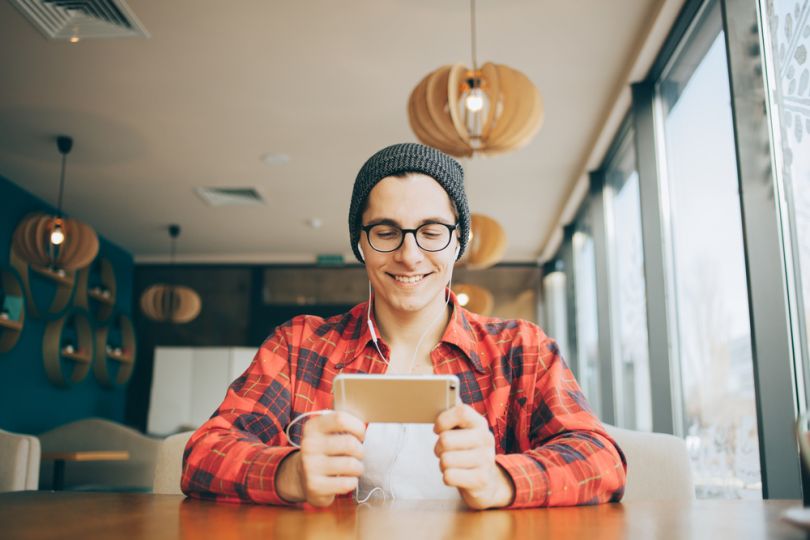 Mobs
Location: San Francisco
How it's using blockchain: Mobs is a blockchain-based video marketplace for the selling and buying of smartphone videos. Once a user puts his or her video up for sale, potential buyers — say, marketers that need compelling footage — can scroll through the app and find what they need. Mob's blockchain then creates a smart contract that directly allocates money to the content creator based on engagement rates and views.            
Industry Impact: New Balance has used amateur footage of marathon races from Mob's video collection for its marketing campaigns.

Hannah Systems
Location: San Francisco
How it's using blockchain: Hannah Systems is bringing AI and blockchain to autonomous vehicles. The company's portfolio includes an AI-powered data exchange platform, real-time mapping tool, an insights dashboard and blockchain so an autonomous vehicle can quickly absorb, interpret and safely store data.           
Industry Impact: Hannah System's proprietary deep learning predicts road information based on human behavior such as jaywalking and speeding. It also takes into account up-to-date weather and traffic congestion notifications.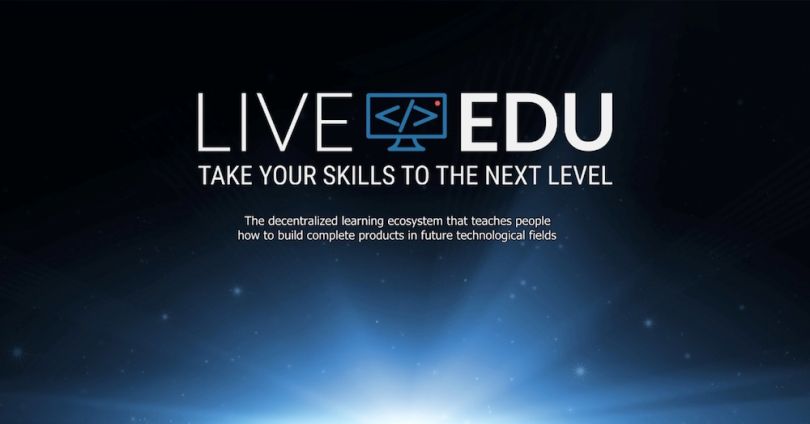 LiveEdu
Location: Santa Monica, Calif.
How it's using blockchain: LiveEdu is an online learning platform, where content creators teach students how to build real products. The platform offers classes on everything from AI creation to instructions on how to develop cryptocurrencies. The platform practices what it preaches because LiveEdu uses blockchain-backed smart contracts in their payment systems to content creators.
Industry impact: The LiveEdu platform has more than 270,000 educational videos on how to create everything from video games and augmented reality tools to data science databases and artificially intelligent robots.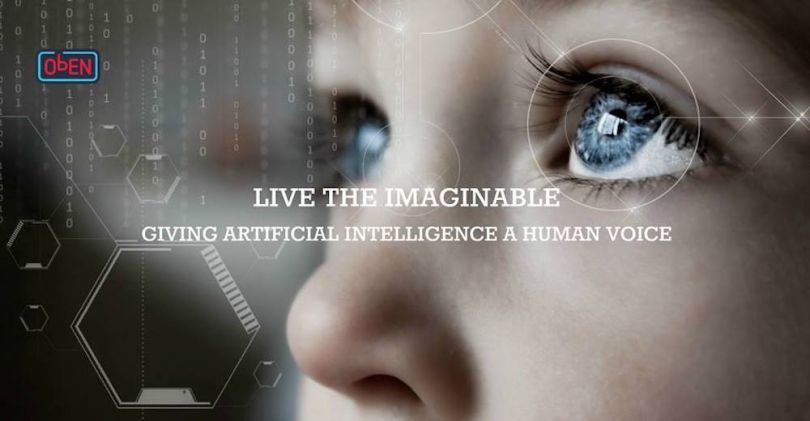 ObEN
Location: Pasadena, Calif.
How it's using blockchain: ObEN is a blockchain and AI company that combines the two technologies to create a platform for intelligent AR and VR avatars. Celebrities, professors and any other users can create their own virtual avatars that can then interact with each other on the ObEN platform. The combination of AI, blockchain and VR helps to create more personal and social experiences in a virtual world.
Industry impact: ObEN and South Korean talent agency, SM Entertainment, are teaming up to form the world's first celebrity AI agency. The companies envision using AI for "AI-tainment," whereby virtual celebrities could act as a personal assistant or perform a consumer's favorite songs.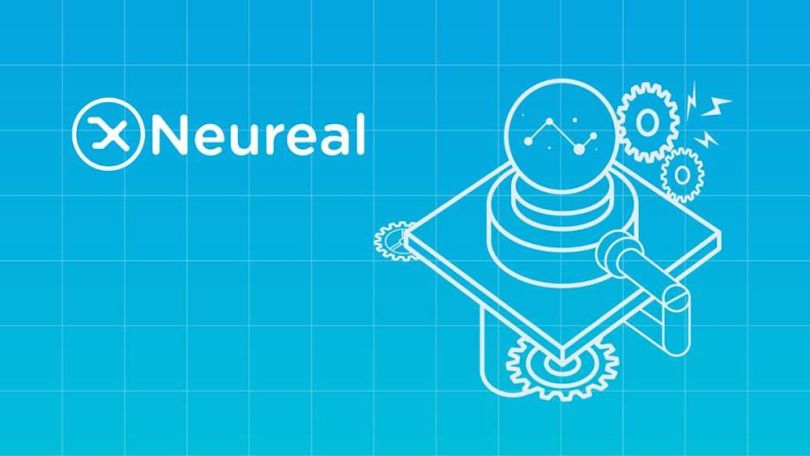 Neureal
Location: Salt Lake City
How it's using blockchain: Neureal is a prediction engine that combines AI, blockchain and cloud technologies to predict everything from the stock market to Google searches. The company's AI scans past predictions to predict future occurrences. Additionally, its blockchain ledger logs every outcome so the computer networks can pinpoint trends in correct predictions.  
Industry impact: Neureal is working on its AI/blockchain combination for a variety of sectors. Most recently, the company said it was working on an AI-based method for predicting the exact path of hurricanes.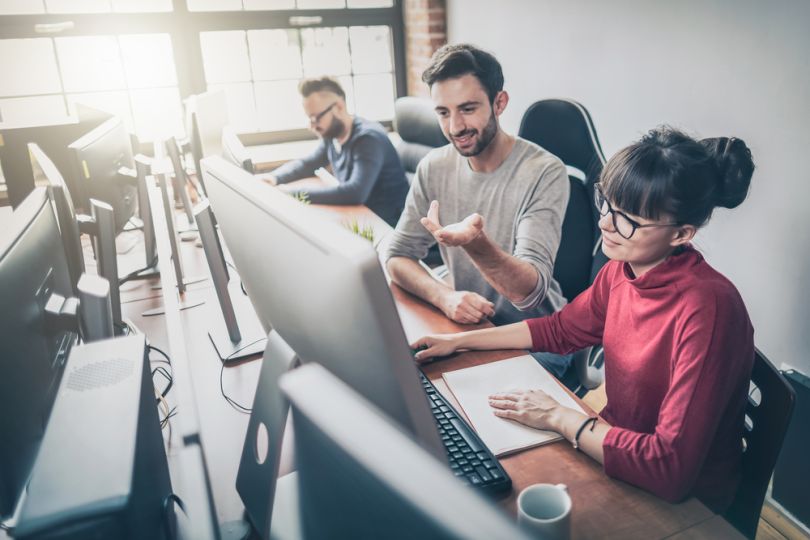 NUMERAI
Location: San Francisco
How it's using blockchain: NUMERAI is a decentralized hedge fund at which hundreds of data scientists from all over the world are constantly working on AI and blockchain problems. Featuring a weekly data science competition that runs Ethereum and machine learning, NUMERAI gives scientists raw data on machine learning problems, the scientists create models based on the data. The scientists with the best models are rewarded with their own Numeraire (NMR) crypto. 
Industry impact: Every time a data scientist proposes a model to NUMERAI, they must stake a certain portion of their NMR token. If a scientist's proposed model is chosen, that scientist will double or even triple his or her bet. So far, scientists have earned more than $7 million in NMR tokens.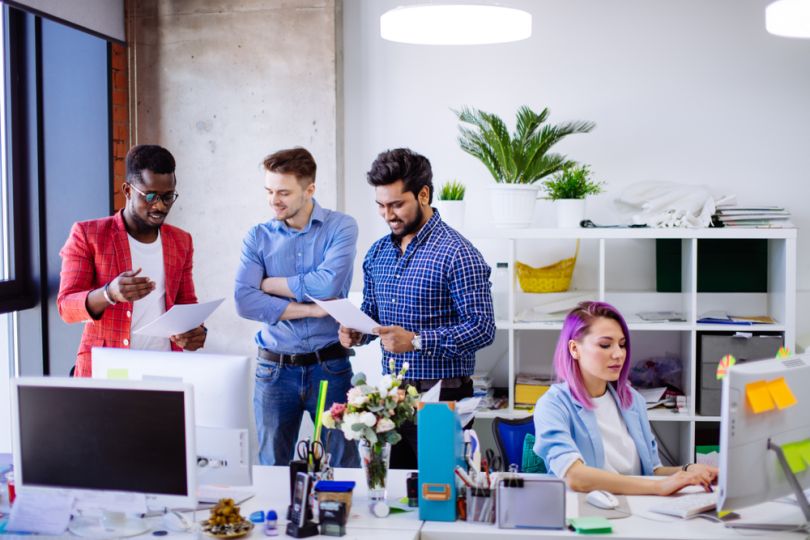 Computable
Location: San Francisco
How it's using blockchain: Computable Labs develops blockchain-based tools that build decentralized data marketplaces for AI applications. By building decentralized AI marketplaces, the company facilitates access to a wider group of data and algorithms that can be viewed, bought and sold by the Computable community.
Industry impact: Computable is in the process of developing specific marketplaces for the healthcare, civics and business industries to collect and share data — with the permissioned members in a community — that will increase efficiency.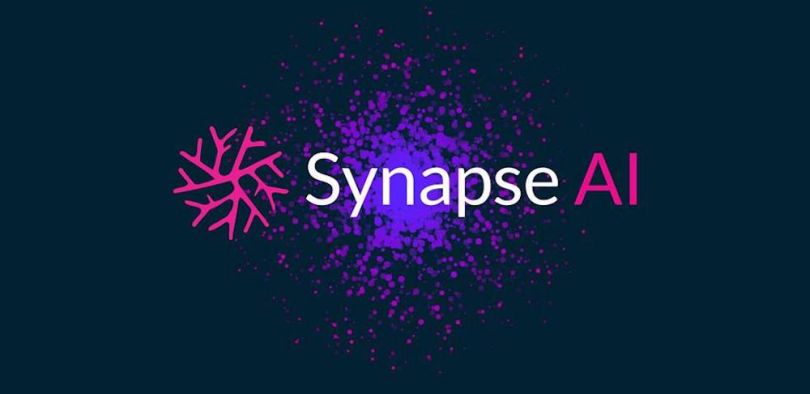 Synapse AI
Location: San Francisco
How it's using blockchain: The Synapse AI network rewards members with cryptocurrency (SYN Tokens) for sharing personal data. By sharing data in the Synapse marketplace, users can trade in their Synapse Tokens (SYN) for Bitcoin, Ethereum or USD.
Synapse AI's reward-based data sharing marketplace encourages users to share their data, which in turn enables data purchasers in the advertising, education, entertainment and pharmaceutical industries to access a larger data pool.
Industry impact: Synapse AI is currently in its ICO stage, distributing 110 million SYN Tokens to early investors, developers and companies that buy into its decentralized marketplace.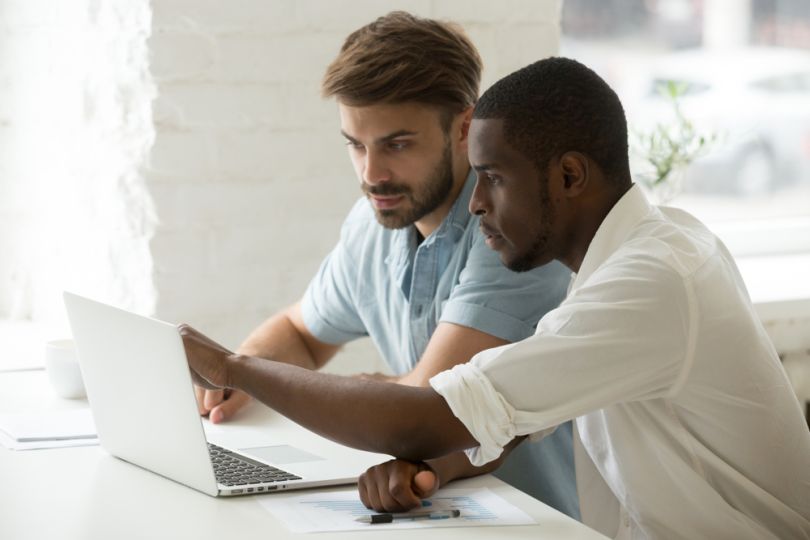 Dopamine
Location: New York
How it's using blockchain: Dopamine is a decentralized platform for AI and data providers to monetize their intellectual property. Data providers share their discoveries, databases and AI and blockchain solutions with the Dopamine community and are rewarded based on whether their contributions are successful in solving problems. The company's blockchain keeps a ledger on each data provider to quantify community reputation and to log rewards.
Industry impact: Dopamine is teaming up with LangNet to tap even further into its databases. LangNet, an AI company focused language data, will use Dopamine's platform to expand its AI's knowledge of language, voice and speech models.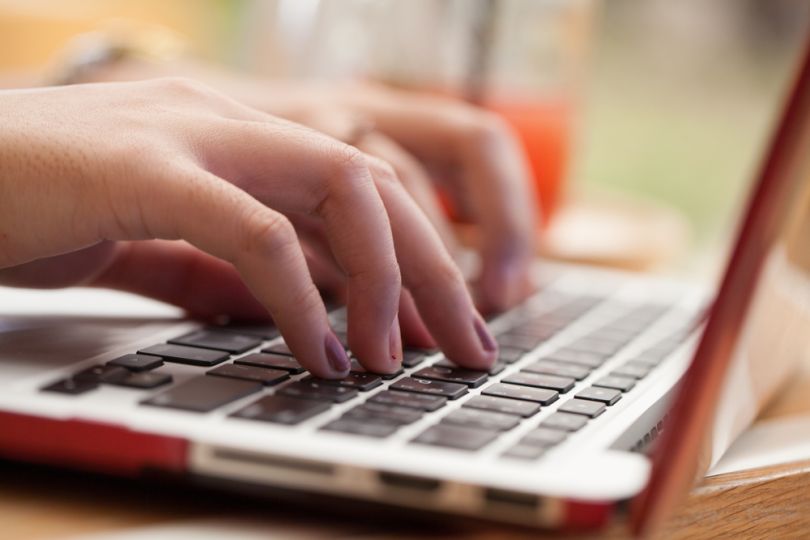 BotChain
Location: Boston
How it's using blockchain: BotChain enables universal registration, audit, evaluation and coordination of AI agents for software. AI-enabled bots, verified on the BotChain ecosystem, are certified to log all data on a blockchain and can even earn "BotCoin" by running applications across the distributed network.
Industry impact: BotChain is working with AI companies in the healthcare industry to bring its blockchain record-keeping technology to bots to enhance security and organization.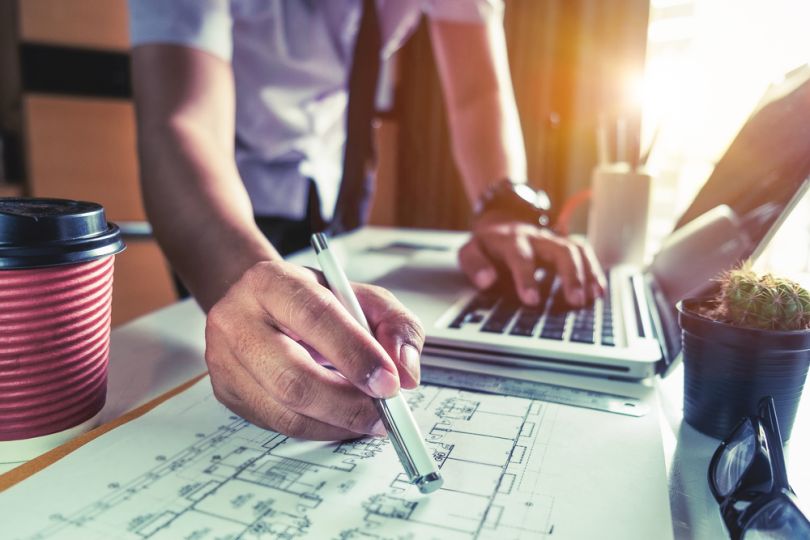 AI BlockChain
Location: Hoboken, N.J.
How it's using blockchain: AI BlockChain is a digital ledger that employs intelligent digital agents to govern the chain. The company's blockchain acts as a cybersecurity tool- and digital ledger- for the real estate, media, healthcare and financial industries. The company then employs AI to control the process of building and maintaining the blockchains.
Industry impact: Besides cybersecurity, AI BlockChain is working on ways to use its ledger as a platform for smart contracts, due diligence and loyalty reward tokens.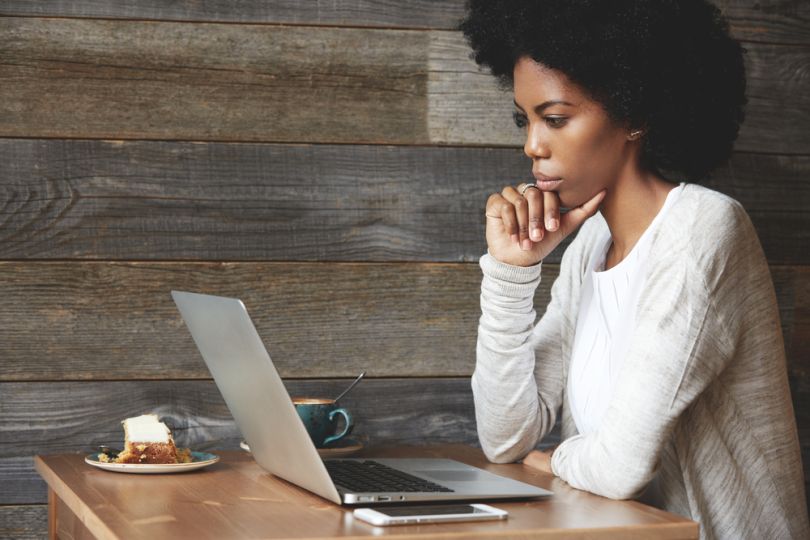 Blackbird.AI
Location: San Francisco
How it's using blockchain: Blackbird.AI uses its blockchain and artificial intelligence to rate the credibility of news content. In combating "fake news," the company deploys AI to classify and file content based on credibility indicators that identify misinformation, hate speech and satire.
The Blackbird.AI blockchain acts as a ledger that irrefutably stores the verified content created by AI and crowdsourced reports.
Industry impact: In the aftermath of the 2016 presidential election, Blackbird.AI has constantly scanned a myriad of news outlets for fake articles, references, websites, social media pages and even memes to ensure that content is truthful and credible.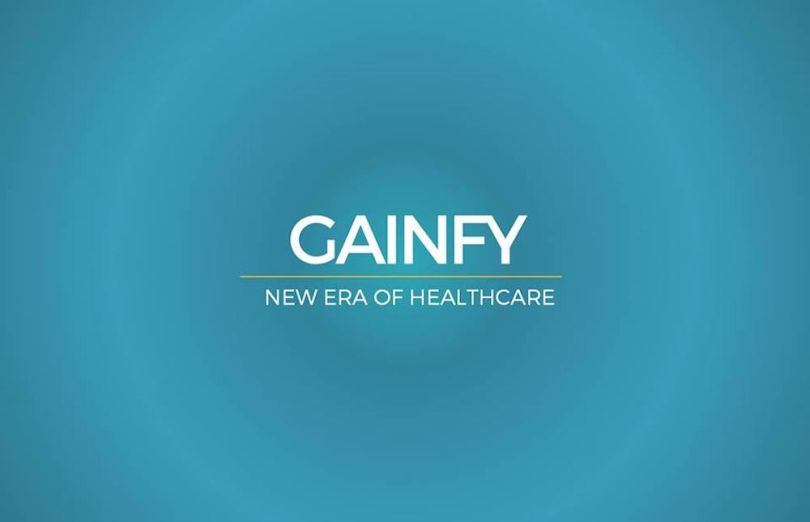 Gainfy
Location: New York
How it's using blockchain: Gainfy is a healthcare platform that employs blockchain, AI and IoT devices to improve the industry experience. There are many ways the company implements these technologies in the healthcare industry, including a digital urgent care platform, an identity verification system, a data encryption tool, a crypto payment system and a database for clinical trials.  
Industry impact: As part of its current ICO, which will help to expand Gainfy's services in the healthcare industry, investors will receive tokens.
Images via Shutterstock, social media and screenshots of company web pages.