Everything You Need to Write an Art Director Job Description
Updated:
February 19, 2021
Updated:
February 19, 2021
A common misconception is that an Art Director is the same thing as a Creative Director. We want to start by debunking that belief and differentiating the two roles to help you craft a more accurate Art Director job description based on your company and what you are looking for in a candidate. 
Now that we've made that distinction, let's dive a bit deeper into what specifically an Art Director does in their role. After that we'll take a look at five real Art Director job descriptions and end with a template and salary information for you to craft your own custom Art Director job description.
FREE RESOURCE: JOB DESCRIPTION TEMPLATE LIBRARY. ACCESS IT HERE.
Table of Contents
What Does An Art Director Do?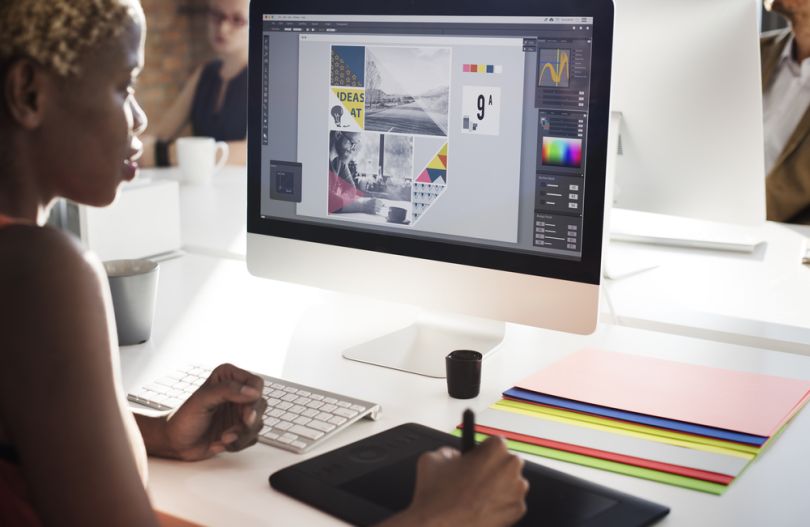 Art Directors are responsible for integrating design with strategy. They are typically a member of either the Creative or Marketing Team and collaborate with the Communications Team, Software Developers, Project Managers and anyone else involved in the execution of a design project.
Design projects may include graphic design, logo design, email campaigns, website design, user interfaces, mobile apps, videography, advertisements, social media content, typography, print production, image selection and written content.
Art directors may have a degree in art, such as graphic design, photography, literature, visual communication, digital media or even marketing. However, at this point in their career, a robust portfolio and experience designing in a specific industry is much more important and useful to an employer than a degree.
In order to be successful as an Art Director, they typically need to have several years experience with digital design programs such as:
It may also be beneficial to have a basic knowledge of certain coding languages such as:
As they progress in their careers, an Art Director may advance to a Senior Art Director, Associate Creative Director or Executive Creative Director role.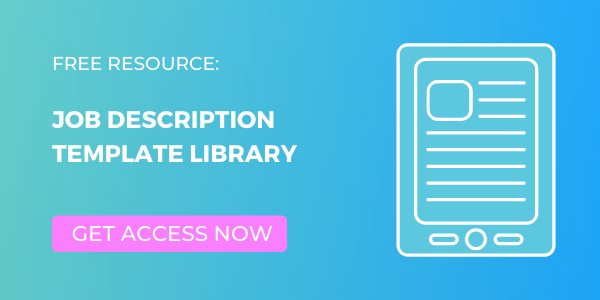 Five Art Director Job Description Examples
Ready for part two? Now we're going to check out five real examples of Art Director job descriptions. This should provide you with a range of common requirements and responsibilities found in Art Director job descriptions. You'll notice that we've redacted some information to protect the privacy of the companies that originally posted them.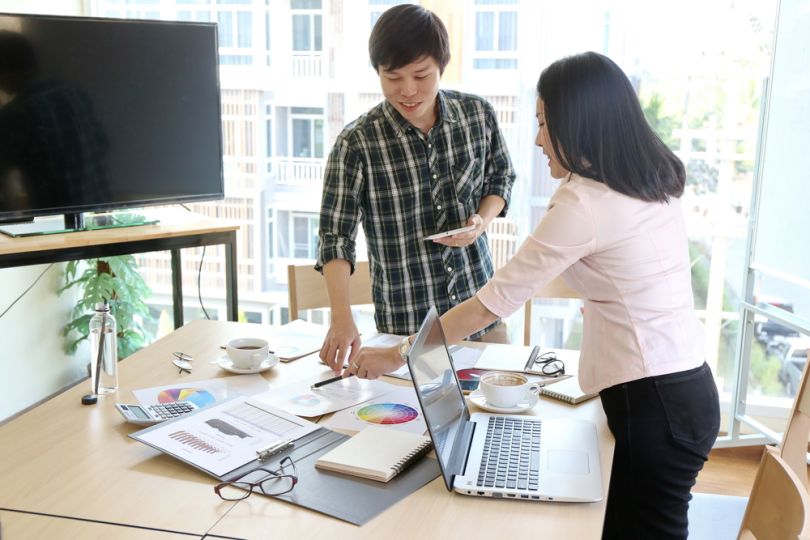 Art Director Job Description: Example 1
The Art Director is a creative, conceptual thinker who collaborates with the rest of the creative team to ensure that the design, writing and technology we develop are greater than the sum of their parts and achieve the client's communication objectives. This person is an active participant and strong presenter in project critiques. The role often acts as a facilitator for group reviews. With a strong attention to detail and passion for design, an Art Director is a systems-level thinker and problem solver excited by the opportunity to push the boundaries of constraints.
The Opportunity
Leads the creative development and execution of individual projects — both interactive and print design — in close collaboration with Writers and Production Designers under the guidance of the Creative Director

Works collaboratively with interactive developers and motion media team in the creation of interactive projects like email campaigns, websites, user interfaces, mobile apps, and videos

Works closely with the project team to ensure that the creative work will achieve the client's strategic and communication objectives

Establishes brand-appropriate creative approaches

Communicates proactively with the project team to keep deliverables on track

Participates in client meetings, creative discussions, strategy discussions, and development of presentations

Clearly articulates design decisions that are backed up with strategic supporting evidence, insight, and rationale

Communicates with various vendors to coordinate the execution of print and digital deliverables

Supports new business pursuits — supporting and participating in creative concepting, asset development, and presentation decks

Plays a critical role in advancing [redacted] success as a creative and strategic partner to the clients we serve
The Skill Set
College or university degree in visual communication/graphic design

Minimum of 5–6 years of experience as a graphic designer and/or art director (agency experience preferred; marketing background a plus)

Online portfolio with a heavy emphasis on interactive work—responsive web design samples, interface design and campaign-focused projects

Experience making user experience decisions is a plus

[redacted] examples in portfolio a plus, but not required

Strong presentation skills to both internal and external clients

Strong oral and written communication skills required

HTML/CSS/javascript coding experience is a plus, but not required

Expert-level proficiency with Adobe Creative Cloud and Microsoft Office Suite

Proficiency with UI tools like Sketch and Invision for both low- and high-fidelity design comps and prototypes

Proficiency with Mac and PC platforms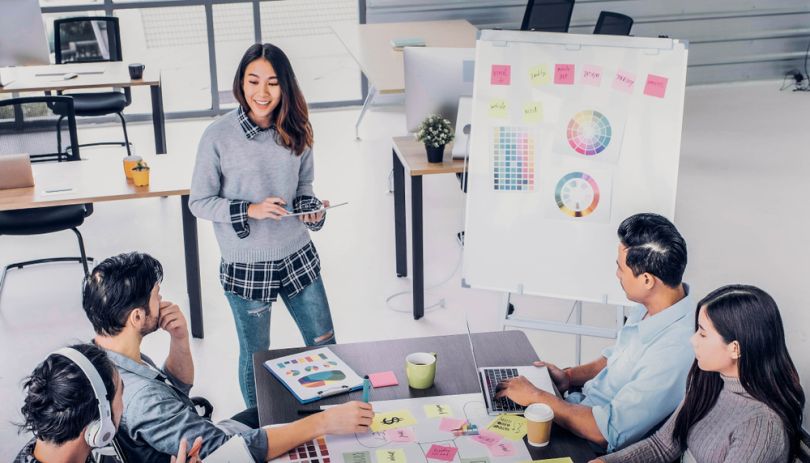 Art Director Job Description: Example 2
As our Art Director at [redacted], you'll form the cornerstone of content. You'll join a dynamic team of innovative UI and UX designers and developers working to bring our user experience to the next level. The Art Director will liaise directly with our Marketing & Communications teams to create the most compelling and creative video, ad, and social content. Most importantly, you'll be responsible for defining how the world views [redacted], evangelizing and educating users about the innovative industry [redacted].
Responsibilities:
Evolve, explore and apply our visual identity; become fully immersed in the [redacted] brand and mission

Partner closely with Marketing to build a compelling, strategic, and effective content roadmap

Work on multiple digital projects simultaneously in a fast-paced, ever-changing environment.

Generate clear ideas, concepts and designs of creative assets from beginning to end

Execute and produce a mix of graphic, motion, and photographic content

Collaborate with a cross-functional team that includes marketing, engineers, and product managers in order to create compelling content for the user

Support multiple business lines with creation of digital assets

Work with the Creative and Marketing Director to formulate, communicate and transform a complex system into a simplistic message
Minimum Qualifications:
7-12 years

experience in visual design

Portfolio that shows an eye for detail, understanding of typography, and aesthetic filled with integrated, cross platform campaigns

Strong organizational, communication and conceptual thinking skills, as well as attention to detail

Team player and self-starter with a passion for design and finding smart solutions to complex problems

Is an experienced multitasker and is not intimidated by the thought of juggling multiple projects and tasks at once

Craft stories and build brands through campaign level thinking and execution

Can translate strategy into design across print, web, mobile and video
Preferred Qualifications:
1-2 years acting as Art Director or senior visual designer at a digital agency or in-house

Ability to synthesize complex, interdependent, and sometimes competing needs

Expert level skills in Adobe creative suite (Photoshop, Illustrator, After Effects), the Google suite of apps, and a working knowledge of Sketch/Figma as well as emerging interactive design trends

Experience in design targeting users within the [redacted] industries specifically

Is a creative thinker who embraces challenges and new methods of thinking beyond the tasks at hand with a holistic and methodical approach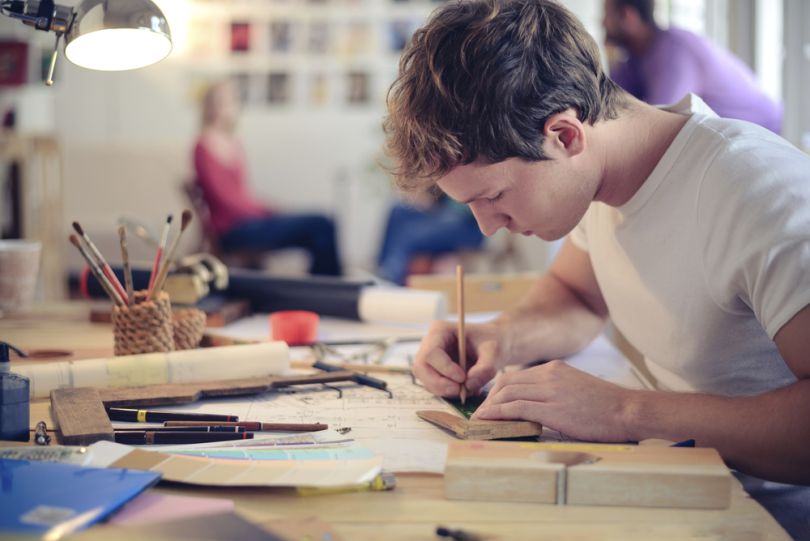 Art Director Job Description: Example 3
We are looking for a creative Art director who will partner with a world-class design team to devise sketches, storyboards and art layouts based on creative visions and ideas.
Here is what you'll do:
Generate clear ideas and concepts in tandem with the copywriter

Produce sketches, storyboards, roughs to visualize ideas

Understand marketing initiatives, strategic positioning and target audience

Cooperate with the rest of the creative team across different types of media

Take work from concept to final execution within deadlines

Manage and delegate responsibilities to other designers and provide directions

Present completed ideas to clients/team members

Stay on top of all trends and maintain best practices
Here is what we are looking for:
Proven working experience as Art Director

Hands on experience with logo design, typography, color, web layout design, print production, image selection and package design

Proficient use of InDesign, Photoshop, Illustrator or other visual design and wire-framing tools

Demonstrable graphic design skills with a strong portfolio

Incorporate feedback and take/give direction well

Team player with strong communication and presentation skills

Relevant education or training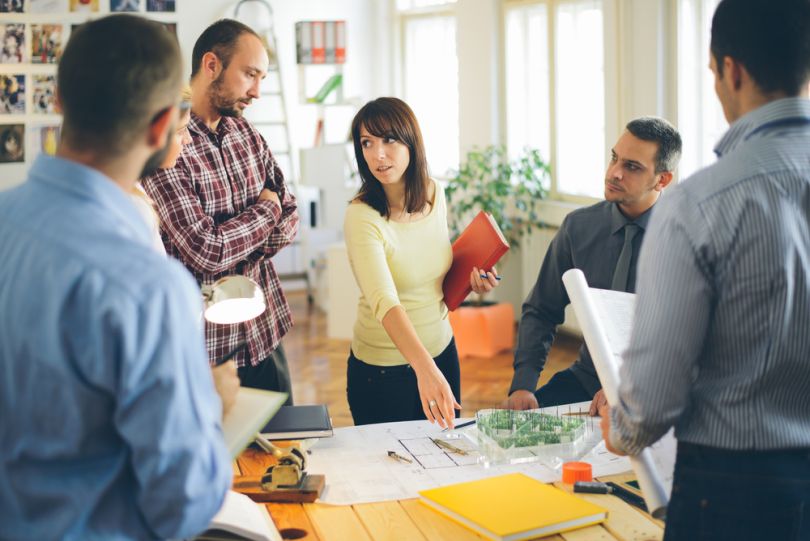 Art Director Job Description: Example 4
We are looking for an experienced Senior Art Director to join [redacted]'s marketing team reporting to the VP of Creative. The ideal candidate will have creative agency or equivalent in-house experience. We're looking for a Senior Art Director who takes just as much pride in writing headlines and scripts as comping and designing layouts. They will be a strategic thinker with a passion for turning consumer insights into unexpected product and brand campaigns. In return, they will have the rare opportunity to help shape and grow a global brand and make it a part of culture.
What You'll Do:
As a Senior Art Director at [redacted], you will:
Bring your visual expertise to concept and develop strong creative campaigns for TV, YouTube, OOH, social and digital, as well as thinking up big ideas that transcend traditional marketing and get people inspired and excited to be part of [redacted]

Drive and own development of ideas based in consumer insights, and deliver meaningful business results

Collaborate with cross-functional teams to define the communications strategy (insights + key messaging)

Be a hands-on design expert and crafter, shaping the work for quality and effectiveness, and owning the look and feel of every piece of creative

Actively seek opportunities to build the brand and business beyond the current brief
About You:
Must have an online portfolio of work that showcases big ideas and smart creative ads that drive results

6+ years experience working in an agency or in-house agency as an art director

Proficient in Adobe (Photoshop, InDesign, Illustrator) but has a love of copy and storytelling

A keen understanding of the needs, motivations and aspirations of your audiences, so that you can speak to them in the most effective, compelling, engaging way possible

Thrives in a fast-paced entrepreneurial environment

Energy, a sense of humor, and an open & curious mind (yes, these things really do matter)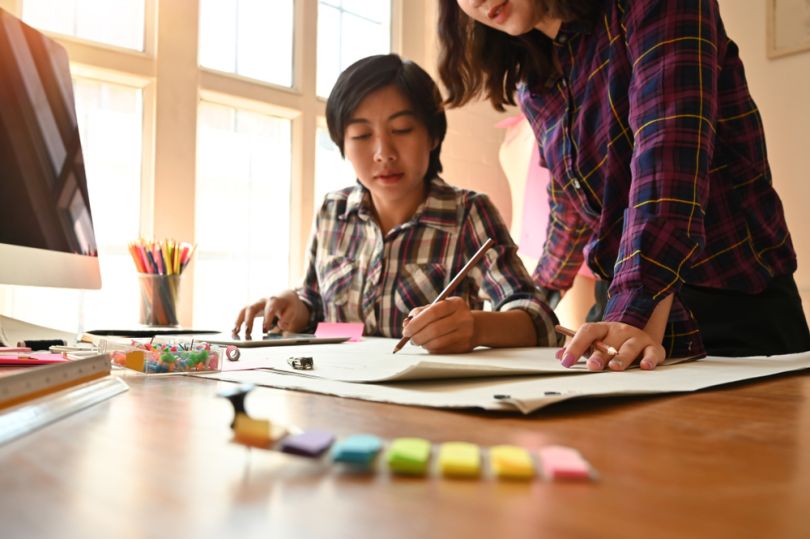 Art Director Job Description: Example 5
We're looking for a Senior Digital Art Director obsessed with ideas, technology and design. Someone who can work seamlessly as part of a team, has a meticulous eye, plus strong communication skills. You'll be working on a variety of projects ranging from digital menu design, POP, and innovation initiatives. Responsibilities include developing original concepts and executing designs based on established style guides/principles.
Responsibilities
Interpret briefs in-order to create designs that are strategically driven and compelling — not just "pretty"

Think conceptually and strategically to discover the best way to problem-solve for design and technical challenges

Collaborate with and inspire co-workers to produce innovative, strategically relevant, and high-quality work for clients

Help drive the creative process from original concepts to final implementation

Self-starter/self-motivated able to handle the day-to-day interactions with existing projects with minimal supervision needed

Ability to create design solutions for multiple deadline–driven assignments and manage time efficiently

Present creative concepts to clients both in-person and over the phone

Be a constant learner, with a passion for making things better by actively keeping ahead of the curve and exploring of digital tools, trends/best practices, and styles as well as advertising and design styles

Experiment with new tools and techniques to improve our work
Desired Skills & Experience
Strong grasp of design around typography, color, photography, layout design, hierarchy, and user experience (motion graphics is a plus)

Strong attention to detail in design and project management

Superb information design abilities, fastidious and efficient production and optimization habits, and impeccable problem solving skills

Excellent communication skills (written, verbal, and presentation) with a positive, helpful, and team-focused attitude

An expert proficiency in Sketch, Adobe Creative Suite (Photoshop, InDesign, Illustrator, After Effects is a bonus), and Abstract

Strong portfolio with examples of recent digital projects demonstrating creative thinking and flawless execution
Art Director Job Description Template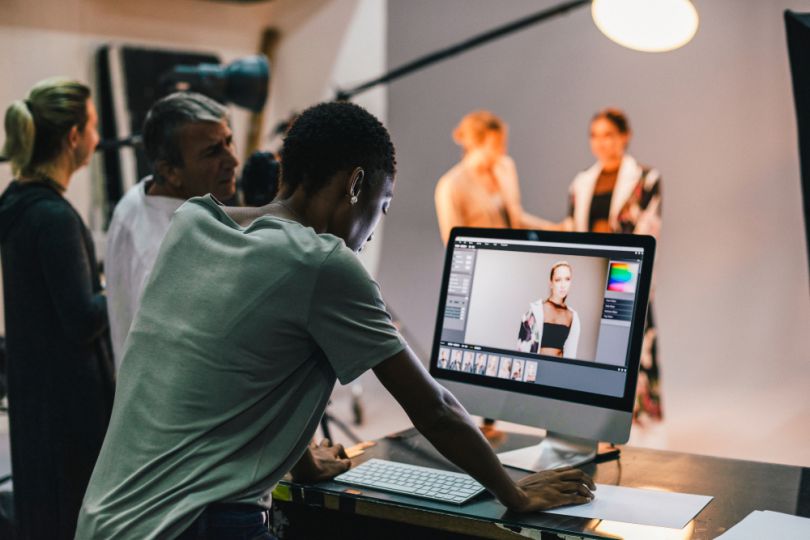 To tie everything together, we've created an Art Director job description template that combines all of the crucial information from the job descriptions above into one cohesive template. Feel free to edit it to better suit your company and reflect its unique culture and personality.
Company Bio
[Use this section to provide a high level overview of your company, culture, perks and benefits, career development opportunities and anything else that will get candidates excited about your company.]
Responsibilities
Directs creative development and execution of design projects that apply and evolve our company's visual design identity and brand.

Design visual and written content via graphic design, photography, literature, visual communication and digital media. 

Collaborate with Communications, Software Developers, Project Managers and report directly to the VP of Creative.

Manage, delegate and guide tasks among design team to ensure deadlines are met and expectations are exceeded.

Articulate design decisions that align with brand vision and strategic objectives and are supported by a thesis and backed by evidence and insight.

Create digital sketches, storyboards, timelines and budgets for individual projects.

Remain up to date on design and industry trends, and evolve with best practices, relaying information to the Creative team.
Requirements
Bachelor's degree in graphic design, visual communication, digital media or marketing OR the equivalent in experience.

X years experience as a graphic or visual designer.

X years experience with [insert design programs].

Digital portfolio with [include specific requirements for portfolio].

Exceptional communication skills (oral, written and presentation).

Keen attention to detail.

Knowledge of [insert coding language] a plus.

Experience in [insert industry] a plus.
Art Director Salary Information
Salary information is now an essential part of every job description. Candidates expect to know what they will be making at a company before they apply because if it's not in their range, there's no point in them filling out an application and you reviewing it. To set your expectations straight, we've investigated the average salary range for Art Directors in seven of the country's top employment markets. Click on the links to learn more about salary information in each city.
Cross Market Average Salary for an Art Director: $92,009
FREE RESOURCE: JOB DESCRIPTION TEMPLATE LIBRARY. ACCESS IT HERE.