20 Drone Companies Taking Flight Across Industries
Of all the technological developments to emerge in recent decades, one has an impact on a surprising amount of industries — drones. With the ability to scale huge distances both vertically and horizontally, drones provide the ability to reach places humans simply cannot, and do so more efficiently. As hardware improved to make drones lighter in weight, more robust, and fast, the potential for drones exploded. Today, drones are being utilized in the construction, photography, agricultural, defense and other industries to protect the skies, repopulate forests and accomplish much more on a huge scale.
Drone technology and software is only as powerful as the teams who create it, but with the volume of innovation being put on display by these 20 drone companies, it is clear that the future for the drone industry is sky high.
Drone Companies to Know
Zipline
Skydio
Wing
Propeller Aero
Drone Dispatch
Dedrone
NVDrones
DroneSeed
Robodub
AirMap
Drone Deploy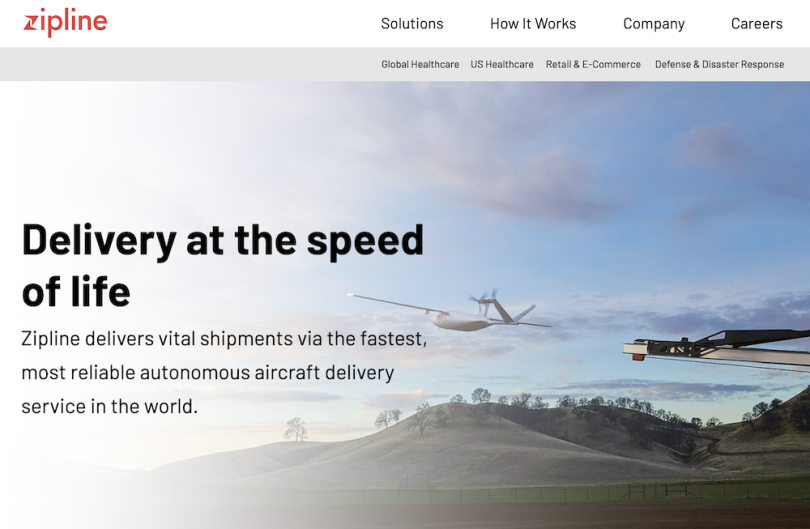 Zipline
Founded: 2011
Location: South San Francisco, CA
What they do: Zipline operates drone technology built to endure harsh conditions to deliver necessary medicine to communities throughout the world. The company is focused on breaking through supply chain barriers to offer a more efficient delivery method powered by autonomous flight, relying on drones that are capable of completing trips around the equator in as little as 2.5 days and putting crucial prescriptions in the hands of those who need it most.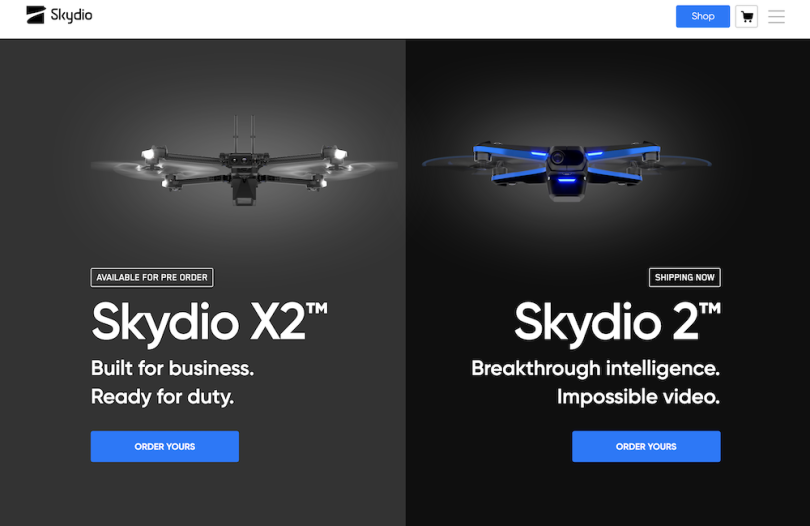 Skydio
Founded: 2014
Location: Redwood City, CA
What they do: Skydio manufactures intelligent drones powered by machine learning and capable of autonomous flight, possessing high-speed manual flight and obstacle avoidance capabilities for a nearly limitless flight experience. The company's drones are designed to fulfill specific purposes, with the Skydio 2 created for commercial uses and the Skydio X2 fitted with a 4k60 HDR camera for superior video capabilities.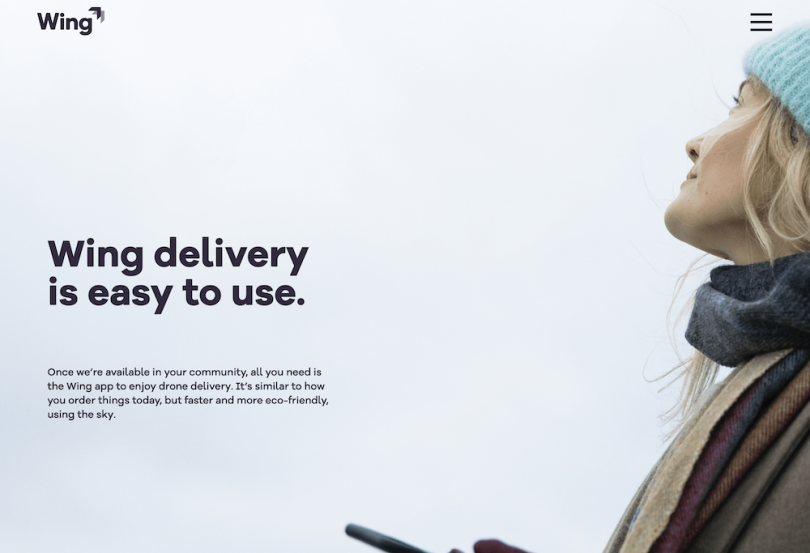 Wing
Founded: 2018
Location: Palo Alto, CA
What they do: Wing provides a drone delivery service that operates on three continents and is capable of delivering goods across six miles in as little as six minutes. The company's drones can lift goods that weigh up to three pounds and produce zero emissions when in flight, with users able to place orders from local businesses via Wing's app.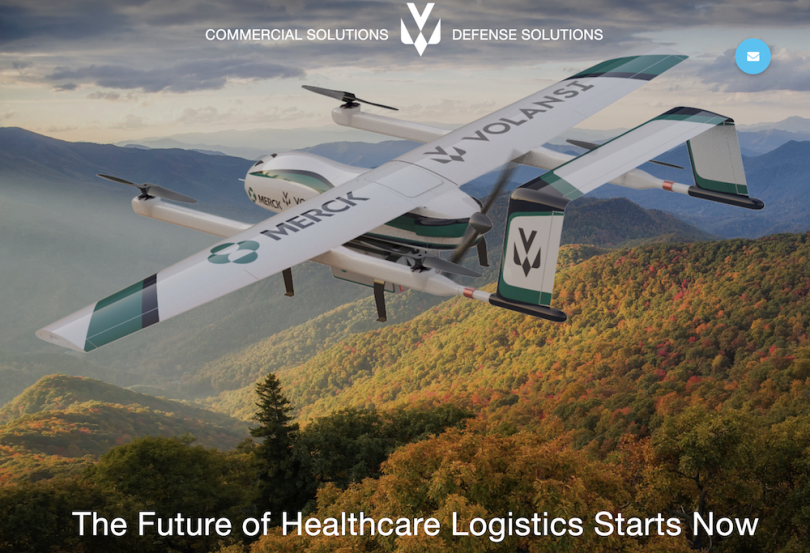 Volansi
Founded: 2015
Location: San Francisco, CA
What they do: Volansi operates in the commercial, defense and healthcare logistics industries to design and operate drone technology that puts goods in the hands of those who need them in record time. The company has raised more than $25M through its Series B funding round and is helping companies save time, money and even lives by delivering tools, medication, parts and aid packages to impacted areas like Puerto Rico in the wake of Hurricane Maria.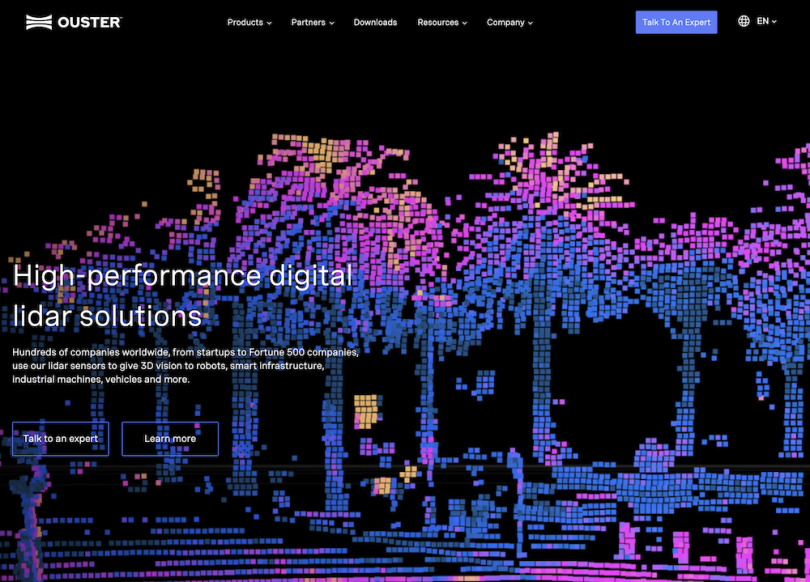 Ouster
Founded: 2015
Location: San Francisco, CA
What they do: Ouster develops advanced lidar sensor technology that allows autonomous vehicles, trucks, robots and drones to operate efficiently and intuitively. The company's products offer more than 75 unique laser combinations, with each sensor utilizing specialized wide-angle, mid-range, long-range or solid state capabilities for a variety of use-cases.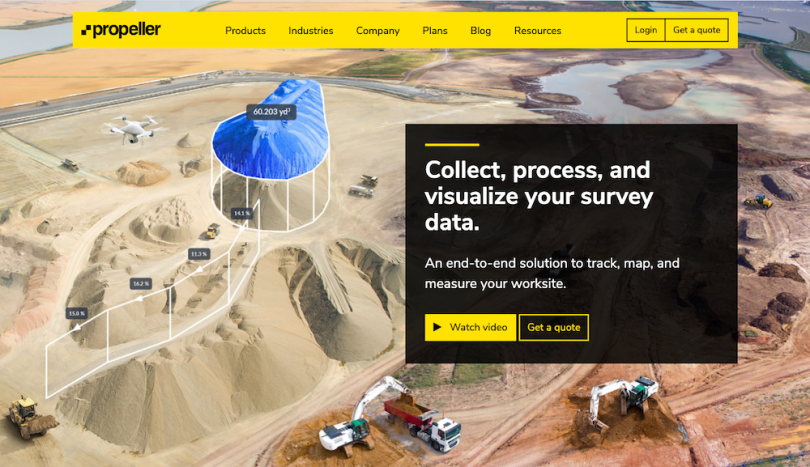 Propeller Aero
Founded: 2014
Location: Denver, CO
What they do: Propeller Aero provides businesses in the construction, mining, quarry and landfill industries with access to physical and digital tools that allow insight into all facets of the land they are working on. The company's PPK drone delivers both simplicity and high performance capabilities when surveying sites, powered by cloud software that answers critical questions regarding progress, productivity, work quality and safety.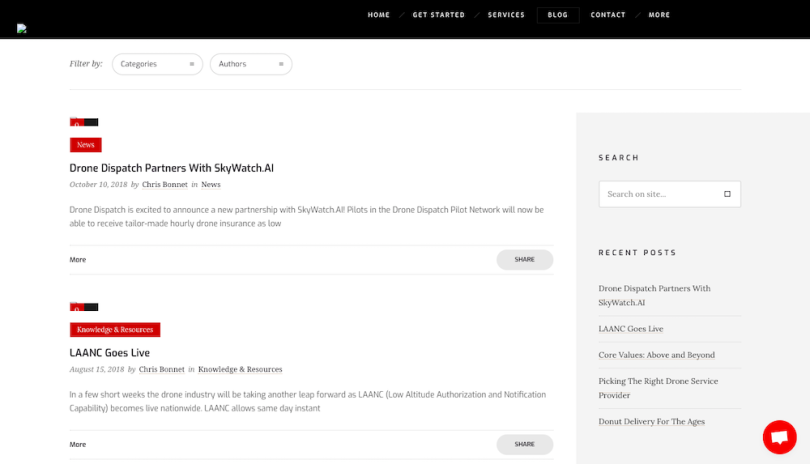 Drone Dispatch
Founded: 2010
Location: Round Rock, Texas
What they do: Drone technology brings a number of possibilities to companies of all kinds working in large environments, but onboarding team members to new technology creates plenty of challenges in itself. Drone Dispatch's solution provides companies with access to on-demand drone technology for various use cases, all piloted entirely by Drone Dispatch to streamline operations and provide companies with access to the insights they need without any of the lag.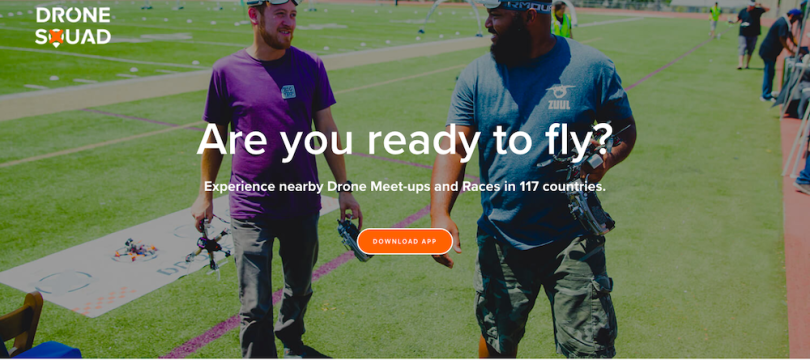 Drone Squad
Founded: 2015
Location: Los Angeles, CA
What they do: Drone Squad is an application that allows drone pilots, enthusiasts, clubs and entire leagues to come together and compete in races throughout their area. The app features functionality for creating meetups or discovering existing events, fostering a sense of community amongst those with a love for the emerging sport.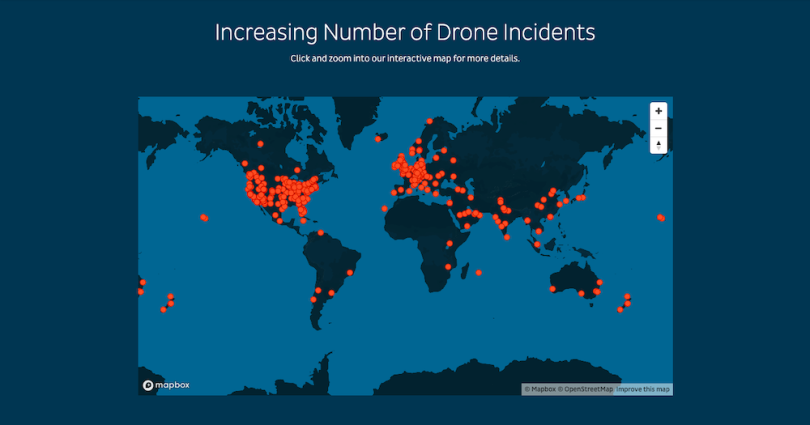 Dedrone
Founded: 2014
Location: San Francisco, CA
What they do: While drones provide exceptional functionality for many businesses and organizations, they can also present a number of threats to security. Dedrone is trusted by G7 nations, Fortune 500 companies, international airports and prison complexes to keep unwanted and unauthorized drones off grounds before they have the opportunity to do harm. Dedrone offers RF sensors, mitigation technology and machine learning-enabled software to ensure drone countermeasures are executed swiftly and efficiently.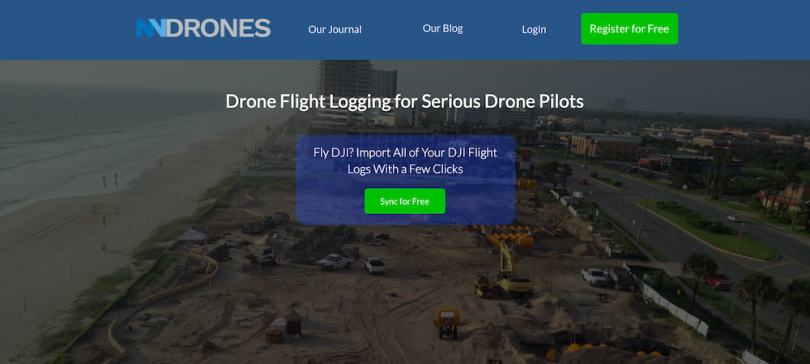 NVDrones
Founded: 2014
Location: Pasadena, CA
What they do: NVDrones produces powerful software that allows drone pilots to log flight data automatically, saving them time when inputting data and leading to more accurate flight reports. The NVDash software syncs flights instantaneously to a cloud database and features detailed sensor analysis as well as immediate turnkey reports so pilots can visualize the skies and their equipment's placement more clearly than ever.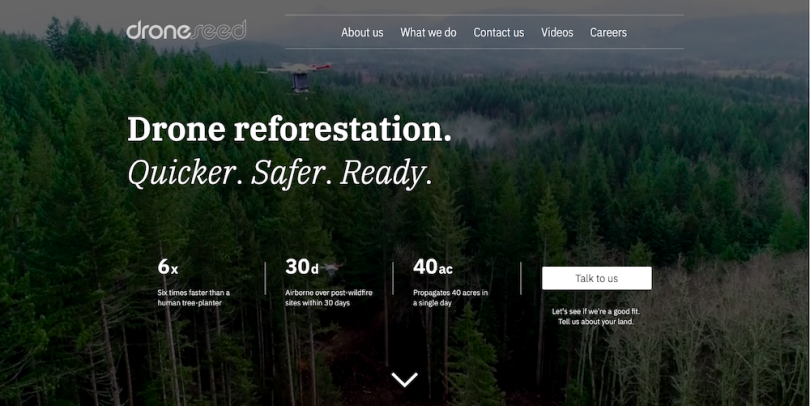 DroneSeed
Founded: 2016
Location: Seattle, WA
What they do: DroneSeed provides a tool for offsetting the environmental damage caused by wildfires and commercial deforestation, utilizing drone technology to re-seed environments more quickly and efficiently. The company's model reduces reforestation costs by nearly half through the elimination of chemical and manual labor factors, creating the ability to propagate 40 acres of land in a single day — six times faster than human tree planters.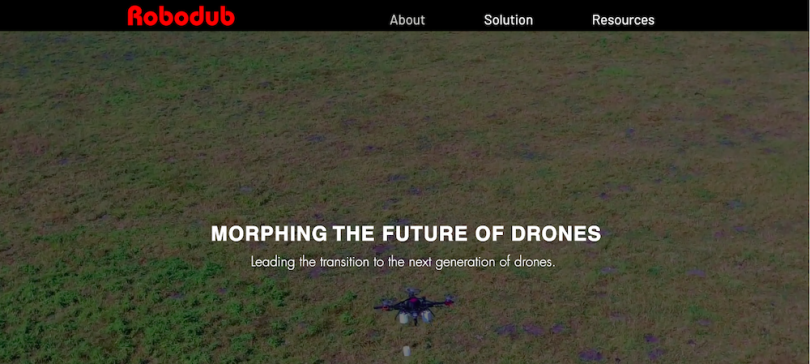 Robodub
Founded: 2014
Location: Bellevue, WA
What they do: Robodub manufactures drone components and technology that enables devices to become powerhouse, delivery-capable machines. The company's sweeping arm and sliding rotor technology make it possible for drones to deliver larger payloads and stand up to unstable conditions through weather resistance, counterbalancing and motor failure resistance capabilities.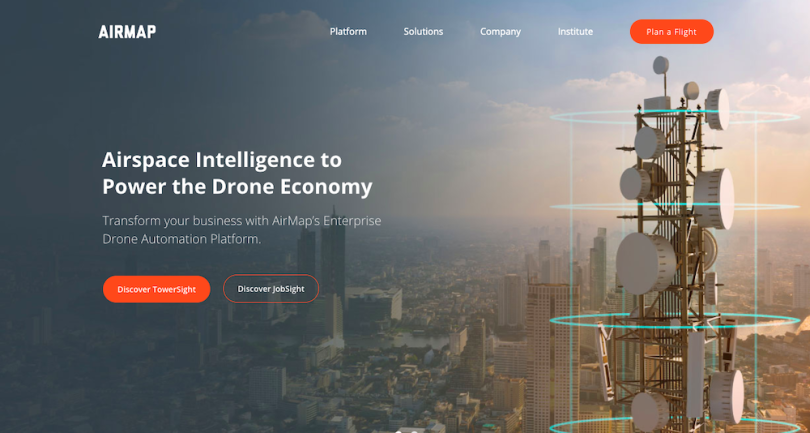 AirMap
Founded: 2015
Location: Santa Monica, CA
What they do: AirMap produces advanced software that provides drone pilots with a clear vision of the skies. Partnering with regulators, authorities, enterprises, UAS solution providers and pilots alike, AirMap provides access to crucial information that ensures quick reactions and less confusion when flying, leading to airspace that is open, connected and automated.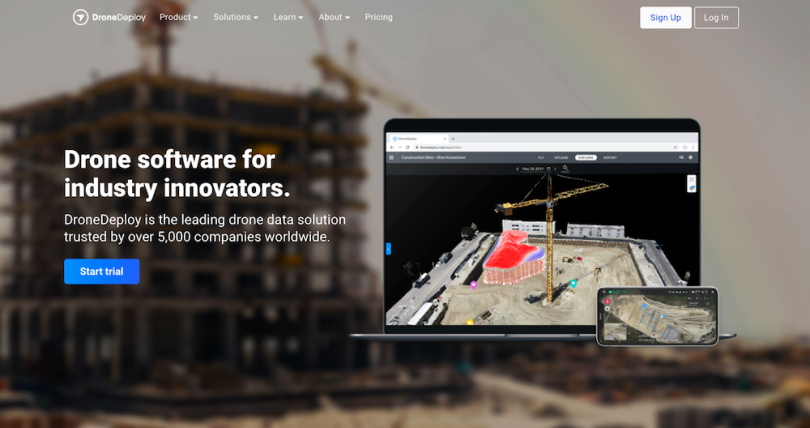 DroneDeploy
Founded: 2013
Location: San Francisco, CA
What they do: DroneDeploy is used by more than 5000 companies worldwide to manage, track and operate drone operations across a range of industries. The platform supports drones from multiple leading manufacturers and offers functionality for flight, photogrammetry, analysis and more, with the ability to integrate with existing applications to deliver exceptional usability.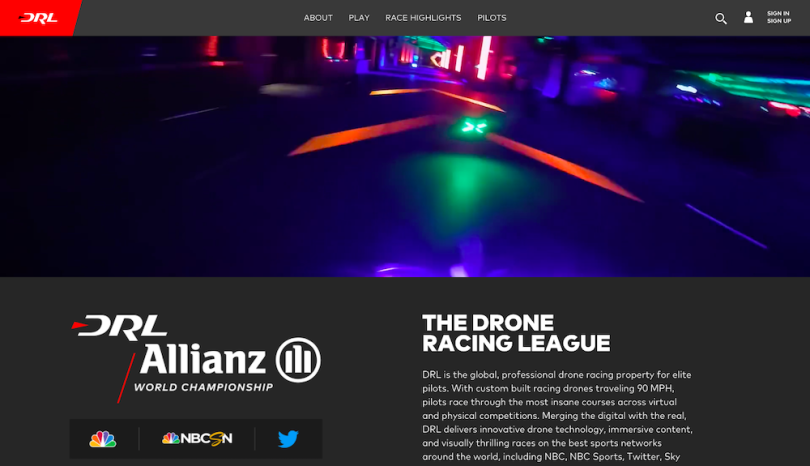 The Drone Racing League
Founded: 2015
Location: New York, NY
What they do: The Drone Racing League is a global, professional racing entity for pilots to challenge their capabilities and compete with the best competition the sport has to offer. The league combines both physical and digital racing environments with drones flying as quickly as 90 mph and pilots conquering courses filled with intense obstacles.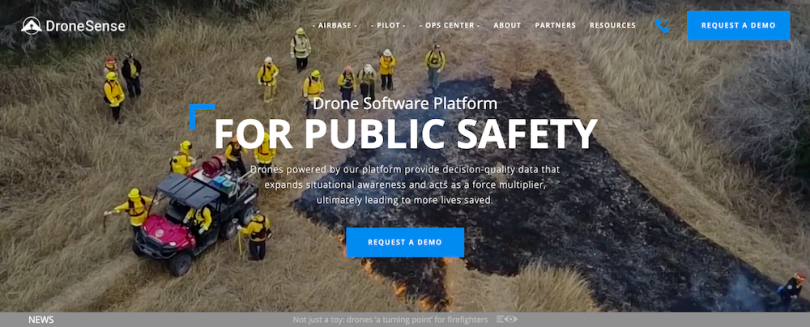 DroneSense
Founded: 2015
Location: Austin, Texas
What they do: DroneSense operates a software platform that allows first-responders and organizations to scale their drone program and leverage the full capabilities of drone technology as a public safety initiative. The company's Airbase platform provides operators with the ability to attribute core data across all mission assets and pilots, automatically log flights, create customizable pilot checklists, generate custom reports, and much more, expanding situational awareness in the moments when it's needed most.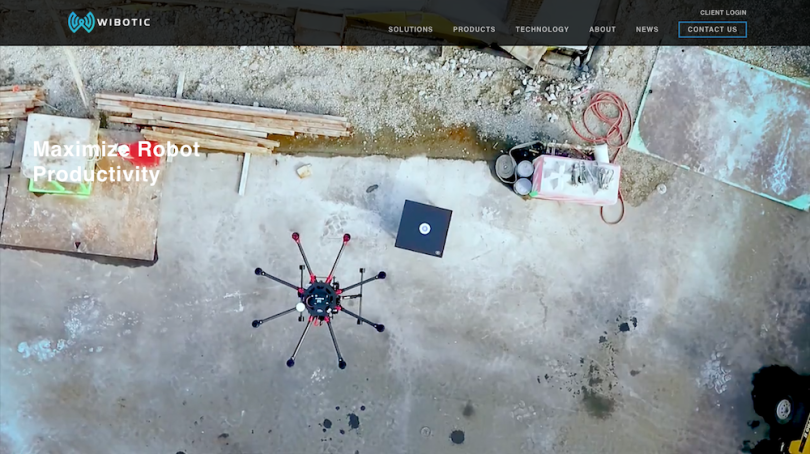 WiBotic
Founded: 2015
Location: Seattle, WA
What they do: WiBotic enhances the working efficiency of robotic devices of all kinds, offering best-in-class power solutions that reduce downtime and lead to more efficient operations. The company offers access to wireless charging capabilities via transmitter coils that provide high power and efficiency while maintaining flexibility and charge range. The company also offers power optimization software to optimize battery performance across entire fleets.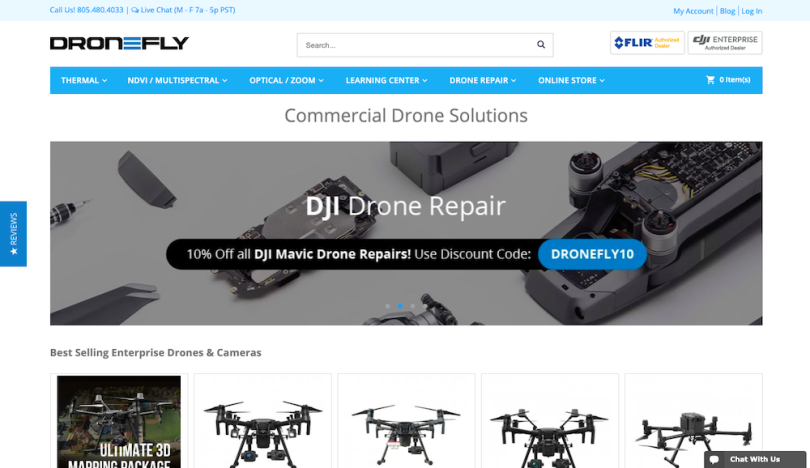 Dronefly
Founded: 2012
Location: Canoga Park, CA
What they do: Dronefly is an online marketplace where drone pilots, manufacturers and entire organizations can source the specific drone technology needed to accomplish any task. From ready-to-fly drone units to components, cameras, repair kits and more, Dronefly is a leading resource for creating and scaling drone operation programs.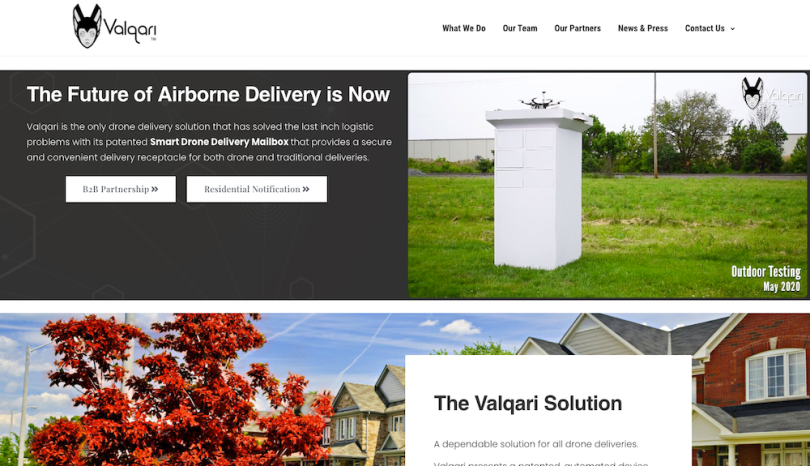 Valqari
Founded: 2017
Location: Chicago, IL
What they do: Valqari is disrupting the shipping and logistics industry through the use of drone technology that delivers packages more efficiently than ever. The company's smart drone delivery mailbox systems ensures deliveries can be completed safely, securely and conveniently, leading to reduced shipping costs and limited liabilities when transporting goods of any value.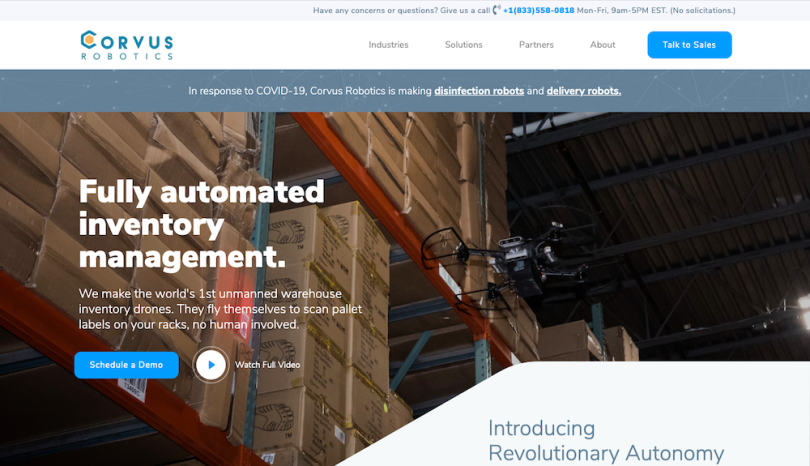 Corvus Robotics
Founded: 2015
Location: Chicago, IL
What they do: Corvus Robotics is pioneering drone technology for use across several mediums, bringing exceptional, autonomous capabilities to industries ripe for optimization. The company focuses primarily on manufacturing drones for use in the warehouse inventory operations of manufacturers, 3PLs, and distributors, while also acting to create sanitation drones for use during the COVID-19 pandemic.
Images via Shutterstock and company website screenshots