How to Describe Company Culture: 32 Examples of Culture Statements
Updated:
September 30, 2021
Updated:
September 30, 2021
You know what your company culture is like — you live and breathe it every single day. What's challenging, however, is to describe the unique relationships, behaviors and interests that make up your company's culture to someone who isn't part of the team.
Common words to describe Company Culture
Agile
Collaborative
Fast-paced
Flexible
Inclusive
Passionate
To help bring life to your culture, we've dissected some of the most frequently used words to describe company culture and rounded up 32 examples of culture statements. Keep in mind that every culture reflects the specific people, mission and values of an organization that coincide with geographical and local cultural nuances. Use these examples to brainstorm and assign words to the living, changing organism that is your company's culture. 
Before we get into the specific words to use when talking about workplace culture, let's take a step back and first discuss how to accurately describe your company culture.
FIVE FREE REPORTS: UNDERSTANDING CANDIDATE DESIRES TO ATTRACT TALENT IN 2021
Table of Contents
How to Describe Company Culture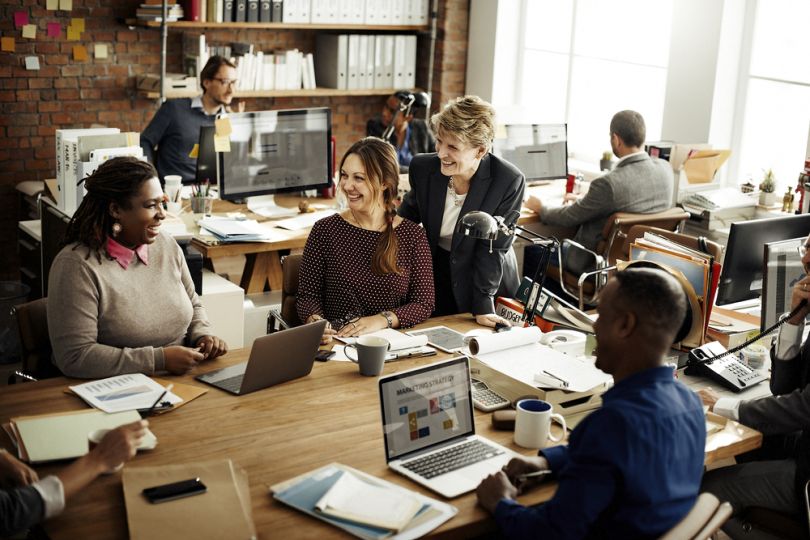 Step 1: Lean on your core values
To start, refer back to your company core values. These are the driving force behind your culture and dictate how you treat employees, clients and generally do business. Additionally, your core values should describe the working style in the office. For example, as a company that values innovation, you might work to create a collaborative culture where employees are encouraged to share ideas with one another. 
Step 2: Incorporate your mission statement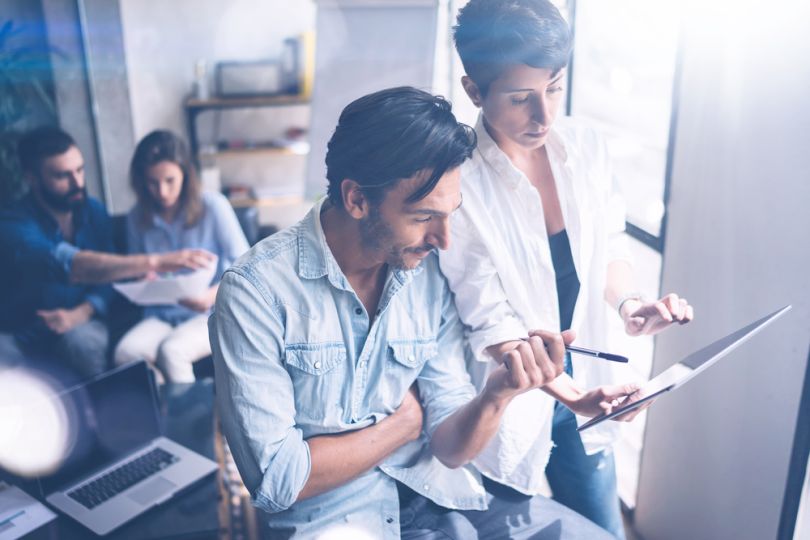 You'll also want to think about your company mission statement when describing your workplace culture. What is the overarching goal of your company, and how do you envision achieving it? Who is your target audience made up of, and how will you make an impact in society? Let's say your company aims to be on the cutting edge of the e-commerce technology sector — you'll want to create a daring company culture that encourages risk-taking. Your mission statement should give meaning to your core values and infuse your company culture with purpose.
Step 3: Consider your employees
Lastly, think of your current employees and how you would describe them. Organizational culture is a living, breathing facet of your company, and it's largely the result of the people on your team. While you can successfully change your company culture, you can't do so without the buy-in of your existing team members. Think of how they interact with one another, how they like to receive feedback and the characteristics that make your team unique.
Examine these three elements before setting out to describe your work environment. Doing so will paint a picture of honesty and appeal for prospective candidates. Do not use language that inaccurately reflects the company culture you've created. If candidates accept a job thinking they're joining a collaborative environment when in reality they rarely interact with their coworkers, they'll quickly seek work elsewhere. In fact, employees who do not like their company culture are 24% more likely to leave the organization within a year.
Now, let's take a look at some of the most commonly used words to describe company culture.
Common Words to Describe Company Culture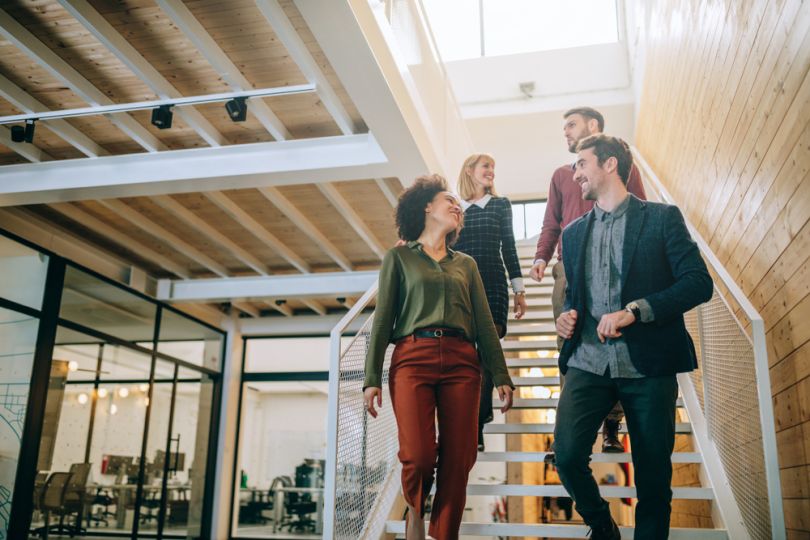 In today's candidate market, job seekers can afford to be picky about the type of company they choose to join. For that reason, it's crucial to describe your company culture in a way that's both enticing and easy to understand. Plus, accurately describing your company culture will improve recruitment efforts by making it easier to identify candidates who connect with your company culture as culture adds instead of culture fits. 
You can use all the buzzwords you want, but if your language doesn't align with your work environment, you'll confuse job seekers, appear disingenuous and may even lose great employees. Include specific examples of how your team embodies your company culture statement. If you describe your culture as flexible, explain how — are employees able to adjust their schedule or work remotely? Giving significance to your culture statement assures prospective employees that you mean what you say.
Below are 15 commonly-used words to describe company culture along with what they mean to job seekers. If a majority of these words seem inapplicable, you may be at risk for a bad company culture. And if that's the case, don't fret. We've built a guide to create a positive work culture.
Remember, use the following adjectives thoughtfully and only if they truly apply to your company.
What you say: Adventurous 
What job seekers hear: This team takes risks and enjoys exploring new ideas. The company encourages creativity and bold pursuits that will help propel the business forward. In this role, I'll be expected to contribute new, envelope-pushing ideas. 
What you say: Agile
What job seekers hear: This team is highly adaptive. They frequently reassess and redirect their course of action to adjust to the changing marketplace. This job will likely keep me on my toes and provide little structure at times. However, there will be opportunities to work outside of my job description.
What you say: Challenging
What job seekers hear: This company culture will push me to work hard and perform well. There will likely be obstacles to my work that I'll need to tackle head on. Problem solving isn't an asset; it's an expectation.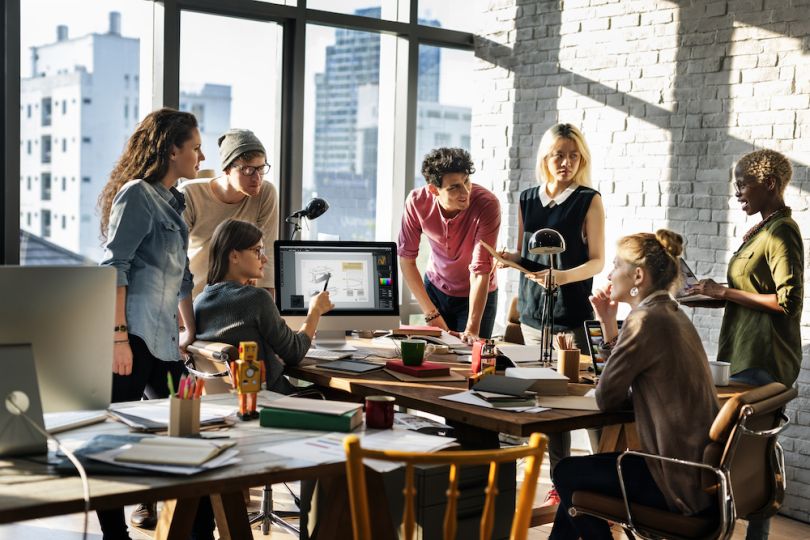 What you say: Collaborative
What job seekers hear: I'll be able to work with my colleagues often and in an informal, engaging way. Employees will be expected to bounce ideas off of each other and work well as part of a team. I won't be siloed from the rest of the company, but I may need to ask for independent work if I want it. 
What you say: Creative
What job seekers hear: This company culture operates outside of the typical office structure. Employees are often working together and there's an emphasis on brainstorming, feedback and innovation. Processes are more casual, but team projects are still results-oriented.
What you say: Daring
What job seekers hear: This company is eager to push boundaries and test limits. They're likely in their early stages where they can afford to take risks and may have less structure than other organizations. The company culture urges individuals to work hard and challenge the status quo.
What you say: Energetic
What job seekers hear: This is a dynamic company culture where employees are eager to succeed. Individuals are motivated and have a lot of company pride; the work environment is vibrant.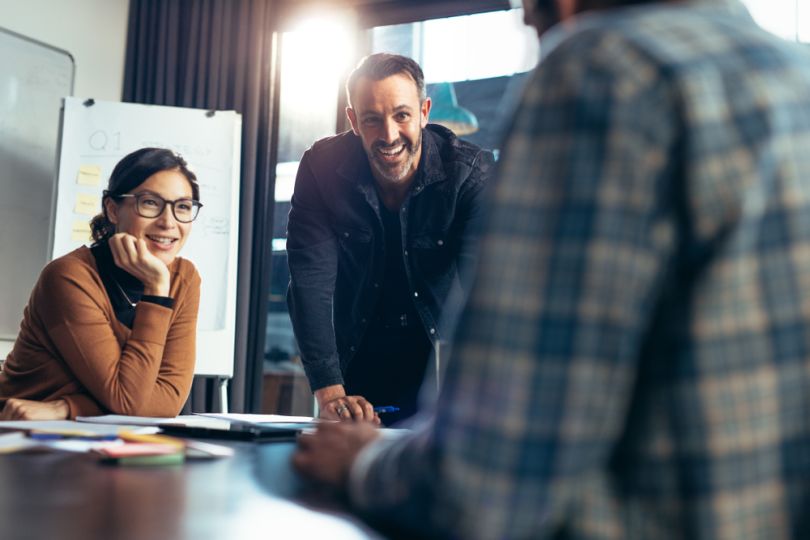 What you say: Fast-paced
What job seekers hear: There's no shortage of work to be done at this company. Employees are juggling multiple tasks at once and completing ad hoc projects regularly. The workday goes by quickly and no two days are exactly alike.
What you say: Flexible
What job seekers hear: This company culture prioritizes work-life balance. The job offers remote work opportunities and/or flexible scheduling. I can tailor the role to fit my life outside of the office. 
What you say: Friendly
What job seekers hear: Employees are more than just coworkers. Individuals treat each other with respect and kindness, and the company culture encourages meaningful interactions between colleagues.
What you say: Inclusive
What job seekers hear: The company prioritizes making employees from all walks of life feel welcome. Individualities are celebrated and everyone feels like they have a place at the company. Exclusionary behavior is not tolerated.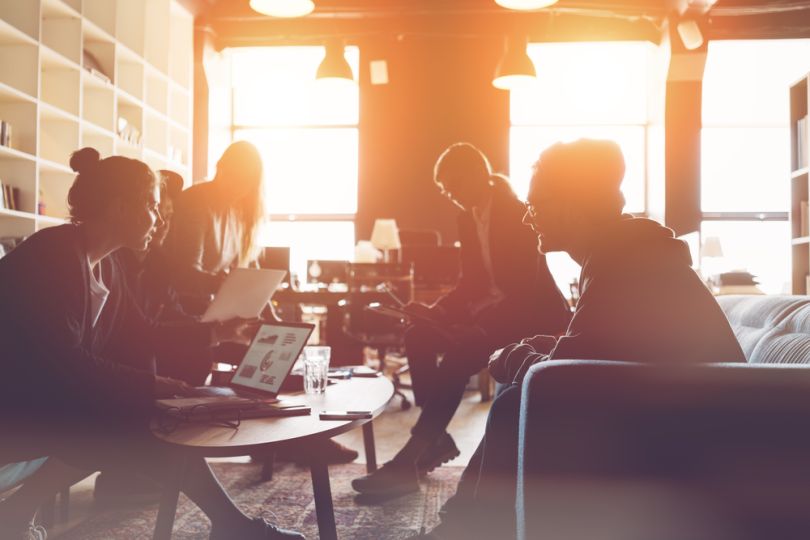 What you say: Inspiring
What job seekers hear: This company culture is closely tied to the organization's mission. Leadership has a clear objective on how to make an impact in society and use it to motivate employees. Working in this role, I'll be empowered by the company's long-term objectives.
What you say: Passionate
What job seekers hear: Employees are driven and go the extra mile. This company culture motivates team members to give their full selves to the job and invest in the company's future. Individuals see value in their work and are eager to do well in their roles.
What you say: Playful
What job seekers hear: This is a fun culture where team members don't take themselves too seriously. The office is probably boisterous with regular social events, and employees interact with each other frequently. 
What you say: Stimulating
What job seekers hear: This is a company culture that will encourage me to think deeply. There are lively conversations happening and lots to be learned. I will be expected to grow in my role and help the team evolve.
These are just a few of the words you can use to describe the culture of an organization. Carefully consider and evaluate your company culture before assigning adjectives to it, and back up your word choice with real examples of your culture.
32 Examples of Company Culture Statements 
Now, it's time to put these words to work. Drafting a culture statement for your company is like writing a thesis; it needs to be succinct and all-encompassing. Think carefully about the type of organizational culture you aim to create and the candidates you hope to attract. 
Use the following 32 real examples of company culture statements to get started writing your own.
Beeswax

How Beeswax describes their company culture:
Our culture and values reflect our bee namesake, albee-it in a slightly different fashion.
Open. Effective. Customer Driven. Curious.
Bevi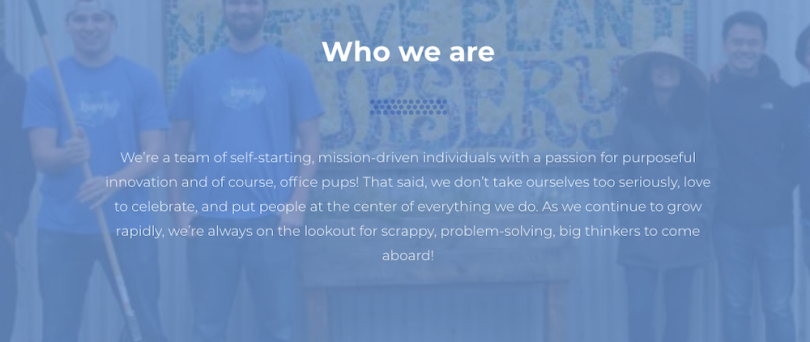 How Bevi describes their company culture:
Who we are: We're a team of self-starting, mission-driven individuals with a passion for purposeful innovation and of course, office pups! That said, we don't take ourselves too seriously, love to celebrate, and put people at the center of everything we do. As we continue to grow rapidly, we're always on the lookout for scrappy, problem-solving, big thinkers to come aboard!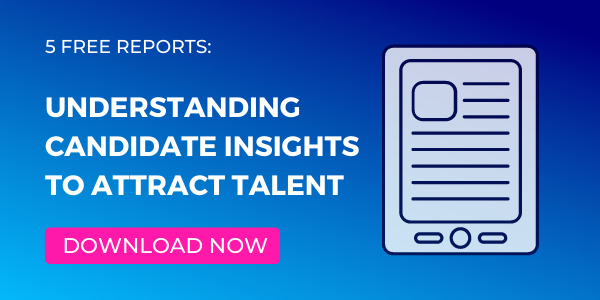 Braintree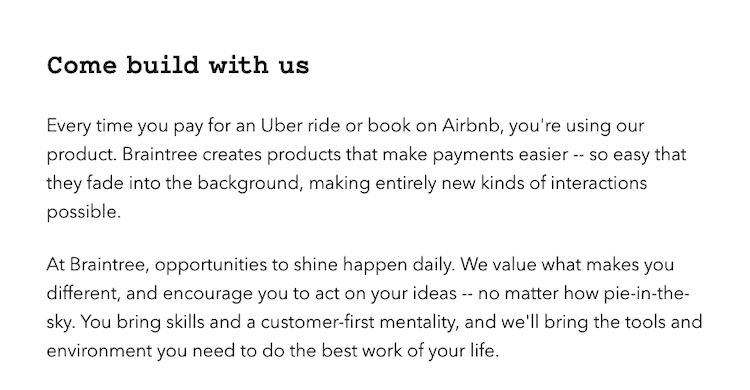 How Braintree describes their company culture:
At Braintree, opportunities to shine happen daily. We value what makes you different, and encourage you to act on your ideas -- no matter how pie-in-the-sky. You bring skills and a customer-first mentality, and we'll bring the tools and environment you need to do the best work of your life.
Cantina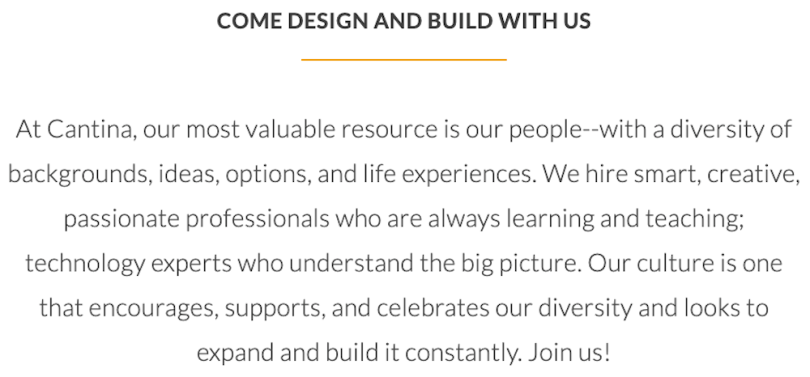 How Cantina describes their company culture:
At Cantina, our most valuable resource is our people--with a diversity of backgrounds, ideas, options, and life experiences. We hire smart, creative, passionate professionals who are always learning and teaching; technology experts who understand the big picture. Our culture is one that encourages, supports, and celebrates our diversity and looks to expand and build it constantly. Join us!
Carbon Black

How Carbon Black describes their company culture:
Dedicated Culture: We're incredibly proud that as we've grown, our culture has remained steadfast. At its core? Collaboration, camaraderie, and collective hard work without egos or pretense. Nearly every company says they work and play hard-and we do. But it's much more than that. There's a dedication to one another that's palpable. What's more, we have a respect for the commitments we all have outside of work-and the trust and flexibility to attend to them.
Centro

How Centro describes their company culture:
Our Culture: We are a team of disruptors, challengers, and thought leaders. 
Clearcover

How Clearcover describes their company culture:
Who's at Clearcover? We believe that employee satisfaction starts with creating a supportive and inclusive environment where every employee feels welcome, no matter their personal or professional backgrounds. We are looking for candidates who are excited to nurture an inclusive environment and who will add to our incredible culture.
Compass

How Compass describes their company culture:
We're building a place of belonging: To create the most inspirational company in the world we must be a place where employees can do their best work and be their best selves. We prioritize diversity and believe in a culture rooted in collaboration, growth, and mobility. From competitive salaries and benefit packages, to education reimbursement and equity, we offer employees benefits that improve their personal lives as well as their careers.
Etsy

How Etsy describes their company culture:
Life and Culture at Etsy: As an Etsy employee, you can do the work you love, be yourself, and make an impact in the lives of millions. Our commitments to diversity and inclusion, team culture and the spaces where we work all reflect our mission to keep commerce human.
Formstack

How Formstack describes their company culture:
A Thriving Remote Culture: Formstack is a remote company, with employees in several states and countries. While, yes, this means 'stackers can work at home in their PJs, it also means we've developed a unique culture that thrives on transparency, communication, and fun.
We know how to work hard and play hard from wherever we feel most productive - whether that's on a living room couch, in the Formstack office, or on a beach in Thailand. However, all of this wouldn't be possible without the basic tenets that we live by everyday.
Forward Financing 

How Forward Financing describes their company culture:
A Commitment To Culture: We offer a fun, supportive culture where employees bring out the best in each other.
Fuze
How Fuze describes their company culture:
Committed to your future: Fuze delivers tremendous opportunities for smart, savvy, entrepreneurial individuals looking to change the nature of how companies communicate and collaborate in today's highly mobile and increasingly social workplace. We are passionately committed to leading and shaping the future of global cloud communications.
Hundreds of visionary companies rely on us to provide the business-critical services they need to connect their employees, share knowledge, be more productive, and power their growth. When you join Fuze, you join a team with a thirst for innovation and hunger for the fun that comes from turning an industry on its head.
GoSpotCheck

How GoSpotCheck describes their company culture:
We are engineers, visionaries, data hounds, number crunchers, relationship builders, and storytellers reimagining how tomorrow's workforce works.
Collectively, we solve problems for companies around the world and unleash the power of human creativity on their teams.
We work hard and play hard. Together, we've created a dynamic, fun, inspiring environment where we can be ourselves and grow each day.
GreenHouse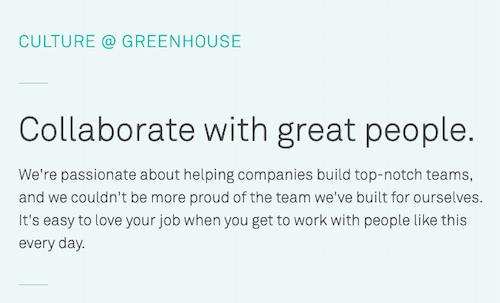 How Greenhouse Software describes their company culture:
Collaborate with great people: We're passionate about helping companies build top-notch teams, and we couldn't be more proud of the team we've built for ourselves. It's easy to love your job when you get to work with people like this every day.
Honey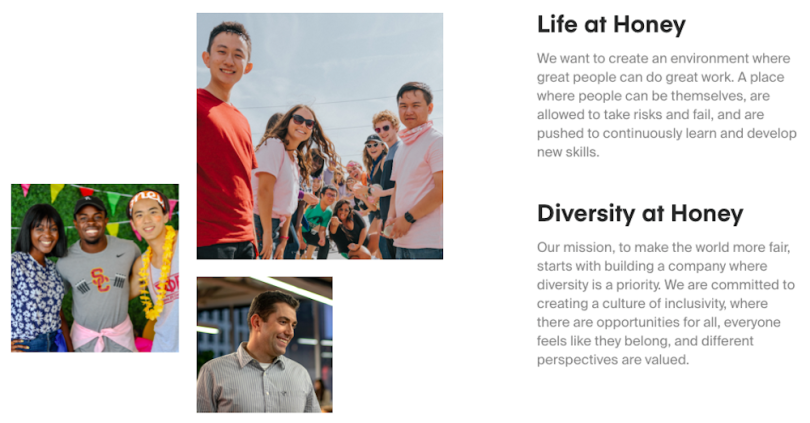 How Honey describes their company culture:
Life at Honey: We want to create an environment where great people can do great work. A place where people can be themselves, are allowed to take risks and fail, and are pushed to continuously learn and develop new skills.
Diversity at Honey: Our mission, to make the world more fair, starts with building a company where diversity is a priority. We are committed to creating a culture of inclusivity, where there are opportunities for all, everyone feels like they belong, and different perspectives are valued.
LogicMonitor

How LogicMonitor describes their company culture:
Embrace a big future with us: Do what you love and have an awesome time doing it. We're a team of engaging, motivated, intelligent, and energized trouble-shooters who work hard, play hard, and are committed to making an impact. We've got a cast of characters that is hard not to like: geeks who surf, techies that rock climb, and data gurus who love biking and hiking.
NetApp

How NetApp describes their company culture:
Our Culture: It's our culture and our people. If you ask anyone at NetApp why they work here, the answer is inevitably the same: it's the people. At NetApp, we place trust, integrity, teamwork, and caring at the heart of what we do.
As such, we've created a culture where people feel empowered to make a difference; where we're passionate about innovation and collaboration; and where we take care of each other, our customers, our partners, and our communities simply because it's the right thing to do.
Noom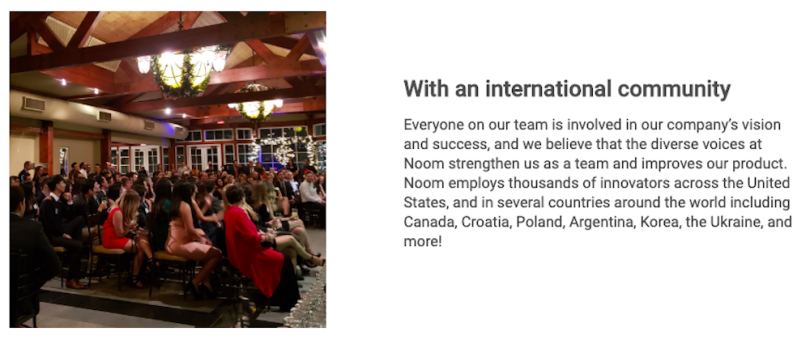 How Noom describes their company culture:
A home away from home: Everyone on our team is involved in our company's vision and success, and we believe that the diverse voices at Noom strengthen us as a team and improves our product. Noom employs thousands of innovators across the United States, and in several countries around the world including Canada, Croatia, Poland, Argentina, Korea, the Ukraine, and more!
PatientPop

How PatientPop describes their company culture:
Bring your best, create your future: Everyone at PatientPop is encouraged to bring their best selves to work, and given the resources and opportunity to realize their own personal success. Our culture fosters an environment that rewards employees based on merit and performance, not tenure.
Pax8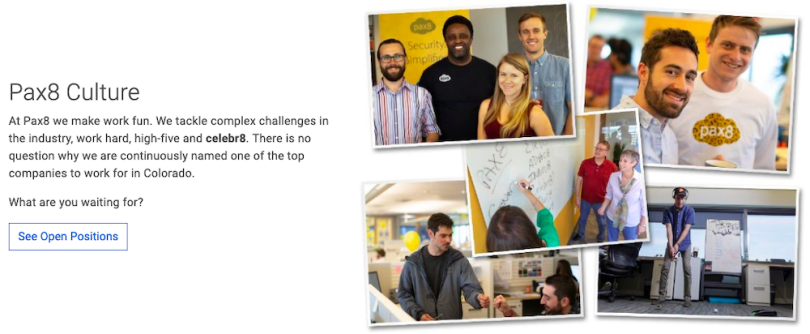 How Pax8 describes their company culture:
Pax8 Culture: At Pax8 we make work fun. We tackle complex challenges in the industry, work hard, high-five and celebr8. 
Prodege LLC

How Prodege LLC describes their company culture:
Why work with us? Our employees are passionate, creative, diverse and driven to help rethink the way consumers engage with brands. We're looking for creative and collaborative self-starters that have a thirst for learning and sharing their knowledge and know how to have fun while doing so. In return, our employees are rewarded, recognized and celebrated!
Rapid7

How Rapid7 describes their company culture:
Here at Rapid7, we're bridging the gap between security and innovation. It's an ambitious mission, and to achieve it we need bright minds housed in some truly fearless rock stars—those who can (proverbially) look Black Hats in the eyes and not back down from the challenge. Yes, the bad guys might make some sensational headlines, but we won't waver from our commitment to protect the world's ability to innovate.
Do innovation, transformation, and collaboration get your adrenaline pumping? Are you ready to stage-dive into a career in one of the world's fastest growing industries? Let's rock.
RetailMeNot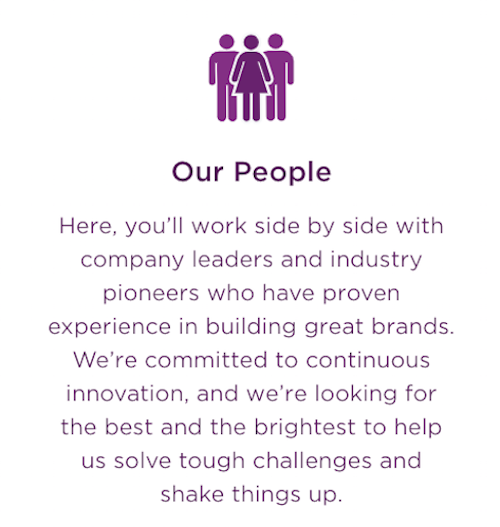 How RetailMeNot describes their company culture:
Our People: Here, you'll work side by side with company leaders and industry pioneers who have proven experience in building great brands. We're committed to continuous innovation, and we're looking for the best and the brightest to help us solve tough challenges and shake things up.
Rokt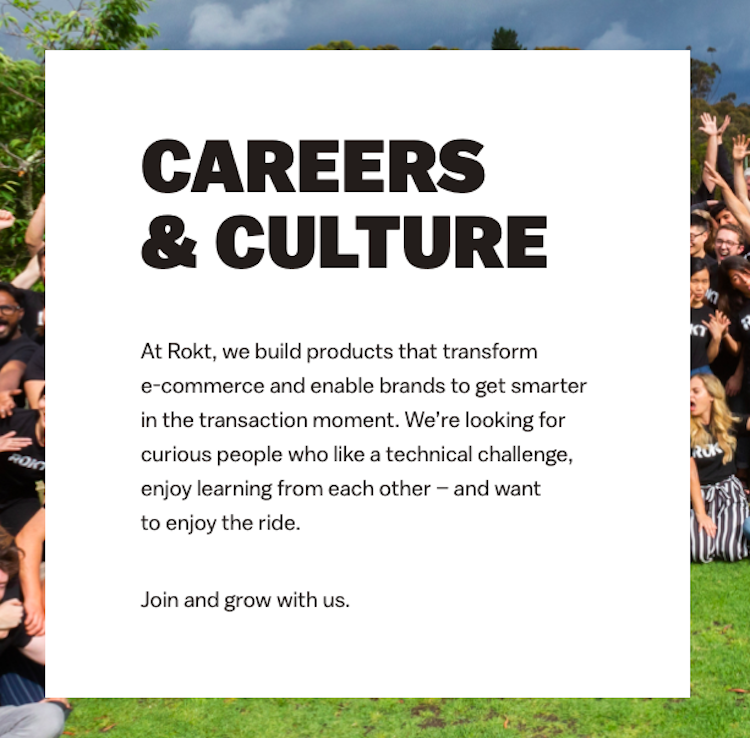 How Rokt describes their company culture:
Careers & culture: At Rokt, we build products that transform e-commerce and enable brands to get smarter in the transaction moment. We're looking for curious people who like a technical challenge, enjoy learning from each other – and want to enjoy the ride.
SDI Presence

How SDI Presence describes their company culture:
Our Culture: Our reputation as a leading Managed Services Provider (MSP) and IT Consultancy hinges on the quality of our people. Our culture is inclusive, diverse and unique in its own way. We are all passionate about our individual set of skills that collectively come together to form a multi-dimensional presence. From our diverse workforce to our team-building programs, we strive to maintain an open and friendly culture for everyone.
Snowflake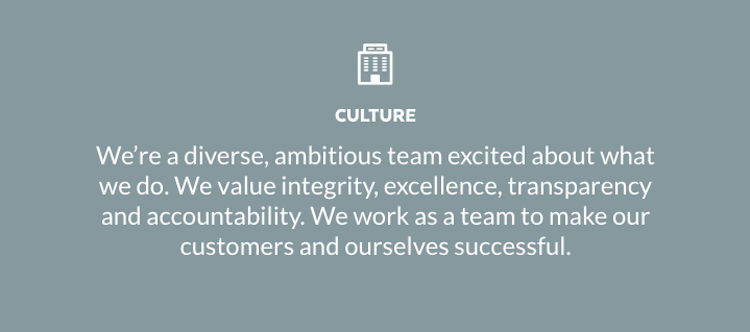 How Snowflake describes their company culture:
We're a diverse, ambitious team excited about what we do. We value integrity, excellence, transparency and accountability. We work as a team to make our customers and ourselves successful.
Sprout Social

How Sprout Social describes their company culture:
Grow your expertise: We're a curious and dedicated bunch who come to work every day ready to tackle tough, meaningful problems. Alongside our diverse team, you'll learn to think quickly on your feet and expand your own personal and professional skillset.
Grow your creativity: Our team is made up of talented, thoughtful and eclectic individuals who will inspire you to consider new perspectives and challenge you to become a better creator and innovator.
Grow your passions: Working at Sprout is an opportunity to explore the intersection of personal interest and professional experience. Everyone on our team is encouraged to pursue their passions both inside and beyond our walls.
TicketMaster

How Ticketmaster describes their company culture:
All work and no play? No way! We come together at more than just meetings. In fact, there's a fun get-together on the calendar every month, including our annual Halloween bash and costume contest, and take your children to work day. Sometimes you can even catch a live band on the roof at our Hollywood headquarters.
UIPath

How UIPath describes their company culture:
Add your magic to ours: First, let's cover the table stakes. Yes, you'll get all the usual perks. But if you're the rare creature we need, that's not why you're here. You're here because you want to build the future.
You're here to free people from repetitive, boring jobs and have a blast in your job along the way. We're growing faster than we expected and that's humbling. This means you'll grow fast too. And one day, you can say that you were there at the beginning.
Unacast

How Unacast describes their company culture:
Work the Nordic Way: We can't fit the whole of New York into tiny Norway - our original home - so we're bringing Norway to New York. That means we work differently. Coming from a country certified as the happiest in the world, we know that how we treat each other and how we work together matters. We believe that more trust + more autonomy + more humanity = more success. We also believe that a diverse team is a strong team, which is why we're committed to improving diversity at Unacast.
VRBO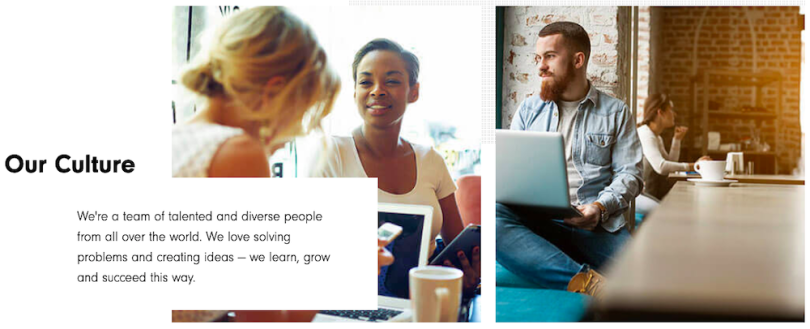 How VRBO describes their company culture:
Our Culture: We're a team of talented and diverse people from all over the world. We love solving problems and creating ideas — we learn, grow and succeed this way.
ZestFinance

How ZestFinance describes their company culture:
Zestians are widely diverse, and at the same time, we're united by a common DNA. We're people who want to change the world. We're on the customer's side. We voice our thoughts and the best ideas win. We believe that more data is always better. We take on big challenges, and we relish opportunities to learn along the way.
Be thoughtful with the way you choose to describe your company culture. Job seekers are increasingly more aware of culture during the application process, so dedicate ample amounts of time to solidify your core values and mission statement. Doing so will make it easier to write an accurate company culture statement that will attract elite candidates.
FIVE FREE REPORTS: UNDERSTANDING CANDIDATE DESIRES TO ATTRACT TALENT IN 2021