22 Telemedicine Companies Keeping Us Healthy at Home
Not many things are more important than taking care of our health — but with the pace and demands of modern life, it's easy to let our healthcare needs fall to the wayside. For one reason or another, taking care of our physical and emotional needs can take a backseat to our careers, families, and finances, and seeking out the support we need is easier said than done. The most common first step on anyone's health journey is meeting with a provider or specialist, but between the skyrocketing costs of healthcare and the increasingly overwhelming nature of our everyday lives, it's no surprise that over 22 percent of Americans skip out on doctor's visits altogether.
These statistics may seem alarming, but wherever there's a need not being met, there are ambitious people working to fill in the gaps. One of the most promising solutions to the healthcare gap is telemedicine, an emerging tech field poised to transform healthcare as we understand it today. Telemedicine teams combine cutting edge technologies such as data science, video conferencing and mobile apps to deliver healthcare services to patients from the comfort of their homes, often at a lower price than traditional hospital care. Telemedicine in and of itself is a broad term - under its umbrella are companies offering mindfulness exercises, workout guidance, video therapy, tracking tools for managing special conditions and much more. With the onset of the coronavirus pandemic and the subsequent quarantine orders, accessing medical care while remote has never been more necessary, and the demand for telemedicine is growing faster than ever. These 22 telemedicine companies are helping transform how we seek care, removing barriers and stigmas and encouraging personal wellness management for everyone. Take a look at how they're helping us put our health first.
Telemedicine Companies To Know
Doximity
Lemonaid Health
Ginger
hims & hers
GoodRx
Tonal
98point6
Talkspace
Noom
Zocdoc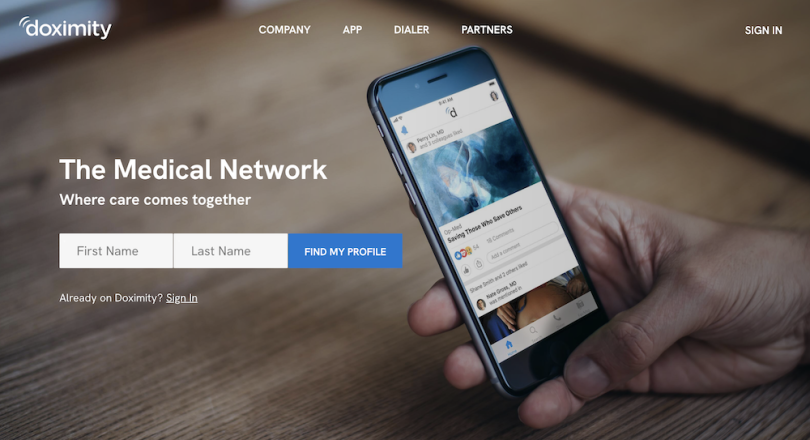 Doximity
Founded: 2011
Headquarters: San Francisco, CA
Focus: Doximity has created a digital network that connects physicians, clinicians, medical professionals and patients, featuring video call, voice call, provider search, news and fax capabilities to streamline the healthcare process. The mobile app has been utilized by over one million healthcare professionals across the United States, building stronger relationships between patients and their providers while unlocking efficiency across the healthcare spectrum.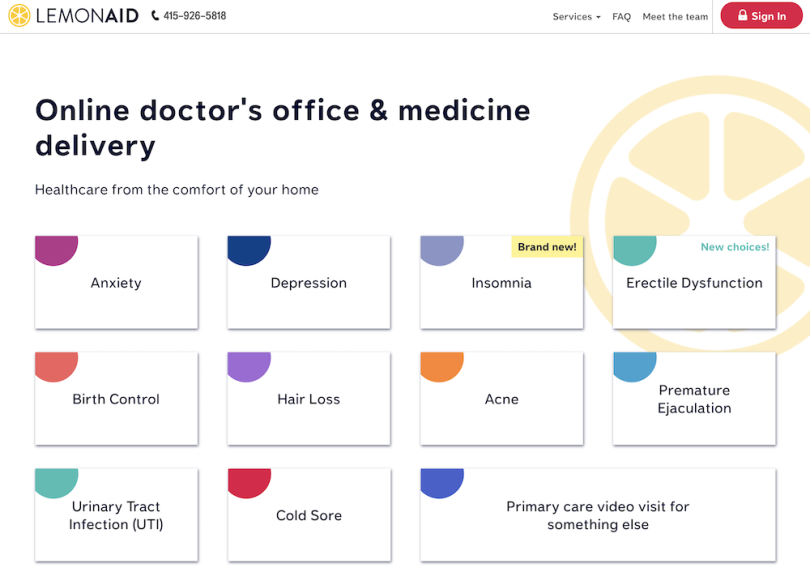 Lemonaid Health
Founded: 2013
Headquarters: San Francisco, CA
Focus: Lemonaid Health is a telemedicine platform that makes it easier for users to access treatments to their specific conditions from the comfort of their homes. Users simply fill out an online questionnaire about their health history, which medical teams are then able to follow up on and deliver medicine within 2-3 business days. Lemonaid specializes in treating a variety of conditions, ranging from migraines to hypothyroidism and STD testing and offers a daily hotline service where users can receive answers to their most pressing questions.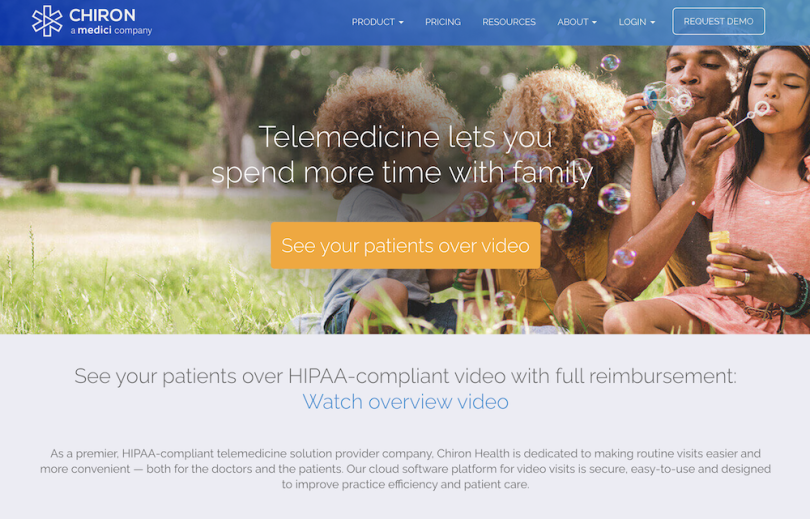 Chiron Health
Founded: 2013
Headquarters: Austin, TX
Focus: Chiron Health offers a powerful telemedicine platform that allows healthcare providers to see patients over HIPAA-compliant video. The company's cloud-based software allows both patients and physicians to access video calls without downloading new software or needing to invest in new devices, making it possible for practitioners to satisfactorily treat more patients.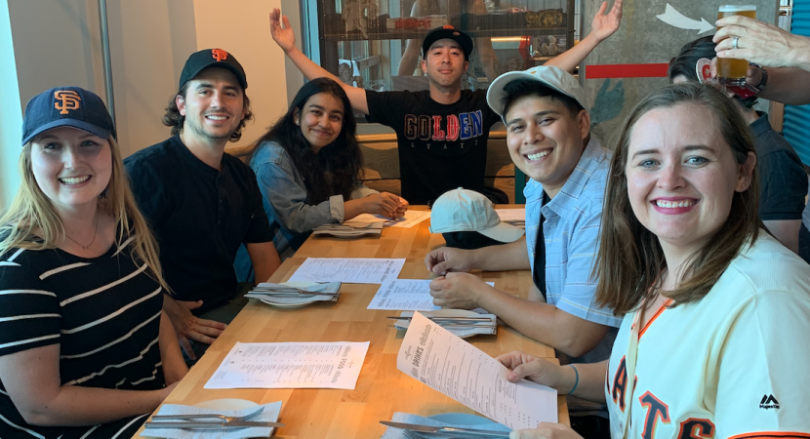 GINGER
Founded: 2011
Headquarters: San Francisco
Focus: Ginger offers a comprehensive suite of mental and behavioral healthcare services to patients on demand, making it possible for those seeking therapy or related care to receive it immediately and at their own pace. Their platform makes it possible to connect with trained behavioral health professionals via video or instant message, and additionally offers skill development programs and activities to encourage patients on their mental health journeys.
HIMS & HERS
Founded: 2017
Headquarters: San Francisco
Focus: hims & hers offers telemedicine services designed to break down medical stigma, eliminate barriers to care and encourage more people to pursue medical assistance. From allergies to hair loss, hims & hers delivers a broad variety of primary care products and supplements designed to help each patient individually manage their conditions and feel empowered to take control over their health.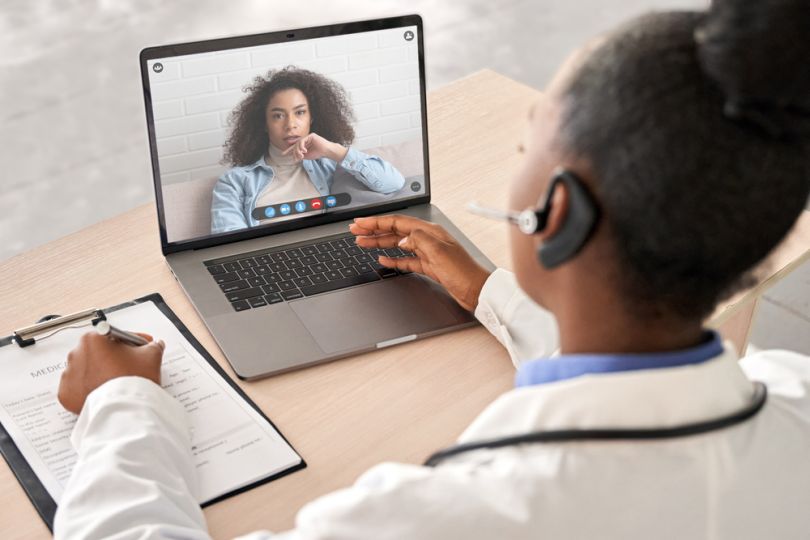 GOODRX
Founded: 2011
Headquarters: San Francisco
Focus: GoodRx is taking on the pharmaceutical industry and helping more Americans access necessary medications by providing them with both a mobile and a web interface for learning about medications and discovering opportunities to compare prices. Their mapping tool gives users the ability to discover the most affordable medication suppliers near them, and the company additionally offers a number of educational videos and content to help patients better understand their prescription and budgeting options.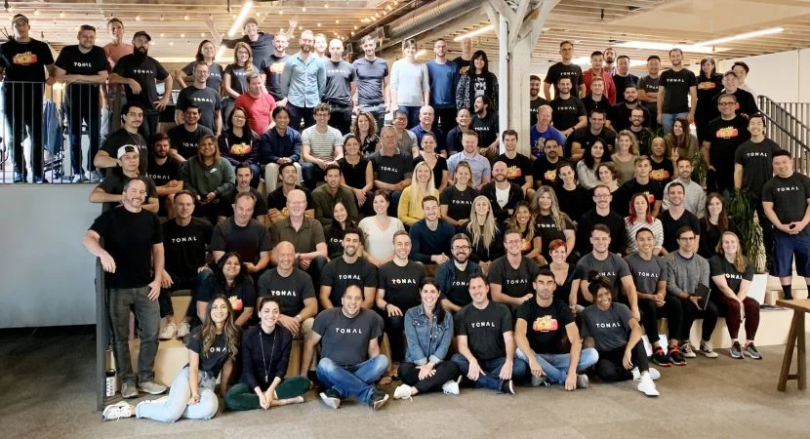 TONAL
Founded: 2015
Headquarters: San Francisco
Focus: Tonal helps their customers achieve their exercise goals regardless of their location or experience levels, providing a combination of video guidance from exercise professionals and home gym equipment to holistically support people in their fitness journeys. Their smart gym systems take stock of each user's individual body type, capabilities and goals in order to help build workouts suited for their particular needs.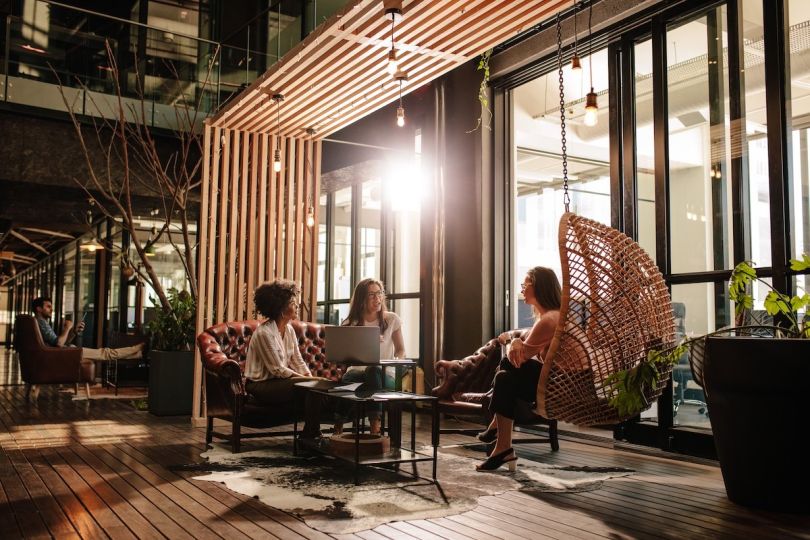 98POINT6
Founded: 2015
Headquarters: Seattle
Focus: 98point6 connects patients with on-demand primary care from the comfort of their homes, providing text-based evaluation and recommendations from healthcare professionals for users across the United States. Their 24/7 remote support network removes roadblocks to accessing care, making it possible for patients to order medications, schedule treatments and receive diagnoses securely via their mobile devices.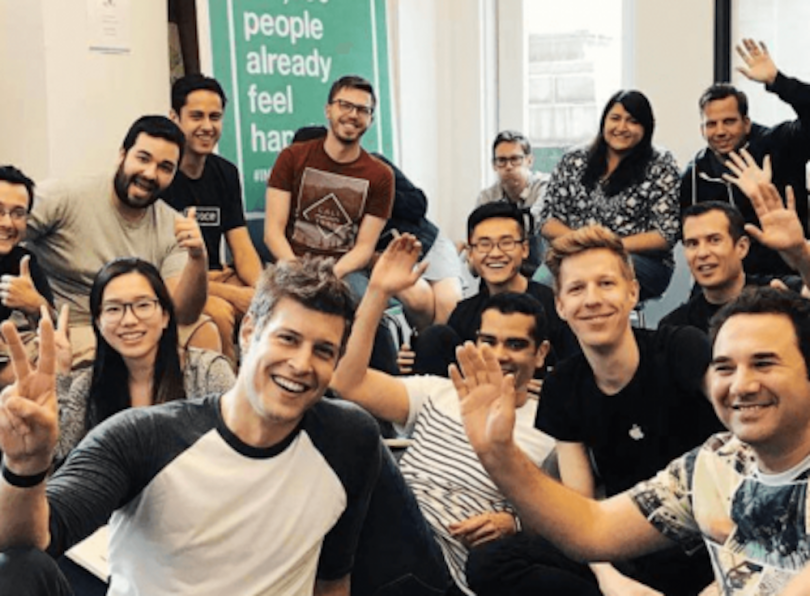 TALKSPACE
Founded: 2011
Headquarters: New York City
Focus: Talkspace's platform provides over one million users across the country with online therapy and other related mental healthcare services. Their provider network of licensed therapists and mental health professionals can connect with patients at any location via text or video messaging, and the company's assessment and subscription plans allow users to connect with the right therapists for them at a price they can afford.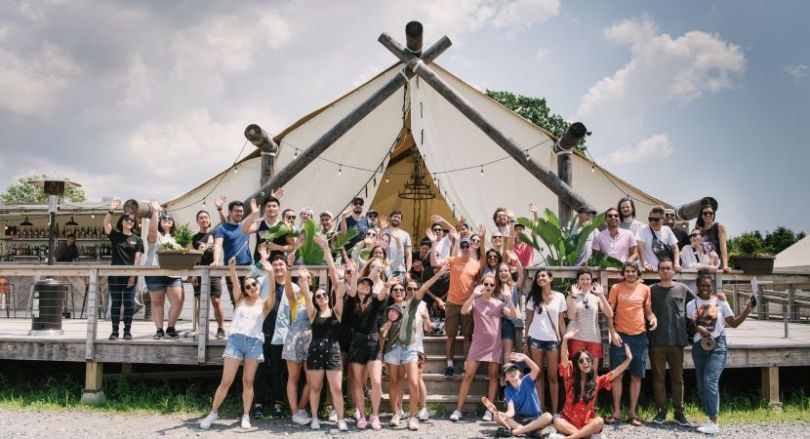 NOOM
Founded: 2008
Headquarters: New York City
Focus: Noom seeks to help people achieve their physical health goals without contributing to the dieting industry, providing holistic health advice and guidance based on digital input and tailored to each user's body type and health status. They deliver a combination of digital and professional guidance and care to customers across the globe, helping people achieve and maintain their ideal health goals rather than simply encouraging dieting and one-time solutions.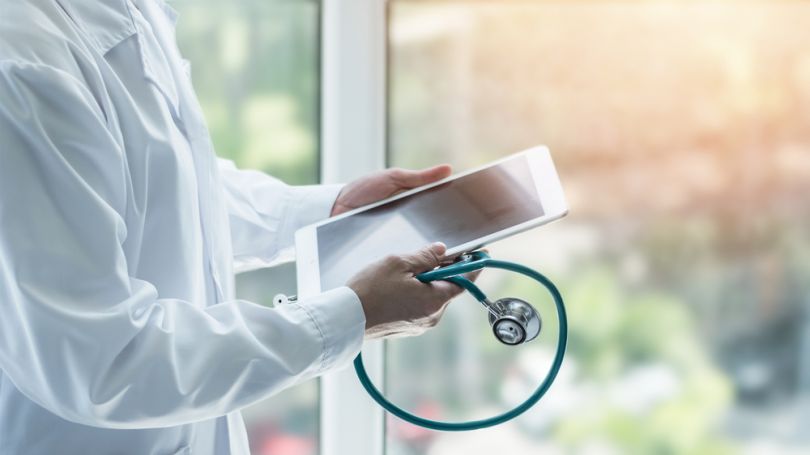 ZOCDOC
Founded: 2007
Headquarters: New York City
Focus: Zocdoc helps patients gain a better perspective on the healthcare options available to them in their immediate area, providing insights into practitioners in their neighborhoods and networks to empower them in their healthcare choices. Zocdoc users can additionally book appointments and fill out documents digitally, and can also get a better sense of their options by reading patient reviews of local providers.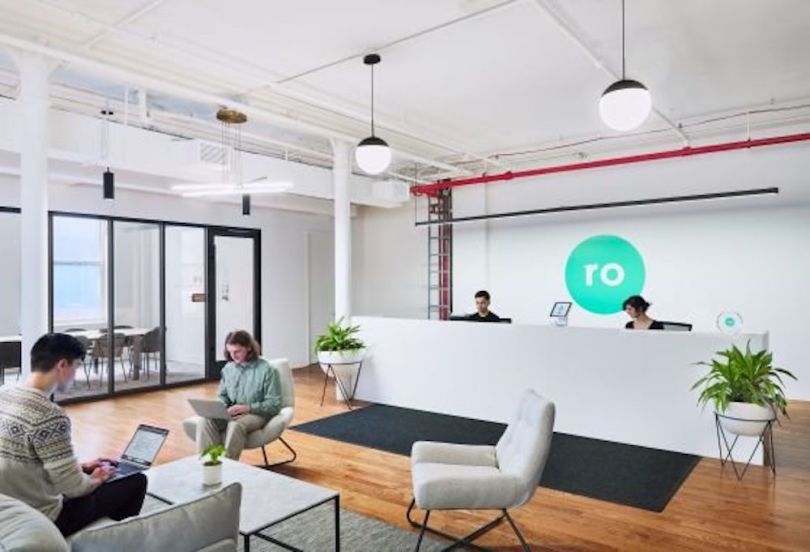 RO
Founded: 2017
Headquarters: New York City
Focus: Ro's platform offers patients both telemedicine services and online pharmacy options in order to help them both learn about their health and pursue treatments for conditions they might have. Their three primary digital health clinics serve both men's and women's health, as well as providing support for those looking to quit smoking.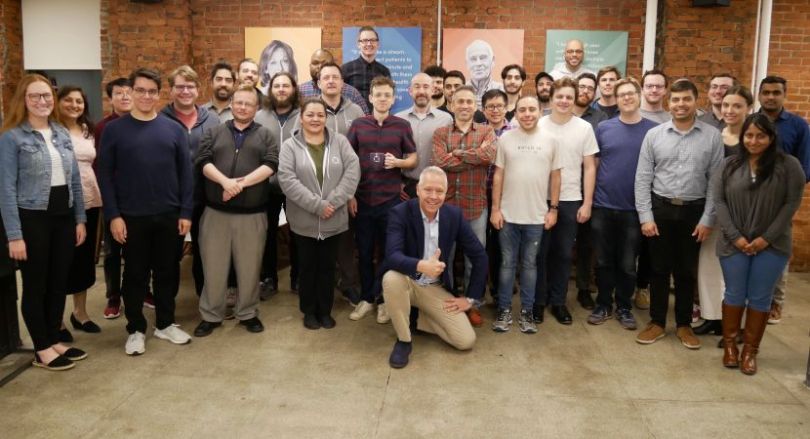 QUARTET HEALTH
Founded: 2014
Headquarters: New York City
Focus: Quartet Health aims to tackle the mental health crisis head on by connecting patients with psychiatric and therapeutic care on demand, removing barriers and stigmas to seeking assistance with mental health needs. Serving eight markets across the United States with more in the works, Quartet Health relies on advanced data science and patient input to connect users with the appropriate providers in their area to help them with their particular needs.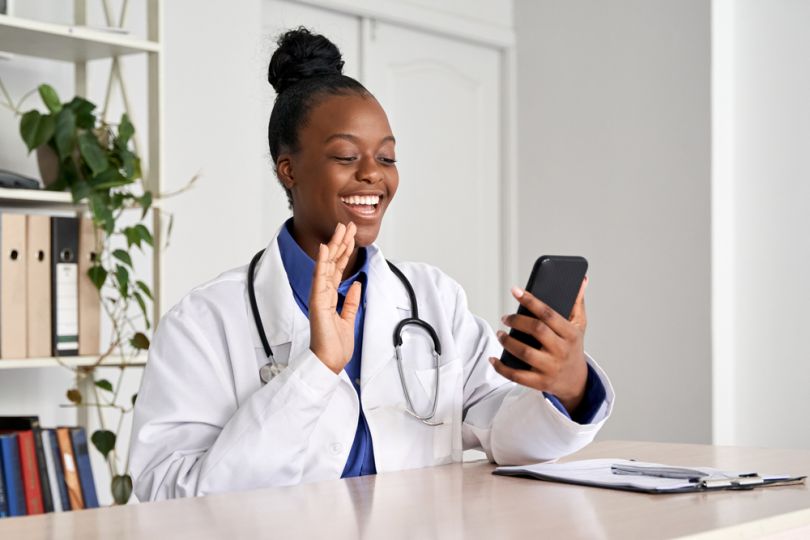 HEADSPACE
Founded: 2010
Headquarters: Los Angeles
Focus: Headspace delivers mental health and wellness services to an international network of over 30 million patients, helping them develop the skills to manage anxiety, depression, sleep disorders and a variety of other conditions. Their mobile application provides a number of meditation and mindfulness exercises for various conditions or issues, as well as movement exercises and sleep tracking technologies to help reduce stress and improve overall mental health.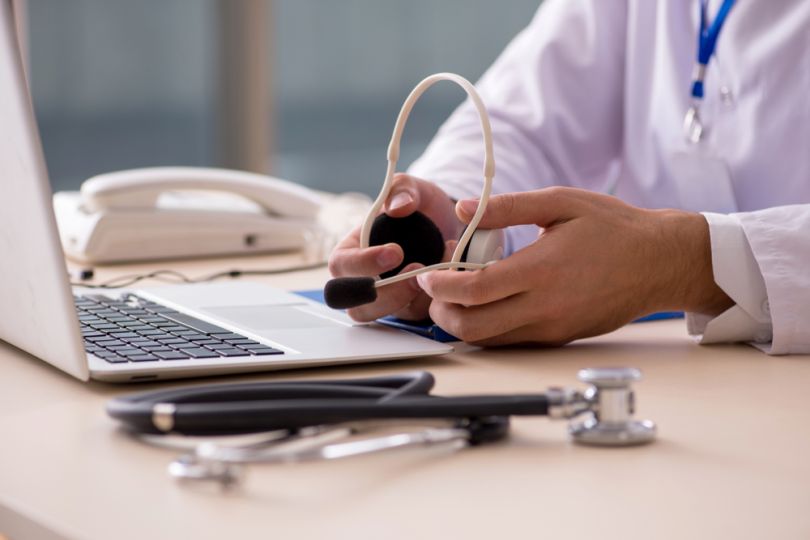 AIRVET
Founded: 2018
Headquarters: Los Angeles
Focus: Airvet uniquely supports pet owners by providing them with a telemedicine platform to make it easier for them to access veterinary expertise and care on demand. Airvet users can connect with licensed veterinarians 24/7, making it easier to manage emergencies, schedule in-person visits and review medication options.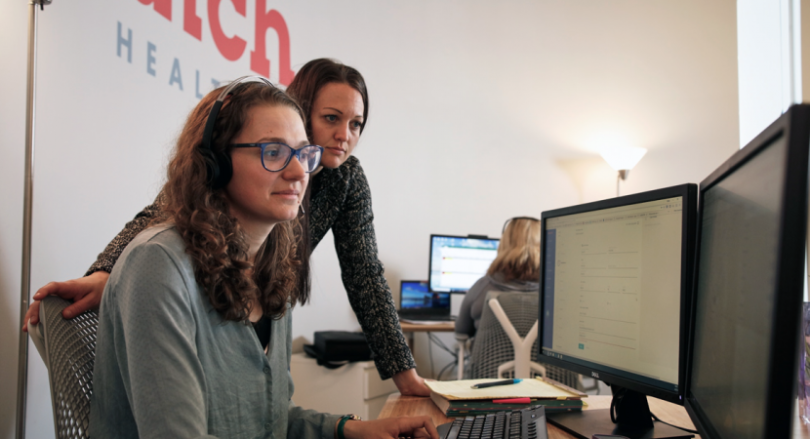 DISPATCHHEALTH
Founded: 2013
Headquarters: Denver
Focus: DispatchHealth connects patients across the country to healthcare services on demand from their homes, making it possible for them to request medical services online and have healthcare professionals sent to their homes to deliver care. Patients who may not be able to leave their homes to seek treatment can rely on DispatchHealth to receive urgent care, and the company's services are covered by many of the leading health insurance companies including UnitedHealthcare, Humana, Anthem and AARP.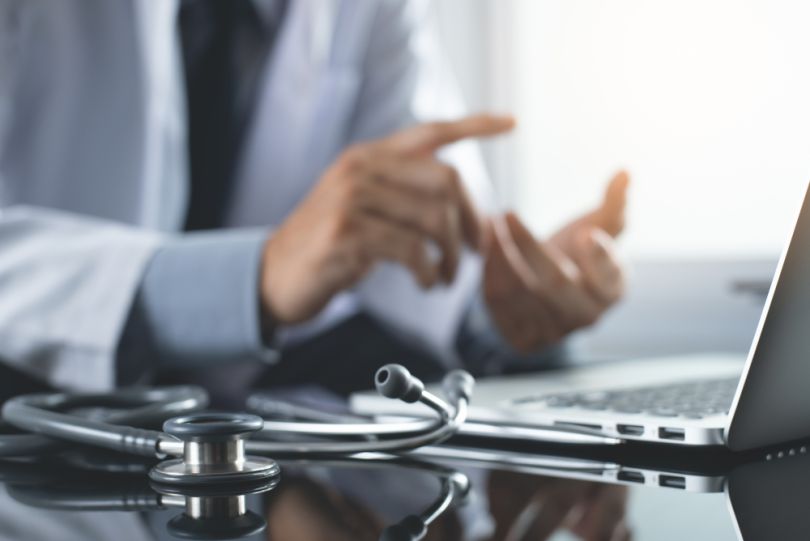 HEALTH SQYRE
Founded: 2017
Headquarters: Denver
Focus: Health Sqyre helps patients browse and purchase the right medical equipment for their healthcare management by providing an online database of professional opinions and price comparison tools. In addition to their e-commerce options, Health Sqyre offers educational tools such as testing for certain conditions and prescription advice.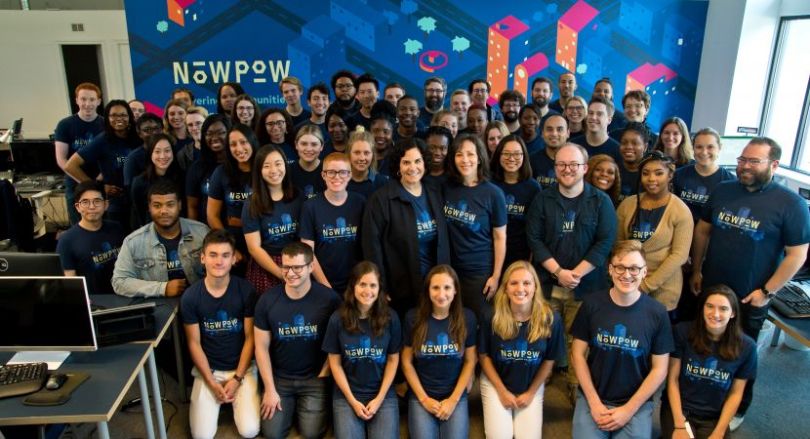 NOWPOW
Founded: 2015
Headquarters: Chicago
Focus: NowPow aims to help underserved communities receive the healthcare they need, utilizing advanced geospatial data technology to assess what areas lack in healthcare services and then working to fill those gaps. Their mobile and web platforms make it possible for patients to receive care and advice remotely, helping those who live far from hospitals or other facilities access the attention they need.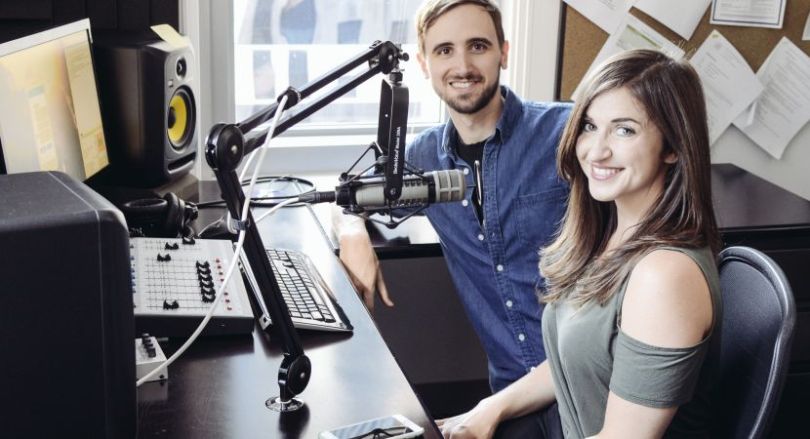 CURABLE HEALTH
Founded: 2016
Headquarters: Chicago
Focus: Curable Health is envisioning a digital model for tackling chronic pain, providing patients with both a mobile and web platform for achieving pain reduction and a healthier lifestyle. Their online exercises and tutorials help chronic pain patients manage their pain, helping them add pain response training and stressor relaxation to medications as a part of their care approach.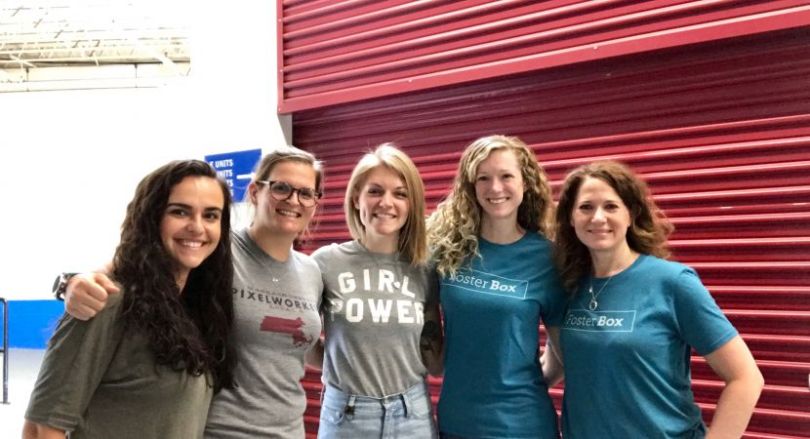 WELLFRAME
Founded: 2011
Headquarters: Boston
Focus: Wellframe delivers a digital health management service suite to patients looking to expand their health journey, providing a data-powered platform for connecting with providers, understanding personal health stats and tailoring their care regimens. Wellframe's mobile app makes it easy for patients to communicate with healthcare professionals, schedule reminders for medications and learn about different care options.
BUOY HEALTH
Founded: 2014
Headquarters: Boston
Focus: Buoy Health leverages the expanded capabilities of artificial intelligence to help patients and their families make better, well informed choices about their healthcare and that of their loved ones. Their platform provides comprehensive information on a large variety of conditions, and supports patients on their health journeys by providing a holistic view into healthcare options and performing check-ins periodically.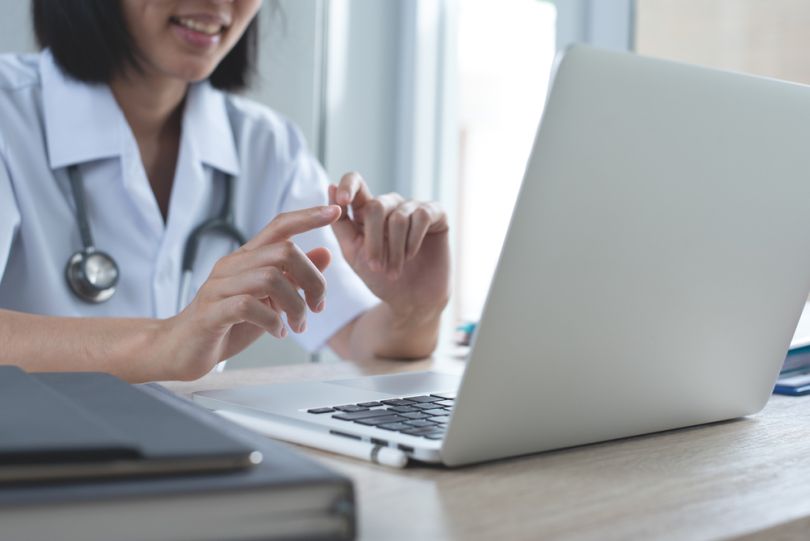 MEDICI
Founded: 2016
Headquarters: Austin
Focus: Medici encourages communication between patients and doctors through their mobile messaging app, making it possible for users to stay in touch with their providers regardless of their location or schedule. Their platform is compliant with all HIPAA regulations, and is capable of performing online billing, video chatting, prescriptions and a variety of other medical services.

Images courtesy of company profiles and Shutterstock.