21 Solar Energy Companies Powering Our Planet Responsibly
During the 1950s, a group of American researchers developed the first silicon solar cell, making them the first individuals to build a device that could convert sunlight into usable electricity.
While these men were far from the first people to witness the sun's electric potential, their work laid the foundation for what we recognize as modern-day solar energy. 
Today, solar energy is a multi-billion-dollar industry. And according to Business Wire, the solar energy market is estimated to be valued at a whopping $223.3 billion by 2026. 
But it's not just the industry's economic weight that makes it one of the fastest-growing sectors. As greenhouse gas emissions continue to clog our airways, disrupt weather patterns and threaten ecosystems worldwide, it has become increasingly important for communities to invest in solar energy.
Countless companies across the country recognize this need, and they're making it easier for both homeowners and businesses to make the switch to solar energy. These solar energy companies do more than take care of the panel installation process for their customers. They give people the opportunity to save money, protect the environment, and even create local jobs. In fact, some even give their customers control over the design of their solar systems, so they don't have to sacrifice aesthetics for environmental liability. 
Here's our pick of 21 top solar energy companies you should keep an eye on this year. 
Solar Energy Companies You Should Know
Aurora Solar
Sunrun
SunPower
Sunpro Solar
First Solar
Solaria
Green Mountain Energy
Sunnova Energy

Aurora Solar
Founded: 2013
Headquarters: San Francisco, CA
What they offer: Aurora Solar's software helps solar energy providers streamline their design and sales processes. Using their software, companies can conduct shading analysis, design systems, perform NEC validations, compare financing options, create sales proposals, and more. Aurora Solar also helps teams with remote site analysis, energy production estimates, and advanced engineering.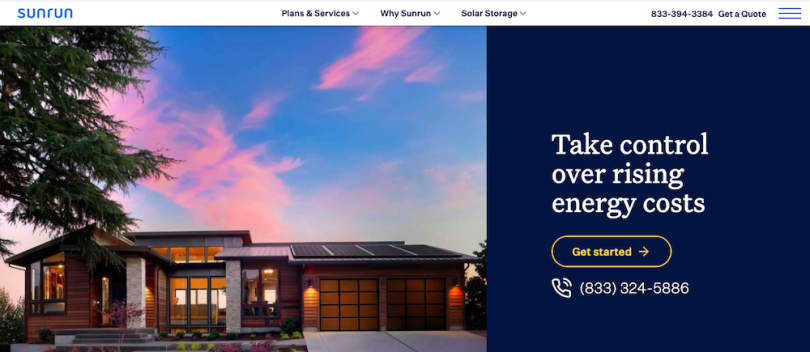 Sunrun 
Founded: 2007
Headquarters: San Francisco, CA
What they offer: Sunrun develops customized solar systems designed to give homeowners more control and greater flexibility. The company offers several leasing and purchasing options in addition to 24/7 monitoring and repairs. Additionally, Sunrun's Automated Site Modeling tool allows homeowners to personalize their solar system so that it matches their lifestyle and energy needs.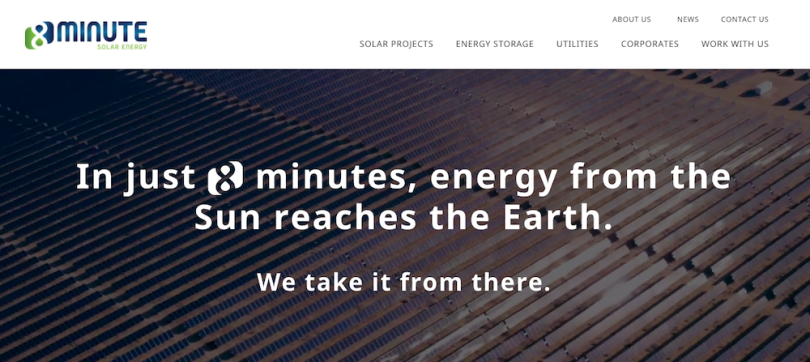 8minute Solar Energy 
Founded: 2009
Headquarters: Los Angeles, CA
What they offer: Named after the amount of time it takes the sun to reach the Earth, 8minute Solar Energy is dedicated to building custom-optimized solar power plants. The company's power plants combine solar with smart storage solutions, which enables their projects to operate like conventional utility assets without CO2 emissions. 8minute boasts a large number of projects scattered across California and the Southwest.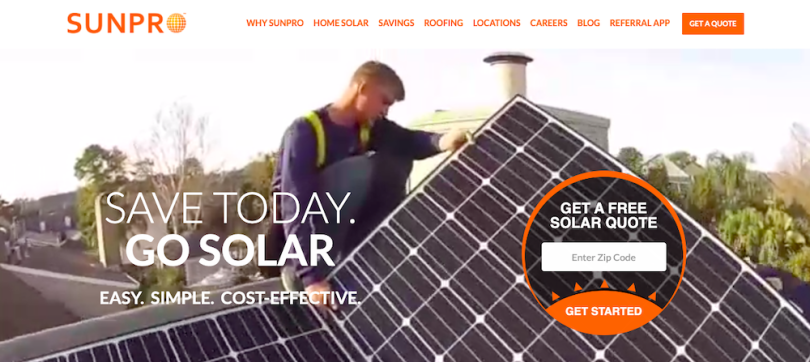 Sunpro Solar 
Founded: 2008
Headquarters: Mandeville, LA
What they offer: Sunpro Solar provides rooftop solar solutions to residential and commercial properties nationwide. Once the company installs solar panels, customers gain access to online solar monitoring, which allows them to track their energy consumption. Sunpro Solar offers its services in several states including Illinois, Florida and Arizona.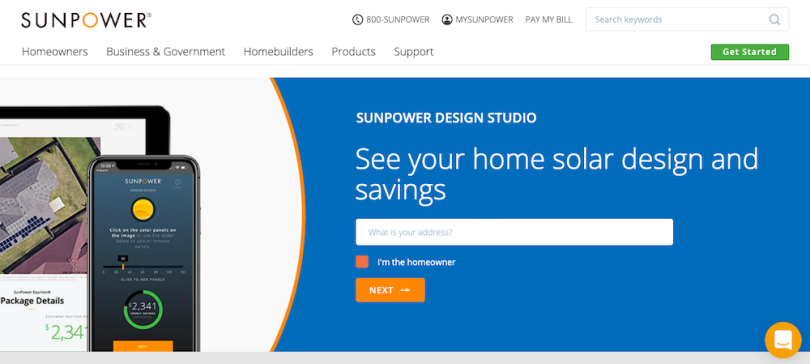 SunPower 
Founded: 1985
Headquarters: San Jose, CA
What they offer: SunPower aims to make clean energy more accessible with its all-in-one residential and commercial solar and storage solutions. Property owners can create their own home solar designs and monitor power generation, energy use, and more online. SunPower's client base includes Johnson & Johnson, Walmart, and Toyota. 

Momentum Solar
Founded: 2009
Headquarters: South Plainfield, NJ
What they offer: Momentum Solar is a solar contractor that serves residential homeowners throughout the nation. The company gives homeowners various options to either lease or purchase solar energy plans, some of which are eligible for local tax credits and incentives. Momentum Solar's mobile app enables users to track project installation status, view scheduled events, and monitor energy production.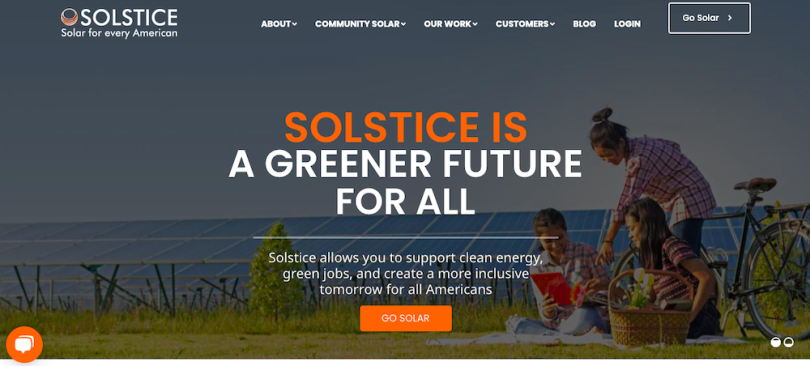 Solstice 
Founded: 2014
Headquarters: Cambridge, MA
What they offer: Solstice is on a mission to help all homeowners gain access to solar energy. In addition to residential rooftop solar installation, the company offers what they call community solar, which gives customers a portion of a locally shared solar garden. Solstice's community solar option is intended to help homeowners save money on their energy bill while building local solar capacity. 

Sunfolding 
Founded: 2013
Headquarters: San Francisco, CA
What they offer: Sunfolding has developed a tracker that enables people to produce solar energy from anywhere, regardless of the shape or contours of the land. Their flexible tracker can be used at any ground-mounted project site and is designed to ensure each project layout can be optimized. Sunfolding currently oversees 28 projects across the country.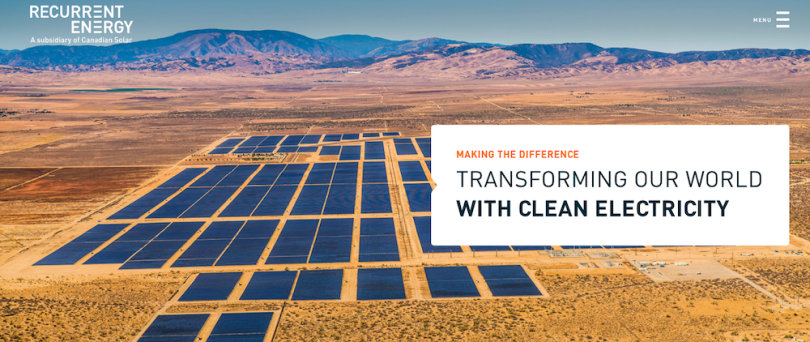 Recurrent Energy 
Founded: 2006
Headquarters: Walnut Creek, CA
What they offer: Recurrent Energy specializes in developing utility-scale solar and energy storage projects. The company is dedicated to delivering clean energy to a wide range of large energy providers. Recurrent Energy's projects can be found across North America, from North Carolina to Ontario.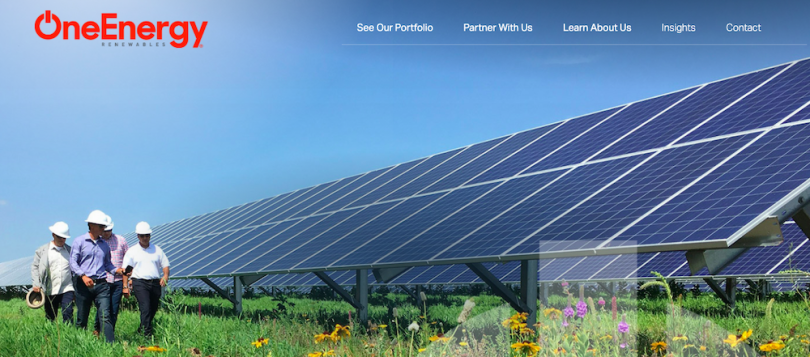 OneEnergy 
Founded: 2009
Headquarters: Seattle, WA
What they offer: OneEnergy develops, owns, and operates community and utility-scale solar energy projects. The company's solar projects are designed to improve ground filtration, reduce runoff, and provide a habitat for local wildlife. OneEnergy currently serves communities nationwide.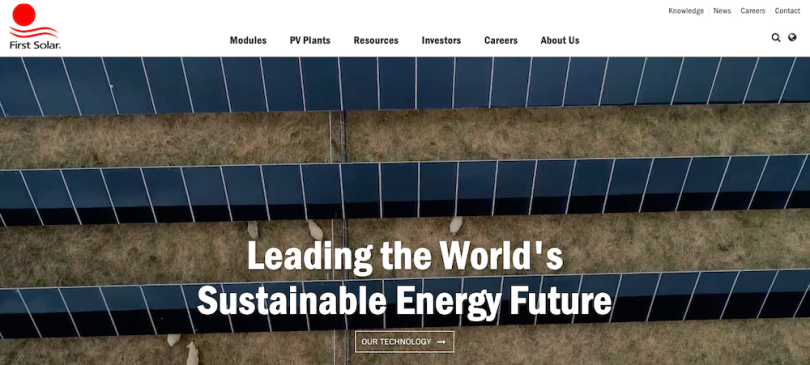 First Solar
Founded: 1999
Headquarters: Tempe, AZ
What they offer: First Solar engineers and operates photovoltaic (PV) solar systems. In addition to being recyclable, the company's PV technology is designed to use less energy, water, and semiconductor material. First Solar boasts offices in several countries including Brazil, Belgium, and Japan. 

Sungevity 
Founded: 2007
Headquarters: Oakland, CA
What they offer: Sungevity delivers customized solar energy solutions for both homeowners and commercial businesses. The company grants customers access to multiple energy storage options as well as a mobile app that allows users to view power generation in real time. Sungevity has also created sustainable water technology that harnesses the sun's energy to extract clean drinking water from the air.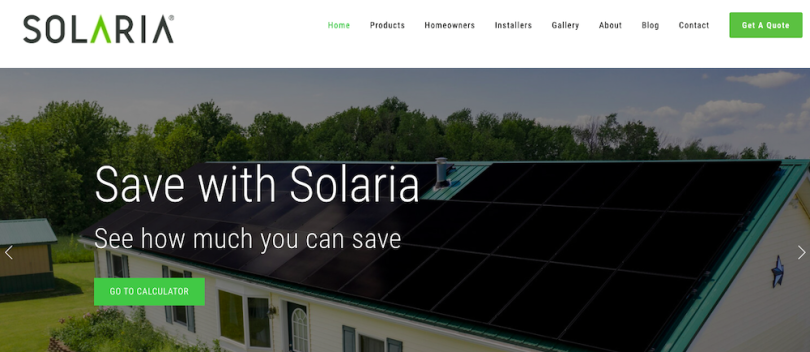 Solaria 
Founded: 2000
Headquarters: Fremont, CA
What they offer: Solaria is dedicated to building high-output, all-black solar panels. The company's all-black PowerXT are designed to be more efficient, less expensive, durable, and more aesthetically pleasing. Solaria partners with various distributors including Soligent, CED Greentech, and Sonepar.

Blue Raven Solar
Founded: 2014
Headquarters: Ortem, UT
What they offer: Blue Raven Solar aims to make it simpler and more affordable for homeowners to use solar energy. The company offers customers zero upfront costs, multiple low APR loan options, local tax credits, and an app that allows them to monitor energy production. Blue Raven installs solar energy systems in numerous U.S. states including Nevada, South Carolina and Texas.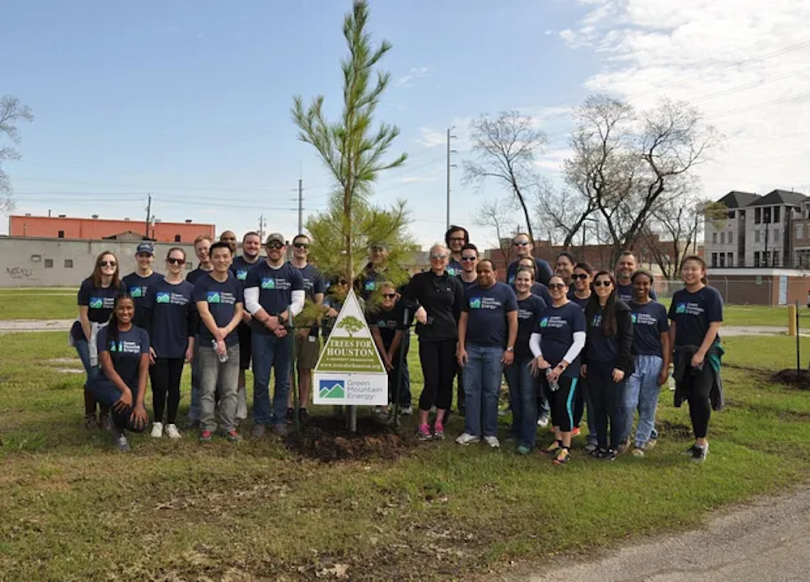 Green Mountain Energy 
Founded: 1997
Headquarters: Houston, TX
What they offer: Green Mountain Energy offers wind and solar energy plans for homes and businesses nationwide. The company enables homeowners in particular to get their electricity from local solar parks, thus removing the need for roof installations. Green Mountain Energy also enables its customers to harness solar energy to fuel their electric vehicles.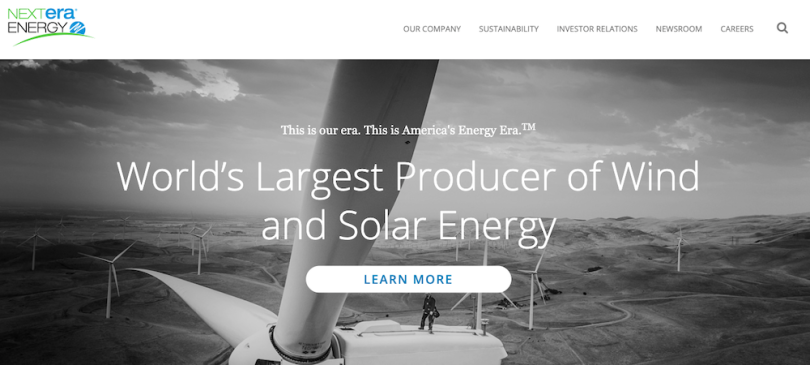 NextEra Energy 
Founded: 1925
Headquarters: Juno Beach, FL
What they offer: NextEra Energy is a clean energy company that specializes in wind and solar energy. The company focuses heavily on battery energy storage and operates solar energy storage centers in numerous cities across the country. NextEra Energy currently serves residential homeowners and commercial businesses throughout North America.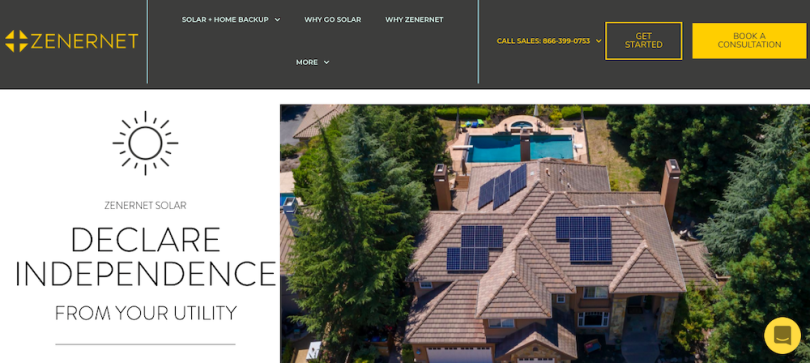 Zenernet 
Founded: 2017
Headquarters: Leawood, KS
What they offer: Zenernet is on a mission to make the solar energy decision-making process easier and more informative for homeowners. The company develops solar panels, home batteries, and generators and offers its customers a flat, modular pricing structure, remote site inspections, and more. Zenernet serves clients in numerous U.S. states including Wyoming, New Mexico, and Illinois.

Trinity Solar
Founded: 1994
Headquarters: Wall Township, NJ
What they offer: Trinity Solar is a residential solar company serving thousands of homeowners nationwide. The company's no-cost solar energy solution is intended to help homeowners lower their cost of living while protecting the environment. Trinity Solar allows its customers to purchase their solar systems up front, so there's no need for them to pay for the power they produce going forward.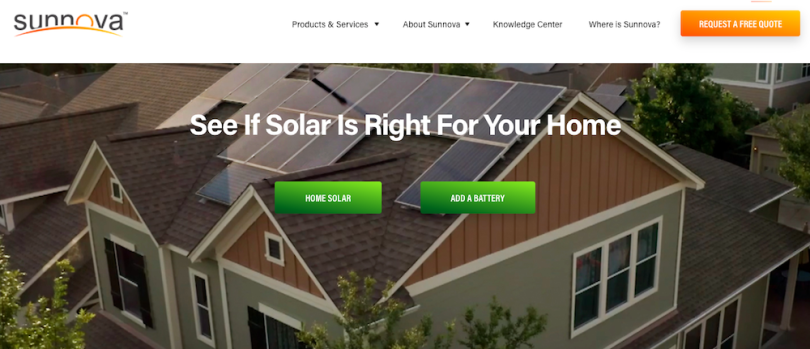 Sunnova Energy
Founded: 2012
Headquarters: Houston, TX
What they offer: Sunnova Energy offers residential solar, battery storage, and system protection services. Their home solar solutions include system monitoring, system performance management, zero out-of-pocket costs for repairs and replacements, and more. Sunnova Energy's battery storage systems are designed to ensure resilient backup power and protection from peak rates.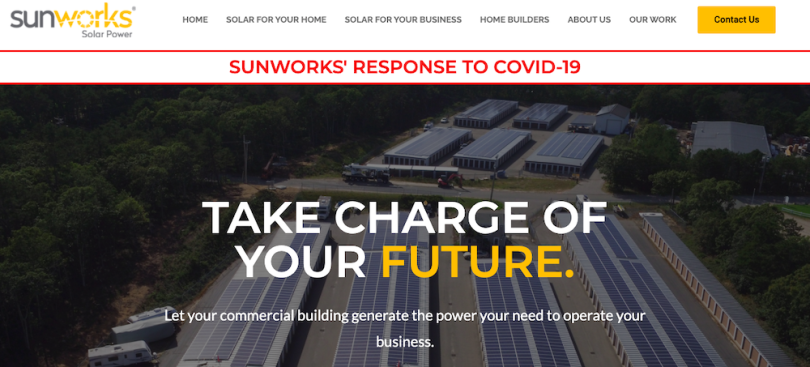 Sunworks
Founded: 1983
Headquarters: Roseville, CA
What they offer: Sunworks specializes in the development of high-performance solar power systems for homeowners and businesses. For businesses, the company uses an insertion rail technology that allows for quick system installation and reduced labor costs. Sunworks also offers electric vehicle charging systems.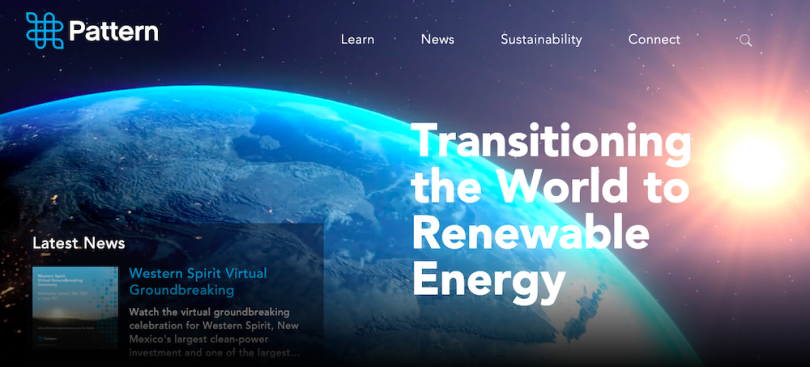 Pattern Energy 
Founded: 2009
Headquarters: San Francisco, CA
What they offer: Pattern Energy is dedicated to delivering low-cost renewable energy to communities worldwide. The company operates an extensive portfolio of solar, wind, transmission, and energy storage projects, which span the U.S., Canada, and Japan. 



Images via Shutterstock and company website screenshots