Review Wave Relocated, Payix Acquired for $115M, and More DFW Tech News
Catch up on the latest news from the DFW tech scene.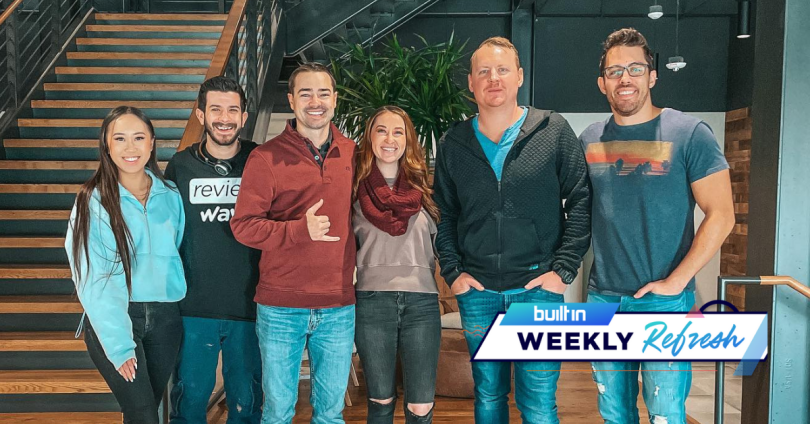 DFW startups are wasting no time ringing in the New Year. From last year's highest venture capital earners to the metros latest transplant, catch up on the latest. This is the Built In DFW weekly refresh.
These Dallas startups raised $3.2+ billion in 2021. 2021 was a good year for DFW tech startups with several startups securing millions. In fact, 12 companies raised a combined $3.28 billion last year. Integrity Marketing Group, an insurtech company, secured the top spot on the list after bringing in $1.2 billion. Other companies making the cut include Caris Life Sciences, LMK and TimelyMD, among others. [Built In DFW]
Payix acquired for up to $115M. Fort Worth-based Payix was acquired by REPAY, an Atlanta-based fintech company that helps customers develop payment plans and also process transactions for customers in the healthcare, education and automotive industries. REPAY paid $95 million at the time of closing with another $20 million available depending on how Payix performs throughout the year. Payix offers SaaS solutions that facilitate lending and payment processing. [Built In DFW]
DFW Quote of the week:
"We are so excited to partner with Review Wave on their relocation here in McKinney. The Review Wave team has been great to work with and we know they are going to hit the ground running given their record of growth." — Peter Tokar, McKinney Economic Development Corporation President
Review Wave relocated to McKinney. It took less than a week for the DFW to have its first tech transplant. Review Wave, a software company focused on automated customer interaction, announced it would relocate its headquarters from Irvine, California, to McKinney. The company also struck a deal with the McKinney Economic Development Corporation (MEDC) that requires the company add 73 tech and executive positions. According to the MEDC's project manager, Review Wave will be moved into its new space by mid-January. [Built In DFW]
Alto announced EV fleet. The Dallas-based rideshare platform announced it will be working with EV manufacturers in the coming years to assemble a fully electric fleet to transport customers. The company plans to purchase 3,000 electric vehicles by 2023 and plans to build supporting infrastructure to charge and maintain the vehicles. Alto also announced that it would be expanding its services to Washington, D.C. and Silicon Valley in January and plans to hire 500 new drivers. [Built In DFW]
CBRE acquired a real estate tech firm. CBRE, one of the country's largest real estate groups, announced it acquired Buildingi — a Seattle-based real estate software firm focused on project management — and its service center in Costa Rica for an undisclosed fee. Buildingi's integrated workplace management system features a four-in-one module to help manage everything from project to maintenance in new developments. The acquisition will allow CBRE to offer 24/7 occupancy planning services and support. [Built In DFW]